Holders of biotech juggernaut Gilead Sciences (NASDAQ:GILD) cannot be blamed for being more than a little frustrated at the moment. The stock has gone nowhere for just over a year now despite delivering a 50% year-over-year increase in earnings in 2015 and bumping up its stock buyback authorization to $15 billion - over 10% of its outstanding float at current levels. The stock sells at under eight times earnings and the company could approach a 10% free cash flow yield in 2016, making it one of the cheapest large cap stocks in the market.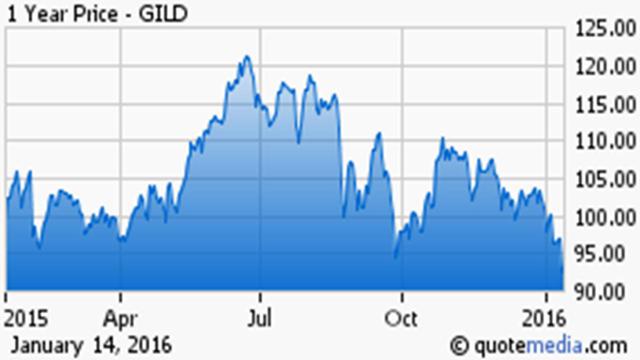 So what needs to occur before the market and investors recognize the stock's innate value? Here are several events that need and should occur before the first half of 2016 is complete that could help the shares appreciate.
First of all, nothing good is going to happen with Gilead's stock until the current bear market in biotech ends. The overall biotech indices are down more than 25% from their highs this summer. For relief to come to this high beta sector we need to see China and oil stabilize - and your guess is as good as mine on when that will happen. However, for long term investors the large cap biotech stocks are now trading at their cheapest valuations overall since 2011.
Next, all of this election driven rhetoric about drug price "gouging" needs to die down. This has been a headwind to most of the pharma and biotech equities since Hillary Clinton made it one of many focus areas of her campaign. This is standard political ranting before an election. Her husband also had it as a campaign plank in his first presidential campaign in 1992. Nothing came of it and that will probably be the case as the opposition party will still be in firm control of the House of Representatives and has a 50/50 chance of retaining the Senate after the dust settles in early November. Also look for Mrs. Clinton to try to tack back to the center after she secures her party's nomination and gets ready for the general election where this topic should become deemphasized.
Third, investors need to some assurance that scripts for Harvoni & Sovaldi are not falling off a cliff domestically as most of the sickest of the hepatitis C population gets treated. They also need to see solid growth in other regions where the rollout of these drugs came later like Europe and Japan. Gilead next reports earnings during the first week of February. The consensus has it earning nearly $3.00 a share on approximately $8.1 billion in revenues. I look for the company to beat both top and bottom line expectations as it has consistently since rolling out its hepatitis C franchise in the first half of 2014.
At the start of last year investors were concern that the Viekera Pak from AbbVie (NYSE:ABBV) were take 20% to 25% of the overall hepatitis C market by yearend 2015. That market share came closer to 10% when all was said and done as that treatment is inferior to Gilead's offerings on many levels. This year investors are worried about competition from Merck (NYSE:MRK) in the hepatitis C space when its offerings come to market this quarter. I believe these too will prove to be overblown but we will need to see results in both the second and third quarter to confirm this.
The company should buy back $5 billion to $10 billion of its own stock this year. Quarterly results in the first week of February will give insight to how fast the company bought back stock in the fourth quarter. I am usually not a big fan of stock buybacks, but when you can buy back your own stock at under eight times earnings it is prudent method for deploying this company's ever increasing free cash flow which should approach $15 billion in 2016. I would also look for at least a 20% dividend hike to be announced either in the first or second quarter of this year. This will increase the stock's 1.8% dividend yield nicely.
Finally, the company has been pushed for a year to make a significant acquisition to diversify from its core HCV and HIV franchises. Based on management comments, I believe this will also happen in first half of the year. In addition, by not acting rashly values for any purchases have fallen substantially given the huge recent declines in the sector and the market overall. That should make any acquisition more accretive than it would have been if Gilead would have made a purchase this summer.
In summary, there are a variety of events that should occur in the first half of 2016 that should help lift Gilead's stock significantly higher at some point as these combinations play out. In the meantime, the stock has held up relatively well given the action in the market to begin 2016 and at its current valuation it is hard to see much more downside. As such, the shares have a strong risk/reward profile that warrant accumulation.
Disclosure: I am/we are long GILD, ABBV,MRK.
I wrote this article myself, and it expresses my own opinions. I am not receiving compensation for it (other than from Seeking Alpha). I have no business relationship with any company whose stock is mentioned in this article.