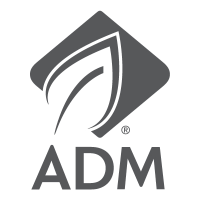 With low margins, Archer Daniels Midland (NYSE:ADM) must run its company conservatively. Likewise, conservative investors looking for a small but stable yield should be drawn to this stock. But as my analysis will show you, ADM is a decent dividend stock for more than just its "conservativeness."
In this article, I hope to dig into the dividend of ADM and show how the risk is limited, both for holders and new investors. While we sit here at low commodity prices and low oil prices, both affecting ADM as a company (bioethanol and agricultural margins), we should not be too concerned about ADM continually dropping. We are nearing a bottom.
Read on…
The Dividend
Perusing Seeking Alpha's articles on ADM and other articles around the web, we find the dividend to be of most interest to investors. Though not particularly high, it has proven stable. ADM has continually raised its dividend since 1999: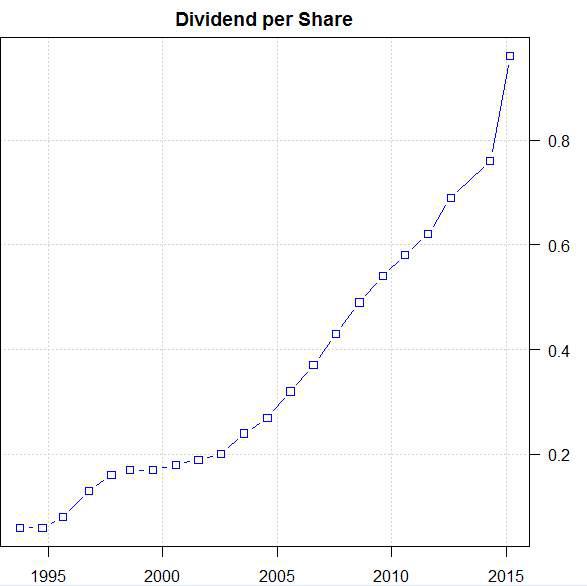 If ADM is truly a dividend stock, then the stock price should rise with the dividend. That is, investors see a rising, stable dividend, and place their money in the company's hands. A good dividend stock should see its price move upward at roughly the pace of the dividend.
Too fast of a stock movement versus the dividend hurts the yield. A stock that lags behind the dividend increases is likely to be having other issues, which thereby threaten the safety of the dividend. While ADM has shown to be rather volatile since 1993, it has generally moved upward in line with the dividend increases: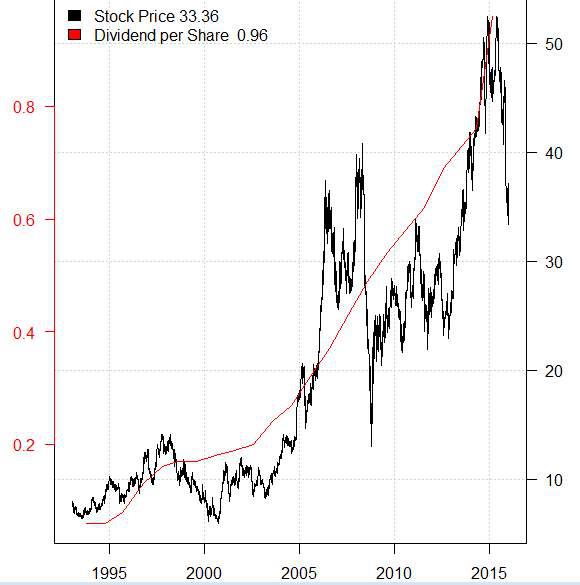 When analyzing a dividend stock, the change in outstanding shares becomes particularly important. Many companies initiate share buyback campaigns, driving the outstanding shares down, which hurts the yield. However, such an action does reduce the total payout of dividend, making the dividend safer.
Whether a reduction of outstanding shares is good for a company is debatable. I would rather see a company keep its outstanding shares roughly stable. If it has extra cash on hand, instead of initiating a buyback program, it should add more to the dividend.
As for ADM, the outstanding shares have remained in a tight range: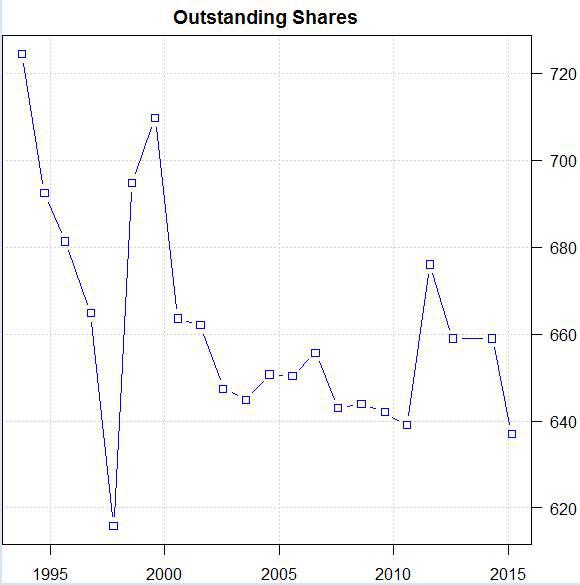 This should be encouraging for present and future shareholders, as we don't need to worry about dilution or about a decreasing yield due to buybacks. But what about the yield? Certainly, it isn't high: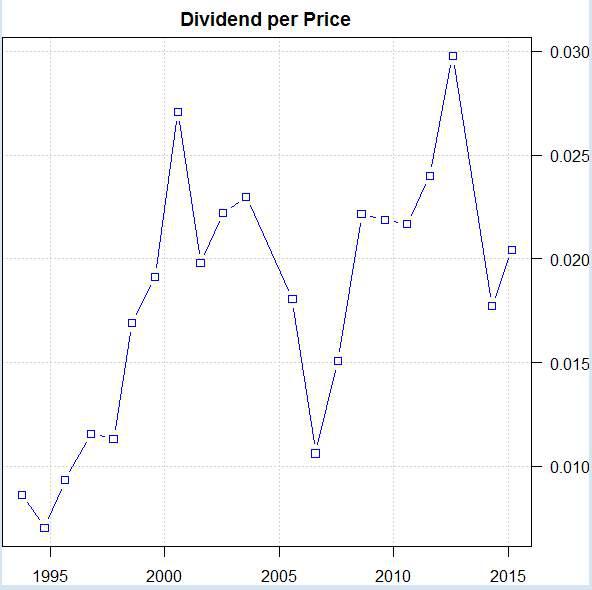 The current yield has fallen and subsequently risen slightly. But we are 50% away from the high of 3%. While the dividend will constantly increase, the speed of that increase is not fast enough to make the yield especially attractive. The only real increase in the yield we can expect would be a result of a falling stock price, which current ADM investors certainly do not want.
Yet this is what we have seen happening over the past few months. Poring over ADM's business practices, a subject for another article, I do not believe the stock price decline is at ADM's own hands but simply the natural result of a commodity bear market. However, as the stock price falls, increasing the yield, new investors will increasingly become attracted to ADM, buying in.
This phenomenon itself could stabilize the stock, creating what technical traders call a resistance. Where that resistance lies could tell us something about the idea yield range for this stock. We might find a "top off" level, a number the yield cannot surpass due to investor sentiment of ADM being overpriced at that yield level.
My guess, based simply on looking over the yield chart, is that the "top off" yield is likely 3%. Because ADM currently has an annual dividend of $0.96 per share, that would create a resistance level of $32. In other words, ADM investors worried about the stock falling can feel a bit safer; $32, which produces a 3% yield, will be the bounce back level.
Moreover, the percentage of the net income paid out as dividends is extremely responsible. This makes the dividend even more attractive. As ADM's income quickly increases, the dividend yield slowly increases: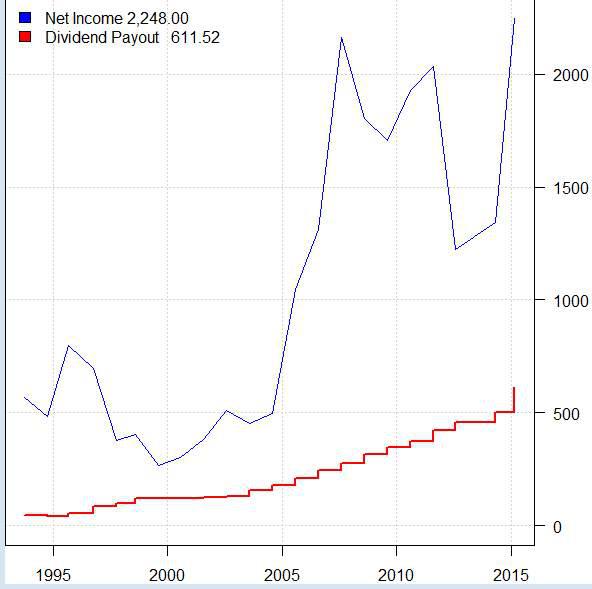 In terms of a percentage of the income, the dividend payout has never passed 50%, even in ADM's worst years. This is a reliable trend and should give faith to ADM investors: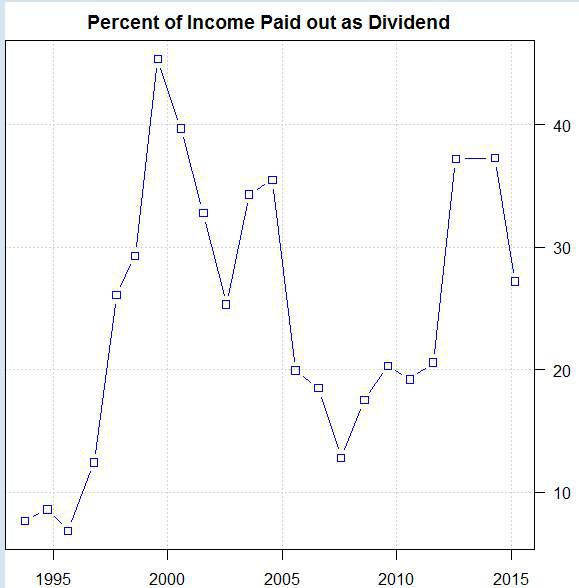 ADM's main concern seems to be free cash flow, which has oscillated around zero for 23 years. Currently, FCF is in the positive region, but this pattern shows that we cannot bank on this situation lasting: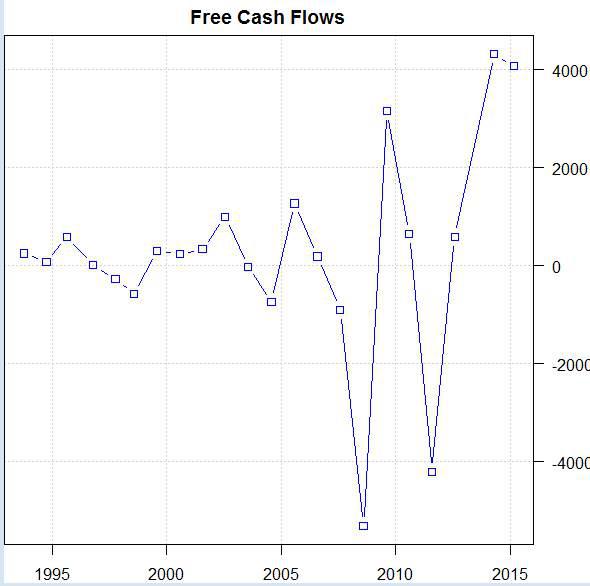 Instead, it is more informative to look at a rolling average of free cash flow, as this shows ADM's ability to both collect and hold cash. And when we look at this rolling average, we see ADM being in the best position they've ever been: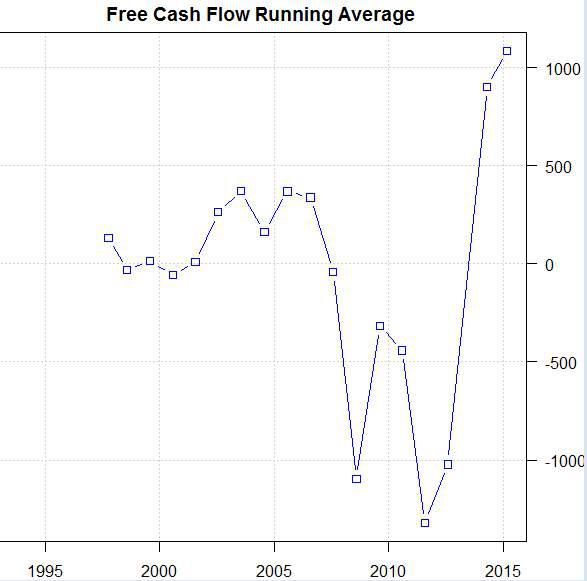 Comparing the dividend payout to FCF, we can get a better picture of the safety of the dividend. Below is the percentage of FCF paid out in dividends: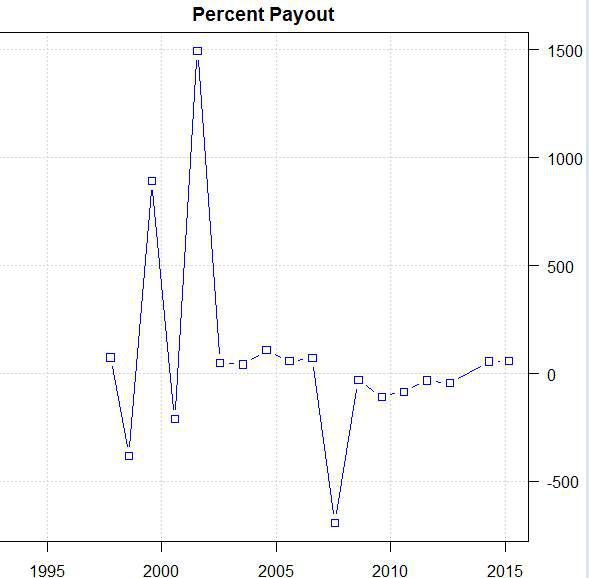 Not exactly an informative chart, as it has shown us a huge range and negative payouts (due to negative cash flow). But do know that ADM has been at a 55% dividend payout to free cash flow for the past two years. Perhaps they can hold it at this level, allowing enough free cash for future ventures, such as hedging against the crop bear market.
Conclusion
Dividend stocks might be more susceptible to technical analysis but for fundamental reasons. As dividend stocks fall, their yields rise, attracting more investors. This helps us locate a "bottom" for the stock.
While some ADM analysts are calling for the stock to fall deep into 20s, I believe that $32 is a likely bottom for ADM, thus implying that ADM investors can buy more at $32. Fence-sitters can also safely buy at $32. Any price lower than $32 likely provides too attractive of a yield and will not hold - i.e., the stock price should bounce back upward.
That said, if you're looking for high yields, look elsewhere. In addition, if you're really interest in getting your all from ADM (i.e., worried about opportunity costs), you should probably look at the cyclical nature of this and find an entry point on the "up" part of the cycle (we are currently at the "down" part). Overall, ADM runs a strong commodity-based business and is a good stock for anyone familiar with the cyclical trends of commodities to park his cash without worry.
Request a Statistical Study
If you would like for me to run a statistical study on a specific aspect of a specific stock, commodity, or market, just request so in the comments section below. Alternatively, send me a message or email.
Disclosure: I/we have no positions in any stocks mentioned, and no plans to initiate any positions within the next 72 hours.
I wrote this article myself, and it expresses my own opinions. I am not receiving compensation for it (other than from Seeking Alpha). I have no business relationship with any company whose stock is mentioned in this article.