High risk stocks are often volatile. Provided you can handle the short-term pain, is it reasonable to expect long-term gain?
Buy and hold investors may claim that all you need is patience as what goes down will often come up. Other investors may feel that what goes down often stays down or even delists.
I wanted to find an answer to this problem based on stocks that I consider risky. If you buy and hold a high risk stock, will you eventually be rewarded with better returns over many years?
Academic Definition of Risk
What factors do I consider to be 'high risk'? If you follow academic theory from researchers like Fama and French, stocks are priced as they should be - there is no such thing as cheap or expensive - just more or less risk. Value stocks (low price to book) out-perform glamour stocks (high price to book), therefore the additional returns must indicate a riskier stock. Well, that's what I gather from the 1997 paper Value Versus Growth: The International Evidence. Feel free to give your own take on the 'value premium'.
My response to this explanation of risk is…huh? Factors that are linked to out-performance are more risky for the very reason that they performed better?!? If I systematically buy losing stocks, I must therefore be purchasing stocks of lower risk? What if I lose 100% of my capital - is that the lowest risk of all? Hmmmm...
I tend to think that the average investor is not some emotionless risk-assessing robot but is probably a guy like me that can be swayed by a hyped stock with a flashy product and a big story. With my short attention span, I tend to forget about that really boring utility company with limited upside. The glamour stock becomes over-valued, the boring stock becomes under-valued (compared to the flashy stock) and the boring stock out-performs - but not because it was more risky. You are welcome to disagree with me in the comment section below.
But I digress…what factors do I consider as being high risk?
High Risk Factors
Deep value may indicate increased risk, but this is not always true. A stock with perpetual deep value, on the other hand, may indicate a boring stock with low upside potential, although the downside might also be low. If investors over-estimate the return potential of the broad market, these boring deep value stocks are just what you need. In my opinion, the worst time to buy value is when markets are in danger. Investors often flock to safer value (think utilities) which props up valuation. Investors may flee from riskier value which pushes these tickers into even deeper value territory which can bait the trap (think chapter 11).
Low trailing 52 week performance has been linked to future underperformance. This phenomenon is known as momentum in academic literature. I tend to think of it as 'high risk' since investor sentiment is slow to change - if at all. It seems unlikely that a hated stock will suddenly become next week's darling. And it is altogether possible that the under-performing stock may disappear into oblivion. Even if a stock does turn around and meets market performance, you still need to gain back any lost ground.
Finally, high short interest can signal high future volatility risk. This may or may not show up in price performance. Perhaps there is an event, be it earnings or an FDA decision, which could go either way. Short interest may increase in anticipation of the unknown. You might also find that Put and Call options become abnormally expensive (high implied volatility).
This chart depicts the trailing performance of a portfolio that holds only the 25 highest short interest stocks in the S&P 500. (All testing will be through the Portfolio123 screening and backtesting platform)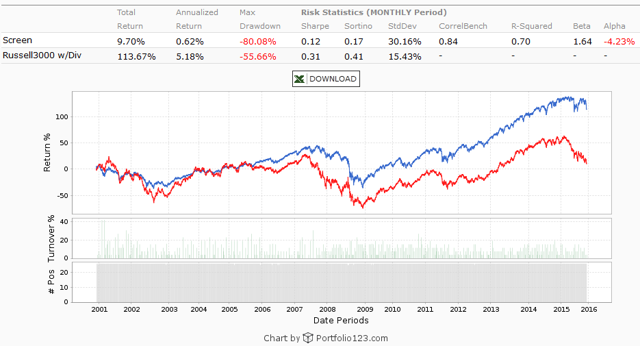 When we combine high short interest with either poor trailing price performance or deep value, the result just gets worse.
Short Interest and Low PE Ratio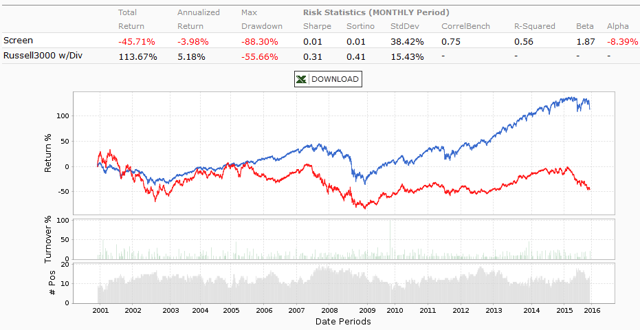 Short Interest with Low 52 Week Momentum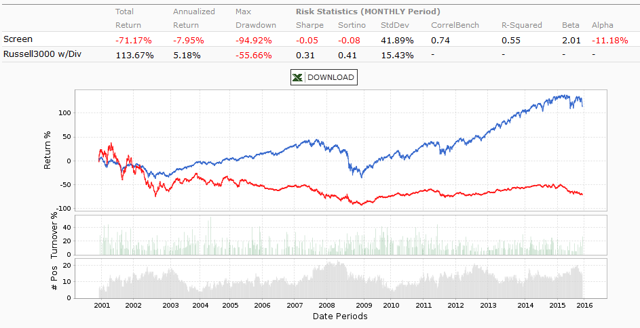 You will notice the portfolio turnover in the second window. This is an active strategy. But what if we buy these stocks and hold? If we retain them for a long period of time, could we be rewarded for our additional risk taking?
Buying Risky Stocks in 2002
Our first simulation will buy risky S&P 500 stocks in 2002 and will simulate holding until today. We will buy stocks with high short interest and deep value*. Eleven stocks made this list.
*Top 5% bracket for short interest and bottom 25% bracket for trailing price to earnings ratio. Only S&P 500 stocks meeting requirements in both categories were added to the buy and hold portfolio. Delisted stocks were sold with cash proceeds being re-distributed equally between surviving stocks.
There is a small amount of under-performance relative to our benchmark. A large drop is seen in the first year after portfolio formation. Portfolio value is the same now as it was in 2006. Dividends are accounted for in this simulation.
Let's try the next set of risk factors. This time we will buy and hold stocks that fell into the top 5% category of short interest and the bottom 25% bracket of trailing 52 week momentum as of January 2002.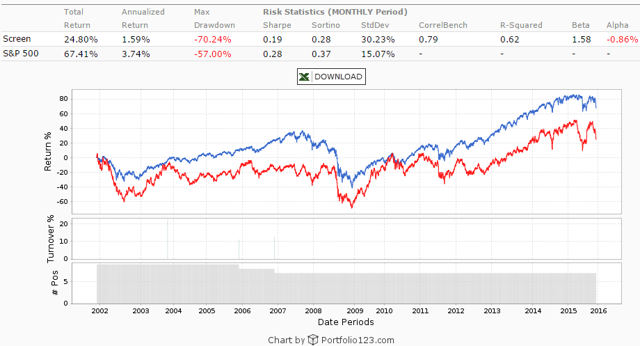 Buying Risky Stocks in 2006
Let's do a quick repeat in 2006. This simulation holds high short interest stocks with deep value.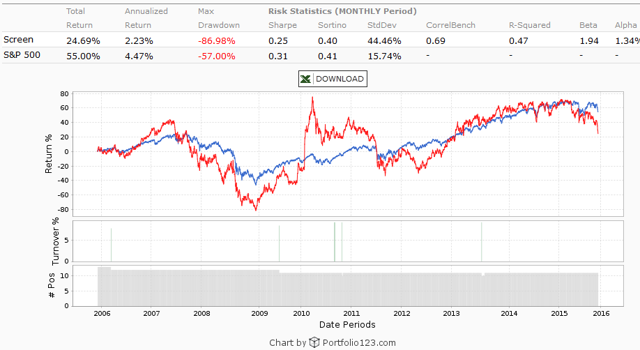 This next one is for high short interest stocks with poor 12 month trailing performance.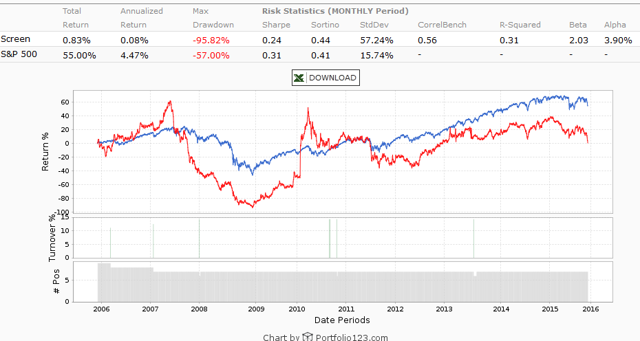 Buy and hold does not forgive these errors to the extent that the portfolio experiences long-term under-performance relative to the market.
Casting A Wider Net
Perhaps the test is too narrow in focus. And maybe the under-performance is mostly linked to the 2008/09 bear market. Fair enough. Our next test starts in 2010 and we will test stocks in the larger Russell 3000 index.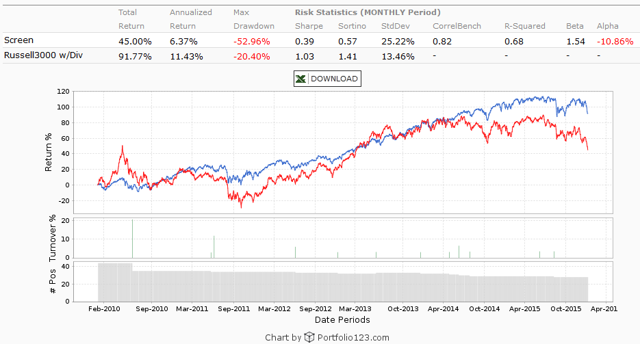 The underperformance is about 5% per annum. If you didn't buy and hold but instead actively replaced stocks to meet your 'high risk' criteria, you would have an average annual performance of -13%.
On one hand, it would seem that buying and holding these high risk factors is better than an active strategy of holding high risk. Yet on the other it does not appear that buy and hold investors can afford to ignore short-term risk factors in the hopes that these stocks will rebound with long-term out-performance.
Stocks I Am Avoiding
In a previous article I dealt with high risk large cap stocks I am avoiding, so to mix things up I will provide a list of 25 smaller stocks which meet my high risk criteria. These are stocks that I will not be putting in any of my portfolios. Even if I were a buy and hold investor, I would wait before grabbing one of these names found in the Russell 2000 index.
| | | | |
| --- | --- | --- | --- |
| Ticker | Name | MktCap | SectorCode |
| (NYSE:BAS) | Basic Energy Services Inc | 75.85 | ENERGY |
| (NYSE:BCEI) | Bonanza Creek Energy Inc | 147.81 | ENERGY |
| (NASDAQ:BDSI) | BioDelivery Sciences International Inc | 188.98 | HEALTHCARE |
| (NASDAQ:BIOS) | Bioscrip Inc | 88 | HEALTHCARE |
| (NYSE:BTU) | Peabody Energy Corp | 75.63 | ENERGY |
| (NYSE:CLD) | Cloud Peak Energy Inc | 88.09 | ENERGY |
| (NYSE:CLF) | Cliffs Natural Resources Inc | 202.49 | MATERIALS |
| (NYSE:DDD) | 3D Systems Corp | 838.11 | TECH |
| (NASDAQ:ESPR) | Esperion Therapeutics Inc | 289.47 | HEALTHCARE |
| (NASDAQ:EXAS) | EXACT Sciences Corp | 645.28 | HEALTHCARE |
| (NASDAQ:EXXI) | Energy XXI Ltd | 68.4 | ENERGY |
| (NYSE:GLF) | GulfMark Offshore Inc | 73.61 | ENERGY |
| (NASDAQ:KERX) | Keryx Biopharmaceuticals Inc | 348.3 | HEALTHCARE |
| (NYSE:LL) | Lumber Liquidators Holdings Inc | 341.3 | DISCRETIONARY |
| (NASDAQ:MNKD) | MannKind Corp | 343.02 | HEALTHCARE |
| (NASDAQ:OVAS) | OvaScience Inc | 173.2 | HEALTHCARE |
| (PVAH) | Penn Virginia Corp | 5.17 | ENERGY |
| (NASDAQ:REXX) | Rex Energy Corp | 36.51 | ENERGY |
| (NYSE:SGY) | Stone Energy Corp | 160.33 | ENERGY |
| (NYSE:SHAK) | Shake Shack Inc | 485.6 | DISCRETIONARY |
| (NASDAQ:SSYS) | Stratasys Ltd | 1015.65 | TECH |
| (NYSE:TDW) | Tidewater Inc. | 247.52 | ENERGY |
| (NASDAQ:WIN) | Windstream Holdings Inc | 522.17 | TELECOM |
| (NASDAQ:WLB) | Westmoreland Coal Co | 81.09 | ENERGY |
| (NASDAQ:ZINC) | Horsehead Holding Corp | 37.37 | MATERIALS |
Making Short Interest Work For You - Not Against
If you must buy high short interest stocks, at least try to lower your risk through other means. For example, note what happens if we invest in the highest 5% bracket of short interest but, in the interest of lowering risk, we require our stocks to be in the upper 50% bracket of valuation and trailing price performance. In this instance, our risk-reducing measures off-set our higher risk gamble.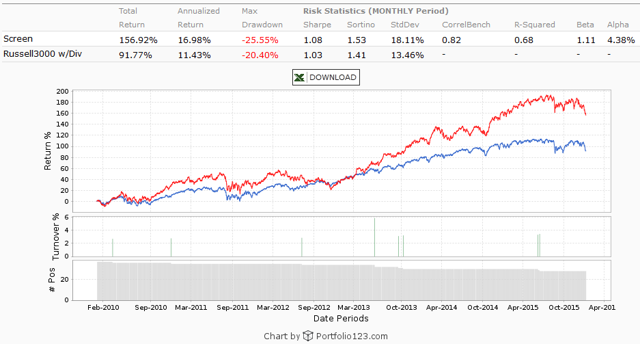 Buying and holding is a valid investment technique - I am not knocking it. But I do not believe that risk and sentiment are short-lived phenomena that usually reverse themselves over a short period of time. And even if it does, why not just wait a year or two until the risk factors are reduced?
You do not have to wait until the stock is soaring before buying it - just wait until the stock is no longer the leader in these high risk categories.
Disclosure: I/we have no positions in any stocks mentioned, and no plans to initiate any positions within the next 72 hours.
I wrote this article myself, and it expresses my own opinions. I am not receiving compensation for it (other than from Seeking Alpha). I have no business relationship with any company whose stock is mentioned in this article.
Editor's Note: This article covers one or more stocks trading at less than $1 per share and/or with less than a $100 million market cap. Please be aware of the risks associated with these stocks.