This is the first of a two-part series on attractive large caps for 2016. The second installment will be focused on high-yielding large cap value stocks.
Investors' predictions of 2016 are deservingly negative. The year ended on a sour note, with equities down year over year for the first time since the Great Recession. China spiraled into major double digit percent losses in the first week of trading, and global markets followed suit. While many argue that we're still in a secular bull market, apprehensive investors are looking towards deep-value dividend stocks to allocate their assets.
I look at the recent drop in global equity prices and I see potential opportunities. From great large cap American companies trading at favorable valuations, to high-yielding dividend plays with a low risk profile, I think 2016 could be a great year to be an active investor establishing positions.
I think 2016 is going to be an important year to own large, low-risk stocks with decent dividend yields. That's why I'm shifting my focus away from aggressively funded small-cap growth stocks, and towards safer, more mature companies with the following attributes:
Highly anticipated forward growth for at least the next three years
A reasonable valuation, when adjusted for the aforementioned growth
Bonus: A solid dividend or share buybacks
If the market falls, these stocks will too. If you're absolutely convinced we're entering another financial collapse, don't go out and buy these stocks (I recommend sticking your money under your mattress). This article's purpose is to put some stocks on your radar for 2016. These are companies that I believe would be strong performers in a bull market, and safe holdings in a bear, but not necessarily perfect buys in the volatile market we have right now.
Without further ado, here's five stocks offering growth at reasonable prices that you should watch in 2016.
Skyworks Solutions Inc. (NASDAQ:SWKS)
SWKS operates in a space that could benefit greatly from the constantly changing world in which we live in. SWKS supplies a long list of radio frequency solutions with over twenty products, allowing phones across the world to send and receive data. From the layman's perspective SWKS supplies companies like Microsoft, Apple, Dell, Google, HTC, LG, and Samsung with radio-frequency technology allowing electronic devices (like your phone or laptop) to connect to wireless networks, and they are now entering into an even larger, possibly unanticipated market - wearables, cars, and the internet of things.
In the US it's uncommon to not have a phone, but there are still billions of people around the globe without access to wireless networks. These areas include parts of India, Africa, and the Middle-East. As Apple, Samsung and Microsoft (among other mobile manufacturers) rush to be the first to be the first to supply these fresh markets with their devices, they'll need radio frequency technology to power their devices - and Skyworks Solutions, along with several of SWKS's competitors, will be the ones to do it.
Without a full model to work with I'd hate to give you my own personal estimates, but looking at what sell-side analysts estimate I have to say I'm very pleased with the forward outlook on SWKS.

SWKS also has a consistently growing balance sheet, which in the case of a possibly recession brings me optimism that SWKS would be able to survive the downturn and come out swinging.

SWKS has had increasingly strong margins and efficiency ratios thanks to the global shift to 4G, and the results speak for themselves, both EBITDA margin and return on invested capital are doing great.

SWKS is fairly valued compared to its competitors, including AVGO, ADI, and NXPI. All of these companies offer explosive growth, and all of them will benefit from the global shift to mobile. SKWS offers significantly higher margins and return on invested capital compared to these competitors, and comparable forward growth.

SWKS trades fairly on a historical basis as well, we've seen multiple compression of the last year, but in general over the past three years we've seen multiple expansion. As we see a more mature SWKS I expect multiples stay relatively close to what they are right now in the future, with a TTM P/E in the low teens.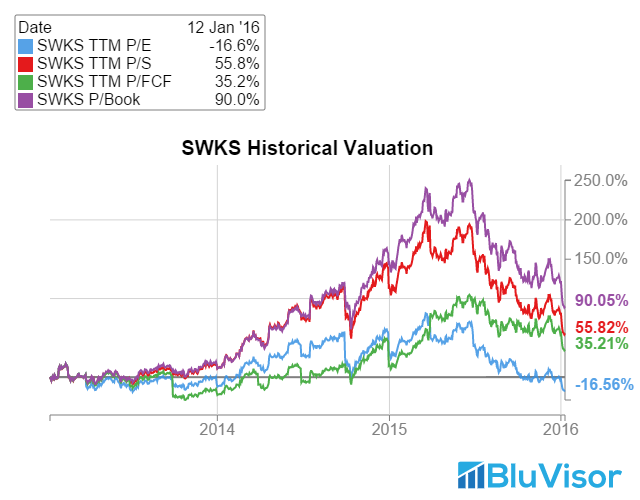 What's the downside to SWKS? They're extremely reliant on a few key customers. If AAPL releases bad news it's likely SWKS will have a magnified effect, good or bad. Of the stocks on this list SWKS is probably the riskiest, susceptible to a multitude of changes in several of its top customers.
CVS Health Corporation (NYSE:CVS)
CVS recently raised FY 2016 guidance, maintains great long-term targets, and acquired Omnicare and Target's pharmacy segment. The US has an aging population, and the average US citizen's health care plan could look very different next year depending on who comes into office. This could be good or bad for CVS and the Healthcare-related sector as a whole, if more people had access to health care CVS could benefit from more customers, however if a war begins on price gouging CVS's margins could come under pressure, but would possibly be offset be increasing sales due to lower prices.
Several dozens of Target's pharmacies will be converted into MinuteClinics, and Omnicare's pharmaceutical footprint will allow CVS to not only increase sales but also increase margins thanks to increased scale - something CVS desperately needs.
CVS offers great growth for a company of its size, sell-side analysts estimate double digit EPS growth out to FY 2018, and significant growth this next year.

With strong long tail trends behind it, I think CVS will benefit greatly from the changing landscape in the United states, and obviously has done so in the past.
The company is in desperate need of margin expansion, and thanks to more pharmacies and larger scale CVS could achieve this in 2017 or 2018.

With lower growth comes a stronger dividend, offering a yield of about 1.7% and share buybacks aimed at increasing shareholder value.
CVS offers a decent valuation at the time, on a relative basis it's very undervalued compared to other large cap stocks and market averages for profitable companies and offers significantly more growth going forward.

CVS is positioned nicely compared to competitors, and trades right in-line with its largest peers as well, like WBA.
On a historical basis we've seen both multiple expansion and multiple contraction, depending on what timeframe you look at, but in just the past year CVS's multiples have been hit hard.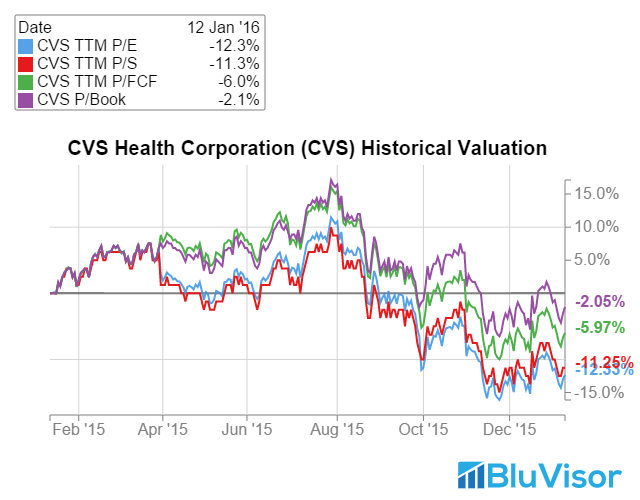 If we see a larger market drop and the political landscape becomes more visible, I think CVS could become an absolute steal, offering great organic long-term growth at a reasonable price and a solid dividend.
Royal Caribbean Cruises Ltd. (NYSE:RCL)
Like several of the other stocks on this list, RCL is positioned to benefit from large macroeconomic tailwinds headed its way as 2016 is expected to be a great year for cruises. In a US economy that is focusing more and more on experiences and less on material goods, I think RCL is in a position to benefit from a changing taste in the American consumer, as well as a baby boomers coming into retirement.
RCL is also positioned well in China and other emerging markets, however this could prove to be a weakness if the economic landscape of China becomes worse, or if the middle class of China is largely overhyped. RCL is extremely susceptible to shifts in local, regional, and global markets, for better or worse.
RCL has capitalized on cheap fuel and low interest rates yet remains modestly leveraged. RCL operates 43 ships across 480 destinations, making it one of the largest cruise lines in terms of volume and ships. Barron's is expecting +20% gains in the cruise line industry due to generally favorable trends, the issue is that a large portion of these expected gains come from China, which is now on shaky ground. Nevertheless, RCL offers a sustainable forward picture, with opportunity to capture an aging US market and even possibly younger US generations.

RCL's management is committed to achieving double digit EPS growth and adding shareholder value, they announced a $500M share repurchase program in their last quarter and increasing dividends, two things I love to see.
In contrast to its competitors like NCLH or CCL, RCL offers less attractive margins by several percentage points, but if they can manage to hit targets and deliver shareholder value through buybacks and dividends I don't thinks it's the end of the world if the company doesn't have industry-leading margins, as I would argue it has an equally compelling long-term picture with a comparable valuation.
As a side note, I think NCLH is an extremely interesting company, white it doesn't fit the criteria of this article, I would highly recommend researching the company as a possible growth company, you can view analysis on them here.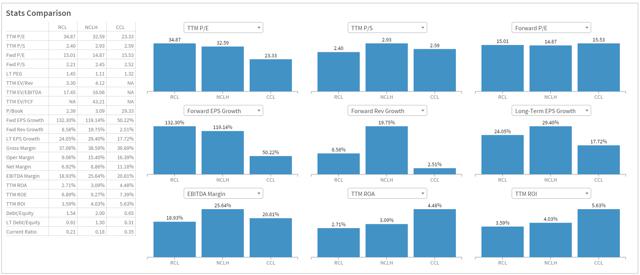 Take a look at RCL's current or historical valuation and you'll be scratching your head wondering how you could consider this company considered GARP, but this company is adequately valued when you look at it on a forward basis. It trades at a forward P/E of just 15.01x, and a forward year P/E of just 18.67x, both under market averages despite great forward bottom line growth and initiatives aimed at increasing shareholder value.

On a historical basis RCL's multiples have expanded, particularly in just the last year. TTM P/E is currently at 34.87, up from its one year of 23.34x. RCL's TTM EV/EBITDA of 17.45x is up considerably from its one-year median of 14.64x.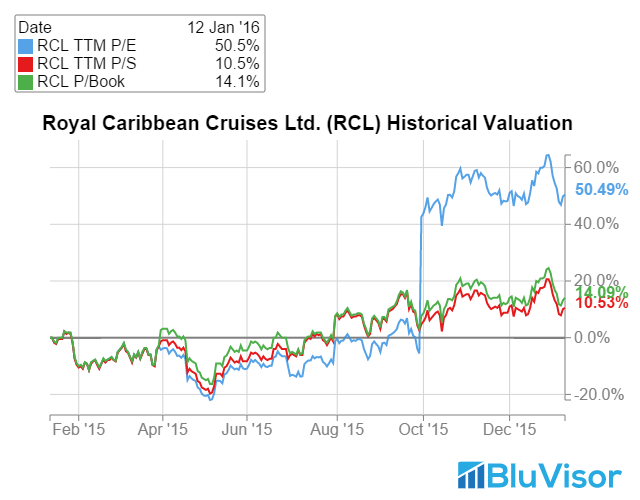 When looking at the company based on its P/S multiple, it appears as if the majority of its growth is derived from expanding multiples, and with historically stable margins this multiple expansion could be dangerous - is this company really creating value or are they simply trading at higher multiples?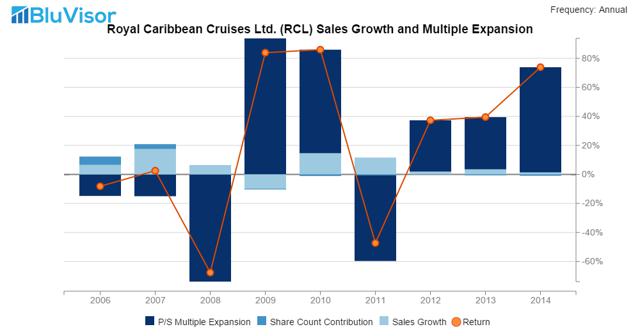 A year ago I may have sided in the case of expanding multiples, but with new initiatives like an increased dividend and a $500M buyback along with tailwinds ranging from a growing global middle class to an aging US population, I think that RCL puts itself in a position to be a great company going forward that will create real value for its shareholders.
American Tower Corp. (NYSE:AMT)
The trends that power SWKS are also at work for AMT, more or less. AMT leases space on communications sites to wireless providers, government agencies, radio and television broadcasters, and several other industries. As the world goes mobile, more and more wireless carriers are running to AMT to lease space on their towers, and the result is spectacular.

With a growing number of global and domestic mobile users, AMT will benefit from a world transitioning into the age of wireless everything. AMT is focused on expanding its global footprint and offering scale to its largest customers in areas like India, Brazil, and Mexico. The big four US mobile carriers, Verizon (NYSE:VZ), AT&T (NYSE:T), T-Mobile (NASDAQ:TMUS), and Sprint (NYSE:S), account for over half of AMT's revenue.
AMT has made several acquisitions that position it to perform well in these markets, and recently acquired a controlling stake in Viom Networks Limited, a major player in the mobile tower network in India. The company recently signed several long-term agreements with major mobile carriers across the globe, and positions itself to be a power player in the communications tower industry.
Stack on a growing dividend, a healthy balance sheet, and industry-leading fundamentals and you can see why AMT could be a great investment.
AMT faces tough competition, and must adapt to a global market that can change in the blink of an eye, but AMT offers comparable efficiency ratios and margins to its competitors. I'd like to see a larger differentiation considering the size and scale of AMT, however I think that it makes up for this in incredible forward growth and a growing global footprint.

AMT just priced a senior offering of $1.25B in debt to help finance expansion. This includes $750 in notes due in 2021 at a rate of 3.3%, as well as $500M in notes due 2026 at a rate of 4.4% issued. While I never like to see uber-aggressive financing through debt, AMT's balance sheet isn't too levered to operate in an environment where rates are higher, and historically speaking it has a pretty healthy balance sheet.

AMT has ample cash reserves, and I don't see its balance sheet as a huge weakness.
AMT's valuation is certainly difficult to justify depending on the ratio you look at. With a TTM P/E above 60x, a TTM EV/EBITDA above 20x, and a TTM P/FCF of nearly 30x, you might be wondering how someone could consider this growth at a reasonable price.
But if you switch your focus from AMT's current valuation to its forward valuation and consider the great double digit expected EPS growth sell-side analysts are looking for, it's difficult not to see the true value of AMT. AMT trades at a forward P/E of just 17x, only slightly above the market average despite exceptionally strong growth.
Overall I think AMT has a lot of tailwinds coming its way. Just like SWKS, in a world where mobile is money, AMT is in a position to deliver impressive returns to shareholders.
Footlocker Inc. (NYSE:FL)
Right on the border of mid and large-cap sits FL. FL sells sneakers, hats, and apparel to a new generation of ecommerce and retail consumers. It's a great business, a historically great stock, and now trades at reasonable valuations thanks to a nice drop in equity prices. FL had insanely strong same-store sales numbers last quarter, as comps increased 8.7%. FL's top-line has been hurt by recent currency fluctuations, but I don't see it changing the company's long-term growth plans. Speaking of which, FL is targeting revenue of $10B by 2020, implying a revenue growth rate of about 10% per year for the next five years.

Revenue growth is great, but it's only one driver of EPS growth. Where FL gets interesting is it's insanely impressive TTM EBITDA margin, which is at a ten-year high. Not to mention a TTM return on invested capital that's also nearly at ten-year high and you can see where FL could translate money into cash register into value for shareholder.

Stack on a healthy balance sheet, increasing cash flows, and a comparative advantage to its peers and you can see why I think FL is poised to outperform.

Speaking of margins, the company's target is a net margin of 8.5% by 2020, a 1.5% improvement from its current TTM net margin. Combined with the 2020 target of $10B in revenue, that's $850M in bottom line income, nearly a 70% improvement from 2015.FL's growth relies on a multitude of factors, but if the trend towards athletic leisurewear holds true I don't think that FL will have any problem hitting its 2020 growth targets - and by the way estimates look, it seems like sell-side analysts agree.
FL's valuation is an entirely different story, as multiples have consistently expanded over the last three years.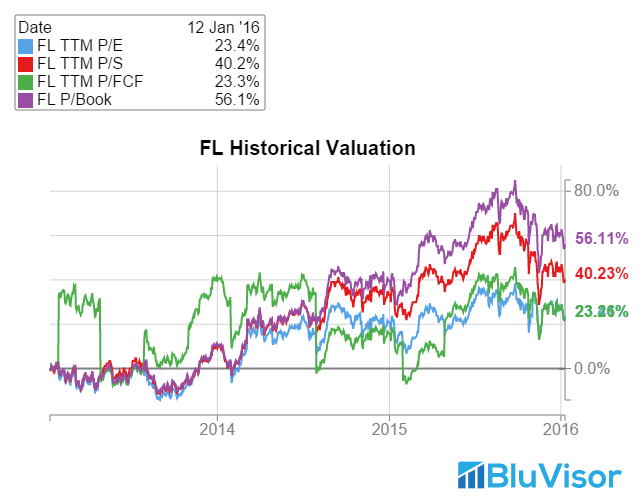 However, in the last 3 months most valuation multiples have dropped 5%+, and if the market were to correct even more than it has I think it's likely we see some extremely attractive valuation multiples.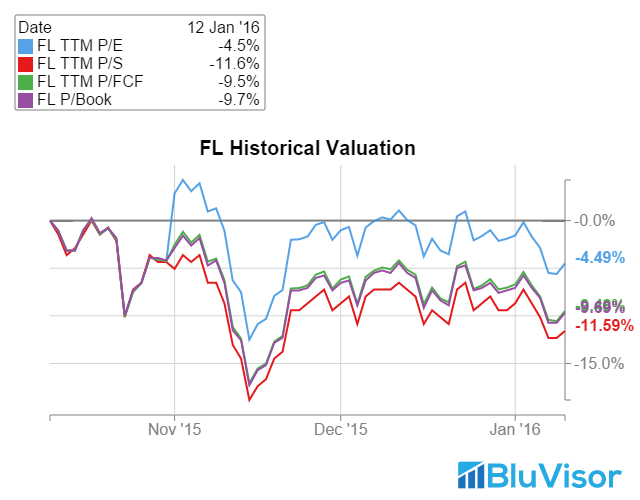 On a relative basis, FL is extremely attractive, with multiples generally below sector, market, and large-cap averages for profitable companies. Throw in a good dividend, attractive forward growth, and expanding margins and efficiency ratios and you can see why I think FL could be an extremely attractive pick going forward. It trades at a forward P/E of just 13.4x, and has a forward EV/Rev of just 1.09. FL is generally very fairly valued compared to its competitors.

Steady growth, a reasonable valuation, and expanding margins make FL a solid long-term investment to keep on your radar. At the very least, the company offers an opportunity to capitalize on the growing athletic leisurewear trend without breaking the bank.
Conclusion
I have no idea where the near-term market is headed. I have a gut instinct that 2016 isn't going to be pretty, but I also have optimism that this isn't the end of the world. If the market continues to drop, investors who have the confidence to buy great stocks at an undervalued price will come out on top in the long run, and those whom stuff cash under their mattress as fast as you can say "sell" will be left in the dust. I look at these 5 companies as potentially attractive investments coming out of a cyclical bear market, investments that could outperform their peers and produce great income in any portfolio.
In closing, I think 2016 is going to be an important year to remember a quote by Baron Rothschild, "The time to buy is when there's blood in the streets".
Disclosure: I/we have no positions in any stocks mentioned, and no plans to initiate any positions within the next 72 hours.
I wrote this article myself, and it expresses my own opinions. I am not receiving compensation for it. I have no business relationship with any company whose stock is mentioned in this article.