(9:30 a.m. Eastern) Stocks stumbled in early Friday action, pummeled by a fresh move lower for global oil prices, which are now below the psychologically significant $30-per-barrel mark.
Adding to the downbeat mood: China's latest stock move tips its markets into bear territory and the reach of its claws is wide. European stocks were also sharply lower. Even the dollar fell, as global forex participants scrambled into the relative short-term "safety" of the Japanese yen. Gold prices climbed nearly 2% in early action. And the benchmark 10-year Treasury yield hit 2.005%-a three-month low for it at a time when the Federal Reserve is looking to reverse the ultra-low U.S. interest rate climate.
Traders also have to sift through an intensifying earnings line-up, which this morning included a mixed bag of news from a banking sector struggling with oil-linked loans, trading volatility, and low interest rates. Also hitting financial markets this morning: weaker U.S. retail sales figures (more on those below).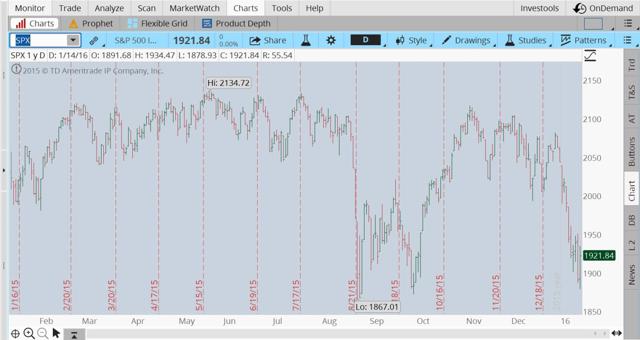 Figure 1: Thrive on Volatility? You've got it. Wide intra-day moves characterize recent trading, including Thursday's recovery session. The S&P 500 (SPX) is indicated for sharp declines again on Friday as it trades at its lowest level since September. Data source: Standard & Poor's. For illustrative purposes only. Past performance does not guarantee future results.
Mixed Performance for Select Banks. Citigroup (NYSE:C) reported a jump in earnings as its legal fees fell relative to comparable quarters. Revenue also rose at the third-largest U.S. bank by assets. In fact, revenue rose 3%, to $18.46 billion from $17.9 billion a year ago, the company's report revealed. Meanwhile, Wells Fargo (NYSE:WFC) topped Street expectations with a flat profit performance relative to a year earlier, but its $21.6 billion in revenue was below the Street's expected $21.8 billion. Company comments pointed to the dent of falling oil prices on its commercial loans to the energy sector. Share action in the banks is mixed to lower, as these tickers appear caught up in a broad-market decline.
Tough Time for Intel. In a late-Thursday report, chipmaker Intel (NASDAQ:INTC) said its earnings fell 1% versus a year-earlier comparable as diversification away from personal computers hasn't gone far enough, industry analysts say. Industry data out this week, including from consulting firm Gartner, showed continued weakness in the personal computer market, especially due to China's slowing economy. INTC's earnings report had some brighter spots. For 2016, the company predicted revenue would rise by a percentage in the mid-to-high single digits, up from its previous estimate that predicted revenue would grow by a percentage in the mid-single digits. INTC shares are lower in early Friday trading. The stock is down roughly 10% over the past year.
Where's That Consumer? While auto and housing numbers have been generally bullish, there's still slack in broad consumer spending, according to recent data. December's 0.1% drop in retail sales matched the median forecast of 84 economists surveyed by Bloomberg and followed a 0.4% gain in November. But the yearly statistics are a little sobering. For all of 2015, purchases climbed 2.1%, the smallest advance of the current economic expansion, Bloomberg says. Sales were up 3.9% annually in 2014. Receipts at gas stations fell 1.1% in December to account for some of the total decline. But cheaper pump prices are not translating into other spending. What's going on?
TD Ameritrade, Inc., member FINRA/SIPC. TD Ameritrade is a trademark jointly owned by TD Ameritrade IP Company, Inc. and The Toronto-Dominion Bank. Commentary provided for educational purposes only. Past performance is no guarantee of future results or investment success.
Disclosure: I am/we are long C.
I wrote this article myself, and it expresses my own opinions. I am not receiving compensation for it. I have no business relationship with any company whose stock is mentioned in this article.