From a total of 16 analysts covering Yamana Gold, Inc. (NYSE:AUY) stock, 2 rate it a "Strong Buy", 7 a "Buy", 1 a "Sell", and 6 a "Hold".
AUY)" hspace="6" vspace="6">
On a scale of 1 to 5 where 1 is a Strong Buy and 5 is a Strong Sell, the stock is ranked 2.5 based on 16 sell-side broker recommendations.

Of the 17 analysts estimates, the most bullish sees the stock reaching $5.25 within the next 12 months while the most bearish analyst sees the stock at $1.58 within the year.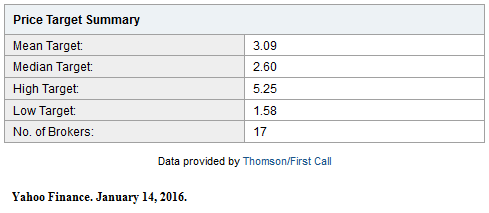 Today I want to assess a value for NYSE:AUY with a 2 factor model, where the return on the stock is a function of two variables, the return on the market (S&P 500) and the return on Gold.
Then I want to see if the result of my assessment is in line or in contrast with what 60% of analysts say about the stock, that is "buy".
But going against the grain is a virtue of the value investor who is seeking "true bargains".
Yamana Gold closed trades on January 13, 2016 at $1.83 per share - the share price has dropped by almost 33% since November 2013.
The stock tumbled -55.7% in 5 years and -9.79% in 1 month time.


Is today really the right time to buy the shares?
Yamana Gold Inc. is a Canada-based gold producer. The Company is engaged in gold mining and related activities, including exploration, extraction, processing and reclamation. The Company's production mines include Chapada, Brazil; El Penon, Chile; Canadian Malartic, Canada; Mercedes, Mexico; Gualcamayo, Argentina; Jacobina, Brazil; Minera Florida, Chile, and Other Producing Mines. Its development properties include Cerro Moro, Agua Rica and Suyai in Argentina. The Company has a total gold proven and probable mineral resource of around 18.750 million tons at Alumbrera, 126.95 million tons at Canadian Malartic, 509.15 million tons at Chapada, 1.96 million tons at Cerro Morro, 10.41 million tons at El Penon, 29.16 million tons at Gualcamayo, 22.85 million tons at Jacobina, 8.68 million tons at Jeronimo, 4.01 million tons at Mercedes, 7.89 million tons at Minera Florida, 24.03 million tons at C1-Santa Luz, 2.05 million tons at Fazenda Brasileiro and 10.58 million tons at Pilar (here).
Yamana Gold's financial summary:
Yamana Gold has a diversified portfolio of assets providing sustainable gold production supported by a large resource base. We have industry-low cash costs and operations in some of the world's most stable mining jurisdictions. Every Yamana Gold share offers significant exposure and increasing leverage to gold through continued production and mineral resource growth. In 2016, we expect to deliver gold production of between 1.23 million and 1.31 million ounces of gold. Silver production is projected at between 6.9 million and 7.2 million ounces of silver and copper production is projected at between 122 million and 125 million pounds.
Annual data: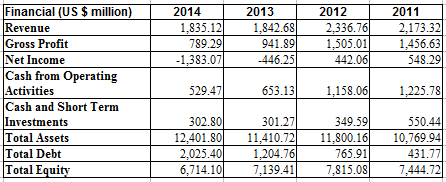 (Source: Google Finance)
Quarterly data: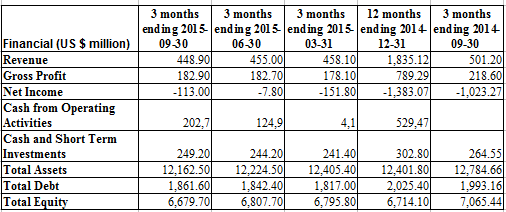 The company reported sales of $448.9M for the 3rd quarter of 2015 versus $501.20M for the 3rd quarter of 2014 (-10.43%); $-0.12 of Diluted Normalized EPS during the 3rd quarter of 2015 versus $-0.67 in EPS generated during the corresponding period of the previous year (82.08% improvement). Operating cash flow was $202,7 million (end of 3rd quarter of 2015), or $0.21 per share, compared to $529,47 million, or $0.60 per share, in the fourth quarter of 2014.
In order to estimate the beta (risk measure) for Yamana Gold Corp., I will use a two-factor model.
Studies (for e.g., by Faff and Chan, 1998) that have investigated all the variables together in one composite model for the return on gold stocks concluded that:
the only independent variables which are statistically significant to explain the return on gold stocks are the return on the stock market and the return on the gold price.
This study is a milestone in the worldwide literature. It has investigated all the variables together in just one composite model for the return on gold stocks.
When I use the CAPM model, I usually observe a long enough time series of equity market returns. With reference to the experience of Anglo-Saxon countries, a sufficiently significant statistical survey should be based at least on a five-year range of monthly returns of securities and markets. Here, I will consider a 130 months period (130 monthly observations), from January 2005 to December 2015.
Data on Gold Fixing Price 3:00 pm (London time) in the London Bullion Market, based in U.S. Dollars (GOLDPMGBD228NLBM), Monthly, Not Seasonally Adjusted, are downloaded from Federal Reserve St. Louis economic research website.
Data (monthly prices) on S&P 500 index and on NYSE:AUY are downloaded from Yahoo Finance (historical prices).
Now, I will use a two-factor model to calculate the gold beta: that is, the relationship between the movement in the price of gold and movement in gold stocks.
E(Return on AUY) = a + b1*E(Ret. on Mkt.) + b2*E(Return on Gold)

Beta1 (Mkt), 0.622 and Beta2 (NASDAQ:GOLD), 1.98 are both statistically significant.
The table below shows that the annualized means are: Gold return 9.61%; Stock Market return 5.73%. Gold still delivered higher returns than the stock market between 2005 and 2015.
| | |
| --- | --- |
| Market Return | 5,73% |
| Gold Return | 9,61% |
Below you can find a summary report of my analysis for AUY: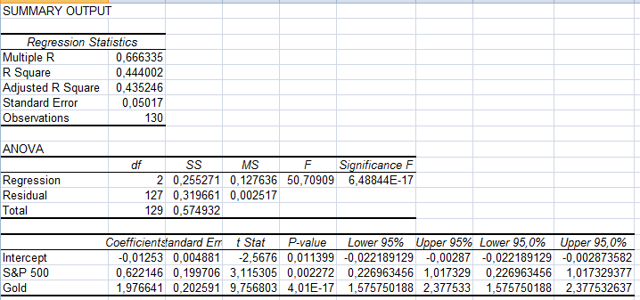 Multiple R (raw R-squared) tells us that 66.6% of AUY monthly returns are explained by the two factors - aggregate stock market and gold price. The "adjusted R Square" is 44.4%.
E(Ret. on AUY) = alfa + b1*E(Ret. Mkt.) + b2*E(Return on Gold)
Ret. on AUY = -0.01253 + 0.62 * 5.73% + 1.98*9.61% = 0.2132 (21.32%).
Now I have all what I need to compute Yamana Gold's cost of equity with the WACC equation:
WACC = E/V*Ret. on AUY + D/V*AUY's Rd*(1-Tc)
Yamana's WACC = 0.78 * 21.32% + 0.22 * 7.77% * (1- 0.0142) = 0.1831 (18.31%).
Value of the firm's equity and cost of debt, Rd, are as of September 30, 2015.
The cost of debt and taxation are mean values of the industry (here).
As growth rate for AUY, g, I will consider Next 5 Years (per annum), Growth Estimates (12.40%):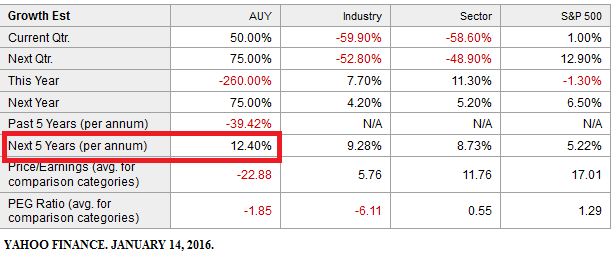 I can estimate I.V. for Yamana Gold Corporation as follows: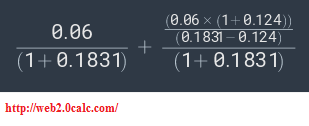 $1.02 per share vs $1.83 adj Close of January 13, 2016 and a mean 12 months target price of $3.09 (see picture above).
The stock is overvalued by the stock market and according to my point of view it is not a buy.
Conclusion
Likely analysts rely on price‐multiple heuristics rather than formal valuation models to compute target prices.
According to my analysis AUY is not a buy today since the stock looks overvalued by the market.
Disclosure: I/we have no positions in any stocks mentioned, and no plans to initiate any positions within the next 72 hours.
I wrote this article myself, and it expresses my own opinions. I am not receiving compensation for it (other than from Seeking Alpha). I have no business relationship with any company whose stock is mentioned in this article.