The 5 year forward inflation expectation rate has plunged to 1.67% as of January 12th.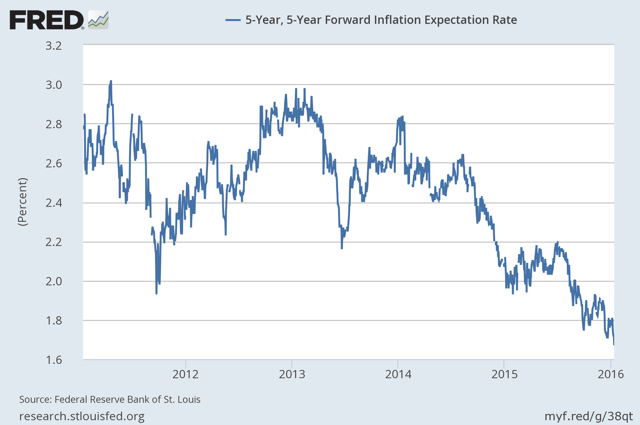 Meanwhile, current rates of inflation are well below 1% over the recent 12 months.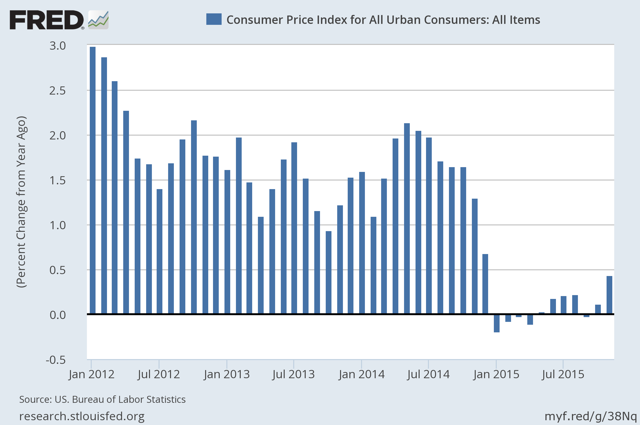 The Federal Reserve aims to have the inflation rate at 2% and they insist they are aiming to reach 2% inflation again.
St. Louis Fed President James Bullard stated today via CNBC,
"Once oil prices stabilize, headline inflation should return to the Federal Open Market Committee's inflation target of 2 percent, although it may take longer than previously thought,"
Thinking that once oil prices stabilize, inflation will return back to 2% is wishful thinking I believe.
That the 5 year inflation expectations have been collapsing, it is putting very low expectations for the Fed to achieve 2% inflation.
The greatest risk to deflation occurring is for aggregate credit growth to become negative. I recently suggested a credit crunch could be in the making.
While there are many reasons for stocks to be selling off: Dollar rally, earnings declines, energy price collapse, I believe another factor is the growing risk of deflation.
Credit Growth
Credit growth and inflation go somewhat hand in hand.
Below is a chart of year over year percent change in total credit growth adjusted for population compared to inflation: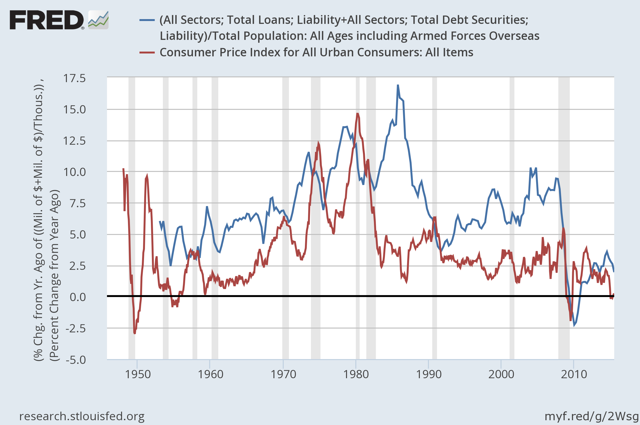 The blue line, aggregate credit growth, shows that there's been very low rates of growth since the 2008/2009 recession.
What should be of concern is that credit growth is again slowing.
This slowdown in aggregate credit growth is likely to be impacting inflation expectations as per the chart below: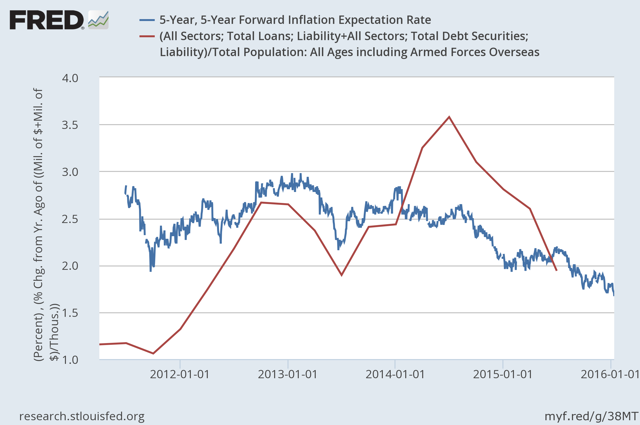 Annual year over year credit growth is matching with 5 year inflation expectations.
Less new debt is entering the economy and that is helping to create a dollar rally as dollars that are already in the economy become more scarce.
With the stock markets falling, corporate layoffs starting to get announced, there is going to be very little appetite for loans this year.
So this is why I expect aggregate credit to go negative later this year without some kind of new stimulus from both the Federal Reserve and Federal Government.
Being subjective on the current culture in the U.S. today, I would expect to see many cries out to both the Federal Reserve and Congress to "do something" in the event stocks crater into the year.
Doing something may well be more QE coupled with stimulus and plenty of deficit spending from the Federal Government.
Hiking interest rates in this environment is risky and I would think, anti credit growth. So the rate hike I believe is contributing to what could be an acceleration towards deflation.
Stocks are pricing in that scenario too I believe.
I continue to think, just like I thought in September, the Fed needs to put more focus on fighting deflation and not be hiking rates now.
Disclosure: I/we have no positions in any stocks mentioned, and no plans to initiate any positions within the next 72 hours.
I wrote this article myself, and it expresses my own opinions. I am not receiving compensation for it (other than from Seeking Alpha). I have no business relationship with any company whose stock is mentioned in this article.