In his prepared remarks for the 2015 Q4 earnings conference call, Intel's (NASDAQ:INTC) CEO Bryan Krzanich claimed a "strong finish" to the year. But gone was last year's bravado regarding the mobile space. Gone was any mention of tablet processor sales, SoFIA, Intel's partnerships with Rockchip and Spreadtrum, or even Intel's wireless modems. Intel's capitulation on mobile sounds a warning for investors regarding Intel's fundamental business model.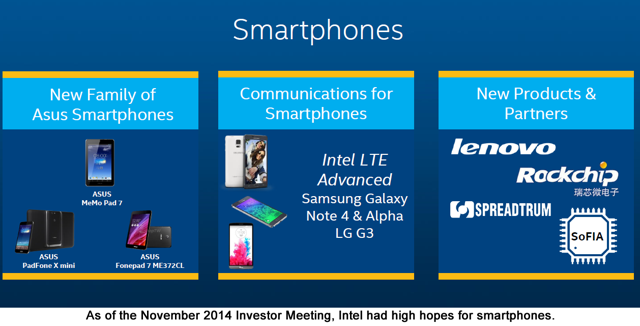 Source: Intel
Focusing on Its Presumed Strengths
As previewed at Intel's Investor Meeting last November, Intel's management is focused (and would like to focus investor attention) on three key areas of growth, the data center, the Internet of Things (IOT), and non-volatile memory. On the surface, this seems sensible, because Intel has high hopes for 3D Xpoint memory, and the Data Center Group (DCG) and IoT Group (ITG) both posted revenue gains for Q4. Intel eked out a slight revenue gain for the quarter of 1.3% y/y to $14.9 billion.
However, even the bastions of DCG and ITG showed signs of strain. While revenue was up for the quarter, operating income was down for both. Total operating income for Intel was down 3.5% y/y for the quarter. For the year, revenue declined by 1% y/y to $55.3 billion while operating income declined by 7.8% y/y to $14 billion.
Client Computing Group (CCG) faced with the ongoing decline in worldwide PC sales, continued its relentless decline. For Q4 revenue was down by about 1% while operating income was down by 4% y/y. These year-over-year comparisons are for restated revenue and operating income assuming the combination of the PC Client Group and the Mobile and Communications Group (MCG).
That combination of the PCCG and MCG at the beginning of the year continues to obscure, but not completely conceal Intel's continuing mobile losses, which were once again acknowledged during the conference call. An analyst asked if the goal of an $800 million reduction in mobile losses was still the goal for 2016, and Intel acknowledged that it was.
Comparing the operating costs of the combined Client Computing Group and the old PC Client Group provides insight into the magnitude of the losses associated with mobile as the chart below shows.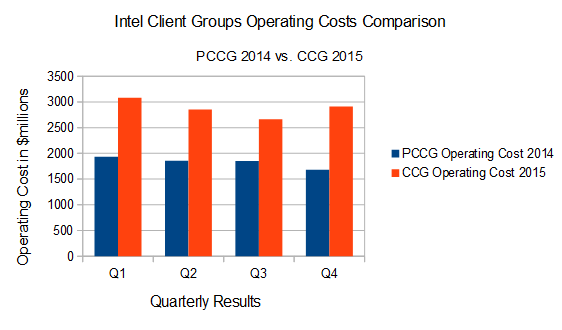 Despite comparable revenue to the old PCCG, operating income for CCG continued to lag compared to last year, by about, you guessed it, a billion dollars.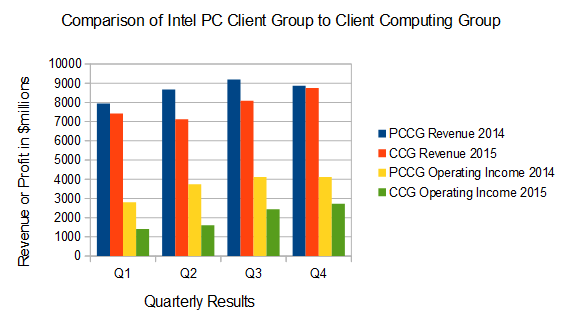 Intel's claims of making progress in reducing mobile losses are beginning to look rather specious. Up until Q4, Intel was at least making progress in getting operating costs under control. The jump in operating cost for Q1 reflects the $1 billion in operating loss for the mobile group that it was posting quarterly throughout 2014. Why operating cost jumped in Q4, erasing the gains of the previous quarters appears to be due to a reversal of Intel's reduction in contra revenue for Q4, as well as expenses due to modem development.
Intel reported selling 9 million tablet processors in the quarter. This was actually a sequential increase from the previous quarter of 1 million units, although a decline of 33% y/y. Probably Intel decided to boost tablet sales in Q4 to clear out inventory.
Although Intel has claimed that non-volatile memory represents a growth area for the company, there's no discernible profit, as the memory effort is lumped into the All Other category, which posted a loss of $817 million for Q4 on revenue of $682 million. An analyst asked if memory output from the planned Chinese factory would be a positive contributor to EPS, and Intel acknowledged that it wouldn't be in 2016.
The Meaning of Capitulation
It wasn't until an analyst specifically asked about it, that Intel's modem effort was even mentioned. Intel stated that the 7360 modem is being sampled to potential customers, but didn't give any indication of the magnitude of adoption. I personally doubt that adoption will be high, with Qualcomm already fielding superior modems, and having an incumbency advantage.
After the Investor Meeting, I described Intel as being in retreat in mobile devices, but the lack of mention of Intel's mobile devices seems more than mere retreat. In fact, I think Intel management has simply realized that it's never going to be competitive with ARM-based processors for smartphones and lightweight tablets. The smartphone industry continues to embrace the paradigm shift away from commodity processors produced by companies like Intel to custom designed systems on chip (SOCs). The industry is following Apple's (AAPL) lead, not Intel's retro PC industry fantasy.
The latest example of this is the recently released Huawei Mate 8 smartphone. Even I as an Apple fan and investor have to acknowledge that the Mate 8 is a really nice phone. It runs Android 6.0, and features the HiSilicon Kirin 950 SOC. The Kirin 950 is a custom SOC featuring the latest ARM Holdings (ARMH) Cortex-A72 CPU core design. HiSilicon is a wholly owned subsidiary of Huawei.
The custom SOCs from Samsung and Huawei clearly demonstrate that the industry now understands the value of Apple's custom SOCs that it began designing back in 2010. There is no turning back the clock to the PC commodity era for the smartphone industry. Commodity processors still have a place, as Qualcomm has shown, but only in medium priced and lower devices. But even in this price tier, Intel can't compete with Qualcomm's (QCOM) latest Snapdragon 820.
Theoretically, Intel still plans to move SoFIA (now fabricated by TSMC on a 28 nm process) to its own 14 nm process this year. I frankly doubt that Intel will bother. There is no market for it.
The Kirin 950 also serves to demonstrate why Intel's modem strategy will fail. The 950 already has incorporated HiSilicon's own modem technology. The industry is moving to integrated modems, with Apple as one of the few laggards in this regard, but I doubt that will last much longer. Apple will probably license Qualcomm's modem technology for its next generation SOC.
Investor Takeaway
I have for some time advocated that Intel embraced the "PC mobilization" strategy of Microsoft, focusing on mobile form factors for Wintel based PCs. Microsoft's latest Surface Pro and Surface Book are great examples of this. Clearly, there's a huge market of Windows PC users that can be mined for upgrades.
The failure in smartphones should give investors pause regarding the longevity and ultimate success of this strategy. Intel failed in smartphones and tablets because of a basic cost disadvantage compared to ARM that it simply couldn't overcome, even with contra revenue. Doesn't that cost disadvantage eventually carry over into the other markets served by CCG and DCG? I think it does.
It's already having an impact on client computing, as consumers simply don't bother to upgrade their Wintel PCs. For these consumers, smartphones and tablets are performing most of their day-to-day computing. As these devices become more powerful and able to connect to large screen HD and even UHD displays, they make inroads in traditional PC strongholds such as productivity and even entertainment, interactive and non. These days, you can watch UHD movies or play games on an ARM processor device, whether located in your smartphone or a compact console such as the Nvidia (NVDA) Shield Console.
Given the declines in the market for traditional PCs and the growing power of smartphones, I'm now very skeptical that Microsoft will ever achieve its goal of 1 billion PCs running Windows 10. Furthermore, the reported revamping of Android as a mobile and PC platform appears to set up Google (GOOG) (GOOGL) to take advantage of ARM processors to become the next commodity PC platform supplier.
The data center appears safe for now, and I expect Intel to protect it ferociously, but I expect that eventually it will succumb as well. Here, the key to reducing Intel's share of the market will probably be companies such as Amazon (AMZN), that have the ability to design ARM processors (through its Annapurna subsidiary), combined with a huge internal market for servers, and the ability to control the software stack that runs on the servers. Apple could also do this.
What happened with smartphones is really a death knell for the x86 architecture. The death of x86 may be painful and protracted, but it looks increasingly certain. Altera offers a faint glimmer of hope in that Altera designed and built some ARM-based combination processor/FPGA devices, as I pointed out in Intel Becomes An ARM Chip Maker.
But there's still no sign that Intel management is willing to be flexible regarding choice of instruction set architecture for its key products. This may come eventually, but until then, I consider Intel a sell.