It's really difficult to write about stocks when the direction of the market keeps going down week after week. I would rather be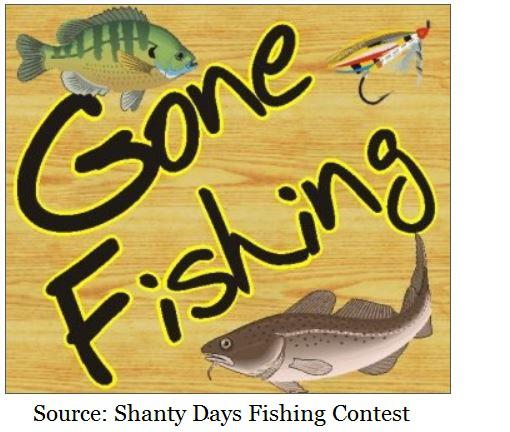 fishing, taking sight-seeing tours with my wife or just about anything else than witnessing the rout currently taking place in the market. The way the market has been acting, one might think that the US is heading for another deep recession. There is certainly some deflation in certain sectors of our economy; oil, gas and coal as well as minerals that are mined out of the ground are continuously going down. It's hard to believe that one can buy gasoline for less than $2.00 per gallon. Most of us thought that gas was going to be $5.00 per gallon in the near future rather than $2.00. Investments in the oil and mineral patch have one suffering with 50% or more losses in these issues. Annual charts of oil, gas and some metals are shown below: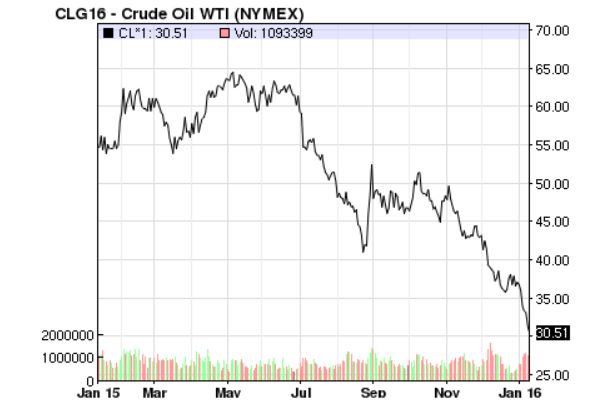 Source: Nasdaq markets graph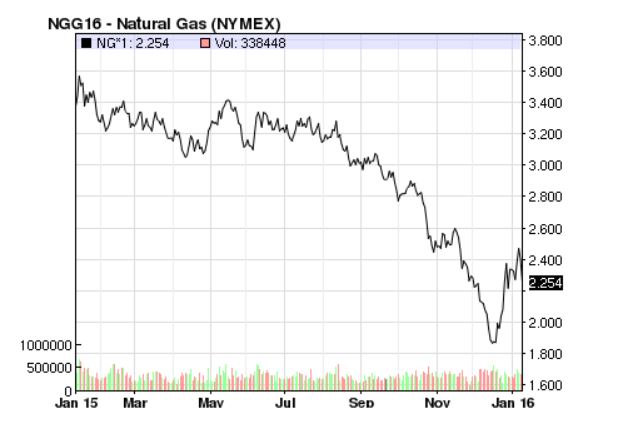 Source: Nasdaq markets graph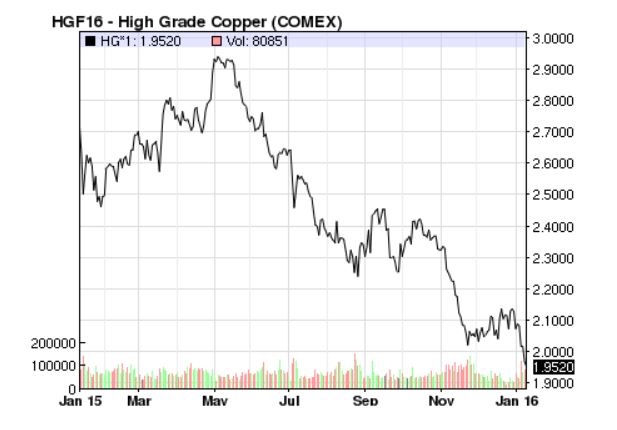 Source: Nasdaq markets graph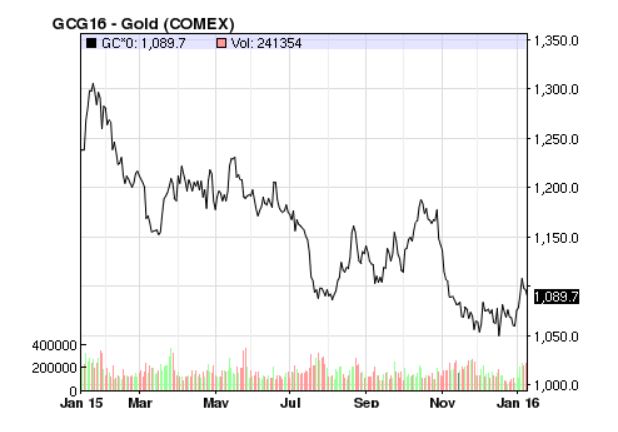 Source: Nasdaq markets graph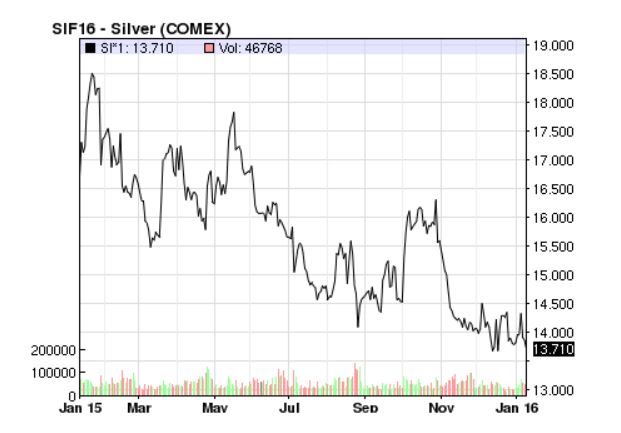 Source: Nasdaq markets graph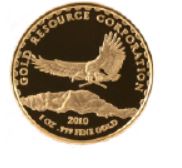 Some issues I own and recommended in the past have taken bigger price declines than the commodities. A small gold stock that I recommended in the past is Gold Resource Corp. (NYSEMKT:GORO). In 2012 when I recommended it, the stock was selling for $13.50 per share. The price collapse of gold has also caused GORO to fall along with it. The price decline of the issue this year is shown on the graph below: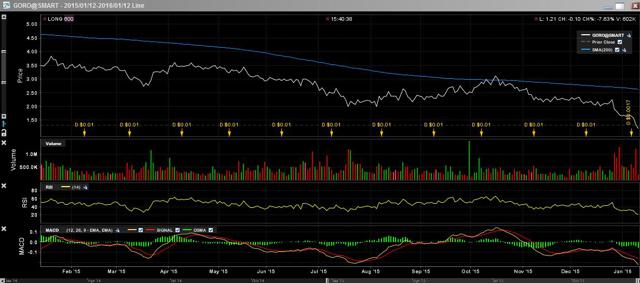 Source: Interactive Brokers
GORO started the year at $3.50 per share and is now selling below $1.25 per share. The recent big selloff came as a result of the company announcing that it is reducing the dividend from $ 0.01 per month to 1/6 of a cent per share or 2 cents per share a year.
While the company lost money last quarter, it has made money this year despite the contraction in the price of gold. The figures for the last 3 quarters show a loss of $ 469,000 for the 3rd quarter, a profit of $ 812,000 for the 2nd quarter and a profit of $ 5,053,000 for the 1st quarter.
The company is attempting to take advantage of the current bear market in gold by staking additional claims in Nevada. It has nearly doubled the acreage Nevada's Walker Lane Mineral Belt. Management claims that this property has the potential for a high grade gold open pit, or multiple gold open pits since mineralization is at shallow depths below the surface.
GORO is a safe gold miner to own as long as the price of gold stays above $1,000 per ounce. A prolonged period below $1,000 per ounce would certainly put this company in a bind. If you believe as I do that gold will stay above that level and will certainly be way above that level in a few short years, this issue looks like a possible winner. This is a gold mining company where all the assets are located in the US and Mexico and it has enough financial resources and mine fields to be successful for a long time. A recent review of the company on Seeking Alpha can be seen here.

Another gold and resource stock I own is GAMCO Gold, Natural Resources & Income Trust (NYSEMKT:GGN). GGN is a closed end fund that invests 80% of its assets stocks that are involved in the gold and natural resources industries. You can view the damage done to this issue in the graph below: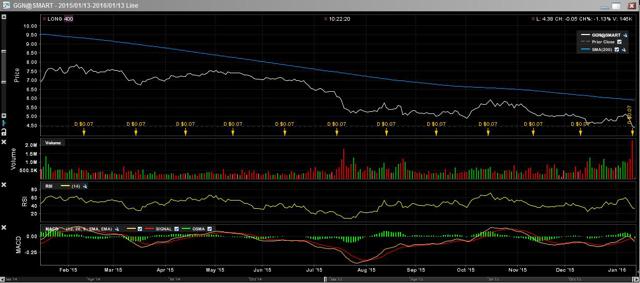 Source: Interactive Brokers
The fund has lost about 45% of its value over the past year. While the damage is not as extensive as GORO's, the capital loss is extensive and expensive. There are 2 reasons that I chose this gold fund:
It pays a dividend
It is run by someone in the fund business I respect, Barbara Marcin
I keep a small percentage of gold and other resource stocks in my portfolio to help protect it against inflation and GGN is a CEF that allows diversification with one stock. I will continue to keep it and other resource stocks in my portfolio for the same reason.
As of 1/12/16 NAV of the fund was $4.99 per share. The fund has lost a little over 5% of NAV so far this year and over the past 12 months NAV has declined 24%. GGN closed at $4.43 per share on 1/12/16 which translates to a 12% discount to NAV. Managers of the fund maintain that the companies in the fund have good assets, low unit costs and manageable levels of debt. You can view the top 10 holdings below:

Source: Gabelli Funds Web Site
Reuben Gregg Brewer has been following GGN for quite a while and you can see his latest article on GGN here.
In the oil patch I recommended the preferred shares of 2 oil drilling companies; Legacy Reserves, L.P., 8.00% Series B Fixed/Float Cumulative Redeemable Perpetual Preferred Units (NASDAQ:LGCYO) and Vanguard Natural Resources, 7.625% Series B Cumulative Redeemable Preferred Units (VNRBP). These articles can be reviewed here and here. These cumulative preferred shares have first dibs on dividend payments on free cash flow from operations. If these companies survive the current depression in oil and gas prices, the dividends will be paid eventually. However if the companies become insolvent and go into bankruptcy, the shares will end up being worthless. On the other hand if the companies are able to survive the current slump in prices even if they stop paying preferred dividends, the companies will be obligated to pay all back dividends before dividends are paid to common stock holders.
You can see the decline in stock prices below: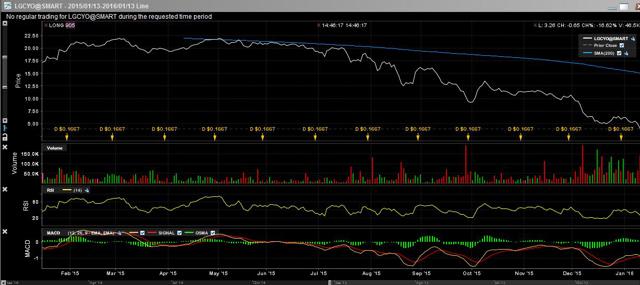 Source: Interactive Brokers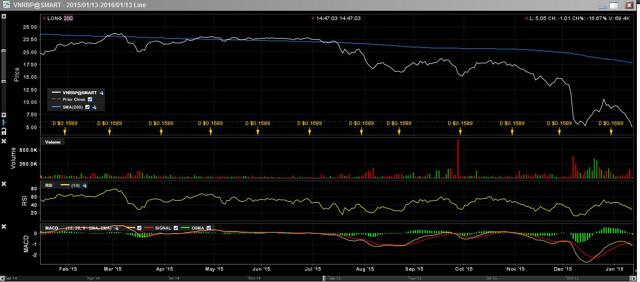 Source: Interactive Brokers
The collapse of oil and gas prices have inflicted a massacre on these issues. There is no question that if oil stays at $30.00 per barrel for more than 6 months, these companies will be in trouble.

An article by Williams Equity Research suggests that Legacy stands a very good chance of surviving the current downturn in prices. He also said that if prices were to go up, the partnership would be able to benefit from the price increases. The price of the preferred stock is priced as if the company is on the brink of failure even though that doesn't appear to be the case. However there is the very real possibility that management will stop the dividend in the near future until oil and gas prices turn around.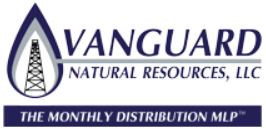 Articles by The Traveling Investor and by Casey Hoerth suggest that Vanguard Natural Resources can handle about a year of oil and gas at current prices. If the prices of oil and gas continue at current levels beyond 2016, the partnership will be at the mercy of the banks because of loan covenants on its extensive debt. Vanguard has been slashing its distributions to common shareholders to conserve cash and it is possible that it will stop paying the preferred dividend in the near future in order to meet its debt covenants.
Conclusions:
While I am not advocating a buy for any of these issues at the present time, the prices of these issues have gone below their worth by a good measure. The panic selling going on now by investors may not be finished, so stay away until the market calms down. If one is concerned about the possibility of high inflation within the next year or 2, the gold issues listed above are certainly worth considering. I am maintaining my small investments in these 2 issues for the foreseeable future considering how fragile our economic and political situation seems to be.
When oil hit $50.00 a barrel I was reasonably sure it was very near the low. However I was certainly wrong about that and it is just as difficult to predict how low these stocks will go as well. If one could be sure that oil and gas prices would move forward by $20 to $30 a barrel by the end of the year, one could place large bets on the oil and gas preferred issues covered above and profit mightily. On the other hand, there is the possibility of losing all of one's investment if gas and oil continue to stay at current levels over 18 months. Either way I am hanging on for the ride with those already in my portfolio.
Disclosure: I am/we are long GORO, GGN, LGCYO, VNRBP.
I wrote this article myself, and it expresses my own opinions. I am not receiving compensation for it (other than from Seeking Alpha). I have no business relationship with any company whose stock is mentioned in this article.
Additional disclosure: This article also covers issues with LGCY and VNR.
Editor's Note: This article covers one or more stocks trading at less than $1 per share and/or with less than a $100 million market cap. Please be aware of the risks associated with these stocks.