While market technicians may be looking at wheat as a potential buy at current prices, a quick check of the fundamentals suggests otherwise. In fact, the opportunity for traders at this time is likely still on the short side. For confirmation of this, we need look no further than supply side economics.
The Bear in Wheat
Wheat is a commodity whose fundamentals appear decidedly bearish. These fundamentals will likely be a burden on price for much of 2016, making wheat a prime candidate for call sellers. What are these fundamentals? The 3 with the biggest impact on price are covered below.
Top 3 Factors Affecting Wheat Price in 2016
1. Global Ending Stocks are Highest in History: Due to bumper crops across much of the wheat producing world (thank rapidly improving genetically modified crops), global ending stocks are expected to balloon to 229.86 million metric tons in 2016 - the highest in recorded history.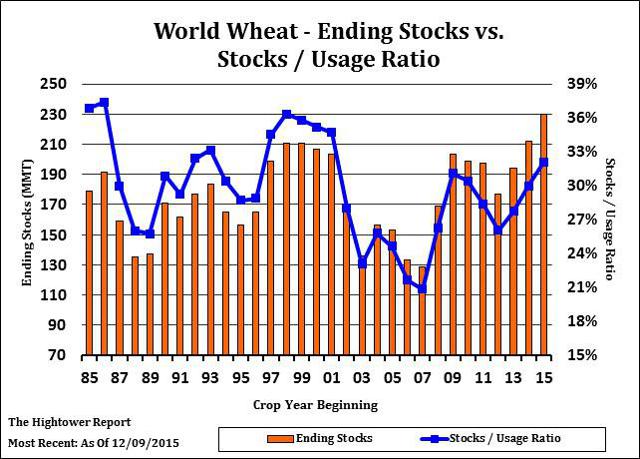 2015/16 will show the highest World Wheat Ending Stocks in History
2. US Wheat Stocks to Usage at Second Highest Level on Record: The Runaway US dollar has made US wheat less competitive on the world market. A strong dollar makes US wheat expensive to global importers. Why buy US wheat when you can buy French or Russian wheat at a 10% discount? This has resulted in US inventories accumulating. The US wheat stocks vs. expected domestic usage ratio has surged to 45.1% - the second highest on record.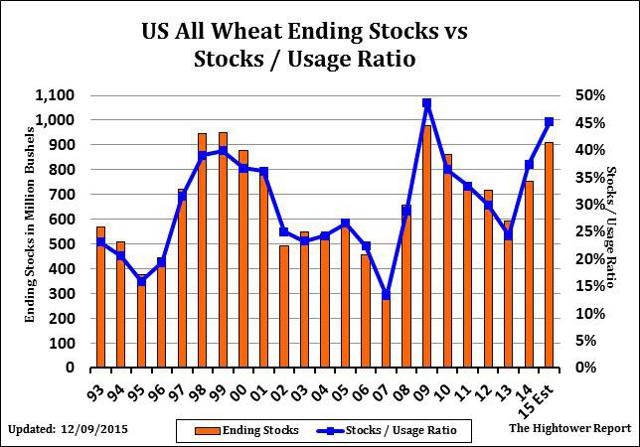 2016 is expected to show the 2nd highest Stocks to Usage on record for US wheat
3. Seasonal Fundamentals are Weak: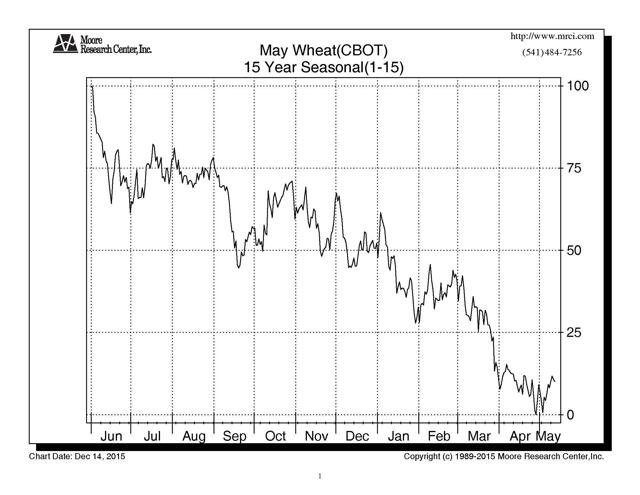 Unlike it's cousins, corn and soybeans, wheat prices seldom benefit from the planting season price anxiety often seen in the US Springtime. Why? Because almost ¾ of the US wheat crop is winter wheat which is planted in the fall. Therefore, when traders and farmers are wringing their hands in March and April about weather conditions and how fast or slow their corn and soybean crops are getting planted - 75% of the wheat crop is already in the ground. Thus, the market tends to take its price cues from the newly harvested supplies leaving the shores of such exporters as Australia and South America. Historically, this has kept pressure on wheat prices during the US Spring.
Conclusion and Strategy
The combination of massive US and Global wheat supplies combined with a strong US dollar (not helped by last month's Fed rate hike) has kept wheat prices under pressure in the second half of 2015. The problem for wheat is these fundamentals are unlikely to change anytime soon. It takes awhile to work through that much of a supply backlog. Further confounding the wheat bulls is the upcoming seasonal tendency for weaker wheat prices in the Spring.
July 2016 Wheat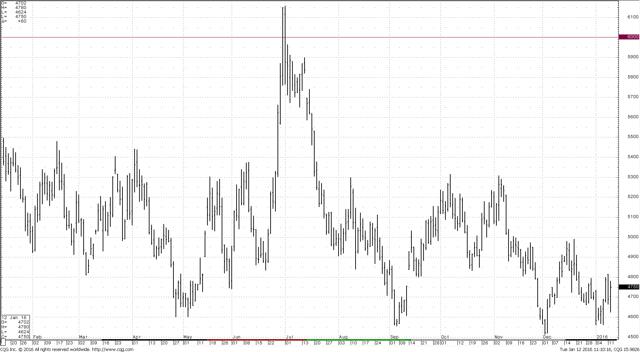 Does this mean that wheat prices can't rally? Of course not. Markets can rally for a variety of reasons - often in the face of contradictory fundamentals. What it does mean is that a substantial, sustained rally is unlikely. The burdensome supply outlook will likely mean heavy commercial selling coming in to stifle any technical rallies.
We advise call selling strategies for our clients. However, futures traders can view 20 to 30 cent rallies in this market as selling opportunities for at least the next 60-90 days. We feel wheat could have at least another 50 -60 cents on the downside prior to planting completion in the Spring.
Disclosure: I/we have no positions in any stocks mentioned, and no plans to initiate any positions within the next 72 hours.
I wrote this article myself, and it expresses my own opinions. I am not receiving compensation for it. I have no business relationship with any company whose stock is mentioned in this article.