Why We Love FactSet
There is one overwhelming reason why we love FactSet Research Systems Inc (NYSE:FDS). Going back to April 2, 2015, FDS had just announced that it would be acquiring one of our favorite ETF data websites, ETF.com, for an undisclosed amount.
ETF.com assured its readers that there would be "Nothing Changing1" in their website post announcing the acquisition. They further promised: "All of the data and information you've come to rely on from ETF.com will continue to be available to you, free of charge, on our website." We love ETF.com, and find its database highly useful. However, just because FX Metrix loves ETF.com, does not mean that the markets love FDS for acquiring it.
Close on ETF. com Acquisition (04/02/15)

Today's Close

(01/14/16)

$ Change in Share Price

($USD)

Change in Share Price

(%)

FactSet (FDS)

$159.99

$148.18

-$11.81

-7.38%
No Love From the Markets
On April 2, 2015 FDS opened at $159.85 per share, and closed higher at $159.99 per share that day having announced the acquisition of ETF.com's data and analytics businesses. Fast-forward approximately 9 months to today, and we find FDS stock down $11.81 per share since then as of today's close at $148.18 per share (it has fallen lower in after-hours trading). That represents a roughly 7.4% drop from the date of the acquisition announcement.
It is difficult to blame the negative stock performance on a poorly timed acquisition, especially since EPS has risen since then along with the dividend. However, it is important to note that the market rewards acquisitions that provide a return!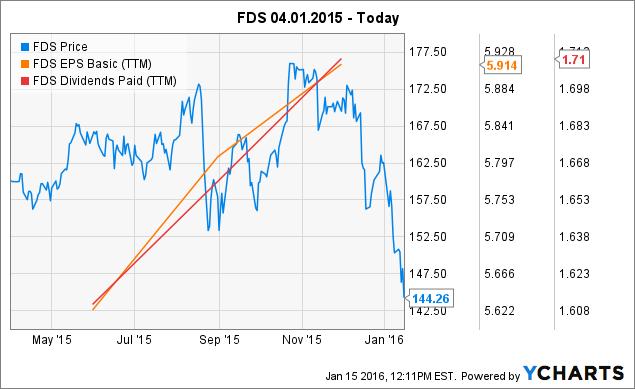 Best Credit Data, Inc. in FactSet's Acquisition Cross-Hairs?
This is important to note only a few hours after FDS announced a partnership to distribute municipal bond data from Best Credit Data, Inc. While this partnership is positive news for now, it is important for FDS investors to keep an eye on. Reading all the way to the bottom of the press release3, we see an interesting line in Best Credit Data's company description: "Best Credit Data expects to close its next round of funding in Q1 2016." It seems like a prime acquisition target for FDS, especially following the recent partnership announcement.
When the Street Comes Knocking
If and when FDS investors start to demand more of a return from the company's ETF.com acquisition, a 'freemium' or pay to play model may arise.
Currently, FactSet sells proprietary ETF data feeds to its data subscribers2, however as mentioned they have kept all website data free to access. This could be eating into potential revenue streams for the data provider that has yet to be tapped.
FactSet's New "Innovative" ETFs
ETF.com is not the only way that FactSet stands to make money from the booming ETF industry. Just launched on NYSEARCA, is the SPDR Innovative Technology ETF (NYSEARCA:XITK) which is based on the equal weight FactSet Innovative Technology Index4,5. This ETF is unique because despite being labeled as a Technology ETF, it also has exposure to the electronic media sector through positions like WebMD Health Corp. (NASDAQ:WBMD) in its holdings.
Additionally, the ETF is labeled as "Innovative." This leaves potential investors questioning: how is innovation measured? Its impossible to perfectly quantify things like innovation, so instead the minds behind XITK used revenue growth as the determining metric for index membership.
XITK marks the first of a series of 3 ETFs to be launched by State Street Corporation (NYSE:STT) based on FactSet's indices7. Upcoming FactSet Index benchmarked ETFs include:
SPDR Innovative Health Care ETF (Ticker Unknown)
SPDR Innovative Manufacturing ETF (Ticker Unknown)
These new products should provide steady licensing revenue streams for FactSet as those funds launch and gain in popularity. For now FactSet gets to sit back, rebalance quarterly, and collect. FactSet stands to make good money off of the index licensing fees mentioned in the fund's prospectus6. The success of this will determine how active FactSet will be going forward in the ETF world. It is important to note, that these "Innovative" funds will be competing against some similar funds already selling innovation exposure to investors such as the ARK Innovation ETF (NYSEARCA:ARKK), and the ARK Industrial Innovation ETF (NYSEARCA:ARKQ). Below is a comparison of XITK vs. ARKK and ARKQ:
| | | | |
| --- | --- | --- | --- |
| | XITK | ARKK | ARKQ |
| Name: | SPDR Innovative Technology ETF | ARK Innovation ETF | ARK Industrial Innovation ETF |
| Underlying Index: | FactSet Innovative Technology Index | N/A | N/A |
| Benchmark: | FactSet Innovative Technology Index | MSCI All Country World Investable Markets + Frontier | Thomson Reuters Global Technology |
| Listing Exchange: | NYSEARCA | NYSEARCA | NYSEARCA |
| Launch Date: | 01/13/16 | 10/31/14 | 09/30/14 |
| Expense Ratio: | 0.45% | 0.95% | 0.95% |
| AUM: | $5.06 million | $7.33 million | $12.05 million |
First, this comparison shows that the new "innovative" offering from SPDR is a far cheaper fund for investors to gain exposure to innovation based on current expense ratios. This is presumably due to the efficiencies gained from being an affiliated index ETF vs. an actively managed ETF. Additionally, based on AUM we see that XITK has almost caught up ARKK, with just over $2 million worth of inflows needed to tie. Given the lower fees, it would not be surprising if more ARKK investors jumped ship for the SPDR counterpart.
Conclusion
As ETF investing becomes more and more popular, it will be important that data and information regarding ETFs is easily accessible. ETFs are of growing popularity not just in the United States, but also in countries like Canada, South Korea, and more. If this or other similar sites were to become private or paid only, it could be a substantial threat to retail ETF market participants. While investors could always fall back on trusty fund prospectuses and annual reports, there is something far easier about being able to compare investment opportunities side-by-side.
Additionally, stock price performance since the FDS acquisition of ETF.com should be heeded as a warning regarding recent developments with Best Credit Data, Inc. If FactSet makes another acquisition in current market conditions, it may not be well received on Wall street.
The positive about FDS, is the recent and upcoming push into providing ETF benchmarks starting with the launch of XITK. We look forward to the two upcoming launches of SPDR's "Innovative" family of funds focusing on the health care and manufacturing sectors. We are curious to see if XITK takes marketshare from existing ETFs that sell innovation as time goes on and more become privy to the alternative available. Factset will certainly be on our radar in the months to come, and we will be on the lookout for more details regarding the next funds to launch.
References:
Disclosure: I/we have no positions in any stocks mentioned, and no plans to initiate any positions within the next 72 hours.
I wrote this article myself, and it expresses my own opinions. I am not receiving compensation for it (other than from Seeking Alpha). I have no business relationship with any company whose stock is mentioned in this article.