Investment thesis
I've covered Multi-Fineline Electronix (NASDAQ:MFLX) several times in 2013 and 2014. My latest update from November 2014 called for a ~39% upside from ~$10.70 to $15. Since then, the stock price has wildly swung between $10 and $26, offering investors plenty of profits and excitement (too much of it?). Not only buying but also selling discipline is very important, especially with cyclical small-caps.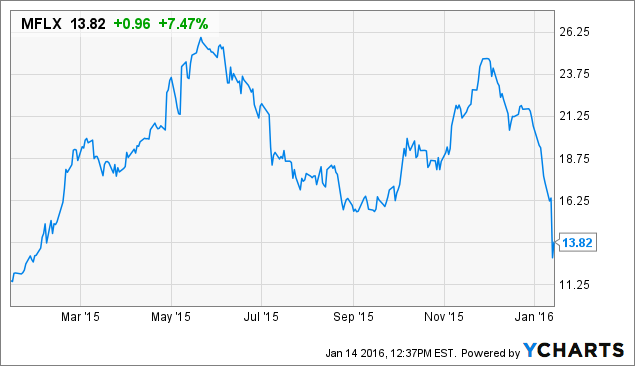 Since the stock price has now fallen back below my $15 price target, it's time to revisit the thesis and see if Multi-Fineline is a buy after the recent spectacular plunge, exacerbated by Wednesday's pre-announcement of Q4 results.
Multi-Fineline is a provider of flexible printed circuits and other components to the electronics industry (OEMs and EMS providers) in a range of sectors, including smartphones, tablets, data storage, personal computers, wearables, etc. However diversified this may sound, the fact is that depending on a specific quarter, 60% to 80% of sales usually come from Apple (NASDAQ:AAPL). The percentage peaked in Q3 of 2015 at 80% due to the pre-holiday channel inventory building. Of this 80%, 71% was smartphone-related while the remaining 9% was tablets.
The soft sales numbers and guidance should not have been a surprise given earlier January reports that Apple is expected to slash iPhone 6/6+ orders by 30%. Other mobile phone makers are basically selling at a loss (negative net margin) and the situation in the PC segment isn't bright either in terms of sales growth; Apple was the lone star defying gravity of falling global PC shipments in Q4 2015. But its 3% growth rate is only a consolation prize within the industry's more than 8% slump.
Earnings outlook weak
MFLX's earnings for this quarter are expected to be zero or slightly negative. This is never good news for a small cyclical stock, no matter how priced in it may seem to be, the stock is likely to be weak until investors are sure the dip into negative earnings is just a one-quarter fluke as the management now expects. Investors only need to look at what the actual reporting of the first negative earnings in a while did to a tech stock such as Micron (NASDAQ:MU), which is many times larger, stronger and more diversified. Even Apple's stock has been on a downhill, putting its suppliers' stock in a crushing bear hug.
Seasonal or cyclical weakness?
That is always the question. The company's management expects a rebound beginning in the second half and a "meaningful sales growth" YoY for the full year 2016. Moreover, an updated Apple Watch, expected to hit the shelves in April, may provide some boost to MFLX's sales. Some people are considering the Apple Watch. They are waiting for an improved model as the original Apple Watch lacked some crucial features that would make the gadget more usable and more independent of the phone.
So the second half of 2016 may prove to be an excellent stock position entry point with favorable seasonality ahead as well as more visibility into whether the current weakness is cyclical or just seasonal. Given the multiple signs of weakness all around the globe, and the U.S. dollar strength, which is a negative for electronic sales worldwide as they are often priced in U.S. dollars, I remain cautious. Either demand falters due to high local currency prices or the companies have to slash prices which hurt margins. Either way it is very negative for the industry. So the overall picture is mixed and I expect volatility and continued flight to safety in investing.
Therefore, stocks such as Multi-Fineline will have a tough time to find investors willing to risk their money due to the typical seasonality, cyclicality, and in case of MFLX also the customer concentration risk, with 60% to 80% of sales being driven by Apple.
Valuation
Due to the cyclicality and the customer concentration risks, the company trades at a very compelling valuation of ~3.6 times P/TTM FCF based on a calculation that includes the pre-announced Q4 FCF numbers. The EV/TTM FCF is even lower, at 1.16 times! However, based on my estimates of a normalized FCF of $40M per year, MFLX trades at a more realistic long-term 7.8 times P/FCF and 2.5 times EV/FCF.
You will literally find only a handful of stock in the Russell 2000 that trade at lower valuations and they are usually either indebted, losing money or have some other "catch". MFLX's main "catch" is the reliance on Apple. However, I believe MFLX's sales could rebound due to the updated Apple Watch in April and the expected iPhone 7 launch in late 2016, if MFLX can keep the good customer relations with Apple.
Investors should also note that according to the latest pre-announcement, the company holds ~$214M cash balance. This is ~70% of its market cap.
When pressed hard for some "color", the management reiterated that their primary focus is organic investments to keep offering cutting-edge solutions. Although they did not rule out an acquisition, they didn't really sound like it was high on their priority list or their preferred solution to growth and value creation for investors in the immediate future.
Risks
Reliance on Apple is obviously the biggest tail risk. Given how Apple usually tries to play suppliers against each other, this risk is not just theoretical. Another risk is that MFLX will keep Apple but Apple's sales will decrease. With a slowing mobile phone refresh cycle as developed markets become saturated, and due to devices already meeting most of customers' demands, this risk is real as well; Apple's stock has been weak in part due to such fears.
Conclusion
To put it bluntly, Multi-Fineline is dirt cheap. If it can keep Apple as a customer and if Apple's sales don't fall off a cliff, the stock is an excellent investment. Due to the cyclicality and the concentrated customer risk, the position size within a portfolio should definitely be smaller than the usual mega-cap stock.
Disclosure: I/we have no positions in any stocks mentioned, and no plans to initiate any positions within the next 72 hours.
I wrote this article myself, and it expresses my own opinions. I am not receiving compensation for it (other than from Seeking Alpha). I have no business relationship with any company whose stock is mentioned in this article.