Cabot Oil and Gas (NYSE:COG) has been on my coverage radar for quite some time, but I've felt that there were other names more worth considering. On the back of a recent downgrade by Barclays, shareholders aren't finding much relief in Cabot. The risk/reward scenario is vastly improved compared to where we were a year ago, but with operational headwinds persisting, I truly believe this is a short candidate as the company has such limited LT growth catalysts.

Positioning In 2016
Everything about Cabot's current plan for capex indicates that it wants to scale back production and reduce its susceptibility to the underlying price environment. This comes as a smart decision for cash flow, but a poor decision for market share and top-line growth. TTM FCF is negative at -$456.59 million and while the trend is going positive, it's been aided by the 2015 capex cut. In fact, OCF for Q3 was the lowest they had seen all year at just $146.36 million.
The company derives its revenue from the Marcellus and Eagle Ford Shale regions, with their Marcellus play being the larger of the two at 200k net acres. Now, Cabot has a 73% revenue composition from natural gas compared to 19.3% from oil (remaining revenues from derivatives and brokered natural gas), so while there is some diversification, it is certainly limited. I don't doubt that efficiency gains are possible in 2016, as you can look at the drilling days statistic to prove some initial insight. In the Marcellus, the number of days required to drill decreased from 16.9 to 6.9 days in just 18 months and in Eagle Ford, it declined from 15 to 6.2 in the same time frame. However, I'm limited in my optimism as COGS over the last twelve months are flat around $290 million. Seeing a much larger reduction in that line item would reverse my sentiment.
They have just three active rigs now, with one recently taken offline in the Marcellus. They're projected to drill just 10 net wells in 2016 in the Eagle Ford, down from 50 in 2015. In the Marcellus, they're only projected to drill 50 compared to 80 last year. Fortunately, the company expects to complete 90 wells, down just 10 from 2015 estimates.
Like many of its peers, the company has been forced to reduce capex by 28% for 2016 and expects to focus on efficiency to help prop itself up. A large portion (93%) will be directed towards drilling, completion and facilities, as it should be. It should also be noted that a larger imbalance of the capex will be put towards the Marcellus shale, seen below: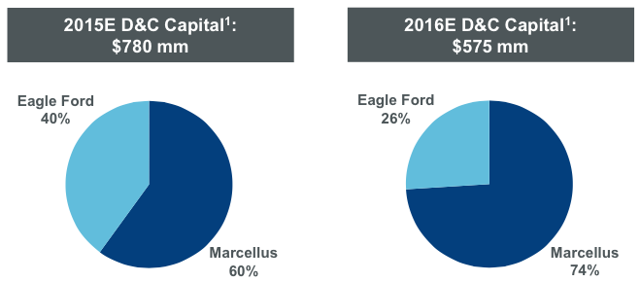 Source: Investor Presentation
The price environment for natural gas is undoubtedly tough and that's directly visible in Cabot's stock, but to not remain competitive on an output standpoint is a dangerous decision. In understanding their declining production, we saw growth rates for natural gas of 43.5% in 2010, 42.8% in 2011, and 54.5% in 2012, but the company is now only projecting a 2-10% increase for 2016. This is exactly what I didn't want to see as it's going to start losing market share.
It's also important to keep an eye on their current debt level, with LT debt now standing at $2.02 billion. Their leverage is modest with a debt to equity of 0.96x, but it's worth noting that their Q3 net debt to EBITDAX (a metric that is non-GAAP and I do not use in normal calculation, but was nonetheless reported by the company) spiked YOY from 1.2x to 2.0x. They're also paying $24.51 million in interest expense per quarter, which is an amount that should try to be reduced in future quarters given how thin the company's net income is. In Q3, they posted a net loss of -$15.51 million.
Now, there are some very notable positives for Cabot which lend me to believe that even if commodity prices stay lower for longer that they'll be able to survive. Below is their per unit cash costs, which are clearly the best out of their comp universe. Again, these efficiency gains are exactly what the company needs to stay competitive, but the fact remains that we have to see a real translation of these gains into positive earnings before the optimism can increase.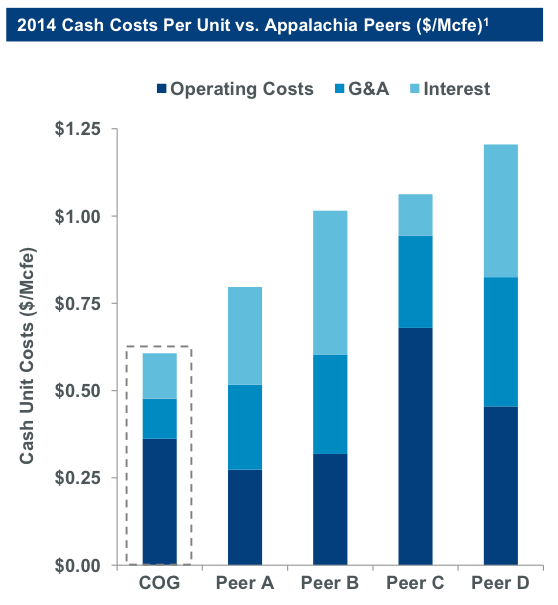 Source: Investor Presentation
In reference to their Marcellus operations, the company will "increase activity" on the back half of this year to in order to start gearing up to supply the Constitution and Atlantic Sunrise pipelines in 2017. This is an excellent, excellent catalyst, undoubtedly. Yet, they've posted a net loss for three out of the last four quarters, and as another contributor noted, Cabot is unhedged in 2016 and 2017. That full exposure to underlying environment is going to be dangerous and could limit how much they can ramp up production for 2017. Feeding these pipelines is going to be key for the company to buck the trend of its production growth rates, especially in the long-term, but for now, the stock seems like a short until we see a pick up in natural gas fundamentals.
Trading At Current Levels
Given that the stock is now 54.2% off of its 52-week highs of $35.64, there's a clear window for upside, but the operating environment remains the largest headwind. With January also showing a dismal return for new longs, but the RSI not budging all that much, I'm worried we'll see a trend much like that of October where the stock was stagnating around the $23 level. November and December weighed heavily on Cabot as well with unseasonably warm weather sinking the Henry Hub.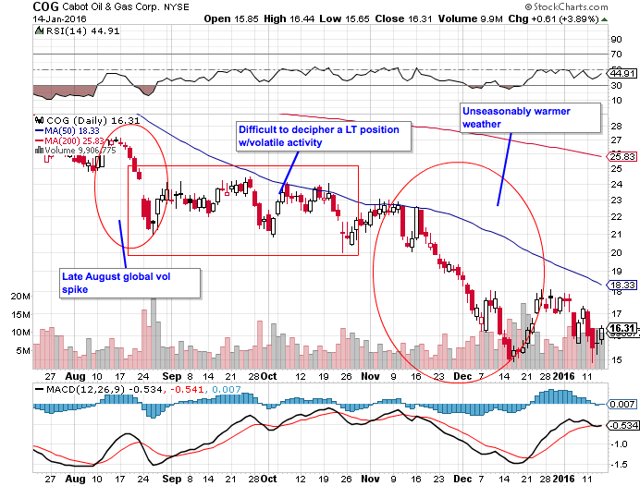 Source: StockCharts
The company just declared a $0.02 dividend, representing an annualized yield of 0.49%. It's nothing to run home to Mom about, but it's still a small stream of current income. But, is it in jeopardy? This depends on a few factors, notably if we see a pickup in OCF or not in Q3. It's only costing them $8.3 million a quarter to provide this small dividend, but then again, a large majority of cash is tied up in short-term investments. Their current cash assets only amount to $8.77 million, down from $309 million at the end of Q3 2014.
Interestingly enough, the company still has 10.1 million shares authorized in its buyback program that does not have an end date. Management has not stated when a portion of these shares will be bought back, but the that amount represents ~$165 million in aggregate value at the current stock price.
The larger question I have to ask is what is the natural gas environment going to look like price-wise in 2016, as well as the LT? Cabot is keen on noting that the substantial decline in rig count in the Marcellus shale should lead to decreased production volumes, but with 27 rigs in the Marcellus coming offline in 2015 (ending in Q3), we saw production remain flat around 16 Bcf/d. We have the natural gas storage amount, reported by the EIA each week, still well above the five-year average and production still remains astonishingly high, creating a larger supply/demand imbalance.
Conclusion
We still have a few more weeks before the company reports Q4 earnings. I believe there are better places to allocate capital in the current market if you're looking for a long investment, especially when we think about many of the larger oil and gas producers with much higher yields. This is a short, in my opinion, given its minimal yield and lower cost of borrowing relative to comps.
Disclosure: I/we have no positions in any stocks mentioned, but may initiate a short position in COG over the next 72 hours.
I wrote this article myself, and it expresses my own opinions. I am not receiving compensation for it (other than from Seeking Alpha). I have no business relationship with any company whose stock is mentioned in this article.