Company Profile
Clayton Williams Energy, Inc. (NYSE:CWEI) is a small independent oil E&P company with a market cap of approximately $250 million. The company produces roughly one million barrels of oil per quarter. About 90% of CWEI's operating revenues are derived sale of oil with the remaining 10% from sale of gas and NGL. CWEI carries $750 million in long term debt in the form of a $600 million 7.75% senior secured note, as well as a bank credit facility with a borrowing base of $450 million (just reduced from $500 million) with interest paid at LIBOR plus 175 to 275 bp. The company's current debt-to-equity ratio is 2.16x.
My Position
I'm going short on CWEI. Like most independent oil E&P's, this stock has been punished, but considering its hedging situation going forward, this looks like one of the weaker companies in the industry.
Q4 2015 Hedges
With earnings around the corner, CWEI is poised to perform as well as, or better than in Q4 than in Q3 on an operating basis. Much of this can be attributed to extremely strong hedges through 4Q 2015, which included 592,000 barrels of oil hedged with $55.65 swaps. Judging from these hedges, CWEI will have sold its oil for roughly $51.30 per barrel in the fourth quarter. Below is a table of showing CWEI's net positions given a range of market prices.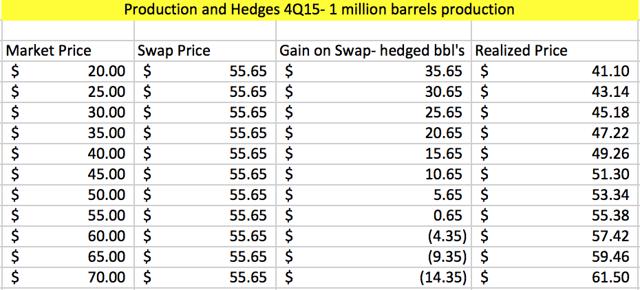 Source: Created by author
Taking last quarter's approximately $45 per barrel oil prices, I have created a consolidated table of operating revenues below. Note that production level were calculated from daily production estimates for the fourth quarter as given by the company's latest earnings presentation.

Source: Created by author
Guidance from CWEI's latest earnings report was also used to formulate the operating costs projections below.

Source: Created by author
Using the above operating revenue and operating cost projections, I have formulated a basic EBIT projection, as seen below.

Source: Created by author
We'll see where CWEI's operating results come in on the fourth quarter earnings call on February 25th. From rough estimation, EBIT should actually be 15% higher in 4Q than 3Q despite the sustained decline in oil prices. That said, given this quarter's relative success, CWEI can only sustain losing nearly $20 million per quarter for so long.
Hedges going Forward
Correspondence with CWEI investor relations revealed that the company has no hedges in place past the fourth quarter of 2015! While the company was extremely lucky to have more than half of its production hedged with $55.65 swaps last quarter, it has fallen victim to horrible timing this quarter. With oil falling to $30 in January, any hedge that the company could hope to place now would provide little if any protection. Below is a projection of revenues keeping production levels constant and, very generously, keeping gas and NGL prices unchanged since Q4.

Source: Created by author
Holding operating costs constant from Q4, this level of operating revenue yields the below EBIT.

Source: Created by author
With no hedges in place, if oil prices average $35 per barrel through this Q1, CWEI's operating losses will double, and the company's net realized per barrel price of oil will fall $12.22 compared to last quarter. For perspective, the company would need to see at least $65 oil to achieve operating profitability given current costs.
Conclusion
CWEI's cash streams will have no protection from lower oil prices going forward. The combination of high debt levels and no hedges is very dangerous. Regardless of your view on an oil price rebound in the coming years, CWEI is not as well protected from current market conditions as many of its peers. Similar companies have seen 90%+ of share value destroyed over the last year; CWEI could be playing catch up to those companies pretty soon.
Supporting Documents
Disclosure: I/we have no positions in any stocks mentioned, and no plans to initiate any positions within the next 72 hours.
I wrote this article myself, and it expresses my own opinions. I am not receiving compensation for it (other than from Seeking Alpha). I have no business relationship with any company whose stock is mentioned in this article.