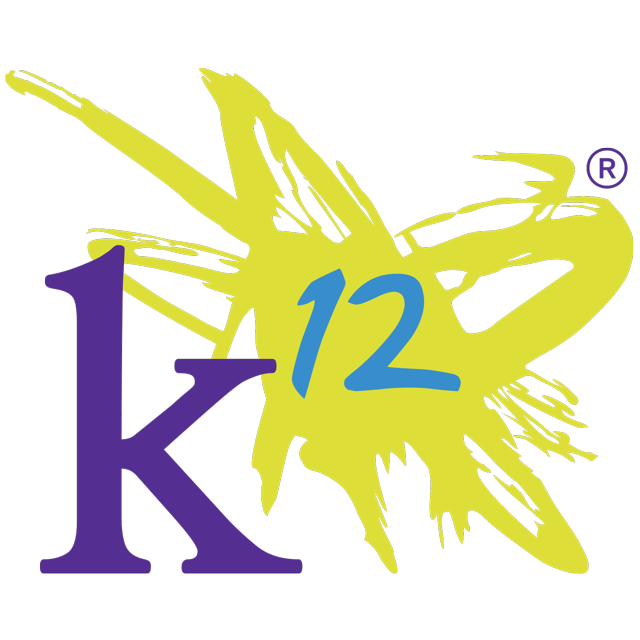 Business Overview
K12 Inc. (NYSE: LRN) is a technology-based online education company that provides proprietary curriculum, software systems, instructional teacher services, and other educational services for students in kindergarten through 12th grade (k-12). The company offers students an alternative to traditional brick and mortar schools through receiving an online education, and also acts as a provider of supplemental material to traditional brick and mortar schools who wish to purchase K12's comprehensive suite of online products and services to educate their students. K12's target audiences for its products and solutions are public school districts, public schools, virtual charter schools, private schools, and families. Through its primary business line, public school programs, which comprises 80-90% of total revenue, K12 receives state funds in exchange for providing its products and services to public schools. K12 is the largest company measured by enrollment in the k-12 online education industry (Google Finance).
K12 operates in three primary business segments: public school programs, institutional sales, and international and private pay schools.
Public School Programs: The public school programs K12 operates are classified as either managed programs or non-managed programs. The difference between the two is that for managed programs, K12 provides substantially all of the management, technology, and academic support services in addition to curriculum, learning systems, and instructional services, whereas for non-managed programs, K12 does not offer primary administrative oversight and the school has an option to contract for instruction or other services (K12 2015 10-K).
Institutional Sales: K12's institutional sales business provides curriculum and technology solutions packaged in portfolios of flexible learning and delivery models for specific student or district needs.
International and Private Pay Schools: K12 operates a variety of private schools that meet the needs of students ranging from simple correspondence courses to challenging college preparatory programs. Beyond its business in the United States, K12 is pursuing international opportunities where the company believes there is significant demand for quality online education. K12's international customers are typically expatriate families and foreign students who desire U.S. high school diplomas and wish to study in English. For the 2014-15 school year, K12 served students in more than 100 countries.
K12's Perceived Obstacles and Recent Price Decline
K12 first began publicly trading in December 2007. Investors largely regarded K12 as a company with substantial growth prospects, bidding the company's share price above $36.00 as recently as November 2013. However, K12's share price has since significantly declined, closing at $7.80 on January 14, 2016. Below is a chart of K12's share price as well as a chart of K12's performance relative to the Russell 2000 over the past five years.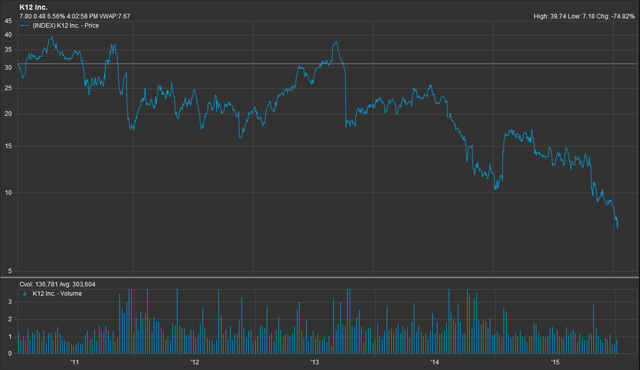 Source: FactSet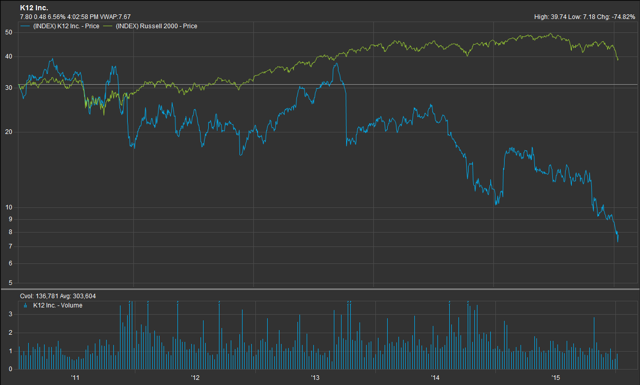 Source: FactSet
Before I discuss why K12 is undervalued at its current share price, I will examine the three most significant reasons why investors have depressed K12's share price. These obstacles are the fear of adverse state legislation against the online education industry, declining year-over-year earnings, and lowered 2016 sales guidance.
State Legislation
Investors are worried that individual states may pass legislation that will decrease funding for online education programs, which in turn would reduce K12's revenue. Critics have publicly condemned state funding for online education because they believe this form of education is significantly less effective for students than traditional schooling. Since K12 is the largest company by market share in the k-12 online education space, much of the criticism has been directed towards K12. Investors fear this amounting public criticism could materialize in the form of state legislation.
In 2015, Stanford University's Center for Research on Education Outcomes released its annual online charter school study which found that "current online charter schools may be a good fit for some students, but the evidence suggests that online charters don't serve very well the relatively atypical set of students that currently attend these schools, much less the general population." The study suggested as well that states should examine the current progress of existing online programs before allowing expansion, a suggestion which could be seen as a red flag for fearful investors (CREDO). Investors also fear that K12's employees might eventually unionize in some states which would increase K12's costs in the form of employee wages. For instance, in California, employees of K12 have organized a union with the California Teachers Association (CTA) and are currently battling with K12 to be recognized as such. However, this would be just the first union of K12's employees in any state, and K12 will likely continue to legally prolong the recognition of this union for at least a couple more years.
Declining Year Over Year Earnings
In fiscal year 2013, K12 reported net income of $26.1 million. Since then, K12's earnings have declined 57% to $11.0 million in fiscal year 2015. However, as illustrated in the chart below, judging K12's performance solely based on its earnings ignores the company's ability to grow its customer base and revenue by a significant margin each year, and more importantly, its ability to generate free cash flow.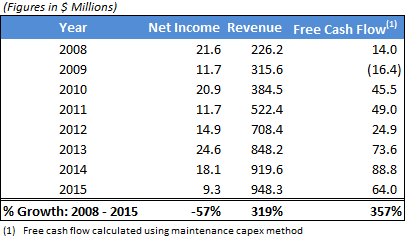 Source: FactSet
While net income is certainly an important reported figure and one can argue K12 should have more effective cost controls in place to translate growing revenues into growing net income, investors who focus chiefly on K12's $9.3 million net income and 56.0 P/E ratio might also disregard K12's 2015 reported figures of $83.8 million of D&A, $9.3 million of allowance for doubtful accounts, and other non-cash items that resulted in operating cash flows of $120.1 million.
Lowered 2016 Sales Guidance
In October 2015, K12 announced in its 2016 fiscal year outlook the following:
Investors should expect revenues of $830 million to $865 million, compared to $948.3 million for the full fiscal year of 2015. The year over year decline is largely due to the Agora Cyber School shifting from a managed to non-managed program. The net impact of this transition is approximately $110 million for the year (K12 News Release).
Agora Cyber School's decision to switch to a non-managed program is a material loss for K12, which investors should perceive as negative news. Using 2015 fiscal year figures, if you divide revenue by number of students enrolled for both managed and non-managed programs, the resulting revenue for managed programs is $7.10/student and for non-managed programs is $1.96/student. Managed programs require significantly more expenses than non-managed programs, though, such as management, support services, and curriculum, so the difference in bottom line between the two programs could be less significant than investors might expect.
Investors might also be worried that other customers similar to Agora Cyber School, who could contribute to large portions of K12's revenues, will switch to non-managed programs as well. Agora accounted for 17% of K12's managed program revenues, which is significant, but K12 receives the remaining 83% of these revenues from 70 schools. This shows that K12's customer base is not heavily concentrated and that Agora was a rare scenario as far as magnitude of revenue loss from a single customer. K12's investor relations department also replied to me in regards to this question by saying that they believe Agora's switch was a unique situation largely driven by funding issues for Agora, and that this will not likely be a trend.
Although the reasons listed above have contributed to the dampened investor sentiment of K12, each argument is vulnerable to facts that may be misunderstood by investors. Altogether, these arguments have resulted in the decline of K12's share price which has provided an excellent buying opportunity for a company that is significantly undervalued.
K-12 Online Learning Is A Growing Industry
Since 2007, when K12 first debuted as a publicly traded company, the company's annual sales have steadily increased, from $140.6 million in 2007 to $948.3 million in 2015. While strong management has helped to propel K12 to such strong growth, the debatably larger factor that has contributed to K12's strong growth has been the growth of the overall k-12 digital learning industry. To illustrate how meaningful this growth has been, consider the following statistics:
Since 2010, the number of k-12 students taking part in online or blended learning has increased 80% from 1.5 million to 2.7 million.
Since 2010, the percentage of school districts offering online or blended courses has increased from 50% to 75%.
Since 2010, the number of students enrolled in full-time online public schools (managed and non-managed programs) has increased 58% from 200,000 to 315,000.
Since 2009, the number of states offering statewide fully-online schools has increased from 24 to 32.
The NCES estimates that spending in the k-12 market was projected to be $563 billion for the 2012-13 school year, and that public school spending will increase by 24%, to $699 billion, by 2022-23.
Sources: NCES, Evergreen Education Group, Connections Academy, K12 2015 10-K
As evident above, in the past five years alone the k-12 online education industry has experienced considerable growth. The numbers show that parents, students, and local and state governments have all began to accept digital learning as an alternative form of education.
Today, over 48 million students currently attend k-12 public schools in the United States. This means that the 315,000 students who are enrolled so far in full-time online public schools comprise less than 1% of the entire target market, leaving over 99% as potential future market share. Another aspect that would grow K12's revenues from a total enrollment perspective is securing funding from states that currently do not allow full time online schooling but might in the future. Each year since 2009, an average of 1-2 new states have began funding online education programs. This suggests that of the remaining 18 states that do not yet allow full time online schooling, some may choose to allocate funds in the future. K12 currently receives funding from every state that offers fully-online schools. Investors worried about California unionization should note that even if profits from California decline, K12 will receive funds from at least one state every few years, if not each year, at its current pace.
Identifying K12's Competitive Advantages
In addition to such a large portion of the k-12 online learning target market having not yet been attained, K12 is better positioned than most or all of its competitors to take advantage of any future industry growth for several reasons. K12 possesses 40% market share of the k-12 online education industry, the highest of any competitor. The company also has financing flexibility by being publicly listed (almost all competitors are private) and having a clean balance sheet, with $149.1 million in net cash (cash minus long term debt), which together allow K12 access to both equity and debt capital to take advantage of growth opportunities. Potential customers might also choose K12 over competitors because K12 has a robust, proven portfolio of all sorts of products and services that are available to students of all ages, an element that small players cannot compete with. Lastly, perhaps the greatest competitive advantage K12 has over its competitors is the very high barriers to entry into the k-12 online education industry. K12 and its top competitor Connections have spent and continue to spend large sums of time and money towards building infrastructure, technology, unique curricula, and administration for their respective businesses. For instance, in fiscal year 2015, K12 reported $51.8 million in software and curriculum development costs to remain competitive. Between K12's dominant presence and the plausible prospect that industry growth will continue to trend upward as it has to date, K12 is a favorable bet to experience sizable growth in its public school programs going forward.
K12's Institutional Sales As Another Growth Vehicle
The previous paragraphs demonstrate why K12's public school programs business could be a vehicle for future growth. K12's institutional sales segment, which currently accounts for just 5-10% of the company's revenues, could be a significant source of growth for the company as well.
The institutional sales business sells curriculum, software, and other technological solutions such as digital textbooks to school districts and individual schools. In 2010, K12 received $12.7 million in revenue from its institutional sales business, which has grown 580% to $73.5 million as of 2015. The majority of this growth, though, occurred from 2010 to 2012, and revenues have been constant since. While this is not an optimistic indicator for a potential source of growth, the constant revenues show that the demand for technologically-based supplemental learning material is still present, and this demand should increase as we inevitably see more technology in the k-12 classrooms in future years. In K12's most recent annual report, management expressed the following point:
Public schools and school districts are increasingly adopting online solutions to cost-effectively expand course offerings, provide schedule flexibility, improve student engagement, increase graduation rates, replace textbooks and retain students. As a result, state education funds traditionally allocated for textbook and print materials are now also being authorized for the purchase of digital content, including online courses, and in some cases mandated for access to online courses (K12 2015 10-K).
As previously mentioned, one reason K12 is well-positioned to take advantage of future industry growth is because it offers a wider variety of products and services than almost all of its competitors. In the case of institutional sales, if traditional brick and mortar k-12 schools take steps in the future towards further integrating technology into the classroom, K12 will be a company that all of these schools will likely consider for these products and services. The biggest threat to K12's institutional sales business would be a decrease in the aggregate use of technology to supplement learning in k-12 schools, though this risk is contradictory to the increasingly digital age we live in today.
Lastly, management is very enthusiastic about its institutional sales business and views the segment as its largest growth vehicle going forward. Management is confident that K12 can double or triple its institutional sales revenue over the next five years and believes investors will see a much larger mix of both top line sales and bottom line profitability (K12 Management).
Examining Why Parents Choose Online Education
Since parents must give consent to enroll their children in online education programs, reasons must exist for these parents to choose this alternative method of schooling over traditional brick and mortar schools. According to the 2015 Connections Academy Parent Satisfaction Survey, parents indicated the following reasons for enrolling their children in online education: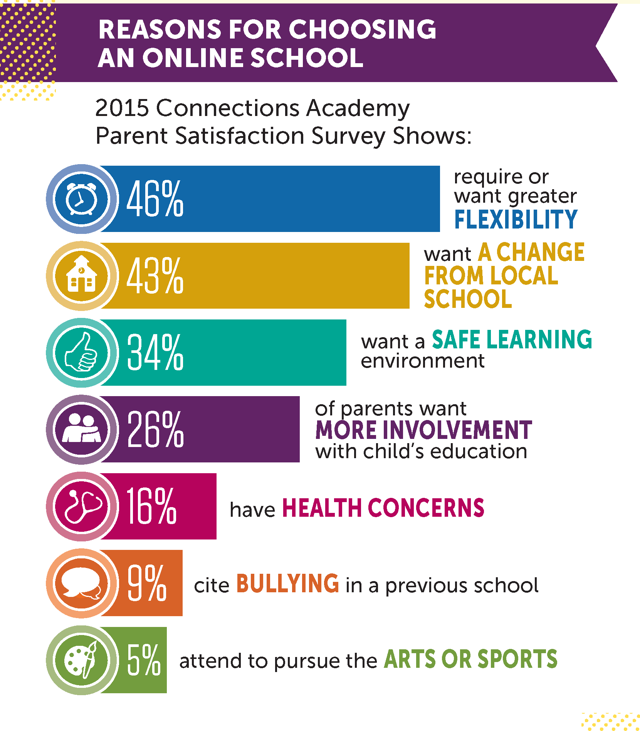 Source: Connections Academy
The point of displaying the above graphic of why parents choose online schooling for their children is to illustrate the fact that parents are warming up to online education for a variety of reasons that may or may not be as important to them as academic quality. Several organizations have conducted studies that conclude online k-12 education programs might be of worse quality than traditional brick and mortar schools, which is an entirely valid argument on its own. But whether or not that is the case, there will be parents who will value reasons other than quality of education enough to want to enroll their children in online schooling.
Valuation
To gauge an estimate of K12's intrinsic value, I will first review the company's historical free cash flows and then use a bare bones discounted cash flow model under bear, base, and bull scenarios.
Reviewing K12's Historical Free Cash Flows
Before discussing K12's valuation under different scenarios, we can look at the company's historical FCFs to gain a better understanding of how they have trended: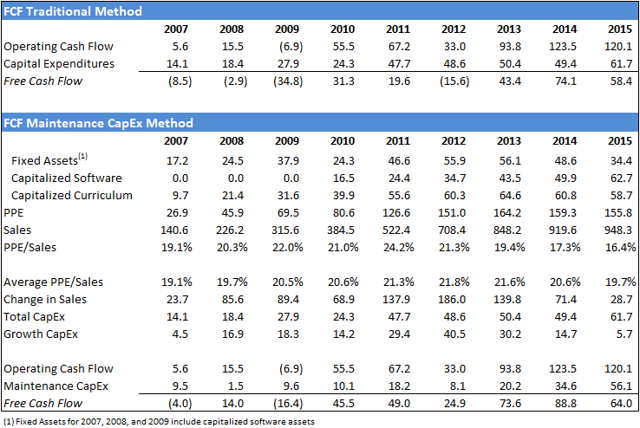 Sources: FactSet, K12 Annual Reports
Using the free cash flow figure of $64.0 million obtained through the maintenance capital expenditures method, K12's free cash flow yield for 2015 was 13.2%.
The important difference between the two FCF figures for each year is the figure used for capital expenditures. Under the traditional method, the figure used is what the company reports in its annual cash flow statements. Under the maintenance capital expenditures method, the figure used, as described by Warren Buffett when discussing Owner Earnings, should attempt to capture the capital expenditures required for the company to fully maintain its long-term competitive position and its unit volume. In order to estimate the annual maintenance capital expenditures figures for K12, I utilized Bruce Greenwald's method to calculate maintenance capital expenditures:
Calculate the ratio of PPE to sales for each of the five prior years and find the average. We use this to indicate the dollars of PPE it takes to support each dollar of sales. We then multiply this ratio by the growth (or decrease) in sales dollars the company has achieved in the current year. The result of that calculation is growth capex. We then subtract it from total capex to arrive at maintenance capex (Greenwald).
Since K12 has experienced rapid growth since it first traded publicly, using Greenwald's method helps to determine which capital expenditures we should attribute to growth and which to maintenance. Also, in determining PPE and capital expenditures figures, since curriculum and software costs are essential to maintaining and expanding the company's learning platform, these intangible assets and costs should be treated as PPE and capital expenditures.
As a final note on K12's FCFs, the company experienced significant increases in accounts receivable of $22.0 million in 2009, and $64.3 million in 2012, both of which were heavy drags on operating cash flow and subsequently FCF. To explain the sharp increase in accounts receivable in 2012, during that year California announced that due to shortfalls in its general revenue funds, the state would be deferring its per-student attendance payments to all public schools until early fiscal year 2013 (K12 2012 10-K).
Estimating Intrinsic Value
The following analysis is based on inputs and assumptions that might occur under bear, base, and bull scenarios. Several key assumptions for each case are: (1) 10% discount rate, (2) differing annual growth rates depending on the scenario, and (3) differing first year free cash flows depending on the scenario.
Bear Scenario

In the bear scenario above, the assumptions are $40M first year FCF, 10% discount rate, and (10%) annual growth rate forever. This scenario is powerful because it shows how even if K12 performs terribly, whether because of poor management decisions or a destruction of the industry, the company's intrinsic value is still higher than its current share price. You can see in the prior free cash flow chart that K12's free cash flows have steadily trended higher since the company first became public in 2007. For this bear case to occur, K12's free cash flow 10 years from now would have to decline back to levels from when the company was a fraction of the size it is today.
Base Scenario

In this base scenario, the assumptions are $45M first year FCF, 10% discount rate, and no growth in free cash flows forever. Of course, K12's free cash flows will not be precisely $45M every year forever, but rather this scenario assumes the company's free cash flows will on average remain unchanged going forward. This assumption means no decline in free cash flows, but also no growth whatsoever, which would contrast the points made earlier that K12 is competitively positioned in an unsaturated market. This scenario shows that even if we assume K12's first year free cash flow is $45.0M, less than its 2015 free cash flow of $64.0M, and we also assume zero growth when the company's free cash flows have grown on average, then K12 is still substantially undervalued at its current share price with 97% upside.
Bull Scenario

Lastly, the bull scenario assumes $50M first year FCF, 10% discount rate, and 3% annual growth rate forever. Although this scenario is likely the least realistic of the three, it shows how much upside K12 can experience if the k-12 online education industry grows at a modest pace in the future. If the k-12 digital online education industry were to grow rapidly and K12 were able to experience greater than 3% annual growth in free cash flows, the company's intrinsic value would be even greater and the upside would be higher than the monumental 184% upside present in this scenario.
These three scenario analyses demonstrate how K12 is significantly undervalued at its current share price, even under very pessimistic assumptions such as those found in the bear scenario. This conclusion that K12 is undervalued even under discouraging assumptions also shows that the recommendation to purchase shares of K12 is not sensitive to small tweaks in the discount rate, growth rate, or initial free cash flow, as DCF-based investment recommendations sometimes are.
Regarding the projected 2016 free cash flow figures for each scenario, K12 announced in its 2016 fiscal year outlook that operating income and capital expenditures are projected to be very similar to their respective 2015 figures. This suggests that barring significant changes in 2016 D&A, net working capital, or other non-cash charges, investors should not expect K12's 2016 free cash flow to change drastically from the company's 2015 figure of $64.0 million.
Academic Research Suggests K12 Will Outperform
K12's favorable valuation, as demonstrated through the above discounted cash flow analysis, is also supported by academic research. K12 qualifies as a stock that is expected to produce abnormal future returns according to three academic research papers published by acclaimed authors in top academic journals. These three papers each identify a different metric that has been determined to predict companies that, on average, will experience abnormal future returns. In order to find K12's rankings across multiple metrics relative to those of other publicly traded companies, I used FactSet to download historical financial data for the 4,557 publicly-traded, non-OTC stocks currently trading on U.S. stock exchanges. I then sorted every company into decile rankings for each financial metric that I included in my screening process. For each metric, the 1st decile is the best ranking while the 10th decile is the worst.
First, K12 ranks in the 2nd decile according to the "losers vs. winners" strategy outlined in the paper "Does the Stock Market Overreact?" published by Werner De Bondt and Richard Thaler. De Bondt and Thaler concluded that "36 months after portfolio formation, the losing stocks have earned about 25% more than the winners, even though the latter are significantly more risky" (De Bondt, Thaler).
Next, K12 ranks in the 1st decile according to the book-to-market equity strategy outlined in the paper "The Cross-Section of Expected Stock Returns" published by Eugene Fama and Kenneth French. Fama and French found the book-to-market equity metric to be a strong, statistically significant predictor of future stock returns. (Fama, French).
Lastly, K12 ranks in the 2nd decile according to the strategy outlined in the paper "The Other Side of Value: The Gross Profitability Premium" published by Robert Novy-Marx. Novy-Marx finds that "profitability, measured by gross profits-to-assets, has roughly the same power as book-to-market predicting the cross-section of average returns" (Novy-Marx).
One other worthwhile mention is K12's ranking in the 1st decile for free cash flow yield. In 2015, K12's free cash flow yield was 13.2%.
Conclusion
K12 is an undervalued company at its current trading price of $7.80 per share. Aside from the loss in forecast revenue due to Agora Cyber School's switch to a non-managed program, K12 has grown its revenues each year since it was first listed, and on average has steadily grown its annual free cash flows. The k-12 online education industry is unsaturated and statistics over the past five years show that digital learning is gaining acceptance among parents, students, and government officials. The overall k-12 education population is also not going anywhere, as children in the United States will always attend school.
The company's recent price decline has provided a terrific buying opportunity, and K12's 13.2% free cash flow yield in 2015 helps demonstrate the company's value at its current free cash flow and price levels. A risk to the online education industry is an economic recession, which could result in state and local governments slashing education budgets in an effort to cut total spending. However, the valuation analysis above helps illustrate how K12's intrinsic value is significantly above its current trading price, even under bleak assumptions.
K12 may currently be trading at a low price relative to intrinsic value for a variety of reasons. Some investors may be discouraged if they solely focus on K12's revenue and earnings outlooks. K12 is also a small cap company with just a $283M market cap and very little coverage, so it is possible that many potentially willing investors are simply unaware that this opportunity exists. Another possibility is the public criticism that has mounted against online education companies, which may have developed a negative stigma for companies in the industry such as K12. This in turn may make K12 appear undesirable, just as cigarette and casino companies were once considered taboo investments.
A potential catalyst for K12's share price could be its upcoming earnings release on February 4th, 2016. K12's earnings are seasonal, following the academic school year, which means the company's quarters ending in December and March have historically been the company's strongest earnings quarters. Investors focused on earnings might view a quarter-to-quarter increase in earnings favorably, and an increase in K12's share price could draw attention from new investors who may conduct further research and conclude that K12 is undervalued. Regardless of whether K12's shares ascend in price next month or next year, the company's low share price relative to intrinsic value combined with its competitive presence in an unsaturated and growing industry make K12 an excellent investment today. Invest in K12 while the market continues to misprice this company.
Disclosure: I/we have no positions in any stocks mentioned, and no plans to initiate any positions within the next 72 hours.
I wrote this article myself, and it expresses my own opinions. I am not receiving compensation for it (other than from Seeking Alpha). I have no business relationship with any company whose stock is mentioned in this article.