Summary

Proto Labs (NYSE:PRLB) specializes in taking 3D designs in software and manufacturing short-runs of real parts using either injection molding or CNC machining methods. The company fills an important niche for manufacturing firms that need smaller quantities of parts much faster than conventional methods. This is also different than what is typically done on 3D printers. The company already has proven repeatable and growing sales model, high margins and good management. Our IV of $32 suggests the shares will perform well if they are priced in the range.
Positives, Neutrals And Negatives
+ Having custom parts manufactured quickly and economically has long been one of the "holy grails" for product companies. Proto Labs has focused on and solved this problem for machining and molding of parts in quantities from 1 to 25,000 units.

+ More manufacturers are using 3D CAD software for their design, which is expanding the "ready" market for Proto Labs. . There are over 5M 3D users now. CAD software may not be a major growth market but the proportion that is 3D is growing as a proportion.

+ The company has demonstrated both strong customer acquisition and recurring business with each that stretches over years. Although not quite the same as the Software as a Service model, it's very close.

+ Proprietary software is a key source of competitive advantage for Proto Labs. Immediately solving for price, manufacturability, process method, and automation is technically challenging. There are a few firms like Dassault that have this knowledge under one roof but not close to inside one product or service.

+ The management team looks solid and the company has made investments in company building, culture and disciplined operations.

+ Growth and profit margins have been very strong. Operating margins are already at 27%.
= 3D printers have been around a long time and are getting better. We don't expect them to be a credible solution for final product rendering for years but in the long term they could be.

= Margins are excellent but G&A looks high as a % of sales and R&D looks a little low. Also because the company is already at peak margins there are no further benefits from margin expansion.
- Even though competition is fairly limited today it will get tougher and come from multiple areas. As noted above 3D printers are not really geared to production service but they will improve. At the same time advances in machinery and tighter linkage with 3D CAD systems will continue to lower the bar to bring this capability in house for some manufacturers.

- Although still a small company Proto Labs does get impacted from ebbs and flows in global economic activity. If we have another 2009 recession the company will miss estimates and lower the bar. It would not change our IV much but "the street" tends to focus on the short term and overreact.
The valuation parameters for Proto Labs (PRLB) are more straightforward since the business is fairly well developed and the company is already at their long-term operating model in terms of gross and operating margins. They only remaining key variable is the implied P/E. The long-term growth rate for the business is 25-30% per year but as noted above the rate will vary with pace of global economic activity. We're using a 20 P/E to drive our intrinsic valuation estimate of $32/share.
As another point of comparison the proposed pricing puts PRLB at 2.4x sales versus the 4.8x average of the two leading 3D printer companies. If the deal is priced in the range it's an attractive opportunity in the 3D space.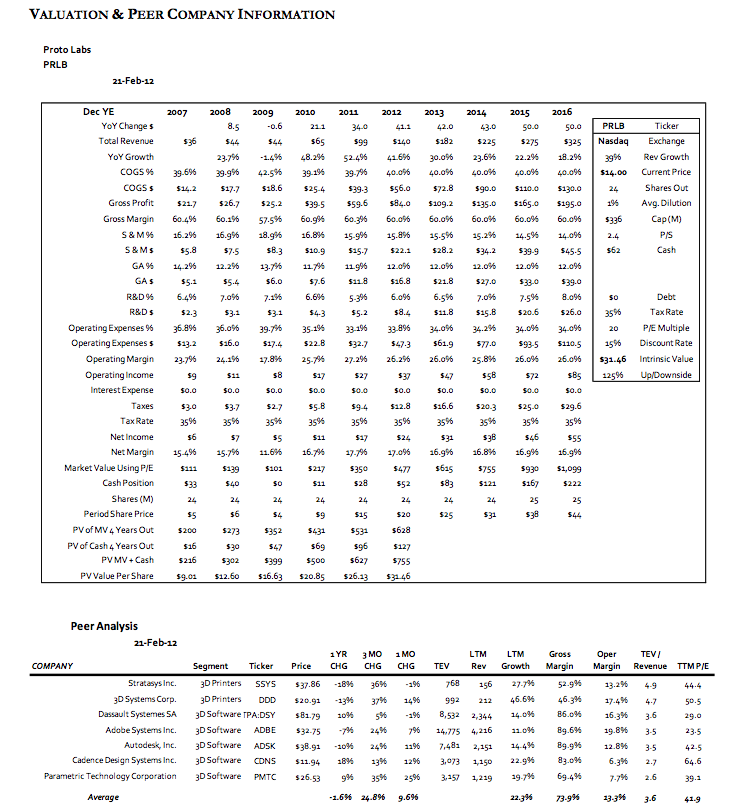 Disclosure: I have no positions in any stocks mentioned, and no plans to initiate any positions within the next 72 hours.