The Dow Jones Industrial Average (DJIA) has been around for over one hundred years, and a company's eventual inclusion in the index is a sign of prestige and vote of confidence in the importance of that company to the United States economy. Over time, it has become one of the most cited and widely recognized stock market indices. Even those who don't follow the stock market religiously recognize the index's name.
Yet despite this, retail investor ownership of the underlying thirty components of the index is extremely fragmented. Using Seeking Alpha's own internal statistics based on current holdings in reader portfolios, it might surprise you to find out that the most popular component, Microsoft (NASDAQ:MSFT), is more than 29 times more likely to be held in a portfolio than the least popular component, The Travelers Companies (NYSE:TRV). This article series (intended to be a seven part series) will highlight some of the lesser followed components, which I've named the "Dwarfs of the Dow." These companies are ones that I believe quite often have better long-term business prospects compared to the more over-owned index components.
Part IV: DuPont

3M's (NYSE:MMM) inclusion on this list was surprising to me. From my understanding, the company is fairly well-known across Wall Street and regular retail investors, especially for its renowned dividend policy, which has been increased every year for the past fifty-seven years. Nonetheless, the company can be found in only 56,908 Seeking Alpha portfolios. In hindsight, this appears to be a shame as 3M has been one of the better performing Dow components in recent years, with its operating results (and stock price) shrugging off a multitude of weaknesses including slowing growth and the stronger U.S. Dollar.

While revenue growth has simply not been there, management has been able to wring hundreds of millions of dollars in additional profit from falling commodity prices, along with the usual suspects in business restructuring: layoffs, factory reworking, divestitures, and an overall business realignment.
Business Realignment
3M segregates its operations into five business segments now after its recent restructuring: Industrial, Safety & Graphics, Electronics & Safety, Health Care, and Consumer. The realignment came as part of the aforementioned initiative to cut expenses, shrink the product portfolio, and improve earnings in a relatively low-growth environment.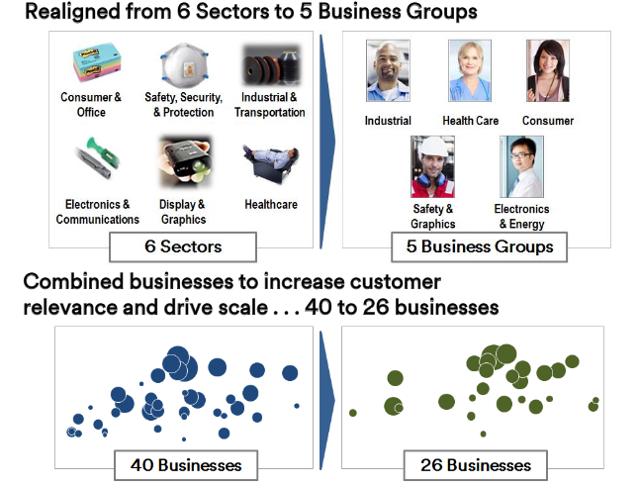 *3M Company, 2016 Outlook Investor Presentation
It was obvious that tweaks to the business were needed. When companies grow as large as 3M, the portfolio of products can quite often end up far too broad, leading to weakening overall results and deteriorating margins because it is simply too hard for management to get to the nitty gritty on what is working and what isn't. These changes have led to improving operating margins in recent years; 2015 YTD operating margin of 23.7% compares favorably to 2012 results of 21.7%.
Digging Deeper Into The Business Model
Investors that own 3M do so for its ubiquity. Originally starting its corporate life as Minnesota Mining and Manufacturing (a small mining operation), 3M has evolved from those humble beginnings into a company that provides over ten thousand products, many of which most of us are all but guaranteed to bump into during daily life.
What 3M is most known for to investors (products directed towards individual consumers such as office supplies and home improvement products) is also its least profitable segment. The segment that is actually most key for 3M is Health Care, in which the company sells products and services such as surgical supplies, health and infection prevention tools, and discardable drug delivery systems.

There are several reasons for why this segment is so important. Operating margins are highest here (in excess of 30%), so for every dollar of revenue growth is approximately 30% more accretive to operating income than sales in the other segments. As we can see above, the segment is already the second largest by operating income provided to consolidated business results.
While operating earnings growth in the past several years was not high in this segment, current 2016 EPS guidance is counting on a solid increase in organic growth in local currency: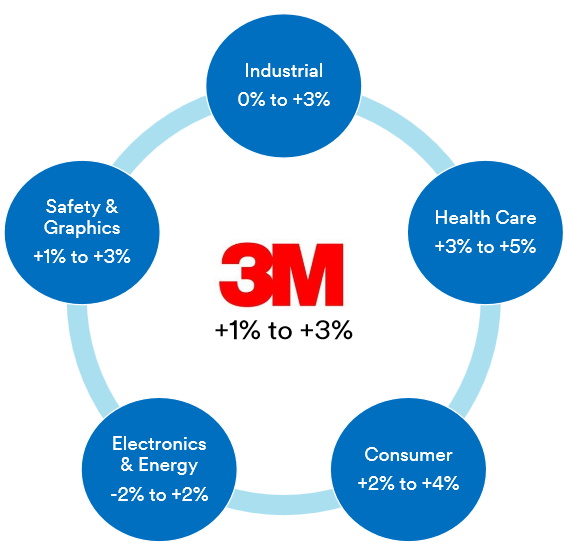 *3M Company, 2016 Outlook Investor Presentation
Health Care is a growing industry, especially globally in underdeveloped markets. Sales in developing markets (Indonesia, Philippines, etc.) grew 12% in local currency in 2014. Like for much of 3M, strong base currency has hidden a lot of encouraging overseas results.
Health care is a growing industry, and given the company's worldwide reach and broad product portfolio, 3M has the clout to really dominate this industry if it can continue to execute. Expect to see management focus on further acquisitions in this space (such as the Treo Solutions acquisition in 2014). In future earnings releases, investors need to focus on the health of this business segment in particular.
Capital Allocation Policies

3M has always been known as being shareholder friendly, and the company's use of cash flow as shown above proves why it has that reputation. In fact, the company might perhaps be too shareholder friendly. Over the past five years, 3M has returned more than 100% of free cash flow to shareholders in the form of cash dividends and share repurchases. Over the past three years, capital returns to shareholders outstripped even operating cash flow.
It shouldn't be a surprise then to learn debt has grown from $4.2B at the end of 2010 to $11.2B today, with the company also burning through $3B of its cash and cash equivalents along the way. While I'm all for shareholder returns, I'm deeply wary of companies that use debt to write those very checks to shareholders. At the very least, current 3M shareholders shouldn't expect this level of combined buybacks and dividends to continue forever without earnings expansion; it simply isn't sustainable.
Conclusion
3M is an incredibly solid company that has been an excellent steward of investor capital over the years. It has a proven track record of being able to adapt to changing market conditions, and there is currently nothing that I can see that suggests that would change. If anything, the company is improving, not falling to the wayside. The recent market pullback that has brought the shares to the low $140s/share has made picking up shares more attractive than it was in the past.
I do fear that shareholders have grown accustomed, and will likely continue to expect, outsized share buybacks and dividends from management. Management will eventually have to pull back on its pace if it wants to keep from levering up its business too much.
Disclosure: I/we have no positions in any stocks mentioned, and no plans to initiate any positions within the next 72 hours.
I wrote this article myself, and it expresses my own opinions. I am not receiving compensation for it (other than from Seeking Alpha). I have no business relationship with any company whose stock is mentioned in this article.