Southern Company (NYSE:SO) should be a core holding in a utility portfolio. Current investor uncertainty offers an acceptable income entry point with some share price upside. Fundamentals should improve as the current construction cycle winds down, improving free cash flow. Growth prospects as a diversified utility will favor the natural gas side of the business. Dividend growth should stay ahead of inflation, offering higher real income returns.
There are three current issues causing some investors angst: Kemper "clean coal" generation, Vogtle nuclear power plant construction, and integration of the announced acquisition of AGL Resources (NYSE:GAS).
Kemper coal plant construction project has cost the company over $2 billion ($1.2 billion after-tax) in non-collectible overruns and delays, and is 2 years behind schedule. While the gas-fired portion is producing electricity, the lignite-to-gas conversion process has yet to begin. The process is supposed to convert lignite, one of the dirtiest forms of coal, into a gas that would be burned to boil water into steam to drive the plant's turbines and produce electricity. SO may have to return about $234 million in investment tax credits to the IRS if the plant is not in service by April 19, 2016. In addition, several months ago an equity partner backed out, without any indication from SO as to how the reduced equity commitment will be offset in the longer term. Currently, SO is offering loan capital to its subsidiary Mississippi Power to continue on with the project. More information on the process can be found on the MIT website update of the project and the Mississippi Power website.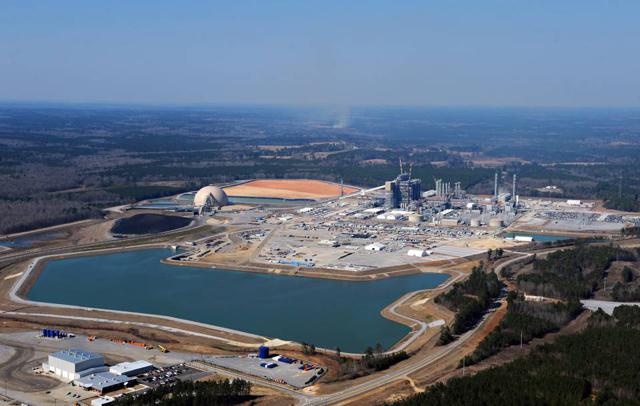 Six energy firms in South Korea and China have signed letters of interest concerning the new technology utilized at Kemper. For example, last month SO announced it is partnering with ALPS, a Korean energy company, to explore the feasibility of building a similar plant in South Korea, but almost twice the size of the Kemper facility. Jointly developed by SO and engineering firm Kellogg, Brown & Root, the technology known as TRIG™ is designed to generate electricity from low quality coal or lignite with overall carbon emissions below a similarly sized natural gas plant. The key will be the capture and re-purpose of carbon emissions into enhanced oil well recovery. While Kemper is on the final lap of construction and full facility start-up, if successful, SO's design could offer interesting ancillary opportunities through licensing of the technology. While the final outcome of the Kemper plant is not yet written, it seems the project should be wrapping up this year, giving investors a sigh of relief.
A similar story can be written concerning cost overruns and project delays at the Vogtle nuclear plants. The biggest news is the assumption of the construction project responsibility by Westinghouse of SO's Vogtle and the VC Summer nuclear construction project in SC. With the acquisition of the business from Chicago Bridge and Iron (NYSE:CBI), Westinghouse settled all outstanding litigation concerning current cost overruns. Westinghouse then outsourced some of the project's responsibilities to Fluor (NYSE:FLR) as a replacement contractor for CBI. In the settlement, SO agreed to pay an additional $350 million in cost overruns and agreed to extended in-service dates of 2019 and 2020. While there is still plenty of time before the in-service dates for additional costs and delays, the agreement with Westinghouse and the removal of CBI seems to move the project forward with much less rancor.
While SO paid a pretty penny for AGL Resources, the purchase reduces SO's overall investment risk and opens up additional investment opportunities. As the industry turns to more natural gas fired power plants, SO will begin to better control the pipeline "highway" from the gas well to its power plants. In addition, the combination of power generation and local distribution will catapult SO into the largest buyer of natural gas in the country. The diversification will add slightly to SO's earnings and dividend growth, both now pegged at 4% to 5% a year.
The credit rating agencies like the AGL acquisition. Fitch's latest comments:
Improved Business Profile: The acquisition of AGL meaningfully reduces Southern's risk profile, in Fitch's view. Fitch generally views gas distribution businesses as low risk and AGL's utilities are generally well managed with numerous supportive regulatory mechanisms in place. AGL's rising investments in inter-state pipelines carry moderately higher competitive market risks, but these are offset to a large extent by long-term offtake agreements with credit worthy counterparties. While the non-regulated retail and wholesale businesses of AGL are volatile, the exposure is somewhat contained given these will be a small part of the combined company.

Southern gains tremendous scale and geographic diversity with this acquisition and its inaugural pursuit of natural gas businesses can smooth out earnings and cash flow of its predominantly summer peaking electric utilities. The combination also lowers the contribution of its non-regulated, albeit conservatively managed, Southern Power Company in the overall business mix as well as that of its utility subsidiary, Mississippi Power Company, which is undergoing significant stress related to the construction cost overrun and inadequate rate recovery for the Kemper Integrated Gasification Combined Cycle (IGCC) project.

New States and Businesses Induce Uncertainty: Fitch's concerns primarily lie with Southern's first regulatory foray outside the southern states. Southern will add five new state regulatory jurisdictions, which includes some tough jurisdictions such as Illinois and New Jersey.
Moody's also believes the AGL acquisition is a good move that lowers SO's overall risk.
The acquisition of AGL would significantly increase the scale, scope, and diversity of Southern's predominantly electric generating business by adding one of the largest local natural gas distribution companies LDC in the country, with seven LDC's serving over 4.5 million customers in 7 states. Notably, this includes the Atlanta Gas Light Company in Georgia, AGL's second largest LDC, providing opportunities for some synergies and cost savings with Georgia Power. The acquisition would also help reduce the level of concentration risk for Southern associated with the large Vogtle and Kemper construction projects, as the combined organization would be even larger and more diverse.
Free cash flow, or operating cash flow less capital expenditures, should begin to recover after a few years of intense construction expenditures. In 2013, SO generated $6,097 million in ocf and spent $5,463 million in cap ex; in 2014 SO generated $5,800 million in ocf and invested $5,900 million in cap ex. 2015 should be the peak in capital expenditures at around $7,100 million while SO is estimated to be generating $6,200 in ocf. It is projected ocf will grow to $6,400 million this year and $6,600 million in 2017 while cap ex is expected to decline to $6,500 to $7,000 million and $6,100 to $6,500 million, respectively. Dividends paid are pegged at $1,951 million annually. Not counting capital expenditures associated with the company's deep dive into natural gas distribution, free cash flow should improve over the next two years, but still not be sufficient to cover cap ex and dividends.
Often overlooked, Southern Company operates the second largest network of electric transmission lines at 27,000 miles. Using the current valuation of the only pure transmission firm, on a per mile basis, SO's transmission assets could be valued at $9.53 billion out of a current market capitalization of $42.85 billion, and represents 25.4% of overall market cap. Transmission asset growth should continue to be strong with expanding overall economic activity in the southeast along with the connection of additional renewable and natural gas generating facilities.
Share prices seem to be fully valued at $46. Morningstar rates the stock as 3 Stars, as does S&P Capital IQ. Morningstar reports out of the six analysts, one rates SO as a Buy, three as a Hold and two as a Sell. Thompson Reuters reports 14 analysts with an average recommendation of 3.3 Hold on a scale of 1.0 Buy to 5.0 Sell. Fastgraph.com offers their historic take and would seem to agree.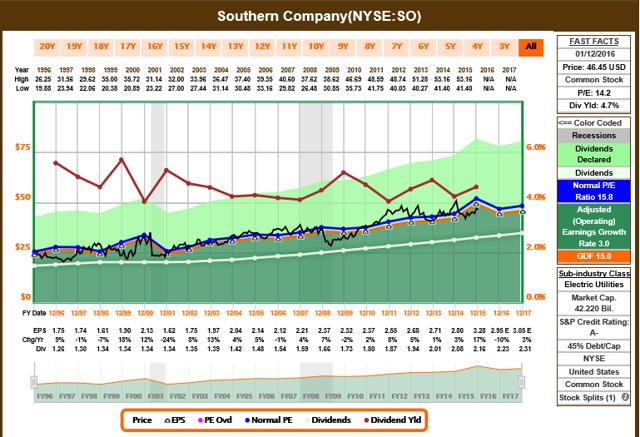 One of SO's claims to fame has been management's ability to generate outstanding return on invested capital. Until the most recent write-offs due to these construction projects, ROIC fluctuated between the mid-6% and the mid-7% range, and is well above industry average of slightly higher than 4%. Below is a fastgraph of ROIC performance: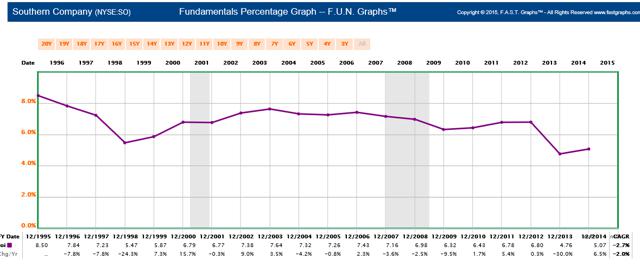 As Kemper and Vogtle wind down as an expenditure and are placed in service, ROIC should improve.
Over the previous 5 years, Southern's total return has been in-line with its peers. Below is a total return graph courtesy of Morningstar.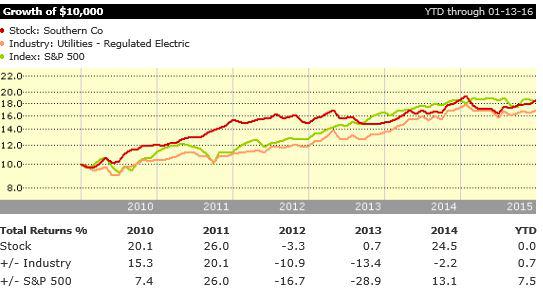 In their typical fashion, Morningstar succinctly sums up the bulls and bears case for Southern Company.
Bulls Say: Southern operates in the business-friendly Southeast, where its relatively low power prices and sterling reputation help to foster a constructive and stable regulatory atmosphere. The deal for AGL could bring a new growth platform in gas infrastructure and synergies from operating utilities in the same state and regional footprint. Business investment continues to head to the Southeast, which bodes well for the region's economy and Southern's customer base even as residential demand growth has remained tepid.

Bears Say: Complying with carbon emissions and coal ash regulations will require significant investments that would raise customer bills, discouraging power usage. We include $500 million of potential cost overruns at Vogtle that we project Southern won't be able to recoup in rates and $750 million in extra owners' costs. These figures could go much higher in a worst-case scenario. The deal for AGL will require synergies beyond our forecasts to make it value-accretive, given the high price tag that Southern laid out.
The major draw for investors should be the stable dividend and the prospect for 4% annual increases on a 4.6% current yield. I continue to buy SO for this reason, with any stock appreciation icing on the cake. By the way, I really, really like icing.
Author's Note: Please review disclosure in Author's profile.
Disclosure: I am/we are long SO, FLR, CBI.
I wrote this article myself, and it expresses my own opinions. I am not receiving compensation for it (other than from Seeking Alpha). I have no business relationship with any company whose stock is mentioned in this article.