While the recent drop in oil prices relates more to weaker demand - mostly due to concerns over China - than changes in supply, without a sharp fall in production, oil prices aren't likely to recover. And even at $30, U.S. oil output still seems elevated. According to the latest weekly oil update, the four-week average production is 9.2 million barrels per day, which is close to 1% above the level recorded last year. But with such low oil prices, production is likely to start coming down. This, in turn, should cut the ample storage. Then, as the market realizes a shift in the market fundamentals, we could see a rally for oil prices (either that or an escalation in the Middle East - if we solely consider the supply side). But for that to happen, it could take a while - a long while. Let's see why.
Production Is Falling… Slowly
U.S. production has come down from its peak in June 2015 by 4%. Back then it touched the 9.6 million bbl/day level, as indicated in the following chart.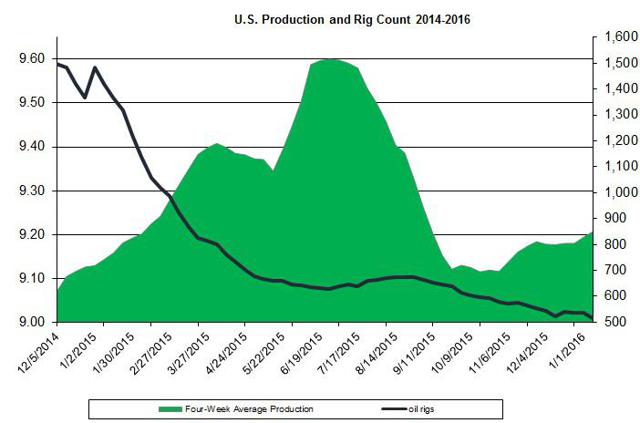 Source: EIA and Baker Hughes.
While output has come down, it's still up slightly from the beginning of 2015. The number of oil rigs, however, has plummeted. According to a recent report by Baker Hughes, oil rigs reached only 516 - a 65% drop since the beginning of 2015. In short, output hasn't dropped nearly as much as oil rigs have. Why?
It seems as if oil companies have become more efficient and extract more oil at lower costs and at higher yields per rig. Also, since some oil producers hedged their output throughout 2015, they were able to keep extracting oil and see a higher realized price than the prevailing market price. Many oil companies, however, don't have hedges on their output for 2016 - not at the prices they were able to lock in for 2015. According to one report, only 11% of U.S. oil yield is hedged this year. Therefore, U.S. oil output should come down at a faster pace in 2016 than it did in 2015. As to the recent short-term outlook, the Energy Information Administration expects the average output to reach only 8.7 million bbl/day, or 7.5% lower than the average production in 2015. Non-OPEC output, besides the U.S., is also expected to fall by 0.2 million bbl/day this year; most of the decline will come from the North Sea and Russia.
But even after accounting for lower output and perhaps even a modest gain in demand in the U.S. - due to lower prices and steady growth in the economy - storage levels are still high and aren't likely to reach normal levels this year.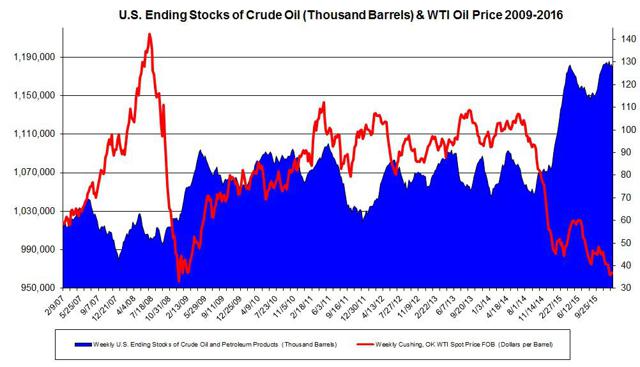 Source: EIA.
The chart above shows the changes in U.S. oil stocks (weekly) and prices over the past several years. If we assume lower oil output brings down the current storage levels by, say, 5% and the demand during this year's driving season rises by 10% from the five-year average, then stocks will reach a low point by September of 1,082 million barrels. That is still 3% higher than the normal low point in September. And this simplistic calculation is a moderately optimistic scenario. If output falls at a slower pace or demand doesn't pick up much higher than in 2015, stockpiles will be 6% to 8% above the five-year average by the end of the year.
While the concerns over China are leading the news these days and are also impacting the direction of oil prices, the main issue will remain the supply side. In the U.S., oil output is expected to come down, but stockpiles are likely to maintain their above-normal levels throughout the rest of the year. Until stockpiles come down to normal levels, oil prices are likely to remain low. (For more, please see: "Goldman's Forecast On Oil - Another Case Of Riding The Trends?")
Disclosure: I/we have no positions in any stocks mentioned, and no plans to initiate any positions within the next 72 hours.
I wrote this article myself, and it expresses my own opinions. I am not receiving compensation for it (other than from Seeking Alpha). I have no business relationship with any company whose stock is mentioned in this article.