National Oilwell Varco (NYSE:NOV), which makes equipment and components that are used in oil and gas rigs as well as the drilling process, has seen its shares plunge 56% since the beginning of last year, setting new 52-week lows of $28.51 at the time of this writing.
National Oilwell Varco, like every other company operating in the energy space, has been struggling in the downturn. In the first nine months of 2015, the company has seen its revenues and net profit drop 23.5% and 60.5% on a year-over-year basis to $12 billion and $755 million respectively. In the rig systems business, which has been historically responsible for more than 40% of the total revenues, sales have dropped 18.4% to $5.95 billion. New orders have been drying up, with backlog for rig systems declining 44% from the third quarter of 2014 to $8.02 billion at the end of Sep. 2015. Margins have also come under pressure, with gross profit margin shrinking from 27.1% in the first nine months of 2014 to 22.9% in the same period of last year.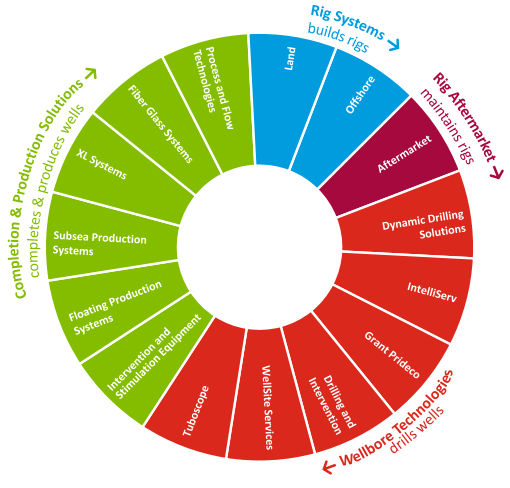 National Oilwell Varco's operating areas. Image: National Oilwell Varco
Recent weakness in oil prices has raised concerns regarding National Oilwell Varco's future. Oil prices have dropped 70% in the last 15 months, with both the US benchmark WTI and European Brent briefly falling below $30 a barrel to their lowest level in more than a decade. This has come on the back of heightened concerns regarding slowdown of China's economy, near record levels of production from OPEC and non-OPEC nations and strong level of inventories. And there isn't enough data that suggests a quick rebound with a fair degree of confidence. Rather, the world seems to be preparing for the worst.
For instance, Russia has been mulling over revising its 2016 budget which was based on oil price assumption of $50 a barrel. That oil price scenario, in the words of Russia's President Vladimir Putin, seems "unrealistic." According to the country's finance minister Anton Siluanov, Russia needs to prepare for a $40 a barrel price window. Similarly, Saudi Arabia is also taking unprecedented steps to brace for a tough oil price environment, including a possible IPO of Saudi Aramco, the nation's sole oil producer. In a research report emailed to me, Oppenheimer's analyst Fadel Gheit wrote that the Kingdom's recently released 2016 budget numbers, assuming 7 million barrels a day of exports, imply a price of $39 per barrel for 2016.
In the soft oil price environment, oil drillers will continue to keep a lid on spending. The demand for National Oilwell Varco's onshore and offshore equipment, therefore, will remain subdued. The company's revenues and profits will further decline and it will find it increasingly difficult to book new orders. The backlog will continue heading downhill, which could weigh on National Oilwell Varco stock.
Additionally, National Oilwell Varco has greater exposure to offshore markets than onshore (~90% of the company's backlog is linked with offshore market). The former, which is more capital intensive than the latter, has borne the brunt of oil's collapse in terms of spending cuts. No wonder National Oilwell Varco hasn't reported any newbuild rig order for deep water markets in a while. The supply of new offshore rigs in the coming quarter could exacerbate the offshore market, which is already struggling with a glut of rigs. When oil eventually rebounds, then the onshore market will likely recover more quickly than offshore. This means National Oilwell Varco might not recover as quickly as other oilfield services stocks that have greater exposure to onshore markets.
However, investors still need to keep an eye on this stock. That's because firstly, National Oilwell Varco is an industry titan that has seen several oil cycles before. The oil's collapse could push a number of energy companies towards bankruptcy, but National Oilwell Varco isn't going anywhere. It has built its business over decades through literally hundreds of acquisition to a point that virtually every oil and gas drilling operation in North America and Europe, as well as a number of drillers in the Eastern Hemisphere, use National Oilwell Varco's products and services. This is a company with a wide economic moat, a unique competitive advantage that is difficult to replicate by any other competitor.
Secondly, National Oilwell Varco has a pristine balance sheet. The company carries a long term debt to equity ratio of just 22%, significantly lower than the industry's average of 53.5%, according to data from Thomson Reuters. Furthermore, National Oilwell Varco has been able to cover its capital spending and dividends from internally generated cash flows. The company is in a great shape to withstand the downturn while rewarding shareholders through dividends.
Thirdly, as mentioned earlier, historically, acquisitions have played a key role in fueling the company's growth over the years, and a number of these have come in the downturn. So far, the company has stayed on the sidelines, but has increased the size of the revolver credit facility from $3.5 billion to $4.5 billion in the second quarter of 2015 specifically to prepare "for potential [acquisition] opportunities", according to the company's management. With a pristine balance sheet and ample liquidity, which includes the revolver as well as cash reserves of $1.84 billion, National Oilwell Varco is in a great shape to make a major bolt-on acquisition. This might be the only thing that could fuel the stock's rally this year.
For these reason, investors should look for an opportunity to pull the buy trigger when the stock hits rock bottom. Following the backlog number might be a good idea since this figure has usually played a crucial role in driving National Oilwell Varco stock.
Disclosure: I/we have no positions in any stocks mentioned, and no plans to initiate any positions within the next 72 hours.
I wrote this article myself, and it expresses my own opinions. I am not receiving compensation for it (other than from Seeking Alpha). I have no business relationship with any company whose stock is mentioned in this article.