The Business Development Company (BDC) space has sold down sharply in recent weeks due to general market weakness, continued fears about oil exposure (as well as CLO exposure by some BDCs), and major weakness in the high yield credit market. Even on January 14th with the market rebounding by 1.7% (S&P 500), BDCs still sold off by about 0.4%, not sharing in the rally at all. Even more strangely, the debt of the BDCs, particularly the so-called "baby bonds," sold off (in some cases at with a greater decline than the common shares) even though they had been mostly stable for the past 12 months.
Specifically for Gladstone Capital Corporation (TICKER: GLAD) (please refer to the company's investor relations page for detail on this BDC), which declined by 14% on January 14th, extreme fear of its oil exposure seems to be the main issue. GLAD has three credits in its portfolio directly related to oil & gas comprising about 15% of its total portfolio. The common shares now trade at a 41% discount to net asset value (NAV); even if one assumes a complete loss of 100% of the energy credits (which is extremely unlikely as discussed further below), the current price still results in a 22% discount to NAV. There are many arguments why GLAD common shares may be vastly undervalued but the focus of this article will be on GLAD's exchange traded debt securities, traded under the ticker GLADO.
GLADO is technically a "Term Preferred" issue but for all intents and purposes to the investor, it is a bond that pays interest and we will call it as such. GLADO was issued in May 2014 in a $61 million offering, with proceeds used primarily to repay an earlier issue of Term Preferred that was coming due. GLADO pays a 6.75% interest rate (taxed as ordinary interest income) and has a stated redemption date of 6/30/2021, which is effectively the maturity date. The company could theoretically not redeem the shares at this date, but if they don't the interest rate increases to 10.75%, which is prohibitive (the company would thus use any means necessary to repay the bonds from selling assets to drawing on the revolver). A critical element of this bond issue, as well as all the BDC baby bonds, is that the company is required to maintain 2 to 1 times asset coverage, which basically means that its assets, primarily the loan portfolio, must cover total debt (including bank borrowings and the term preferred) by at least two times. This means that for the bonds to be impaired, GLAD's loan portfolio would have to decline in value by more than 50%. Even in the worst of the 2008 crisis, BDC loan portfolios did not come anywhere close to these types of losses and we do not know of any BDC that went under. While BDC prices are trading at significant discounts to NAV, there is no serious thought that any of the BDCs is facing a 50% portfolio loss.
It is this asset coverage that has allowed the BDC baby bonds to remain relatively stable in price for the last 18 months, but in the last 2-3 weeks, this stability was shattered, with GLADO among the largest decliners. The price chart below shows that GLADO was trading at around $25-$25.50 per share for most of the last 12 months, but in mid-December declined into the $24 range, and this past week plunged further to a low of $21.20 on January 14th.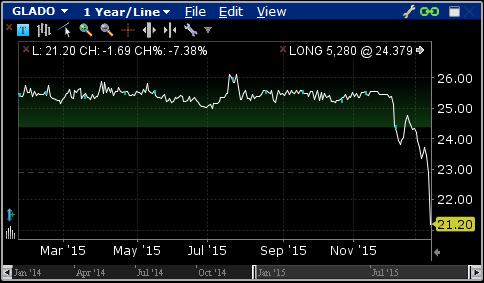 At this price level GLADO is trading at 85 cents on the dollar, with a whopping Yield to Maturity (YTM) of 10.5%. GLADO pays monthly interest of $0.1406 on a $25 face price per bond, and the current yield is 8%, but eventually, unless GLADO goes bankrupt, the price will go back up to par by 6/30/2021. GLADO represents the best current value relative to all the BDC baby bonds issues in our view. The decline appears to be all related to GLAD's exposure to energy credits, but this risk seems extremely overblown and ignores the company's recent massive deleveraging and de-risking events, much of which occurred since the company's last quarterly report, but disclosed in its 10K on in the investor conference call, and confirmed by our call today with Bob Marcotte, President of Gladstone Capital. Bond investors seem to be unaware of these prudent moves.
Specifically, the company has received cash proceeds from loan repayments and loan sales of approximately $55 million, and subsequent to quarter end, issued nearly $20 million of common stock. This $75 million cash infusion directly reduced borrowings on the revolver and increased asset coverage, which was at just over 2x at quarter end 9/30/2015, to over 2.8x today. It seems that panicky investors simply hit the sell button because of the words "oil exposure" ignoring the much stronger position that GLAD placed itself in post 9/30/2015.
The chart below summarizes our analysis showing how post 9/30/2015 events has placed the company in a strong asset coverage position, which directly benefits the baby bonds (numbers are rounded).

The 9/30/2015 column shows the balance sheet as of the most recent quarter end. As can be seen, asset coverage was just at the minimum 2x level. Management noted that this level was tight in its investor call and was one of the reasons for the $20 million equity raise. Asset coverage below 2x would require the company to get back into compliance by repaying debt or raising cash, the "hammer" that provides very strong protection to the bonds. The second column adjusts for cash flow events post the 9/30 financial release, including the stock offering. All of this is reported in the 10K and partially discussed in the investor call. In addition to $27 million of sale proceeds from the sale of the Funko investment (which came with a $17 million gain), GLAD received proceeds from loan payoffs and sales of syndicated loans for about $28 million-$55 million total in October and November.
Mr. Marcotte confirmed our interpretation of these reported numbers, and that all the cash proceeds were used to reduce outstanding borrowing on the bank revolver. This means total borrowings on the revolver came down from $127 million to about $52 million, and along with the baby bonds total liabilities came down to $116 million, all as shown in column 3. At the same time, the asset base declined by $55 million, matching the pay downs and sale of loans. The key statistic is the Total Assets divided by Liabilities, which at 9/30 was right at the 2x mark, but with the $75 million infusion of cash improved dramatically to 2.8x. At the same time Gladstone has not announced any new loan transactions as confirmed by Mr. Marcotte (it is possible a new loan was made in the last few days which could not be disclosed to us). At this point the GLADO bonds are extremely well secured, a dramatic improvement over the 9/30 numbers. At 2.8x coverage, the loan portfolio would have to decline by about 65% in value to impair the bonds. In two months GLAD became one of the least leveraged companies in the BDC space.
It is very likely that management will begin to deploy its dry powder over the next months (after all, they are in the business of making loans) and assets and liabilities will begin to rise again, reducing the coverage ratio -- but there is now $95 million of deployments that would have to take place to get back to 2x coverage, which will take a long time to happen. With credit markets and markets in general weakening, it is actually a good time to have dry powder. We are confident that management will not add any new energy exposure and be cautious with new deal flow.
The last column addresses the hyped-up fears of GLAD's energy exposure, which seems to have caused retail investors to hit the sell button and ask questions later, especially as it relates to the bonds. Although we do not think the company's entire energy exposure will be written down to zero, we assumed this scenario as a stress test. Reducing assets and net assets by $51 million, the entire energy exposure, still leaves asset coverage at a high 2.4x. (Even based on the 9/30 numbers a complete energy write off results in still comfortable 1.8x coverage).
While this article is not focused on the common stock, the bottom rows shows the huge discounts to net asset value that the stock is currently trading. Even with the hypothetical energy write-off to zero, there is still a 22% discount, which seems to show that the market is overstating the energy exposure risk. We have not examined the discount relative to other BDCs.
We researched and discussed the three energy investments with Mr. Marcotte to get a better understanding of the actual risk. While he could not go into great detail due to public reporting rules, it is clear that lumping these three investments with some overleveraged oil producer facing bankruptcy is simply a mistake. Let's discuss each individually based on what we know.
Southern Petroleum Laboratories ("SPL") is a portfolio company of Hastings Equity Partners, a respected PE firm working on its third fund, with $172 million. SPL was founded in 1944, which tells us that it has managed through many oil cycles. Here is what the company does: "SPL provides the oil and gas production industry with independent lab, measurement and field meter services. Customers use this information to support refining plans, to determine the value of the oil and gas when it is sold, and to satisfy regulatory filing requirements. SPL also provides well production allocation services. Based on SPL's quantity, quality and composition measurements of fluids that are comingled from multiple wells, clients use SPL to allocate the wells' royalty stream payments to the appropriate landowners who tend to differ by well."
This type of service is independent of commodity prices, and Mr. Marcotte hinted that financial results for this business are essentially flat. GLAD's $8 million first lien loan sits behind Hasting's equity investment; according to Mr. Marcotte, all three of its energy investments have seen additional equity support from its PE sponsors who are looking to take advantage of a weak market to make acquisitions. SPL does not seem to be a company on the verge of bankruptcy, although we are admittedly dealing with limited information.
WadeCo Specialties is the next energy investment, also a portfolio company of Hastings Equity:
"Founded in 2005 and headquartered in Midland, TX, WadeCo provides production well chemicals to oil well operators used for corrosion prevention; separating oil, gas and water once extracted; bacteria growth management; and conditioning water utilized for hydraulic fracturing. WadeCo bases its individualized treatment programs on the unique characteristics of each well."
According to Mr. Marcotte and WadeCo's website, the chemicals provided by WadeCo are critical components in all phases from drilling to pipeline, and are a very low cost element compared to the total cost of oil production. While oil production is certainly going to decline the projected reduction is only about 10% (about a 1 million barrel per day reduction). While it is unlikely WadeCo is not suffering from reduced production, fewer rigs and possible demands for price reductions, like SPL, it is not directly affected by commodity prices. Mr. Marcotte also noted that WadeCo operates primarily in the Permian Basin, which is a more favorable place to be and will likely see less declines versus other locations. On the investor call David Gladstone noted that WadeCo recently completed a 100% equity funded acquisition which improved the credit with no increase in debt, which is not a sign of imminent bankruptcy. It is certain that GLAD is closely watching its $22 million investment in this company, which is all first lien debt.
The third energy investment is Francis Drilling Fluids, a $20 million investment made by Gladstone in 2012 to support a buyout by Prophet Equity. Prophet Equity is investing Fund II of $345 million. An overview of the company: "Founded in 1977, FDF is the largest fracturing materials logistics company in the U.S. Additional service lines include the rental of certain oilfield equipment such as tanks and hoses as well as provision of cleaning services." We don't have much more information, but our sense is that of the three this company is probably suffering the most, but we have no actual evidence for this assertion. Again, Mr. Marcotte indicated that the three energy investments were receiving support from equity sponsors and seeking acquisitions. We are certain to learn more in the next investor call. While the three energy investments are certainly higher risk and it would be better not to have them in the portfolio in this energy environment, the risk seem overblown and is already well accounted for in the stock price and should be mostly irrelevant to the bonds.
In conclusion there does not seem to be a logical reason why GLADO is now trading at a 10.5% YTM when 2-3 weeks ago they were trading near par for a 6.75%-7.00% YTM. In fact, as shown, the risk profile of the company from a bondholder perspective is the most favorable in many quarters, and the company is well positioned to take advantage of what seems to be shifting into a lender's market. Management has prudently responded to the elevated market risk and made the necessary moves to reduce risk and free up liquidity. Asset coverage now stands at 2.8x and even a 100% loss of its energy investments, which seem highly unlikely based on what we have learned, still leaves the bonds with over 2x asset coverage. Outside of energy, the portfolio is comprised of over 40 portfolio companies well diversified across 16 different industries, 61% of it being first lien loans and 31% second lien. Recent portfolio moves also cleaned out some loans that were on non-accrual, and now non-earning assets comprise only 1.6% of assets -- another key improvement in GLAD's portfolio.
Investors should be aware the GLADO is generally thinly traded, as are many of the baby bonds. The issue is held exclusively by retail investors, generally as a buy-and-hold. It thus does not take much selling pressure to drastically move the trading price. In fact, trading volume in nine days of trading in 2016 is only 18,500 shares daily on average out of 2.44 million total outstanding, but the bonds have still declined by 13% this year on thin volume. Once the "sell anything that has the word energy in it at all costs" investors finish purging, a few thousand shares of buying demand can easily reverse the price decline. But given volatile markets it is impossible to predict near term price action on any investment. Our recommendation for investors is to view a possible allocation to GLADO as a buy-and-hold. The issue matures in 5.5 years and investors will earn monthly income and (barring a bankruptcy) get back $25 per share at the 6/30/2021 redemption date.
Please note that GLADO bonds are not defined as "investment grade" and are thus only appropriate for investors willing to accept a fixed income risk profile that would be more like high yield bonds. GLADO bonds are unrated.
Please see the Downtown Investment Advisory profile page for important disclaimer language.
Disclosure: I/we have no positions in any stocks mentioned, and no plans to initiate any positions within the next 72 hours.
I wrote this article myself, and it expresses my own opinions. I am not receiving compensation for it (other than from Seeking Alpha). I have no business relationship with any company whose stock is mentioned in this article.
Additional disclosure: The author holds GLADO bonds in both personal and client accounts.