Emerson Electric (NYSE:EMR) has suffered a trifecta of blows in the past year-the strengthening U.S. dollar, collapsing oil prices, and slowing economic growth in the emerging markets. Emerson is exposed to all of these, as it is a large multi-national company that caters heavily to the oil and gas industries, and has significant operations in under-developed nations. These forces combined to send the stock down 23% in the past year.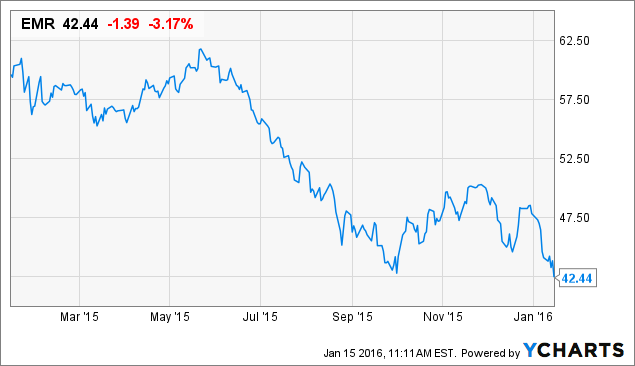 But, despite all the problems Emerson Electric is having, these are not self-inflicted wounds. Foreign exchange movements and global macro-economic factors are completely outside the company's control. As a result, I am confident that this is a well-run company that will emerge stronger than ever, once these temporary headwinds pass. No company can last for 125 years, and maintain such an impressive track record as Emerson, without a strong business model and capable leadership.
In the meantime, investors have an opportunity to pick up shares of Emerson at its cheapest valuation in the past five years, with its highest dividend yield in the same time. For long term investors with the patience to ride it out, Emerson is my top industrial stock pick for 2016.
The Perfect Storm
It is no secret that 2015 was a year to forget. Due to the factors mentioned above, Emerson's total sales and earnings per share declined 9% and 15%, respectively. Much of the damage was due to foreign exchange fluctuations. As everyone knows, the rising U.S. dollar has taken a huge bite out of sales for large companies such as Emerson, that conduct significant operations in international markets. Excluding currency translations, organic sales declined a more modest 2%. Not surprisingly, the biggest areas of weakness were Emerson's Process Management and Industrial Automation segments, where organic revenue declined 10% and 12%, respectively, last quarter. These are the businesses that service the oil and gas industry.
While 2015 results were poor, one could argue that Emerson deserves credit for only posting a 2% organic sales decrease in such a weak environment. I believe that speaks to Emerson's effective leadership team, which knows how to steer the ship in choppy waters. Things aren't expected to improve much in 2016, but Emerson does have some future catalysts working in its favor.
Last year was obviously poor, and the future outlook is bleak. Organic sales are expected to decline another 2%-5% in 2016, but not all hope is lost.
Future Catalysts
When I think of Emerson, the phrase 'this too shall pass' comes to mind. It is very difficult to be optimistic about any company, particularly an industrial, in this environment. But these moves in the foreign exchange and commodity markets probably won't last forever. Emerson is a cyclical business, and this is simply an inevitable downturn that happens every few years or so. It is likely that these forces will reverse at some point.
First, Emerson is undergoing a significant transformation. Its operational initiatives include the divestitures of the Power Transmission Solutions and InterMetro businesses as well as the spin-off of the Network Power business. This restructuring has the potential to create significant cost synergies which should help support earnings per share this year. As a result, adjusted earnings are expected to dip less than 1% at the midpoint of management's 2016 guidance.
In the meantime, Emerson still generates a lot of cash. The company produced $1.8 billion of free cash flow in 2015. It uses the bulk of this cash flow to reward shareholders. Over the past twelve months, Emerson returned $3.8 billion to shareholders in combined dividends and share buybacks.
And, Emerson has a strong balance sheet. It holds $3 billion in cash and cash equivalents, and that compares favorably to $4.2 billion in long-term debt. Its long-term debt to equity ratio is a manageable 52%.
Compelling Valuation, Dividend
Shares of Emerson Electric trade for just 10 times earnings. This is the cheapest the stock has been on a valuation basis in several years. In addition, thanks to its falling stock price along with its continued dividend growth, the stock yields exactly 4.5% as of this writing. That is the highest dividend yield for Emerson in many years as well.
Buying Emerson is a scary proposition, but this is about as good of a buying opportunity as there has been in five years at least. For long-term, patient investors, the future is bright. Emerson has raised its dividend for an amazing 59 years in a row-it has clearly seen difficult times before, and likely will again. But it's still standing. And, that 4.5% dividend yield at least helps soften the blow during the downturn.
Disclaimer: This article represents the opinion of the author, who is not a licensed financial advisor. This article is intended for informational and educational purposes only, and should not be construed as investment advice to any particular individual. Readers should perform their own due diligence before making any investment decisions.
Disclosure: I/we have no positions in any stocks mentioned, and no plans to initiate any positions within the next 72 hours.
I wrote this article myself, and it expresses my own opinions. I am not receiving compensation for it (other than from Seeking Alpha). I have no business relationship with any company whose stock is mentioned in this article.