In 1837, a man named John Deere discovered that a steel designed plow was perfect for tilling the fertile soils of the Midwestern US. What followed was the growth and development that is today the world's number one recognized agricultural and construction equipment company. Having experienced boom and bust periods for nearly 200 years, this company is going nowhere anytime soon. It dominates many of the markets it participates in. However, the stock currently is facing headwinds that may not subside for years. This article discusses these headwinds and why one should not buy Deere (NYSE:DE) at this time.
The last ten years were a fantastic time to sell construction, and particularly agriculture equipment. The housing bubble in the US, along with huge increases in commodity prices, lead to record equipment sales year after year for Deere. However, those buyers are now seeing their revenue streams dry up, and the first thing they will cut is new and high dollar equipment purchases. See the two figures below: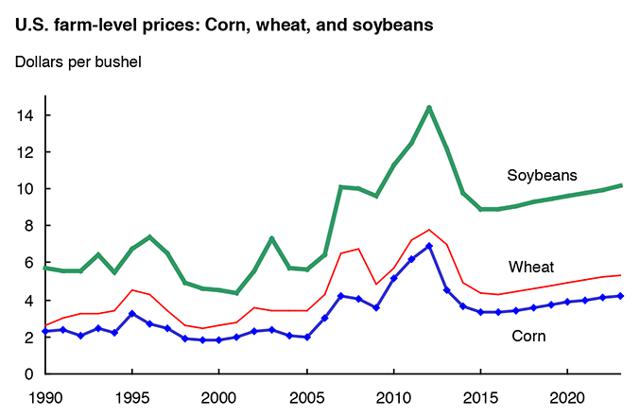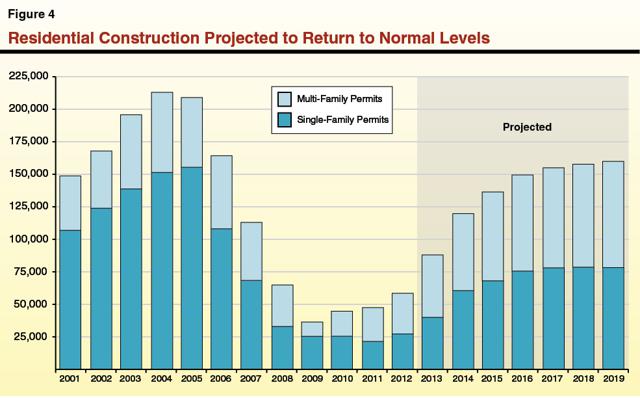 As you can see, the main agriculture commodities have seen their prices cut in half over the last few years, and the USDA projects minimal price increases over the next 5 years. From the construction side, residential construction has increased the last few years, but still nowhere near pre-2008 levels. These two factors indicate that total revenue available to purchase Deere's large and expensive equipment will simply not be there in the next several years. This in turn will hurt the company financials and the stock price.
Financially, Deere has weaknesses in its amour. For starters, the company has steadily been increasing its short term and long term debt over each of the last 5 years.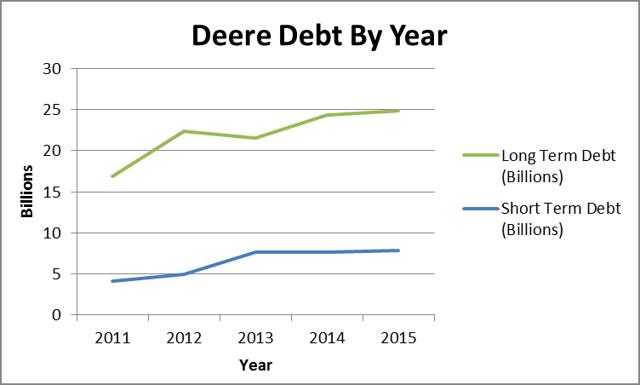 These figures indicate Deere is supplementing lower gross margins with debt issuance. Even with the decrease in revenue and income over the past few years, Deere has also continued to raise its dividend. Furthermore, Deere has not pushed back on its material suppliers to lower input costs in its machinery. Gross margins are at 2009-2010 levels. The company needs to stop increasing its debt, dividends, and push back on its supplier costs as long as the current economic environment persists.
Deere is a fantastic company that will around for years and years to come. However, doing business in extremely cyclical markets, the stock is prone to sharp increases and declines. Given the poor market conditions for the company's main customers, I believe the stock has yet to reach a level where it should be acquired. Furthermore, I believe the company needs to take greater measures to sure up its financial position before I'm comfortable owning it. Avoid Deere's stock for the time being, but be ready to start buying once agriculture and construction markets begin to improve along with Deere's balance sheet!
Disclosure: I/we have no positions in any stocks mentioned, and no plans to initiate any positions within the next 72 hours.
I wrote this article myself, and it expresses my own opinions. I am not receiving compensation for it (other than from Seeking Alpha). I have no business relationship with any company whose stock is mentioned in this article.