What is happening with Williams Partners (NYSE:WPZ)? After Fitch downgraded WPZ's debt rating, and the debt rating of its General Partner, Mr. Market has flogged the stock relentlessly. What is really happening and is there value for the patient distribution-oriented investor?
What has actually happened
Fitch downgraded WPZ's debt to BBB-. This is the lowest rung of investment grade debt.
Williams Companies (NYSE:WMB), WPZ's general partner, was downgraded to BB+. This is junk bond status.
There are rumors that Energy Transfer Equity's (NYSE:ETE) acquisition of WMB may fall through.
WPZ has fallen from just over $28 in late December to close at $16.22 on Wednesday and has since rebounded.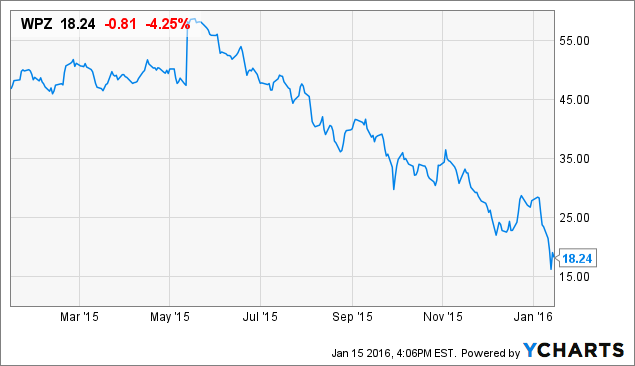 Does this mean the distribution will be cut?
Both Boardwalk (NYSE:BWP) and Kinder Morgan (NYSE:KMI) have cut their distributions/dividends after loosing cheap and easy access to the debt markets. Those stocks have been punished for it. With the rating cuts to WMB and WPZ, it would appear something similar is developing for Williams. The typical pipeline investors clearly value their regular payments.
WPZ is currently priced for a big distribution cut. But is this really a concern?
The partnership only has $377 million of debt due in 2016 and nothing in 2017. Their last investor presentation indicates they want to spend just under $3 billion in capital expansion projects in 2016. Some of this is likely already committed.
Fitch expects leverage to stay at 4.5 to 4.8 times EBITDA. This makes the rating agencies nervous, but the partnership is still comfortably under its current covenant limit of 6.0. This appears to be the highest limit in any pipeline MLP this author has found. A limit of about 5.0 appears to be more normal in the sector, so it follows the banks are much happier if Williams stays under that. Investors should not expect credit standards to loosen.
There is also the Chesapeake (NYSE:CHK) bankruptcy concern. Fitch cited WPZ's growing dependence on Chesapeake, its largest customer at about 20% of revenue. One would expect an operating bankruptcy is most likely, so WPZ would still get paid, albeit likely with significant delays. Without Williams the creditors can't get molecules to market and that means no cash flow. Contracts can be renegotiated, so Williams may loose some of the cream on their pipeline contracts. If Chesapeake declared bankruptcy Williams would have a lot of work managing its cash flow.
Chesapeake is a risk outside of WPZ's control. By substantially curtailng the capital expansion budget, WPZ can likely maintain the distribution.
So what if the distribution is cut?
At share prices under $17.00, the $3.40 annual distribution represents a 20% yield. WPZ is a large cash generating machine. DCF for 2015 was $3 billion. If management's forecasts are correct this will go up quite a bit in 2016 to $3.5 billion. Given the revenue concerns, let's assume it stays at the 2015 level.
A 25% distribution cut will free up ~$750 million of DCF to fund projects and pay off the $377 million of long-term debt due this year. This probably doesn't change the debt-to-EBITDA ratio. The stock would still yield ~15% at current prices and much of the capital expansion projects would be delayed.
A 50% distribution cut will free up ~$1.5 billion of DCF and meets half of WPZ's desired capital budget, effectively de-levering the new projects. The stock would now only yield 10% but be less risky and have some real growth potential. WPZ in its current form has IDRs that are much more beneficial to WMB than WPZ.
Two years of applying an additional $750 million to debt would take $1.5 billion off of debt, or about 9% debt reduction and assuming revues stay constant, get the debt ratio under 4.5.
One year with a 50% distribution cut accomplishes the same thing. There is no danger of WPZ going away.
Over the next two years, it has about $5 to $6.3 billion in capital spending from the low to high range. This could be funded with a complete stop of the distribution.
But, wait, what about the ETE merger?
Energy Transfer Equity was never going to buy Williams Partners. It was only buying WMB - the General partner. Does WPZ need ETE to grow? Long term, it probably helps. With the current credit rating and no distribution cut, WPZ is not growing near term no matter who owns the General partner interest. The current IDRs also limit the value of growth to WPZ's shareholders. There does not appear to be any downside to WPZ holder if the merger does not happen.
Conclusions
WPZ under $17/Share is a buy. If things go Williams' way, life will go on and the distribution will be paid. If it cuts the distribution 50%, WPZ has lots of room to maneuver and stockholders still get a 10% yield. If the distribution is cut, look for the stock to tumble and an opportunity to add to the position. This is a position that will take at least several years to play out.
The entire pipeline segment needs to be repriced for a slower growth rate going forward. WPZ now appears to be one of the few gas pipeline companies that is correctly priced.
Disclosure: I/we have no positions in any stocks mentioned, but may initiate a long position in WPZ over the next 72 hours.
I wrote this article myself, and it expresses my own opinions. I am not receiving compensation for it (other than from Seeking Alpha). I have no business relationship with any company whose stock is mentioned in this article.