This is the latest in my "Investing with an Edge" series. For more on the series, please see here.
Company: Internap (NASDAQ:INAP). Reasons for opportunity: activism, strategic alternatives, market meltdown.

Internap is a small internet infrastructure company that is currently exploring strategic alternatives. That's interesting, and we'll discuss it in a bit. But what's really interesting about Internap is the chart below.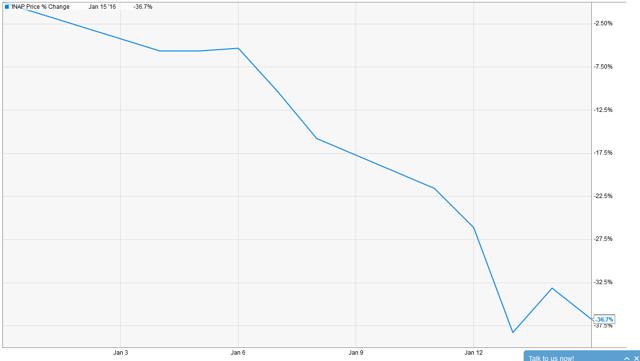 That's Internap YTD share price performance. There's been no real negative fundamental news for Internap over this time period; in fact, the only news of note came on January 13th, right at the bottom of the decline, and the news was simply that INAP would provide an update on their strategic alternatives when they reported full-year earnings on February 18th.
If Internap is sold, there's likely significant upside from today's price. For example, Windstream (NASDAQ:WIN) just sold their data center business for ~14x EBITDA/4.7x revenues. At today's price of $4.10/share, Internap is trading for ~7.7x 2015E EBITDA and 1.9x 2015E revenue (based on the low end of management guidance given after Q3 earnings). Internap is significantly leveraged, with $383m of debt versus a market cap of just $230m, so if Internap were to sell for a multiple even approaching WIN's data center's multiple, the shares would be a home run from today's levels. A 3x revenue multiple would put shares over $10, while a simple 10x EBITDA multiple would put shares at ~$7.50.
Are there reasons to believe a buyer would be interested in Internap? Absolutely. Internap's main business is data center services, particularly colocation, and the industry has been rapidly consolidating, with strategic buyers in particular showing a willingness to buy smaller players like Internap.

Source: Discovery Group letter to Internap board, 7/7/2015
In addition, Internap's margins are well below peers. Industry leader Equinix (NASDAQ:EQIX), for example, has EBITDA margins over 45%. Internap's EBITDA margins are currently ~25%. The lagging margins can be traced directly to Internap's utilization: as of Q3, company-controlled datacenter utilization was 55% versus peers at >80%. With 65%+ gross margins in the core data center business, that 25%+ utilization discrepancy is huge, as increases in revenue will have a dramatic leveraging effect on the bottom line. If a strategic acquirer could buy them and improve utilization, they could create a ton of value. If an acquirer could get their core data center margins up to 80% utilization and improve EBITDA margins to 40%, it would add ~$65m in EBITDA to INAP (a nearly 80% increase in EBITDA!). If a buyer were to step in at $7/share and could do the above, they'd be effectively buying INAP for ~5x EBITDA with additional upside from cost cutting (the above does not factor in SG&A cuts, which are likely to be significant) or further improving utilization.
What happens if INAP isn't sold? Management would simply need to try the same "improve utilization + margins" plan as a standalone company. Peers trade for double-digit EBITDA multiples, so if management could successfully make the utilization improvements as a standalone company, the value creation for shareholders would be significant. Under the "80% utilization + 40% EBITDA margin" plan, INAP's EBITDA would exceed $145m. At a 10x valuation, the stock price would approach $20.
But Internap remaining standalone seems unlikely. A significant majority of the company is owned by activists who are driving the sale process. Gabelli/Gamco owns close to 20%, Discovery owns almost 6%, and RDG (another activist) has sent several letters to the board pushing for a sale. When shareholders owning this much of the company consistently push for a sale, a sale is likely. The only question is if they'll get a price they like and can accept: given how far shares have fallen, a sale is likely to be well below all of the activists' cost basis.
Aside from the activist pressure, Internap is unlikely to remain a standalone because of their leverage. 2015 guidance is for $80-85m in EBITDA and $60-70m in capex. With a ~$300m term loan at a 6% interest rate and $31m of their $50m revolver drawn at a ~5% interest rate, Internap is not currently generating cash. With only $19m left on their revolver, it's probably in management's best interest to try to sell the company instead of trying to turn it around themselves as liquidity could quickly become an issue if the turnaround temporarily increases costs or the company hits a hiccup.
Obviously, a lot could go wrong. Internap's sale process was announced in September, when shares were trading in the $8-9 range. The fact they haven't gotten a buyer by now is troubling. And, even if they find one, shareholders may balk at a reasonable price because it will be so far below their cost basis. If a deal isn't to be found / completed, Internap will have to go it alone as a standalone turnaround, and turnarounds are risky, particularly given the leverage multiple here. But the upside from a turnaround or sale at a reasonable price seem to outweight the downside at today's prices.
Disclosure: I/we have no positions in any stocks mentioned, and no plans to initiate any positions within the next 72 hours.
I wrote this article myself, and it expresses my own opinions. I am not receiving compensation for it (other than from Seeking Alpha). I have no business relationship with any company whose stock is mentioned in this article.