E. Coli, a norovirus and a federal subpoena have all contributed to the decimation of Chipotle Mexican Grill's CMG stock. Shares are down an astounding $300 from the 52-week highs of $758, or more than 40%. But there's no sense in rehashing what's already happened, what should investors do now?
It's hard to pull the trigger on something that sees it's story worsen, literally by the day it seems. On the same day as its announcement disclosing its federal investigation, Chipotle also lowered its fourth quarter expectations and boosted its buyback, (although December's purchases alone have already lost more than $30 million).
So what's an investor to do? Like me, you might be asking the same question, so here's what I'm going to do and why I'm doing it, and hopefully it will be of help to you: I'm buying Chipotle.
Why The Hell Are You Doing That?
It's really tough to say that the bottom is in - so I'm not going to do that. I very well recognize that sub-$400 is a possibility, especially considering how much earnings will come down this year (both from a lower traffic and higher expenses point of view), as well as the stock's still high valuation given the EPS slowdown.
I totally understand that risk, but consider, I really liked Chipotle before the E. coli mess (both as a customer and as an investor). I really believed the company had a lot of growth ahead of it in the long-term. The only thing that kept me out at prices far higher than today was the valuation.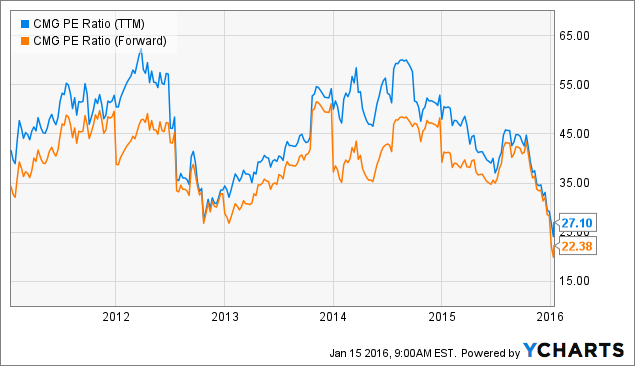 CMG PE Ratio (NYSE:TTM) data by YCharts
As you can see, the valuation has been hammered since summer. It's also fair to say estimates could come down even further (see chart below), which would make the valuation higher and likely put more pressure on the stock price. And it's really not known how long it will be before we stop seeing Brian Sozzi and the likes tweeting empty Chipotle pictures.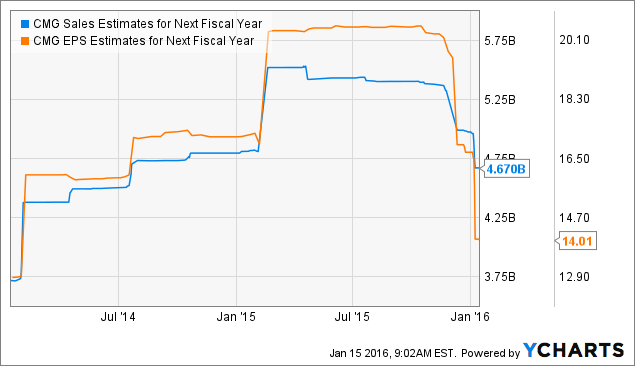 CMG Sales Estimates for Next Fiscal Year data by YCharts
As investors, we don't know how long it will be before customers return in droves or if there will be another outbreak, and that's the risk we take in buying stocks: the unknown. So far, analysts still expect 2016 sales to climb 4.2%, and earnings to only slip 6.9% despite heavy investments in safety equipment and the drop in current sales.
For me personally, I started buying the stock on Tuesday -- not because of my own extraordinary timing, as shares are up 15% from the lows that day, but because that's the day my broker puts in its automatic purchase orders.
At its low that day, shares got close to $400, down nearly 47% from its highs. To me, a 47% decline in a high quality company suffering a short-term slowdown - as in, less than 12 months - is enough to at least warrant a new position.
Where Does It End?
Markets are incredibly hard to predict. That's why I take a long-term approach and seek high quality companies. Chipotle - whether you believe the E. coli incidents were due to poor quality or not - tries its hardest to source the best ingredients in the most ethical manner. Customers care about this, and while they may have temporarily suspended their trips to the restaurant to ensure they don't end up in the hospital, doesn't mean they will never return. They, like investors, are waiting for the all-clear.
Since I don't know when and in what form that all-clear will come in, I'm starting to buy now. I started on Tuesday and will likely keep adding little amounts every Tuesday going forward, until I build out a full position.
Management is clearly regretful of what's happened, but the company's steadfast approach to safety and refusal to back away from growth plans (as outlined earlier this week), has given investors and analysts something to be excited about.
Another E. coli outbreak and it will be interesting to see how far the stock drops. Even with shares trading better lately, potentially more-disappointing-than-already-expected earnings results could drive the stock back down.
Some of the unknowns are impossible to forecast. That's why I've decided the 40%+ selloff is enough for me to get involved in the stock, hoping to see greener pastures in 2017, 2018 and beyond.
Disclosure: I am/we are long CMG.
I wrote this article myself, and it expresses my own opinions. I am not receiving compensation for it (other than from Seeking Alpha). I have no business relationship with any company whose stock is mentioned in this article.