Elevator pitch
On 01/10/2016, the Wall Street Journal reported that Kohl's (NYSE:KSS) is considering going private or breaking up. it is essential to note that the underlying message is not whether or not Kohl's decides to go private or break-up, but the fact that the firm is considering ways to unleash shareholder value. This underlying message is what makes Kohl's a good opportunity.
In the last nine months, Kohl's share price has declined by ~40% and its overall performance has been relatively low compared to its peer group and the S&P 500 as shown in Figure 1.
Figure 1: (Kohl's 2015 10K)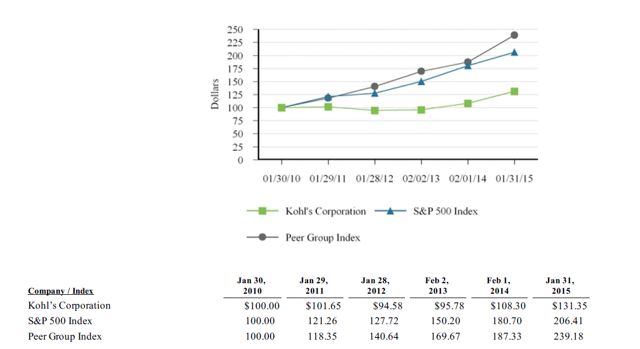 Since the financial crisis, Kohl's has made considerable progress to reposition itself for growth, bolster investor confidence through dividends and buybacks and it has invested heavily in e-commerce by leveraging its 1,200 stores to create initiatives such as buy online and pick in-store. Despite these efforts, Kohl's still trades at half its sales and has a P/E ratio which is ~46% below its industry average.
But it could take time for Kohl's to realize its true value as a public company. Its investments in e-commerce, developing efficient distribution channels and expanding margins to historical levels needs time and patience. Patience that the street does not have.
As a result, going private would be an optimal strategy for shareholders to realize low-risk returns quickly. Using precedent transaction analysis, Kohl's is poised to fetch a multiple that could see returns in excess of 50% from its current stock price. Therefore, if pushed through, this will be a good way for investors to realize good returns in a stagnant market.
Why Kohl's has underperformed?
Figure 2: (Nasdaq, Kohl's 1-year Stock Performance)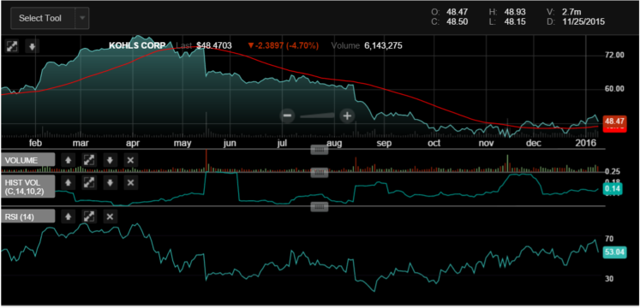 Since April 2nd of 2015, Kohl's stock price has declined by ~40% in the last 9-months. The reasons for Kohl's underperformance are numerous, some of which are;
E-commerce has been stealing its lunch: E-commerce has been grabbing market share from brick and mortar stores. A growing trend with no sign of slowing down. Company's like Kohl's have suffered the most because of their large number of physical stores. For example, Kohl's has ~1,200 stores in 49 states and ~140,000 associates. Meaning that it has ~24 stores, on average, in each of the 49 states. This exposes the company to a lot of risk emanating from the growth in e-commerce. This explains Kohl's declining revenue growth rate.
Failure to bolster investor confidence in spite of being undervalued. In the article, "Kohl's: A Rare Case Of An Obvious Undervaluation," I made a case of how Kohl's could justify valuations even with a negative growth rate. The gist of the message was that the company had a lot of value embedded inside and all that was needed was to unleash it. Kohl's revenues have been slightly surging but net income has been declining in the last five years. This has made investors skeptical of the company's long-term prospects.
Figure 3: (Authors with data from Morningstar)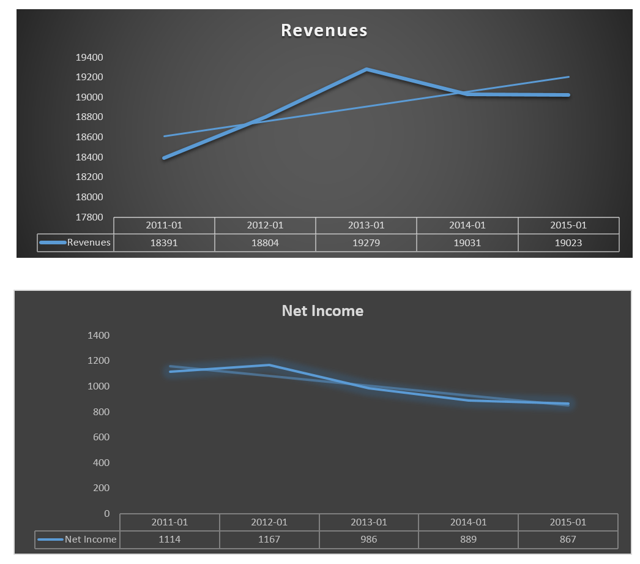 A saturated brick-and-mortar market: The notion that growth in retail comes from increasing store count and square footage, has accelerated the number of brick and mortar stores. Company's like Kohl's have saturated the U.S. market with physical stores. Which is an excellent strategic decision from one firms perspective. However, having more than 10 companies each with approximately 24 stores in each state (this is the same as having one store per ~1,400 people in the U.S), you create an over-saturated market. Sharing sales among more brick and mortar stores has reduced the pace of growth for each firm.
The negative ripple effects of the rising federal funds rate: One of the effects of the increase in the feds fund rate is lowering consumer disposable income by limiting access to credit through high interest rates. This has caused savings from low oil prices and optimism from low unemployment to have less impact on retail. Overall, low oil prices have not been good for brick and mortar and Kohl's is not an exception.
Relative valuation
Kohl's managed to trade at $79.07/share on April 2nd 2015 despite reporting flat revenues and -2% net income growth rate. And there was no actionable news around this date that could have suggested the sudden surge in Kohl's stock price.
Figure 4:(Kohl's Historical Headlines)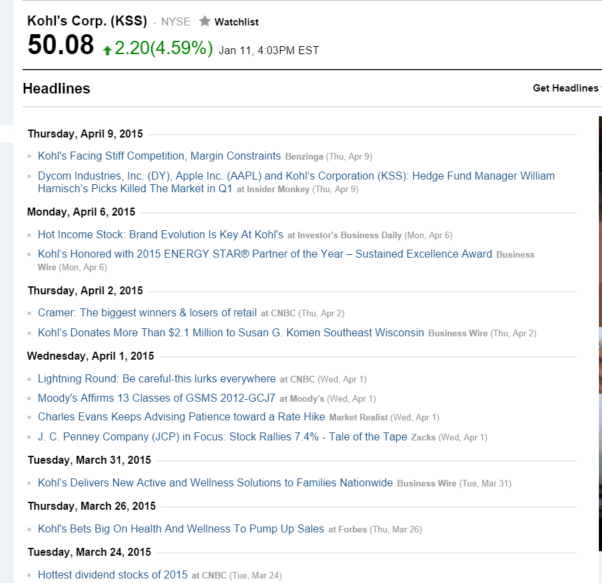 Meaning, at less than $79/share, investors could be better off to keep the stock public and wait for it to rebound.
Kohl's premium could imply as much as ~57% upside to its current stock price.
Figure 5: (Kohl's last 10K, 01/31/2015)

Kohl's has an enterprise value of $14.12 billion and EBITDA of $2.575 billion ((EBITDAR-Rent)).
"Warren Buffett's Berkshire Hathaway Inc. and Jorge Paulo Lemann's 3G Capital agreed to buy HJ Heinz Co. for about $23 billion, ending the independence of an iconic ketchup maker that traces its roots to the 1860s.

The deal is the largest ever in the food industry, the companies said. The buyers are paying about 14.6 times earnings before interest, taxes, depreciation and amortization, according to data compiled by Bloomberg. That compares with the median of 7.6 times Ebitda in a survey of more than 100 comparable deals worldwide." - Bloomberg.
If we used the median of 7.6x EBITDA we arrive at $19.57 billion potential buyout. Adding $501 million in cash and subtracting the $5.14 billion in debt, Kohl's equity value becomes $14.931 billion. Which, using 189.82 million shares outstanding as of 01/15/16, is equivalent to ~$79/share or ~57% upside (using $50.09/share). Comparing to the Dell deal which went private at ~8.59x EBITDA and H.J. Heinz which went private at 14.6x EBITDA, we could say these are fairly conservative estimates.
Benefits of going private for Kohl's and shareholders
"The plan was to run the business as we had when we were a private company. That was the message I communicated. But I came to realize that just wasn't possible. The Street is ruthless and unrelenting. Very often it distorts the process of why you do what you do. It demands a very short and immediate focus on quarterly results.There's no real relationship to sustainable, long-term objectives and goals. We found ourselves so focused on messaging that we lost track of how to elevate what we were doing. Rather than make the numbers better, we would talk about how to talk about them. There were all these various stakeholders, and their interests were not always aligned, so we would often have to figure out how to create a certain perception for the audience we were speaking to, rather than focus on how to be a better company." - Kenneth Cole, "Kenneth Cole on Why Going Private Was the Smartest Thing He Ever Did."
The company, over the long-term, will recover but shareholders are going to see a lot of value slip away from their portfolio. To create imminent shareholder value, it makes sense to take the company private at a good premium to the current stock price.
Low-risk with great upside: Realizing premiums from a take-private transaction is a low-risk way to secure returns. If Kohl's continues being public, it might take some time for the company to go back to its 52-week high. 2016 is a less likely year to see higher valuations for Kohl's because growth is expected to be low. Therefore, stockholders might be better off getting a 57% premium and investing it elsewhere.
Planning for the future of e-commerce: In the first quarter of 2015, Kohl's rolled out its "buy online, pick-up in store" initiative. With a network of ~1,200 stores in 49 states, this gives Kohls a great competitive advantage in distribution. However, this initiative is new but seems effective. Kohl's might need time and a lot of trial runs to get this right. Kohl's estimates that 65% of in-store purchases are expected to be influenced by mobile. Some of the statistics in Kohl's fact book include:
91% of adults have their mobile phones within arms reach
The average person looks at their phone 150 times per day.
70% of mobile searches lead to action within one hour
80% of consumers use mobile to shop
Maybe by eliminating the burden that comes with being public, the company can effectively implement long-term strategies.
Figure 6: (Kohl's Fact Book)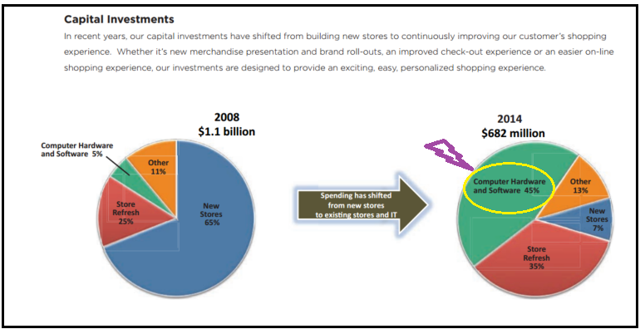 E-commerce is capital intensive, a plan like that requires long-term strategies that might have detrimental short-term effects.
No SOX 404 compliance. Being private frees up managements time and efforts to concentrate on running and growing a business, as there are no SOX regulations to comply with.
Having tremendous government by laws to comply with, these activities can shift managements focus away from operating and growing a company and towards compliance with and adherence to government regulations.
Kohl's has room to further leverage its balance sheet and the potential to finance the debt
Going private means that a consortium of private equity firms group can buy the stock of a publicly traded corporation. The consortium would need to issue debt to finance the deal.
Due to the size of the Kohl's, it may not be feasible for an acquiring company to finance the purchase single-handedly. Private equity firms can leverage Kohls to finance the acquisition. Kohl's debt to equity ratio is 0.9381 compared to 1.34 for the industry. Therefore, relatively to its industry, and assuming that the equity component remains at $5.479, Kohl's can leverage its balance sheet to 1.34 or ~$28.16 billion more and still be within the industry average. Now this is obviously not spot on and too high because Kohl's debt to asset ratio is 1% above the industry and issuing $28 billion in debt would raise liquidity concerns. The point, however, is to show that Kohl's has room to leverage its balance sheet further.
Figure 7: (Kohl's Fact Book)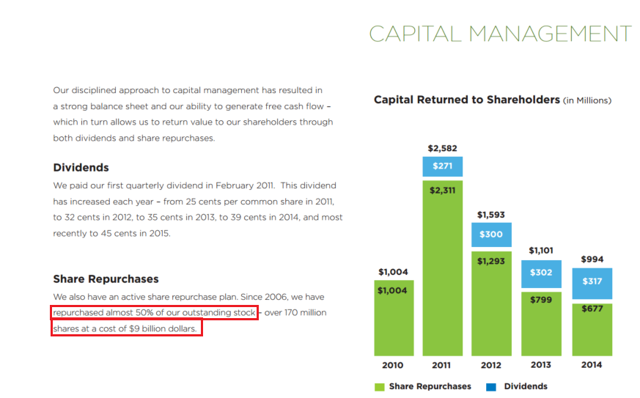 In addition to leveraging the balance sheet, Kohl's can use the money meant for dividends and repurchases to cover interest payments on its acquisition loans. Since 2006, Kohl's has repurchased shares worth ~$9 billion. It started paying its dividend of 25 cents per common share in February of 2011. The dividend increased y/y to 45 cents in 2015. As of January 2015, cash dividends paid was $317 million and repurchases of treasury stock was $677 million. Making a total of $994 million given back to shareholders in the form of dividends and share repurchases during the last fiscal year.
This means that Kohl's can effectively manage to cover interest expenses close to $1 billion a year. If you add this to potential capital appreciation north of 100%, the deal would be attractive to investors.
Threats of going private and my thesis
I am wrong and the premium is much lower than 57%. There are more factors they will consider when planning to take it private and maybe shareholders might settle on a lower premium or the decision to take it private might not happen.
The threat of cash burn in litigation: Any action that can jeopardize shareholder return such as an unfair buyout would lead to potential lawsuits. Take the Dell Buyout for example, even after a 37% premium, veteran investor Carl Icahn and other institutional shareholders sued Dell in an effort to derail the deal (or just get a better premium).
Negotiating from a point of weakness: Kohl's and other brick and mortar stores have been losing business to online stores. For these companies to effectively compete online, they need to invest a lot of money in technology and distribution. Therefore, finding a buyer to pay a good premium when you are under performing can be detrimental to shareholders.
Lack of public exposure. Going private limits their sources of revenue to fund projects or acquisitions in the future.
Stockholders may think that the company is hiding something. Because going private is not the norm in the department store sector, some might wonder whether the company is projecting substantial loss in market share in the near future. Knowing that these losses could cause an even drastic drop in the share price, they have opted to go private so that they do not have to release such details to the general public.
Leveraging the balance sheet will impair the company's potential to access capital. Taking the company private limits ways a company can access capital, but leveraging the balance sheet of a private company can be detrimental to its credit outlook in case it ever needs capital. If an economy takes a nosedive (possible scenario now), it could reduce projected cash from operations to meet interest payments.
Conclusion
The competitive advantage of the "take-private" initiatives depends on the exit strategy. Pressure is not gone, it is just shifted. Instead of pressure from quarterly reporting, the company still has pressure from private equity. Once the majority of a company is in the hands of a private equity firm, it can reduce employee morale has workforce reduction as a means to reduce cost is usually the norm.
However, the stock offers a good opportunity from either talks of a suitable premium or as a takeover target.
The decision to take Kohl's private might be the needed catalyst to bolster investor confidence in the stock and an opportunity to benefit from the stocks headline news as the decision creates excitement around the stock. Considering that the company trades at undemanding valuations and median comp's of deals of this nature suggest 57% upside potential, the name looks really attractive.
References
Disclosure: I/we have no positions in any stocks mentioned, but may initiate a long position in KSS over the next 72 hours.
I wrote this article myself, and it expresses my own opinions. I am not receiving compensation for it (other than from Seeking Alpha). I have no business relationship with any company whose stock is mentioned in this article.