Buying REITs When There's Blood In The Streets
The market is off to its worst two week start ever, and BlackRock (NYSE:BLK) chief Larry Fink says there's "not enough blood in the streets" and that he expects another 10% leg down. But you want to buy REITs. I can't stop you, but maybe I can help you avoid some of the worst ones.
Two Screens to Avoid Bad Investments Applied to REITs
Seeking Alpha features a wealth of in-depth fundamental analysis of REITs, much of it focused on forecasts about dividends. In this article, we're going to attempt something completely different. Last month, we showed how two screens to avoid bad investments, when applied to a list of top guru picks, separated out most of the worst performers. Although the guru picks as a whole performed poorly, the ones that passed the two screens significantly outperformed the ones that didn't: the average 3-month return for names that passed both screens was -4.88%, while the average 3-month return for the names that didn't pass both screens was -22.75%. In this article, we'll apply those screens to 19 of the most widely-traded REITS, and then we'll follow up in a few months and check if there's a similarly significant difference in performance.
Below, we'll describe the screens and the rationales behind them, and then we show which of the REITs we tested passed both screens and which failed one or both.
Screen #1: Most Recent 6-Month Performance V. Long Term
The first screen is one you can easily do yourself. The Portfolio Armor hedged portfolio construction tool looks at how the ticker performed over the most recent six months and compares that to the average six month performance of the security over the long term (ten years, if it the REIT been around that long; if not, it uses the long term returns of an industry competitor as a proxy). The tool will reject any security with a negative return over either the last six months, or the average six month period over the last ten years, unless the mean of both figures is positive.
To illustrate this, let's look at one of the REITs we that passed the 1st screen, Kimco Realty Corporation (NYSE:KIM). Below is a chart, via Yahoo, showing its 6-month performance: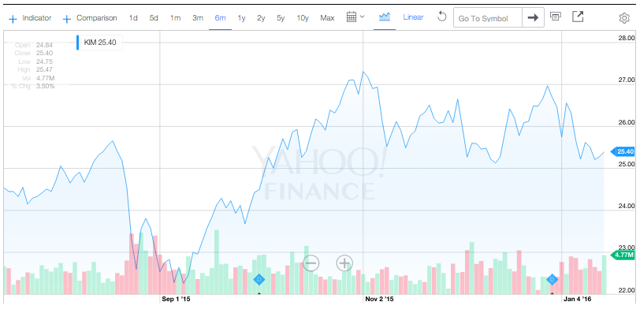 KIM was up about 3.4% over the last six months, as of Friday's close. It's average 6 month return over the last 10 years as of Friday was about 0.9%, so it passed the first screen, since 3.4% is greater than the absolute value of 0.9% (which is 0.9%). Now, if the average 6-month return for it over the last 10 years had been, say, -3.5%, it would have failed this screen. It would have also failed this screen if the situation were reversed, that is, if the average 6-month return for it over the last 10 years were 3.4%, and the most recent 6-month return were -3.5%. The mean of the two needs to be positive.
Screen #2: Hedging Cost
Since KIM passed the first screen, it went on to the second screen. The second screen was to see if we could hedge it against a single digit decline over the next several months using an optimal collar We explained how to find optimal collars in a previous article, if you're willing to do the work manually, or you could use an automated tool such as our iOS app. As you can see in the image below, as of Friday's close, the app couldn't find any optimal collars to hedge KIM against a >9% drop over the next several months (if it can't find an optimal collar at a 1% cap, it can't find one at a >1% cap).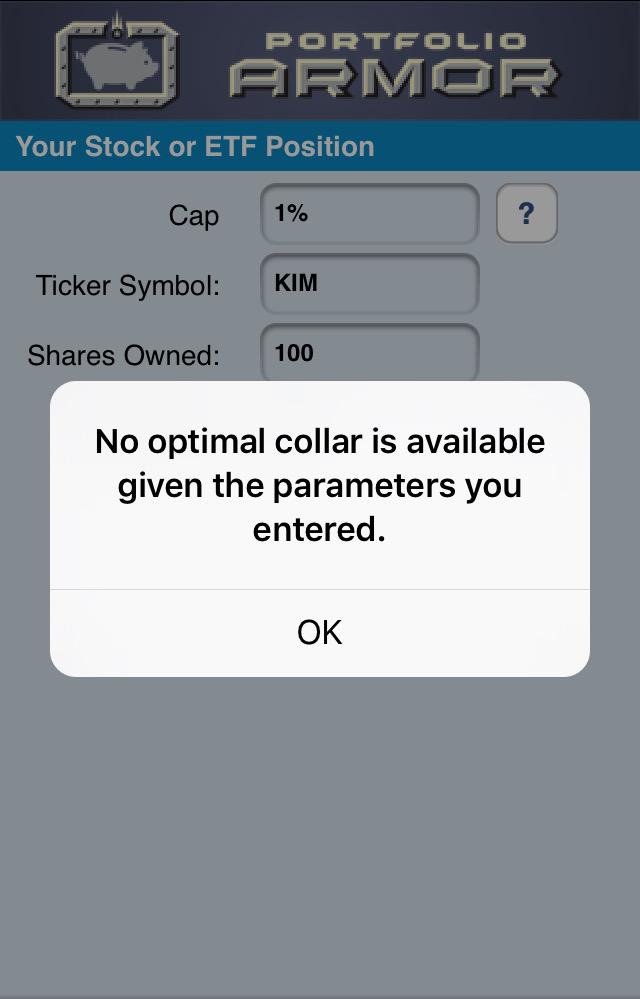 Rationales Behind The Two Screens
Although these two screens don't eliminate all poor-performers, they work to eliminate some of the worst performers. They both employ what New Yorker columnist James Surowiecki termed the wisdom of crowds:
Large groups of people are "smarter" than an elite few, no matter how brilliant -- better at solving problems, fostering innovation, coming to wise decisions, even predicting the future.
The large group of people in screen #1 is the stock market, and the large group of people in screen #2 is the option market; the elite few would be professional investors in REITs.
REIT Scorecard
We ran 19 of the most widely-traded REITs through the two screens listed above. The passing list includes the ones that passed both screens; the failing list includes those that failed one or both screens. We expect the average return of the passing REITs to be higher than that of the failing REITs over the next several months, but we will post an update either way.
Passing REITs
ProLogis (NYSE:PLD)
Crown Castle International (NYSE:CCI)
Welltower (HCN)
HCP (NYSE:HCP)
Realty Income (NYSE:O)
Annaly Capital (NYSE:NLY)
Simon Property Group (NYSE:SPG)
Chimera Investment Corp (NYSE:CIM)
Duke Realty Corp (NYSE:DRE)
Failing REITs
Kimco Realty
Host Hotels & Resorts (NYSE:HST)
Northstar Realty Finance (NRF)
Inland Realty Corporation (NYSE:IRC)
Spirit Realty Capital (NYSE:SRC)
MFA Financial (NYSE:MFA)
American Capital Agency (NASDAQ:AGNC)
Biomed Realty (NYSE:BMR)
Medical Properties Trust (NYSE:MPW)
RAIT Financial Trust (NYSE:RAS)
Conclusion
If you're going to buy REITs, consider buying ones that pass these two screens. And since these screens don't eliminate all poor-performers, consider limiting your stock-specific risk by modulating your cash levels or by hedging. Otherwise, maybe you should panic.
Disclosure: I/we have no positions in any stocks mentioned, and no plans to initiate any positions within the next 72 hours.
I wrote this article myself, and it expresses my own opinions. I am not receiving compensation for it (other than from Seeking Alpha). I have no business relationship with any company whose stock is mentioned in this article.