Summary
With WTI below $30 and AECO gas below C$2.50/GJ, investors are starting to question whether Bellatrix Exploration (NYSE:BXE) will survive the downturn. Fortunately, BXE will survive the downturn even with commodity prices here, but what's unfortunate is that the company will remain in survival mode until commodity prices recover.
Financial Overview
BXE currently has C$200 million in liquidity. As of Q3 2015, it had net debt of C$726 million. Since then, the company's USD-denominated debt has increased from C$337 million to C$359 million due to depreciation in the Canadian dollar. Interest payments have also increased by 9% since then due to the devaluation.
Given that the last determination was at the end of November and BXE's credit line was cut by 10%, the likelihood of another cut in the April redetermination period is likely given the fall in oil prices. If so, the liquidity situation will drop from C$200 million to C$150 million give or take. In this scenario, BXE's Spirit River production will likely carry the company through the rough times until commodity prices recover.
In this write-up, I will attempt to go over the various possibilities that describe the cash burn effect on the company in different commodity price scenarios.
WTI @ $20 with AECO gas @ current STRIP
BXE would burn C$37 million in cash if this scenario occurs. If WTI drops to $20, the Canadian dollar will likely weaken to $0.63, or C$1.60 to a dollar.
Here is a snapshot of what it would look like: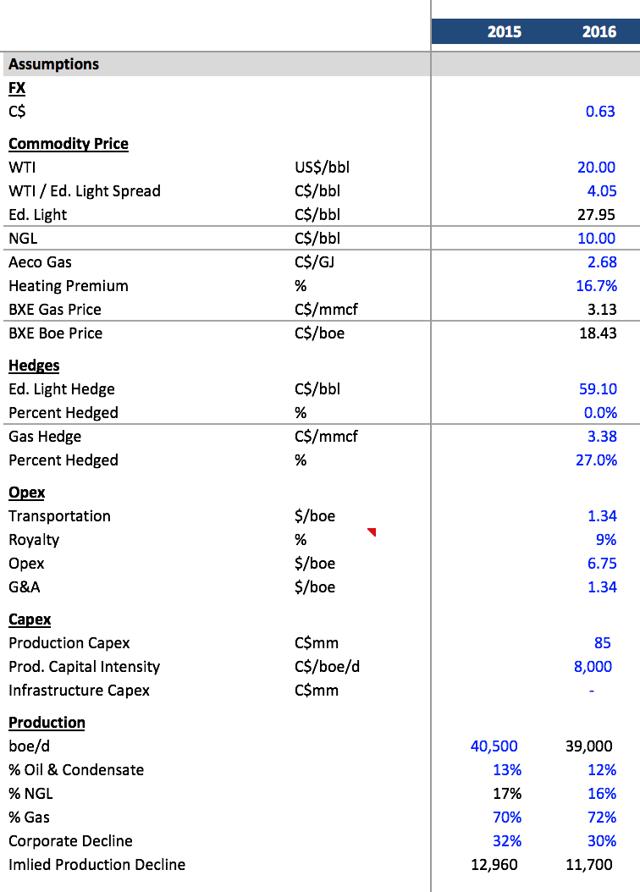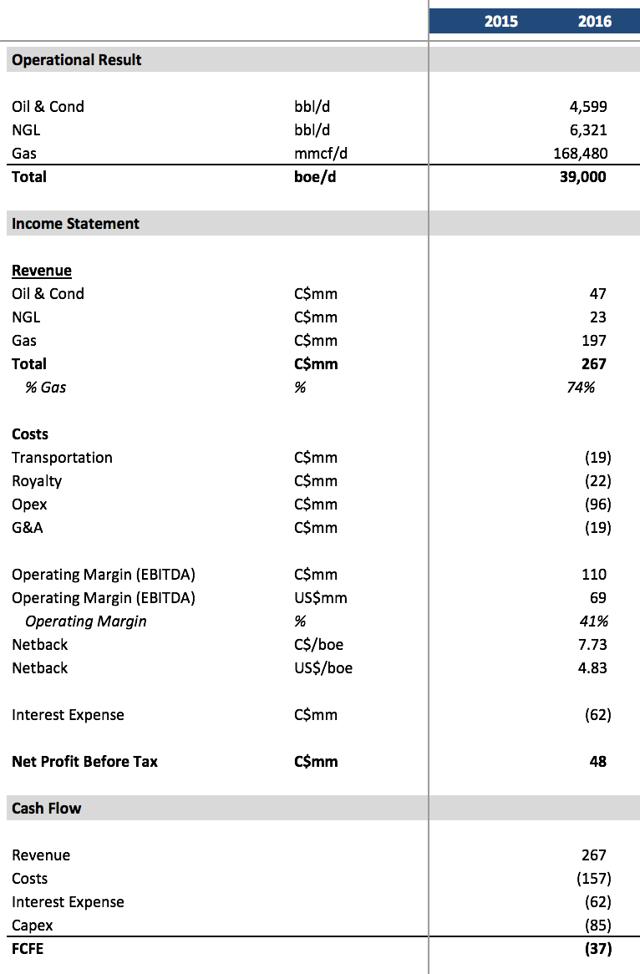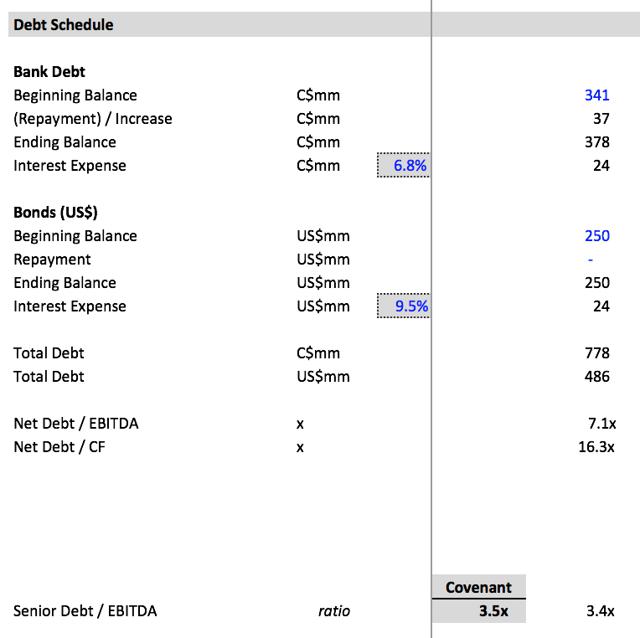 In this environment, the covenant would not be breached. It would remain @ 3.4x, but the overall debt balance would increase to C$778 million, causing investors to be concerned.
WTI @ $30 with AECO gas @ current STRIP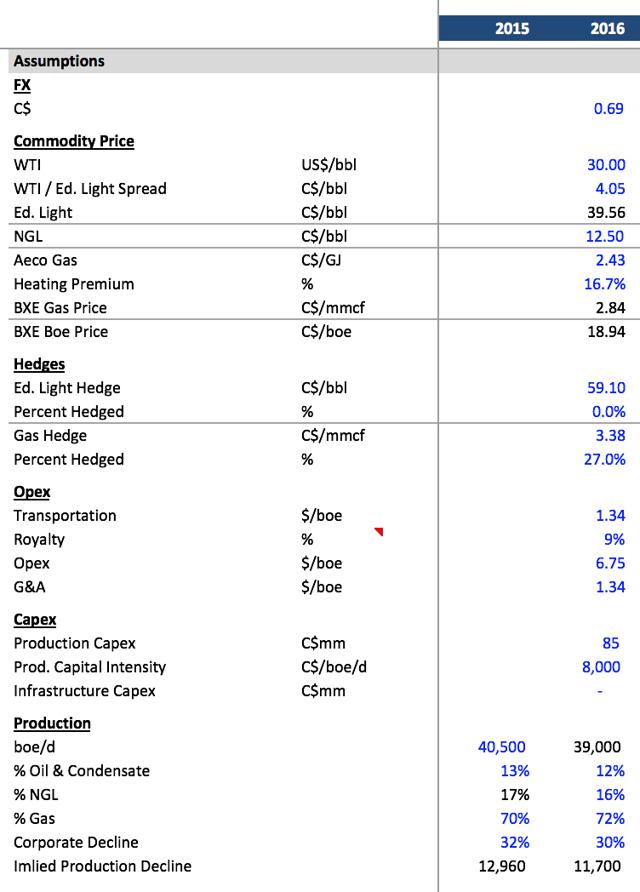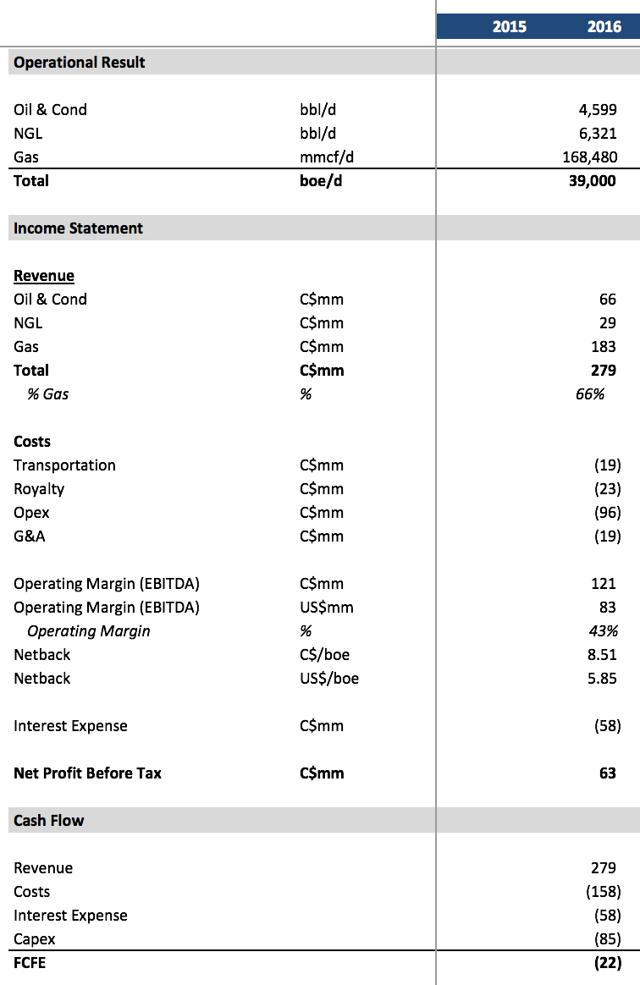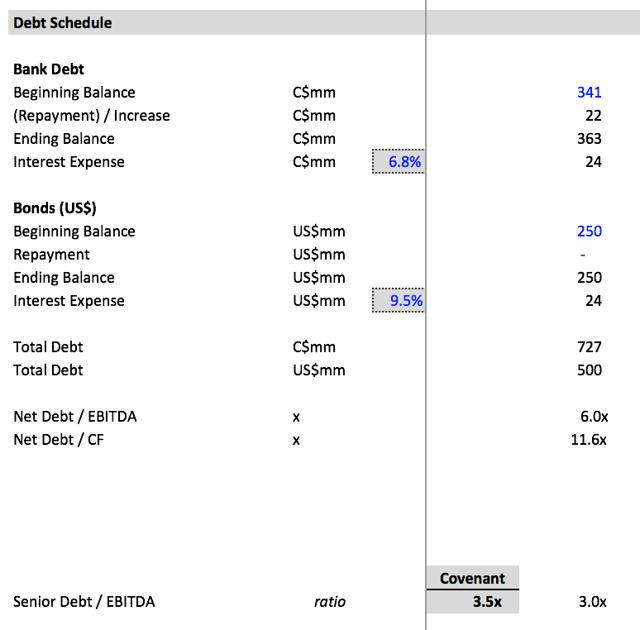 The current free cash flow burn rate is about C$22 million, but given the ample liquidity of C$200 million or C$150 million, BXE has the ability to weather the storm a lot longer than what the market is currently implying.
Conclusion
Investors shouldn't draw quick conclusions as to the survivability of BXE. Given even an additional 10% haircut in its credit line, and given the burn rate scenarios, the company has the ability to withstand the current downturn. The only question investors need to ask themselves is how long will this downturn last. Do investors believe oil will stay below $30 for more than three years? If the answer is "No", then BXE will survive.
For full write-ups and real-time updates on BXE, please consider subscribing to Hedge Fund Insight's premium service. I update subscribers with real-time updates on my discussions with management and competitors.
For a link to the model above, please click here.
Disclosure: I am/we are long BXE.
I wrote this article myself, and it expresses my own opinions. I am not receiving compensation for it (other than from Seeking Alpha). I have no business relationship with any company whose stock is mentioned in this article.
Editor's Note: This article covers one or more stocks trading at less than $1 per share and/or with less than a $100 million market cap. Please be aware of the risks associated with these stocks.