Industry Overview and Update:
The in-flight connectivity industry has experienced tremendous growth in recent years. Customers are getting more accustomed to having Wi-Fi on airplanes. According a survey conducted by Honeywell Aerospace, Wi-Fi availability influences 66% of the flight selection process, with 22 percent admitted that they would pay more to get Wi-Fi on aircrafts and 17 percent would switch from their "preferred" carriers to another with better odds of having Wi-Fi. Robinowitz from Routehappy said, "When customers get on a flight that doesn't have Wi-Fi, they get angry - I have seen it!" The cellphone and data addiction is clearly spreading to everywhere we go.
Moreover, a more recent infographic done by RouteHappy gives a more complete picture of this industry. The survey stated that flyers now have at least a chance of in-flight Wi-Fi on more than one-third of all ASMs (available seat miles) worldwide.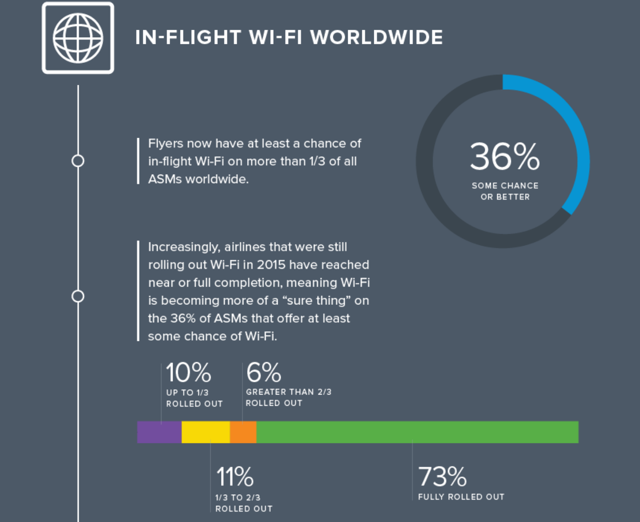 US airlines in particular have 71% of the ASMs fully rolled out with Wi-Fi with only 22% uncommitted.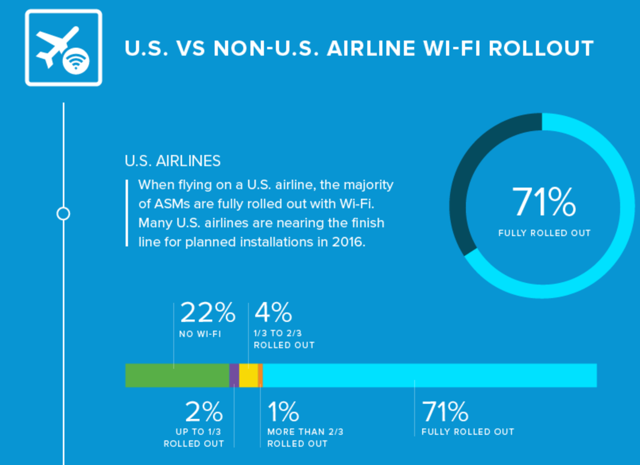 Non-US airlines on the other hand are the polar opposite of US airlines. With only 13% committed and 76% have no Wi-Fi.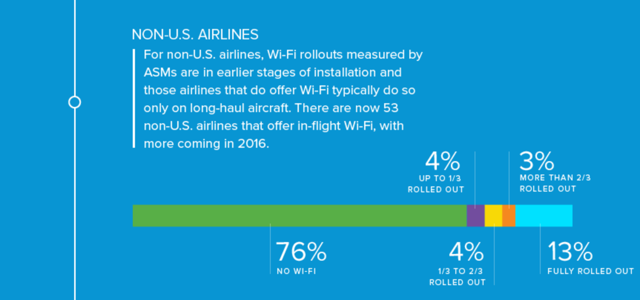 Not only are customers requesting for more Wi-Fi, their appetite for high-quality browsing experience is growing as well. Six percent of US-based airlines currently offer the best quality Wi-Fi as opposed to 1 percent in 2015.
What does this mean for Gogo?
Gogo (Nasdaq: GOGO) is a leading provider of in-flight connectivity and entertainment. About 50% of the connected aircraft in the world and 75% in North America are installed with Gogo solutions. It has three main connectivity solutions, ATG (air to ground), ATG4 (faster version of air to ground) and newly announced 2KU (newest satellite Ku solution).
For Gogo's business model and valuation please refer to my other article.
The highlight technology for Gogo currently would be its 2Ku technology which has a bandwidth speed of 70Mbps with current Ku satellite technology and it has the potential to reach 100Mbps after high-beam Ku satellites are launched by Intelsat. After the 2Ku announcement, Gogo has been awarded with 70% of the total contracts and a backlog of 550 planes to be installed with this technology.
Gogo claims that the new technology will solve the economic issue of Ku with more efficient use of data and allow customers to stream videos on board. Video here.
While the 2Ku technology is proving to be a game changer and Gogo has a significant backlog, the challenge still remains for Gogo to receive more contracts internationally to prove their leadership position and turn profitability in its rest of the world sector. The current backlog of 550 planes will only be enough to break even for their rest of the sector (which is currently losing around 80 million a year). This implies that a significant amount of additional aircraft need to be installed to prove the economics behind the development of this technology. Additionally, most of Gogo's 2ku installs are with its existing customers, primary Delta (NYSE:DAL) and Aeromexico (who Delta has direct investment in). And there are first signs of Gogo losing its existing customers: Virgin America (NASDAQ:VA) signing up with ViaSat for 10 aircraft. Article here.
More importantly, most of the airlines that have signed up with Gogo are North America based. And majority of these airlines have already committed to connectivity solutions in North America. In the international market Gogo would have to expand to airlines that have never worked with the company before. It's a critical question to ask that whether Gogo will be able to translate some of its success in NA and build relations with these airlines. These airlines are less familiar with Gogo, and most have pre-relationships with other IFE service providers. As 2016 progresses, the question will be answered and will likely decide the future of the in-flight connectivity market.
ViaSat(Nasdaq: VSAT) :
Based on the Runway Girl Network, ViaSat has been on fire lately.
But because it went big and bold on a US regional scale first, ViaSat is currently on fire from a #PaxEx perspective. Exede can support on-demand streaming media service partnerships for airlines (Amazon Prime on JetBlue; Netflix on Virgin America), and is generating buzz in the press and talkability among tech-savvy travelers.

Source: Runway Girl
Moreover on January 6th, the CEO of ViaSat publicly criticized Gogo's 2Ku when asked whether 2Ku is as good as ViaSat's Exede in the air.
"No. It makes no sense," Dankberg said. "The performance we're getting is an attribute of the (ViaSat-1) satellite. It's how we got into the satellite services business in the first place. It is 100 times more cost effective in bandwidth utilization than these Ku-band satellites. Making an antenna that's a little bit bigger doesn't cover a fraction of that difference in bandwidth."

Souce: SpaceNews
ViaSat's CEO responded to the demonstration that Gogo did in their video by saying.
"It's not possible. Could you do it with one plane? Sure. Could you do it with 400? No. It's not possible."
The problem with current Ku systems is an economic one, one that Gogo claims to have solved with its 2Ku system. Can Gogo provide the 2Ku experience that they claimed on an entire fleet? This depends on how much capacity that Gogo has purchased from their satellite provider and how cost effective that they can deploy them. Although Gogo claims that 2Ku will reach the economics of the existing ATG4 economics, Gogo does not disclose more detail information about the economics behind it and its relationship between its satellite supplier.
From my perspective, the economics should not be an issue for Gogo at this point as Gogo's ATG and ATG4 have demonstrated to be economically viable with a very restricted amount of bandwidth. This was done by raising prices to restrict the number of users using the service on the same aircraft. Moreover, with technology improvements year over year the global bandwidth cost is trending downward every year dramatically. The bandwidth economics for Gogo would only become better as time goes by.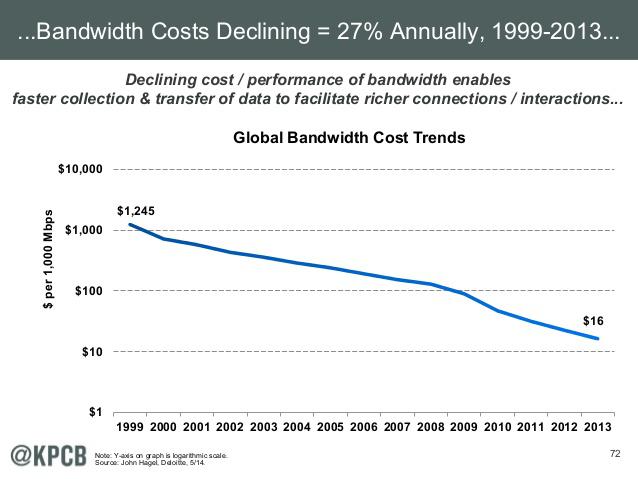 Source: KPCB
On the other hand, ViaSat's satellite is a capacity play and it only provides regional bandwidth with a single satellite in circulation. While ViaSat is planning to launch ViaSat-2 later this year and is followed by ViaSat-3 (which will likely have global coverage), it is still at least three years short of global coverage. Three years is a long time in the in-flight connectivity market. Alot of the airlines will have already chose their service provider by then. Not to mention that by the time ViaSat has global coverage, there will be more HTS Ku satellites and the bandwidth cost between the two will likely be neutralized.
Is there a perfect solution? Not really. But did Gogo choose the right satellite provider for their solution? Absolutely.
Conclusion:
There is no doubt the in-flight connectivity market is growing at monumental speed. Depiste ViaSat's denouncements, Gogo's 2Ku solution is still the most economical global solution right now. By the time ViaSat becomes globally viable, the market will likely be saturated. Having said that, 2016 is still an important transitional year for Gogo and ViaSat. This year will likely decide the future of the in-flight connectivity market. I see Gogo growing on the other end.
Disclosure: I am/we are long GOGO.
I wrote this article myself, and it expresses my own opinions. I am not receiving compensation for it (other than from Seeking Alpha). I have no business relationship with any company whose stock is mentioned in this article.