I've written quite a few articles on the subject of creating a dividend growth portfolio. You can read those here, here, and here. In this time of volatility and market pressure, I'd like to discuss another and possibly more important topic.
The process of managing a diversified and safe portfolio of dividend paying equities employs most of the same criteria used for initially selecting the stocks. Measures such as valuation, historical dividend growth, debt to equity and payout ratios, and current yield still apply. Throw in others such as shareholder yield and you'll have a clearer picture of what might happen to the portfolio's income-producing capability down the road.
Several years ago, in preparation for retirement, I selected stocks such as AT&T (NYSE:T), Johnson & Johnson (NYSE:JNJ), McDonald's (NYSE:MCD), Procter & Gamble (NYSE:PG), and The Coca-Cola Company (NYSE:KO) based upon the strong fundamentals in place at the time. Those stocks, and more, performed as advertised and have provided me a steadily growing income stream as well as share appreciation. Total return has averaged in the low double digits for me, slightly above the long-term market averages.
For the most part I decided to not chase yield and didn't bite at stocks such as Kinder Morgan, Inc. (NYSE:KMI), which featured a relatively big dividend as compared to its share price, earnings, and cash flow.
More recently I made the case to add to the portfolio and purchase stocks such as Chevron (NYSE:CVX) and Wal-Mart Stores, Inc. (NYSE:WMT).
Now that I'm early in retirement, I'm constantly on the prowl for any risks to the portfolio. Events such as the 75% dividend cut by Kinder Morgan, reduced guidance by Wal-Mart, and the recent market turmoil woke me out of my slumber.
So for me, and for other retirees, careful analysis of a few important measures might be prudent.
Out of control debt
While a company might be able to maintain, or even increase, the payout using debt for short periods of time, it likely will not be able to do it over the long haul. Keeping an eye on the debt/equity trend over time is a key task in managing the dividend growth portfolio.
A level consistently above 1.0 may imply potential troubles with a stock. For example, say you held both KMI and JNJ in your portfolio and performed periodic checks on the debt/equity ratio. Which stock would you have kept?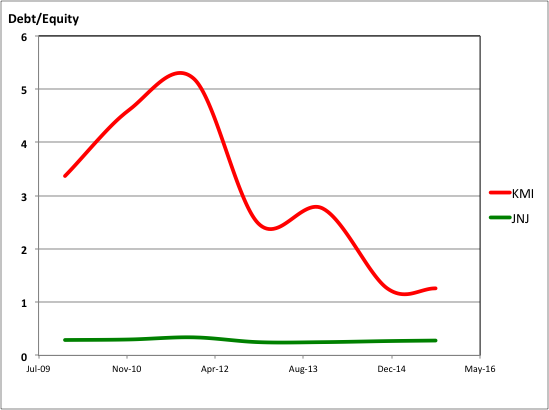 JNJ's pristine AAA credit rating is probably no fluke. Were mistakes made by the ratings agencies regarding KMI?
Elevated payout ratio
As in the case for debt, all other things being equal, a company probably won't be able to maintain consistent dividend growth if the payout ratio, dividends paid divided by net income, is out of whack either.
As earnings growth slows or declines and the dividend is increased, the payout could rise towards uncomfortable levels, say above 70% or 80%. Future increases might have to be paid out of borrowed funds or cash on hand, which in turn could lead to other problems.
For example, in the case of PG and JNJ, it seems pretty clear which stock needs to be added to the watch list.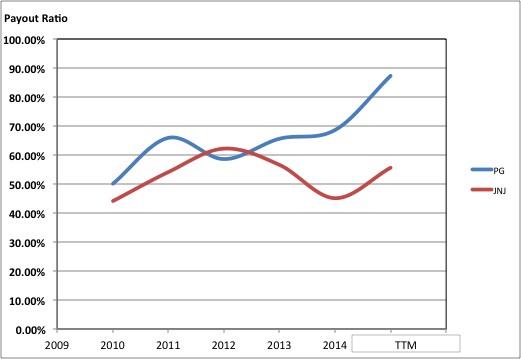 Shareholder yield
Another useful metric is shareholder yield, which includes not only the dividend but also incorporates the effects of buybacks and debt repayment, other useful ways a company can return value to investors.
Companies that pay and increase dividends, retire shares, and manage debt effectively will feature a shareholder yield higher than just the dividend yield.
For example, Apple, Inc. (NASDAQ:AAPL) has a shareholder yield of (6.5%), more than three times bigger than its dividend yield. Johnson & Johnson has a shareholder yield of 3.3% and a dividend yield of 2.9%.
Over the long term this bodes well for investors. Paraphrasing Warren Buffett: there are leaves growing today because someone planted a tree 20 years ago.
Conclusion
Once created, managing a dividend growth portfolio is as important as choosing which stocks should be in it. Many of the same metrics, including debt/equity and payout ratios, apply. It might be wise to add others, such as shareholder yield, to the mix too.
Disclosure: I am/we are long JNJ, AAPL, WMT, CVX, T, KO, MCD.
I wrote this article myself, and it expresses my own opinions. I am not receiving compensation for it (other than from Seeking Alpha). I have no business relationship with any company whose stock is mentioned in this article.