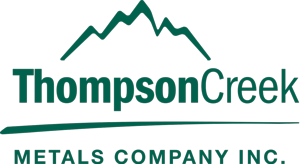 Last October I wrote an article arguing that Jacques Perron, CEO of Thompson Creek Metals (NYSE:TC) (now TCPTF), should be relieved of his duties. At the time, the stock was trading at around $0.50 - down from around $3.00 when Perron took the helm. On January 14th, TC's stock price hit an all time low of $0.14, triggering its delisting from the New York Stock Exchange. "The NYSE says the company is no longer suitable for listing based on 'abnormally low' price levels." That comment is up for the understatement of the young year.

The Company response was a standard press release acknowledging the delisting. The Company's release states that the shares will continue to be traded on the Toronto market, as well as over-the-counter on the OTCQX. "OTCQX is the OTC's highest market reserved for companies that meet high financial standards, provide timely news and disclosures to investors and are sponsored by a professional third-party advisor." Comforting, right?
The Company did, however, release its production figures for the fourth quarter, 2015, along with guidance for 2016. While the Company never appeared to express much concern over the notification of possible delisting that it received in July, 2015, the detail in the production release seemed such that it acted as a last ditch effort to prop the stock price:
During December, average daily mill throughput at the Mount Milligan Mine was 51,677 tonnes, with an average of 45,097 tonnes during the first half of the month and 57,847 tonnes during the second half of the month. Additionally, average daily mill throughput for the last week of December was 61,212 tonnes, with the highest day in December of 64,478 tonnes. To date in January, daily mill throughput has averaged 59,862 tonnes. . . .

"At the Mount Milligan Mine, we achieved our goal and completed the ramp up process at year-end 2015 with average daily mill throughput above 60,000 tonnes," said Mr. Perron. "This is a great achievement and we thank all of our employees for their tenacity during this two-year endeavor. We look forward to continuing to optimize the operation and expect to make a decision on the construction of the permanent secondary crusher during the first quarter of 2016."

Mr. Perron continued, "We expect to announce our 2015 financial results in late February, and anticipate our 2015 unit cash cost at the Mount Milligan Mine on a by-product basis to be at the low end of guidance."
Whether that was the intent or not does not matter at this point; the damage is done. The stock dropped further yesterday before being halted instead of appreciating, triggering the the delisting. The optimistic tone of the press release is a slap in the face to current shareholders (I was fortunate enough (?) to liquidate my position between $0.39 and $0.46.) and the non-responsiveness of management is concerning.
I was recently reading through some of Warren Buffett's letters to Berkshire Hathaway shareholders. This excerpt from the 1983 letter really struck a cord and made me realize how much Thompson Creek management leaves to be desired:
We will be candid in our reporting to you, emphasizing the pluses and minuses important in appraising business value. Our guideline is to tell you the business facts that we would want to know if our positions were reversed. We owe you no less.
I don't expect Perron to be Buffett, but I expect enough upfront disclosure from a CEO to instill a boost of confidence that the management of a publicly traded company is doing all it can to right the ship. Instead, secrecy prevails and we have constant exchanges like this during the conference calls:
Melissa Tan

Hello. Thanks for taking my questions. I guess, first of all, just to follow up on the previous caller question in terms of your options. I guess you won't go into details, but can you at least comment on have you been approached or approach some of your off-take customers and some of these streaming companies as well?

Jacques Perron

We wouldn't be able to comment on that.
It's a simple question that followed and was followed by more peppering by analysts on how the Company intends to deal with its mountain of debt in this low commodity price environment. Those are fair questions. It's not Perron's fault copper prices have fallen off a cliff, but if you're going to lead a publicly traded company, you need to be prepared to communicate your game plan on how the Company is going to weather the storm or investors will lose confidence, become frustrated, and flee. The current market offers plenty of undervalued miners; if shareholders don't feel that they are getting a fair shake, they'll simply move on. It's really too bad; Mount Milligan is a world class asset that boasts some of the lowest unit costs on a byproduct basis to mine copper in the world.
Reading between the lines, the production release states that the Company is basically going to try to high grade gold, upping its 2016 payable gold to 240k-270k ounces, from the 220k-240k originally guided for the first 6 years of the mine. Copper sales, in turn, take a hit, with a projected 55 million to 65 million pounds. Original guidance was from 90 million to 100 million. News to me! None of this was ever communicated as even an option to shareholders or analysts - and I can't imagine how this information could be considered proprietary. Why not communicate this as an option? At least it would imply that management has a game plan.
It may be comparing apples to oranges (at least for the quarterly reports), as Teck (NYSE:TCK) is a Canadian company, but compare the clear, concise quarterly releases and conference call transcripts from Teck Resources' management with the dodgy, vague tone of TC's. Teck management seems to go out of its way to discuss the current market conditions and where commodities markets are heading, the possible sale of assets if absolutely necessary, and their strategy to ride out the current commodity cycle trough.
Instead, with TC, we continue to await a decision on the infamous secondary crusher, which has been deliberated for a year now while spending on it has already commenced. A $27 million holding spot is in place on the capex guidance in case the decision is made to move forward. How hard of a decision can this be? If $27 million is going to break a company with $900 million debt, then bigger problems exist below the surface. It's almost as if the crusher decision is continually deferred so as to direct attention away from the 800 pound gorilla in the room - the $900 million debt that is never talked about.
Needless to say, I have lost what remaining confidence I had in current Thompson Creek management. Mount Milligan has so much potential - even at current prices - and the Company has other notable assets that would create significant value if molybdenum prices ever recover. There definitely some puffs left on this cigar butt and maybe a game plan is in place at this point to keep Thompson Creek's stock price from hitting a dime, but I have decided not to stick around to play the guessing game with the management team.
Editor's Note: This article covers one or more microcap stocks. Please be aware of the risks associated with these stocks.