It's easy to look at what the market has done in just the first two weeks of 2016 and see nothing but carnage. It's for the most part true in the equity markets. The S&P 500 (NYSEARCA:SPY) is down 8% on the year while the S&P 400 MidCap (NYSEARCA:MDY) and the S&P 600 SmallCap (NYSEARCA:SLY) indices are down almost 10%.
Every major market sector is down at least 8% year-to-date with the exception of Health Care (NYSEARCA:XLV) which is down 7%, Consumer Staples (NYSEARCA:XLP) which is down 4% and Utilities (NYSEARCA:XLU) which is actually slightly up on the year. Materials (NYSEARCA:XLB), Financials (NYSEARCA:XLF) and Energy (NYSEARCA:XLE) are all laggards.
If the actual losses didn't already suggest the current bearish sentiment, the S&P 500 chart confirms it.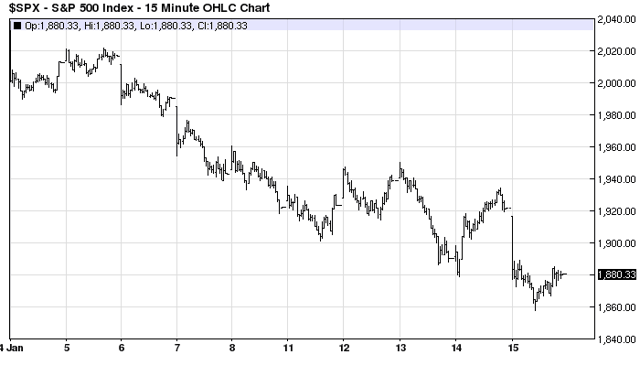 On seven of the year's 10 trading days, the market has trended lower following the open. That says that the bears are in control and could very well continue pushing the market lower. But the one thing that hasn't necessarily present in this downturn is excessive volatility.
The August correction will be remembered for its swift and decisive move to the downside. It also marked a record high reading for the volatility index (VIX) when it touched north of 50.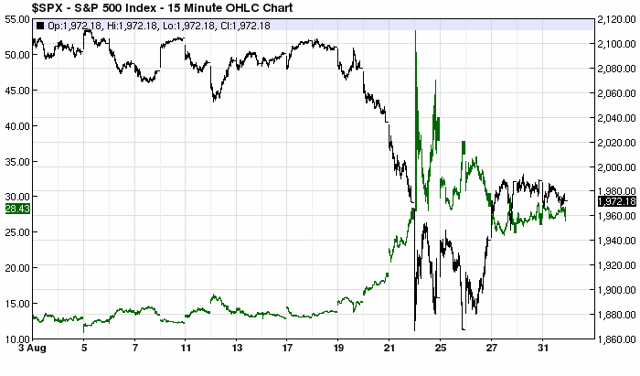 The spike up to 54 is understandable since the S&P 500 dropped from 2060 to 1870 over the course of just two days. That the S&P 500 was back pushing 2000 again just a week later kept volatility measures well above the long term average for an extended period of time. The market experienced correction, capitulation and recovery all within the course of two weeks.
January's correction has been relatively swift by historical standards but has also been a much steadier downhill march. Take a look at the S&P 500's chart for 2016 so far.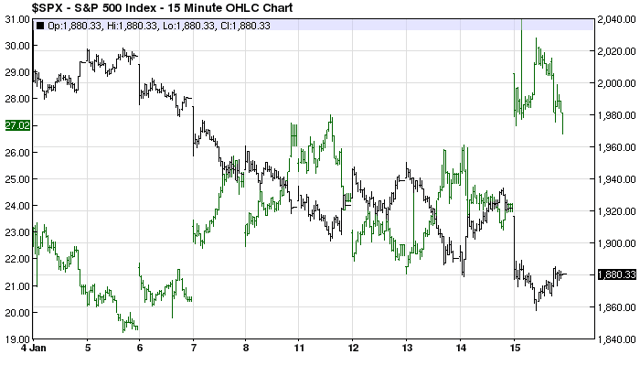 While the January chart isn't at the same scale as the August one, you'll see that up until Friday the volatility index barely nosed above 27. Despite what feels like a rapid market descent, we really haven't seen a significantly above average volatility level (the long term average is around 20).
The downside of a lower volatility reading is that the selling has been steady and the sellers are in control right now. While a sharp decline can signal a capitulation point in the market, a slow steady decline could have legs. The S&P 500 is at a support level of 1880 right now - the same level that marked a bottom in August and again in September. Keep an eye on that 1880 level and the VIX. A spike in volatility along with breaching the short term support level could mean we're heading towards S&P 1800.