Investment Idea
Axalta - AXTA
Source of Idea
Berkshire Hathaway - The idea most likely originated from Ted Weschler or Todd Combs.
Time Horizon of Fund
Long
Conviction Level
Low to moderate
Price Target
$45.00 (Return of 89.47%)
Investment Thesis
AXTA is a global manufacturer, marketer and distributor of high performance coatings systems. It holds a #1 or #2 market position in many of the market it competes in.
2014 figures: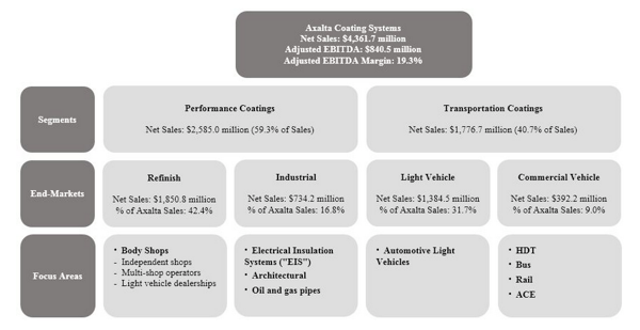 Berkshire Hathaway bought in a private placement in the tune of 20 million shares from the Carlyle Group at a price of $28.00.
AXTA intends to pursue roll-up acquisitions coupled with organic sales growth. The company projects it can achieve mid-single digit growth going to 2017 with continued adjusted EBITDA margin improvements from 19% TTM to 26% by 2017.
Assuming management projections pan out and EBITDA grows at high single digits (8% CAGR), AXTA would be able to reduce its debt levels from $3.5 billion down to $1.1 billion. AXTA @ 11.5xEV/EBITDA would be worth $45 a share.
Business Analysis
AXTA has a leading global market position relative to peers.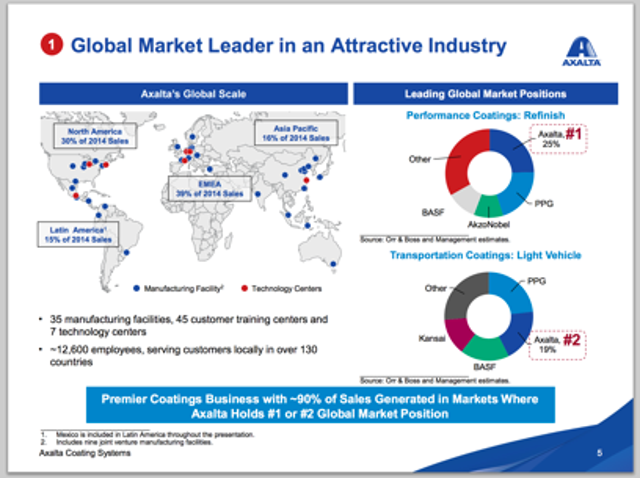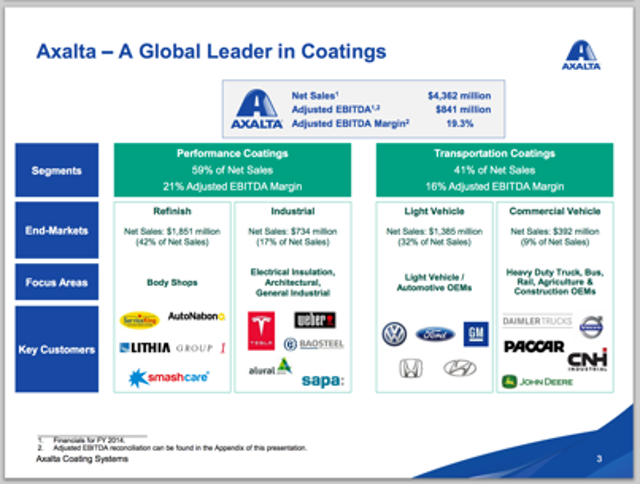 AXTA has two separate reporting segments:
Performance Coatings
Transportation Coatings
Performance Coatings
The end-markets within this segment are refinish and industrial.

The number of vehicle collisions and owners' propensity to repair their vehicles drives sales in the refinish end-market. Refinish coatings are a fraction of the overall vehicle repair cost, but are critical to the vehicle owner's satisfaction given that appearance has a material effect on the overall value of the vehicle.
Demand in industrial end-market is driven by macroeconomic factors such as, growth in GDP and industrial production. Customers select industrial coatings based on protection, durability and appearance. Recent environmental awareness has caused an increase in demand for products that enhance environmental sustainability, corrosion resistance and productivity.
Transportation Coatings
The end-markets within this segment are light vehicle and commercial vehicle.

Demand for light vehicle products will be driven by light vehicle sales/production in a particular region. Light vehicle OEMs select coatings providers on the basis of their global ability to deliver advanced technological solutions that improve exterior appearance and durability and provide long-term corrosion protection.
Commercial vehicle end-market demand is primarily driven by global commercial vehicle production, which is influenced by overall economic activity, government infrastructure spending, equipment replacement cycles and evolving environmental standards.
Competitive Analysis
Coatings business is a business with a high economic returns, low capex requirements, and high durable competitive advantage. Think of coatings as a technologically advanced type of painting where the manufacturer of the paint needs to constantly innovate and maintain high standards of quality of the product.
The barrier of entry is incredibly high as the coatings products sold are already entrenched in the end user markets. This type of competitive landscape could be described as the company with the greatest scale advantage wins. AXTA leverages its global refinish sales and technical support team to effectively serve a broad customer base of approximately 80,000 body shops. AXTA's network of over 4,000 independent local distributors supplies the majority of the products.

The largest competitor by far is PPG.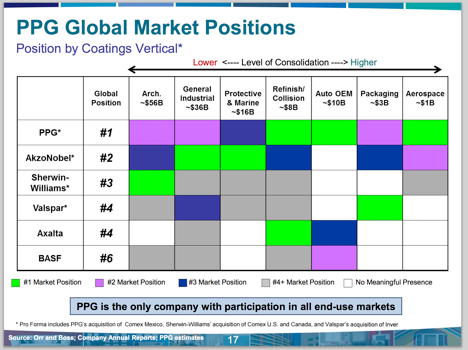 Architectural coatings make up the bulk of PPG's sales, while the refinish and auto OEM segment make up less than 15% of total sales.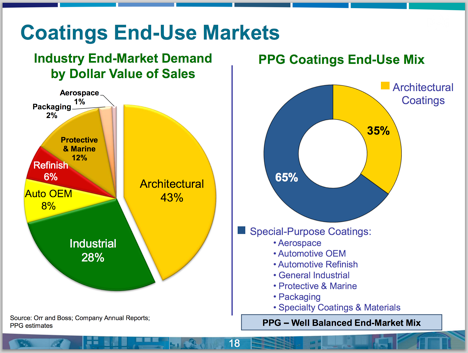 This could be further illustrated by demonstrating the relative size of AXTA to PPG.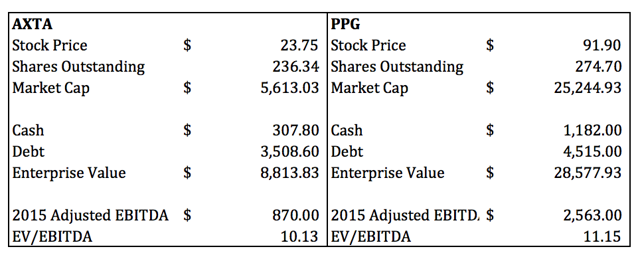 PPG is nearly 3x the size of AXTA. Although we aren't too familiar with the architectural coatings segment, it is certainly much larger than auto OEMs and the refinish segments.
Luckily, in both of the segments AXTA operates in, it's either the #1 or #2 market share leader. This allows AXTA to pursue organic growth by leveraging its scale and sales force while simultaneously pursuing attractive bolt-on acquisitions.
Valuation
AXTA is currently fairly valued. Due to the fact that most of its sales are overseas and given the current macroeconomic uncertainty over China, Emerging Markets, and the continued strengthening of the U.S. Dollar, AXTA might continue to face broad economic headwinds.
Currency headwinds have led sales to come in flat this year.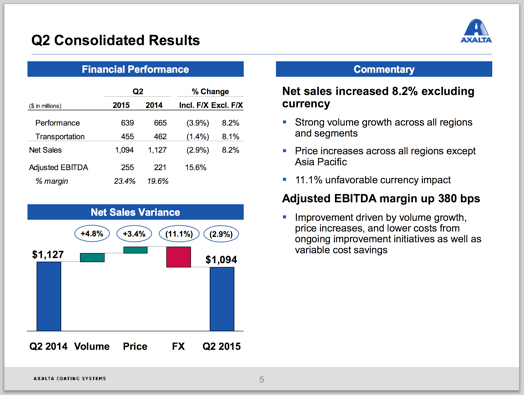 While AXTA continues to execute flawlessly in its projections, these macro headwinds should not be taken lightly given the recent economic events. AXTA is also trading very closely to its largest competitor @ around 11.5x EV/EBITDA.
Conclusion
AXTA is neither a buy nor a sell. Investors should put AXTA on their watchlist, as this is a company with a durable competitive advantage operating in an industry with high barriers to entry and great economies of scale. Capex requirements are low ($150 million with $90 million in growth capex leaving $60 million for maintenance capex), and organic growth may very well push AXTA to our stated price targets. However, we feel very uncertain over the economic uncertainties, as macro headwinds will outweigh any company specific improvements.
Disclosure: I/we have no positions in any stocks mentioned, and no plans to initiate any positions within the next 72 hours.
I wrote this article myself, and it expresses my own opinions. I am not receiving compensation for it (other than from Seeking Alpha). I have no business relationship with any company whose stock is mentioned in this article.