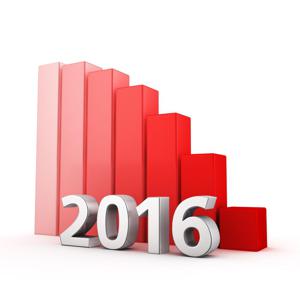 After a brief respite Thursday, when the markets attempted a half-hearted rally and finished up 1.67% (S&P 500), we are again seeing red on the tape. By the close of the market on Friday, January 15th the markets were again down by another -2.16%. Year to date this marked a loss of -7.93% for the S&P 500 and an even greater loss of -11.25% for the Russell 2000 small cap index. These losses represent the worst start of the year for stocks in U.S. history. These times can be very difficult and very trying for investors, particularly since the global markets have largely been in drawdown since May of 2015. Market environments like we have seen in recent months often lead fearful investors to make hasty decisions regarding their investments. The purpose of this timely update is to provide you with salient talking points and perspective so that you may better understand the scope of our current landscape and ideally be able to apply this to your current situation.
Recall any monies exposed to market related gyrations are intended for future use down the road and not today; immediate cash flow needs should obviously not be exposed to volatile asset classes. The investment markets have a history of being volatile, and on occasion of course we experience declines, corrections, and recessions. That said after seven years of a positive rate of return on the S&P 500, investors have grown increasingly fearful and it is clearly starting to show.
As we attempt to put the current state of the markets into perspective, let us begin by clearly stating the psychological underpinnings that truly move markets up or down: the emotional responses of market participants. Emotions can be very fragile, as we have all painfully learned one way or another. With respect to one's life savings and investable assets, understandably emotion can be a very difficult pill to swallow. However, if there is one thing we have learned by studying over 100+ years of capital markets history, there is no place for emotion in the investment markets. The most successful investors are able to move past their emotional responses and remain steadfast in their approach, even during windows of time when it may not seem to be working.
"With every new wave of optimism or pessimism, we are ready to abandon history and time-tested principles, but we cling tenaciously and unquestioningly to our prejudices."
― Benjamin Graham, The Intelligent Investor
For the past 21 years a company by the name of DALBAR has published their annual "Quantitative Analysis of Investor Behavior". We referenced this in our recently published book, "Asset Rotation". In this report, among many other things, they go on to cite the performance differences between the average individual equity fund investor and the S&P 500 itself. The results may startle you. For the 30-year period ending December 31, 2014 the average equity fund investor in the United States achieved a paltry average annual return of only 3.79%, whereas the S&P 500 itself averaged a far more impressive annual return of 11.06%!
DALBAR's 21st Annual "Quantitative Analysis of Investor Behavior": Summary Table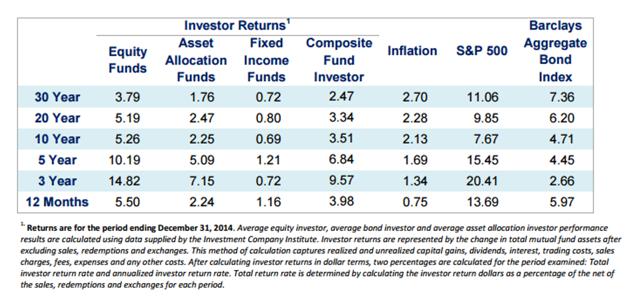 To put this into context, consider that over a 30-year time period an average annual return of 3.79% would see a $100,000.00 investment grow to $305,257.00. Conversely, an average annual rate of return of 11.06% on that same $100,000.00 investment would become $2,326,645.00; nearly 8x's the amount!
There are many reasons the average retail investor has a long and pronounced history of underperforming. At the forefront is the propensity for investors to chase returns, buying into investment strategies that have been the best performers over trailing short-term periods and abandoning those that have lagged. Right up there with this "chase the hot-dot" mentality is our innate ability to allow our emotions to get the best of us. Investors often sell into the lows and buy into the highs, even though we all know that is the worst possible thing to do. We allow our gut feelings of fear and greed to place far greater influence on our investment decisions than we care to admit. This is why we adhere 100% to rules-based investment disciplines, devoid of emotional influence. We utilize only systematic disciplines whose performance is quantifiable and historically justified. We are "only human" after all and we can empathize with the euphoric peaks and valleys of the markets, we feel it too. The difference is we simply don't allow our feelings to impact how we manage money.
From a historical perspective, we don't have to go very far back to find parallels to the performance we have seen in the stock markets year to date. On October 1, 2014 the S&P 500 opened up at 1971.44. By intraday two weeks later, on October 15th, the S&P had dropped to 1820.66, losing nearly 8% since the beginning of the month. Trading volume and selling pressure for the month spiked on that same day, and then from that point forward over the next two weeks the S&P 500 rose nearly 11% and finished October with a monthly total return of +2.44%. Most of us may not remember these moments, after all the S&P 500 went on to go up another 2% over the next couple of months and finish 2014 with a total return of 13.69%. However, the gut churning events of October led the vast majority of equity investors to underperform, as the average equity mutual fund investor only returned 5.50% for the year (underperforming the S&P 500 by a wide margin of 8.19%).
S&P 500 Trading Data: October, 2014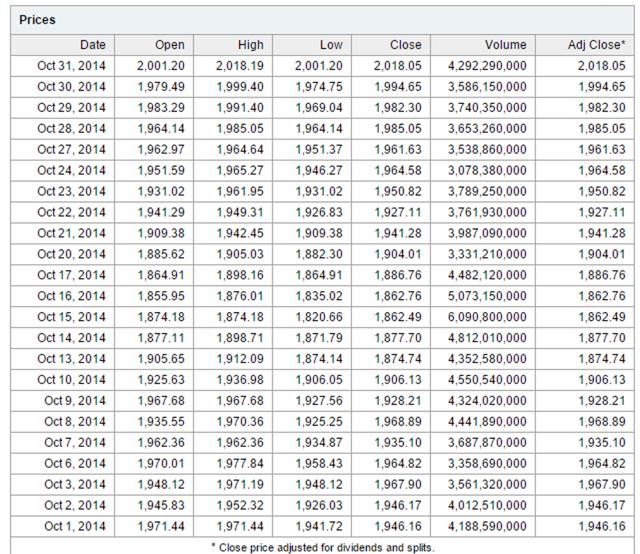 Ironically, if you take a look at the S&P 500 trading data since the end of last year you will see the same pattern. On December 29th the S&P 500 closed at 2078.36. By the close of the markets on Friday, January 15th the S&P 500 was down to 1880.33 and intraday reached lows of 1857.83. As we witnessed during this same two week time frame in October of 2014, trading volume has increased as prices have dropped. Investors are again fearful.
S&P 500 Trading Data: January 2016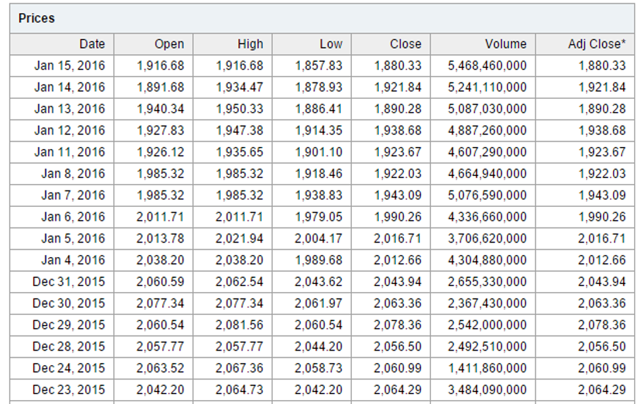 These are difficult markets to be sure and they can test the mettle of even the most ardent investor. As we are writing this we cannot help but notice the S&P 500 is currently trading near the levels cited in the October 2014 chart above. Considering the S&P 500 has been the best performing equity index in the world over the past several years, obviously other markets and indices have fared far worse and even diversified allocation have struggled in this "no where to hide" environment.
When you tune into the news on the stock market, market dislocations are sensationalized and exacerbated, and this contributes to negative sentiment and invokes fear that drives prices down even further. But just like any other time in the history of capital markets, such emotional imbalances lead prices to overshoot both to the upside and downside.
In an article featured on Bloomberg.com on Thursday entitled, "Goldman Sees 11% Upside in S&P 500 After an Emotional Selloff", Abby Joseph Cohen, President of Goldman Sachs, stated "The plunge in U.S. stock markets are an emotional response obscuring expansion in both the American economy and corporate profits". The article goes on further to cite that recent data has shown the U.S. economy continuing to expand in recent weeks and corporate profits have continued to grow.
So why all the fuss? Turbulence in China (the world's 2nd largest economy) and their plummeting stock markets and currency issues has led to a global route. At the same time oil prices and energy companies continue to get hammered. When will this stop? Where will it end? And where do we go from here? No one knows, and to pretend otherwise is a fool's game. What we do know is that making knee-jerk reactions in volatile markets and during highly emotional times is historically a recipe for significant long-term underperformance for investors.
What is most important during these difficult times is to maintain discipline and peace of mind that you have sound financial planning tranches in place for yourself. Those tranches with the objective for long-term growth should be expected to experience losses and volatility at times. We've seen markets like this before and we will see them again. Granted, that may not make things any easier emotionally, but this is where proper planning and perspective go a LONG way to maintaining superior long-term success, performance, and achieving your goals.
Disclosure: I/we have no positions in any stocks mentioned, and no plans to initiate any positions within the next 72 hours. I wrote this article myself, and it expresses my own opinions. I am not receiving compensation for it (other than from Seeking Alpha). I have no business relationship with any company whose stock is mentioned in this article.