Since the 2009 market lows, True Religion Apparel (NASDAQ:TRLG) had been among the market's best-performing. A strong balance sheet, a series of earnings beats, and strong top- and bottom-line growth led the stock price up over 300%: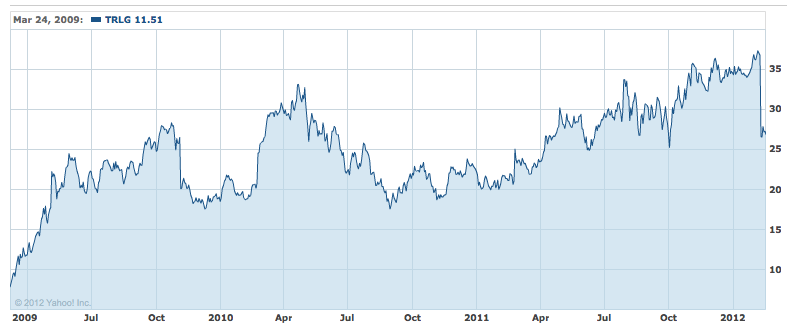 TRLG chart, 3/9/09 thru 2/17/12; chart courtesy Yahoo Finance.
TRLG's long bull run came to an end on February 1o, as the stock dropped nearly 28% following disappointing fourth quarter earnings issued the night before. The quarterly results missed analyst estimates on the top and bottom lines, while 2012 guidance for revenue growth of just 8.3% and earnings growth of 6% (calculating both figures at the midpoint of the company's range) disappointed investors.
In some sense, TRLG was the victim of its own high expectations, as sales growth had been excellent over the past few years. 2011 sales -- even though those numbers disappointed Wall Street -- were nearly triple those of 2006, and net income more than doubled over that five-year span. Yet the single-digit -- but still positive -- growth projection for 2012 led to the stock's collapse and at least two analyst downgrades.
To be sure, the results were disappointing, but the severity of the drop seems overdone. Part of the top-line weakness came from management's decision to lower sales to off-price stores in the US and Korea. Those numbers hit revenues -- and margins -- in the company's Off-Price segment, according to the Q4 management commentary (pdf). TRLG executives took that step to protect the value of the high-end brand, whose average selling price in US stores in the fourth quarter was $260 per single pair of jeans.
On the bottom line, expenses increased due to higher SG&A accompanying the company's international expansion -- another long-term management decision with short-term costs. And while wholesale sales were down, the company's US Direct segment saw excellent growth in 2011, with net sales up 23.7% and same-store sales up 11.1%.
And yet True Religion stock, at Friday's close of $26.88, now sells for just 14 times forward earnings, at the midpoint of 2012 guidance for between $1.88 and $1.95 per share. Backing out the company's $7.25 per share in net cash, the P/E drops near 10. Free cash flow for the year was $51 million, following similarly strong performances in 2009 and 2010, and represented over 10% of the company's enterprise value. Indeed, the near-30% drop last week has given TRLG very strong fundamentals. If it can resume its previously solid growth rate after 2012, continue its international expansion plans (international store count is projected to rise to 30 from 16 in 2012), and continue to protect its brand, the stock could easily replicate the nearly three-year bull run from 2009 through early 2012.
To be sure, there are some downside risks. While the company has expanded into footwear and high-end sportswear, its sales, its profits, and its brand, rely on its high-priced jeans. As noted, the average selling price for those jeans in the US was $260 in the fourth quarter. And while luxury brands have held up well throughout the Western recession of the last few years, sales at companies such as Tiffany (NYSE:TIF) are starting to slow down. Furthermore, maintaining brand loyalty in such a competitive market is difficult for any company, let alone a smaller player such as True Religion. Given the company's relatively short history -- sales in 2002 were just $2.3 million -- will it be nimble enough to navigate economic difficulties and competition from larger, more experienced competitors?
The company's marketing strategy -- eschewing the Wholesale segment for higher-margin Direct sales -- entails some risks as well. The expense involved in building out a retail network -- the company now runs 109 stores in the US and 16 overseas -- will pay off, as long as the brand continues to succeed. Wholesale revenues -- wherein the company sells directly to existing retailers -- offer lower reward, but also lower cost, and lower risk.
Investors in TRLG going forward must trust that management will execute what appears to be a sensible plan. Even despite the recent struggles, True Religion executives have clearly done an excellent job, creating $400-plus million in sales in a decade. Can they keep the company moving forward? Can True Religion maintain its edgy appeal as it moves from a niche manufacturer of jeans to an international retailer of apparel and accessories?
These are the key questions going forward. But True Religion's success over the past few years -- particularly against a difficult economic backdrop -- and its strong balance sheet and fundamentals make the stock worth the risk. At 10x earnings on an enterprise basis, and with solid, consistent free cash flow, True Religion no longer needs to show the market 20 or 30 percent annual revenue growth. If it can, the stock will take off. If it can't, its cash balance, high margins, and reasonable valuation will still provide value should the company's newer, lower growth rate stick.
Investors can gain further downside cushion by selling cash-secured puts on TRLG stock. This will provide either a small short-term gain or a lower entry point for a purchase. More bullish investors will want to purchase the stock outright, hoping for a sharper rebound. But investors looking to hedge their bets should look at the TRLG option chain. The April 25 put is bid at $1.05 (last $1.10), offering a 4.4% return, or 26% annualized, with an entry price of $23.95 should the option be exercised.
With the company's next earnings report in late April (2011 first quarter earnings were released April 28th), these options will likely expire pre-earnings, lessening volatility. Further out, the July 23 is bid at $1.50, offering a potential entry price of $21.50, 20% below Friday's close. At that level, TRLG would trade at just 11 times earnings (assuming the company does not reduce guidance after the first quarter), and just 7.5x earnings on an enterprise basis. That trade still offers a 7% return (16.7% annualized), with substantial downside cushion.
There are risks -- and value -- in TRLG stock right now. It would appear that the company's execution over the last five years and its strong current balance sheet make the stock worth a bit of a gamble. Using options, investors can add more protection, and hopefully take advantage of the company's weak fourth quarter.
Disclosure: I have no positions in any stocks mentioned, and no plans to initiate any positions within the next 72 hours.