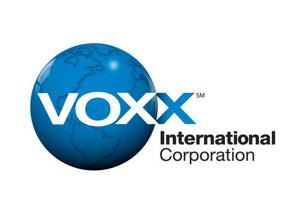 I'm surprised shares of VOXX International (NASDAQ:VOXX) gained after its release of fiscal third quarter results on Monday. Actually, 'stunned' might be a better word. When I read the report on Monday night, I assumed another big decline was coming: VOXX missed revenue guidance for the fourth consecutive quarter, the long-touted 360Fly camera disappointed (and had yet another production-related setback), and sales declined year-over-year in all three of the company's reporting segments, even in constant currency.
VOXX jumped at the open, likely because a one-time non-cash gain created the illusion of a bottom-line beat, but still managed to hold gains in a very difficult broad market day. Shares are up another 2% on Thursday as I write this, trading at $5.12 midday - and, truthfully, I'm still a little surprised, as Q3 was a poor and concerning quarter.
It may be that a long decline has priced in most, if not all, of the pessimism. Shares are down ~70% from April 2014 highs, and trade near their lowest point in seventeen years, save for a V-shaped dip at the nadir of the 2009 broad market wipeout. And there's a quick and easy bull case here: VOXX has an enterprise value of just over $200 million, despite spending a combined $284 million on Klipsch and Hirschmann AG in 2012 and 2013, respectively. Both companies operate relatively separately from the now-tarnished corporate team, meaning there is still some value here, somewhere.
Indeed, as biased as I am against VOXX management, I admit to seeing some reasons for optimism even as I reviewed another disappointing quarter. There is value here, and VOXX would be a perfect candidate for a small-cap activist if it wasn't a controlled company with a dual-class structure. Unfortunately for VOXX shareholders, it is, and without any change in management or strategy, the stock remains an avoid - at best.
Q3 Earnings
As noted, VOXX missed its sales guidance of $200 million by about $7.5 million, and analyst consensus by slightly more. The latter miss is attributable in part due to excessive analyst optimism: VOXX has missed guidance for four straight quarters, after badly missing full-year projections in FY13, FY14, and FY15, and in response moving to quarterly projections only, claiming full-year forecasting was too difficult. EPS appeared to beat expectations, but that was due to a nearly $5 million bargain purchase gain relative to its consolidation of biometrics company EyeLock; VOXX moved to a majority stake in that firm in September.
On the top line, the two key drivers behind the miss were disappointing sales of 360 degree video camera 360Fly, and lower sales of remote starts (likely due to warmer weather toward the back end of the quarter, which ended November 30). Gross margin was down 190 bps year-over-year, but VOXX managed to reduce overhead despite adding $4 million-plus in opex relating to EyeLock (and with the help of currency tailwinds). The sum of lower sales and lower gross margins - despite lower opex - led Adjusted EBITDA down 41% year-over-year.
It also led VOXX into default, as covenants relative to its secured facility have been violated by the continued decline in operating income. (Per the 10-Q, both the leverage ratio and interest coverage ratio are in violation.) On the Q3 conference call, VOXX management shrugged off the issue, calling it a "technical" matter, and insisting that available cash would suffice to run the company until waivers were obtained from the facility's lenders.
To be fair, VOXX management probably is right, but the covenant problem shows just how much profits have declined. From the standpoint of an equity investor, the problem is there's little reason to see an improvement going forward, despite management's protestations to the contrary.
How Does This Get Better?
In October, with VOXX still above $6, I asked, "How Exactly Does This Get Better?" and after Q3 the question still holds. Revenue and profits are in a steady decline, and the weakness is broad.
VOXX reports in three segments: Automotive (primarily the Hirschmann business); Premium Audio (primarily Klipsch and high-end speakers and sound); and Consumer Accessories (lower-end Bluetooth and wireless speakers, remote controls, iPod docks, and other consumer products). None is performing particularly well.
In Automotive, constant-currency sales were down 10% in Q3, and have declined over 4% year-to-date. Gross margin fell 210 bps, and 150 bps year-to-date, a decline largely attributed to product mix. Lower remote start sales - in the aftermarket likely due to weather, and in the OEM business the end of two contracts and the moderation of a third - appear to be a key driver in both the sales decline and margin compression. Aftermarket satellite radio sales continued a long downward trend (as many newer cars have satellite receivers installed), though CEO Pat Lavelle said on the Q3 call that the quarter's results were lower than expected, even incorporating that trend.
Looking forward, Lavelle was insistent that the segment was poised for growth, highlighting $37 million in contract wins in the quarter and an increased backlog relative to Q2, and saying in the Q&A that "we see growth in FY17 and FY18 and beyond". The CEO also hedged his bets a bit, citing potential weakness in China as a headwind in Q4, which seems to imply some early-quarter weakness in the business. Either way, at this point, given that VOXX simply can't forecast its own business, the forecast for growth should be taken with some skepticism.
Premium Audio sales were down 15% in constant currency, roughly in-line with the YTD trend. Offsetting that somewhat, margins were up 20 bps in Q3, and have increased 160 bps year-to-date. But the performance overall doesn't seem particularly impressive. Margins were helped (and sales no doubt hurt) by a comparison against a more promotional quarter a year ago. Here, Lavelle cited new Bluetooth products as a driver going forward; but Bluetooth speakers have seen prices fall for some time, as Lavelle himself pointed out on the Q3 FY15 call. Certainly, competition seems set to move to sound bars (an already challenged product per that call) and headphones (see recent results at Skullcandy (NASDAQ:SKUL)), two of the categories highlighted as growth catalysts.
Consumer Accessories revenue was down 3% in constant currency, and ~6% year-to-date; gross margin was down 260 bps in Q3 and now has fallen 110 bps YTD. Interestingly, the 10-Q cited a "significant increase [emphasis mine] in wireless and Bluetooth speakers" as a positive, with the lower-end speakers in the CA segment benefiting from the pricing pressure in the business. Headphones (no surprise) and antennas were cited as weaker categories. Margins were pressured by 360Fly sales, though that revenue wasn't broken out, and that will be a problem going forward if 360Fly sales do increase. For all VOXX's hype about the product, it owns just 9.3% of the company; its sales come from being the product's exclusive distributor, and those distribution sales naturally come at lower margins relative to the rest of the business.
Growth in CA seems questionable as well; Lavelle cited reception products for cord-cutters as one potential category, but any real improvement in the segment appears to rely on 360Fly and EyeLock going forward. So far, that doesn't seem like a great plan.
360Fly and EyeLock
VOXX has touted both products for some time, and both products continue to disappoint. 360Fly sales were below expectations because, per Lavelle, "our production ramp-up was impacted by some component yield issues that prevented us from timely product deliveries". This from a product whose launch already was delayed by over a year, in part due to software issues.
Early professional reviews aren't great: resolution is low, software is buggy, and the product for now is for "early adopters only," as Wired put it. Consumer reviews seem similarly lukewarm, with the exception of a number of five-star reviews on BestBuy.com (the sole distributor at the moment) and Amazon. As to those reviews, I'll leave it to readers to wonder why 21 out of 24 5-star reviews on bestbuy.com (and all three such reviews on Amazon) are from users with only one review (the other three at bestbuy.com have posted two reviews apiece), and why one of those Best Buy reviewers posted almost the exact same review on Amazon.
Meanwhile, GoPro (NASDAQ:GPRO) sales already are collapsing, and it along with other rivals (including Eastman Kodak (NYSE:KODK)) are bringing their own 360 degree cameras to market. Expecting much from 360Fly at this point seems unwise, at best.
As for EyeLock, Lavelle remained highly optimistic on the Q3 call. With that company now 54%-owned by VOXX, Lavelle said EyeLock "could be the single biggest valuation driver for us over the next two to three years," citing "expected contracts with financial services, technology companies, and government agencies." EyeLock also is trying to become embedded in PCs, (then smartphones), and has an iris-authenticated ATM under test at Citibank.
We'll see. Here again, Lavelle consistently has overpromised, saying on the Q4 call in February that a "large financial institution" would sign a contract by the summer. That customer is nowhere to be found; EyeLock contributed just $72,000 (seventy-two thousand) in sales in Q3, while the consolidation also added over $4 million in quarterly opex to VOXX's P&L. (To be fair, 39% of the EyeLock-related loss is attributed back to non-controlling interests below the operating line, moving the quarterly impact to about $2.5 million in the quarter and a bit less than that going forward.)
The ATM opportunity, in particular, seems odd. ATM usage already is declining, and there doesn't seem to be much customer demand for new security features, or any real need to move away from PINs, with a few exceptions (such as a recent case in New York that Lavelle appeared to reference). Thus, why banks would invest in retrofitting thousands of machines across the country is unclear; why they would choose EyeLock instead of the myriad more established, better-funded, more experienced biometrics players is similarly unclear. So is why VOXX was able to buy its majority stake in EyeLock for a price barely over half the implied value established by its initial $3 million purchase of a 4.1% stake in 2014.
Even with a market cap near $120 million, I don't see real value in either product. Both have disappointed; in neither case has VOXX or management at either unit given any reason for confidence. Again, it's not as if 360Fly or EyeLock stand alone; Microsoft (NASDAQ:MSFT) already is moving iris authentication forward with Windows Hello (and the technology available on new Lumia smartphones) without VOXX's help.
Management Concerns
All that negativity aside, there is a business here, and some one-time contributions to the recent declines, ranging from a collapse of revenue in Venezuela to discontinuation of a few product lines to the licensing out of Jensen Audio in the Automotive segment. Hirschman and Klipsch, in particular, are legitimate, well-respected companies which, as Lavelle himself noted on the Q3 call, are run by longtime leaders who built (or helped build) those businesses.
But the corporate management here is simply beyond trust at this point. Capital allocation has been horrendous; as I pointed out in October, the company has spent nearly $400 million on acquisitions since 2005, yet currently has an enterprise value of $204 million. Management ownership as of the most recent proxy statement was one-half of one percent; the only reason insider sales have stopped is because, per the 10-Q, the overwhelming majority of options and restricted stock units are underwater.
Even on the Q3 call, Lavelle's highlighting of the Chinese market was somewhat odd and somewhat concerning. VOXX doesn't sell directly into China; the potential impact appears limited to OEM customers who build in the US or Germany and then sell those units into China. Lavelle said $5 million in rear seat entertainment sales from the US went to the market, but didn't know what the percentage from European OEMs was, citing a need to ask each OEM individually for the destination of those cars. VOXX investor relations made a similar, and admittedly fair, argument; it seems to be a difficult task to attempt to track end market destinations for VOXX/Hirschman's numerous contracts.
That said, the commentary about China still raises a concern. First, OEM sales represented 37% of total revenue in FY15, per the 10-K, with Automotive sales a bit over half of that total, implying roughly ~75% of Automotive sales going to OEM (the other two segments do not appear to have OEM partnerships). On an FY16 base of $300 million-plus, then, even the "double-digit" percentage of Chinese exposure cited by VOXX IR implies $25 million (or more) in sales to products that wind up in the Chinese end market. But that entire $25 million isn't at risk, and for what it's worth Chinese auto sales still are growing. That doesn't mean there shouldn't be concern toward CY16; there are significant macro worries there, and a recent tax cut was focused on smaller cars, which seems likely (given previously cited contracts with brands like BMW and Daimler) not to help VOXX much, if at all. But even a ~20% decline in Chinese end market revenue implies an annual headwind still below $10 million for a segment that should drive $300 million-plus in FY16 revenue (and more next fiscal year, if Lavelle is to believed) and that booked nearly $10 million annually in contracts in Q3 alone.
The second problem is: why doesn't VOXX know? There's a contradiction in raising the headwind, but not knowing - and it appears VOXX, relative to the European OEM business, really doesn't know - how big the headwind really is. If Chinese weakness provides a potentially material to sales and production, then VOXX and its Hirschman unit need to know. Given that Lavelle said on the Q3 call, 4Q "will be impacted somewhat by China" - and that Q4 was almost halfway over at the time of the call - isn't it important to quantify exactly what that impact is, in terms of planning the business? Yes, it's an apparently difficult undertaking, but either the Chinese end markets are material - in which case VOXX should already have been working diligently to understand the nature of the impact and thus the required response - or they're not, in which case it's unclear why Lavelle brought it up.
This might seem overstated, but at this point any trust is gone, a point brought home by shareholder Vad Yazvinski of Jordan Capital, who expressed significant dissatisfaction in the Q&A. The entire exchange is worth reading (and credit does go to Lavelle for not dodging the questions or shutting Yazvinski down), but Yazvinski's key points echoed the ones I've made over the past few quarters. "How much credibility can we put in the guidance and in the positive tone you guys are trying to infer here?" Yazvinski asked in his opening statement, suggesting later that "a lot of your lines of business at this point would be better off in the hands of somebody else." That's the problem here, and with chairman John Shalam controlling a majority stake thanks to a dual-class structure, there's nothing Yazvinski or anyone else really can do about it.
Valuation
There's a bull case for VOXX somewhere. Q4 guidance does imply a year-over-year revenue increase, for instance. But Q4 FY15 was the quarter so bad - and so impacted by weather - that it led VOXX to stop providing annual guidance. Meanwhile, the West Coast port shortage cost $4 million in sales, and a change in business model in Mexico another ~$2 million; backing those out, even guided revenue should be down on a reported basis and up modestly excluding currency. And given the history of VOXX guidance, investors shouldn't plan on the company hitting its $174 million target.
And VOXX still is profitable; Q4 guidance implies roughly $0.12 in adjusted EPS this year, though that may change if a full year of EyeLock losses aren't offset by the other segments. One would imagine an activist would be thrilled by VOXX, as the company has options. It could sell Klipsch or Hirschmann and refocus on either the automotive or consumer sides. There's a possibility that a decision to add in-sourced manufacturing capability at the beginning of the decade was the wrong one; from the inside, perhaps a more asset-light model would look attractive. It can get rid of EyeLock (though that likely would be difficult at this point) or the 360Fly stake.
Plus, there's still the possibility that EyeLock and 360Fly have value, or even the value that VOXX management seems to see. 360Fly is just a beta product; delays and tech problems aside, it should improve as time goes forward. If EyeLock can establish some sort of beachhead in enterprise sales, perhaps it can become a viable competitor.
But, for now, it all comes back to management, and without a change there it's difficult to see much, if any, of this potential value being realized. VOXX won't change management on its own; its senior leaders all are long-tenured, and the new COO named today has been with the company for 35 years.
The question is whether to short, and at $5 it seems like the easy money has been made. At these levels, liquidity needs to be a legitimate concern, and even with the default that's not the case as yet. A move back up to the $7 or $8 range would provide more cushion, and if EBITDA gets close to breakeven come FY17 then solvency questions may start to arise. But the credit facility (assuming waivers are reached) doesn't mature until 2019, and there's an incremental $123 million in availability beyond current borrowings.
Still, the lack of a viable short case doesn't imply a long case, and the outlook for VOXX isn't great. Barring a rebound in Automotive or some sort of payoff from the 360Fly and EyeLock lottery tickets, the stock isn't going to do much without a significant change. And the problem remains: VOXX itself seems to have little interest in making any changes.
Disclosure: I/we have no positions in any stocks mentioned, and no plans to initiate any positions within the next 72 hours.
I wrote this article myself, and it expresses my own opinions. I am not receiving compensation for it (other than from Seeking Alpha). I have no business relationship with any company whose stock is mentioned in this article.