GoPro (NASDAQ:GPRO) met the bearish points made when the company halted trading and issued a warning. Since I last covered in October, GoPro lowered expectations for holiday sales, cut prices for its core product, and demonstrated its business is shrinking. The drop also hurt shares of its supplier, Ambarella (NASDAQ:AMBA). After GoPro fell to $11.40, investors may realize the selling was overdone. The market was too quick in dismissing the company as a one-time fad.
Lack of moat
The market now views GoPro as a firm that makes a camera on a stick. Its business has no moa and is easily replicable. Its core camera business is facing mounting competition. Xiaomi Yi, SJCam and Hawkeye Firefly are all priced at under $100. Bulls pointed that the company may develop drones, a move that would justify its lofty share price. Unfortunately drones are cheap and apparently face price erosion in the consumer market. The latter point is not entirely true. Last October, I mentioned this drone was available for $50. It is now back to $99.99. Still, GoPro may succeed in reinvigorating growth by developing 360-degree cameras for drones. This will differentiate the drone from other firms offering similar products.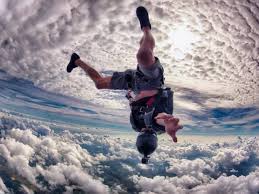 Image source
GoPro has yet to show how acquiring Kolar will support the company's growth plans. It acquired the virtual reality specialist last year on April 25, 2015. In 2015, GoPro released only one flagship product: the Hero 4 Session. The year before, the company had two products it could rely on for sales growth: the Hero 4 Silver and the Hero 4 Black. Strong sales in 2014 led to its CEO being paid the highest in the United States.
Investors could have excused GoPro's quarterly earnings miss had the company showcased a VR solution at CES 2016. All CEO Nick Woodman did was announce the drone release will happen for later this year. Unfortunately, management failed to show any new product at the event.
Now that the company is laying off seven percent of its staff, GoPro will have an even harder time developing new products and launching them on time.
Thanks to its valuable branding, GoPro still has a healthy EBIT margin percentage. Ambarella's EBIT margin percent is healthy and is running at twice that of GoPro's. Once investors realize Ambarella's growth potential supplying for Xiaomi, AMBA's stock should recover.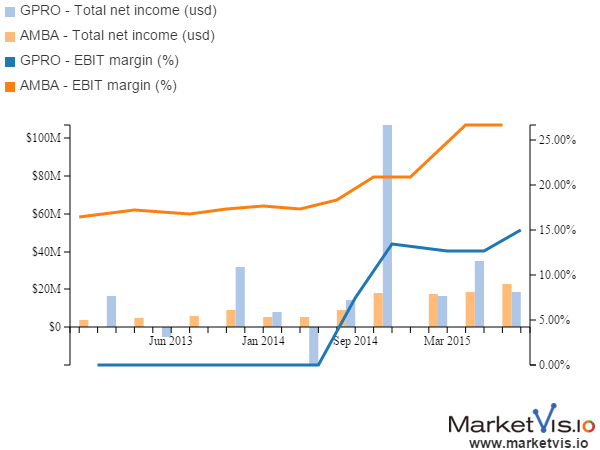 GoPro not just a fad
Since GoPro relied on only one product this year for sales growth, the market quickly reasoned the Hero camera was a fad. The real problem for GoPro is the product's quality. Older GoPros are not breaking or becoming obsolete. This made it impossible for the company to meet a lofty sales forecast in 2015. Another problem for the Hero is that the product is most suitable for people having an active lifestyle.
Without the need of an upgrade, GoPro does not have a regular product release cycle that will result in higher sales, quarter after quarter.
Shift in target market
Given GoPro's cameras are well built and reliable, the company may shift its marketing strategy. It may target the commercial market. Professional athletes, news reporters and journalists are only some of the occupations where using a GoPro makes sense. Here, the company may even support a higher price point for its product.
Your bottom line
GoPro now trades at just 0.87 times sales. It has no debt, plenty of cash, and its brand name is still strong. The firm faces a big challenge in boosting growth. Management failed to sustain sales for Hero in 2015 and risks delivering a VR product late. As competition heats up from firms like Garmin (NASDAQ:GRMN) or TomTom, as they enter the same market, GoPro might need to find a buyer. On its own, it may not have enough resources to grow its business outside of cameras.
Disclosure: I/we have no positions in any stocks mentioned, and no plans to initiate any positions within the next 72 hours.
I wrote this article myself, and it expresses my own opinions. I am not receiving compensation for it (other than from Seeking Alpha). I have no business relationship with any company whose stock is mentioned in this article.