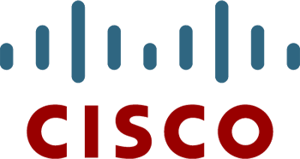 For many shareholders Cisco (NASDAQ: CSCO) has been a disappointing and perennial underperformer. While the broader S&P 500 has gone on to set record highs and has gained 130% since the end of the financial crisis in 2009, Cisco stock has lagged in comparison with an increase of just 60% - or 12.5% on an annualized basis for the S&P against a pretty underwhelming 6.73% for Cisco. Throughout that time there has been various talk of turnarounds from the company amid fears that it's struggling to keep up with current trends in technology and with the market continuing to value the stock at seemingly very cheap prices compared to the wider sector then it would appear that such a scenario is not viewed as much of a possibility. So is Cisco a value trap or value play? The metrics on the face of it actually seem to support the latter, and Cisco could offer a very attractive investment case in a market that is trading at historically high valuations.
Fundamentals (largely) intact
Most importantly for Cisco is that throughout this period of low growth the company's fundamental metrics have, by and large, remained quite stable. Operating margins have remained consistently in the 20% range, while the company's cash return on invested capital has decreased only due to the accumulation of large amounts of cash on Cisco's balance sheet. Indeed net cash on the balance sheet has grown by 40% since 2010 despite the introduction of a dividend and the company's stock buybacks, which cumulatively have cost about $37.1bn over those six financial years, and highlight the cash cow that is their core business. Over that time their free cash flow margin has averaged around 22.76%, with the 2015 figure actually coming in slightly above the five-year average.
This is something that bodes quite well for Cisco shareholders going forward as the underlying business looks largely intact. The top-line may have only grown by around 5% since 2010 but the absence of noticeable deterioration in their operating margins and cash return on invested capital is encouraging, as it implies that their competitive advantages remain in place. In addition operating cash flow and free cash flow also have grown in-line with revenue, which again suggests that the core business is relatively stable albeit not experiencing the same growth as the wider tech sector. On per-share metrics the above growth rates look more respectable due to the effect of the buybacks, with the above growth rates coming in at 7% compounded annual growth over the past five years, and this is something that certainly looks to be ignored by the wider market amid fears of the sustainability of those figures. In order to visualize this consider how Cisco's free cash flow per-share has performed relative to the share price over the past 10 years.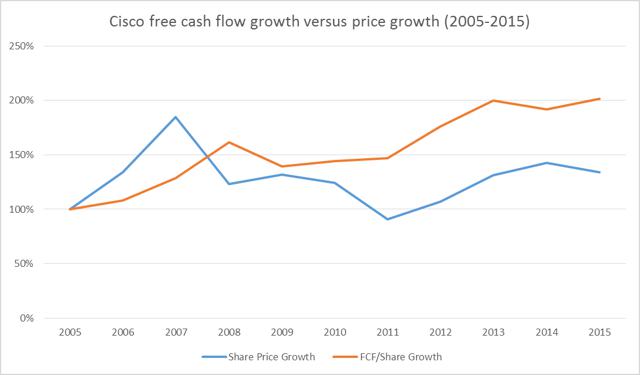 All things being equal one would expect the share price to perform roughly in-line with metrics like earnings and free cash flow, but in Cisco's case the former has underperformed against free cash flow per-share growth over the past 10 years. Of course that would be perfectly understandable if the original price multiple was implying larger growth than what actually transpired (e.g. like during the dot-com bubble). But considering that in 2005 the P/FCF multiple was a very reasonable 16x then there must be other factors involved. Either the market has simply priced Cisco incorrectly in favor of the hotter (and more speculative) tech stocks in the post-2009 bull market or the upside to cash flow growth really is zero from here as is seemingly implied by the current market price.
Beating zero expectations
The stock is currently trading at about $23.60 per share, with market valuations of approximately 13 times 2015 earnings and just under 11 times 2015 free cash flow. If you run a reverse discounted cash flow analysis on that then it actually equates to 0% cash flow growth to perpetuity, even at a price above the current stock price. So in other words the market's expectations are essentially zero for the company and it really isn't pricing in anything other than a decline going forward. Given Cisco's historical record, and even their recent historical record, then that would appear to be a little harsh. Granted it hasn't been growing like a Google (NASDAQ: GOOGL, GOOG) or more recently Facebook (NASDAQ: FB), but cash flows have shown modest growth over the last 10 years. Taking into account the dollar strength and one could argue the recent situation is even better given that the company generates about half of its revenues from outside the United States.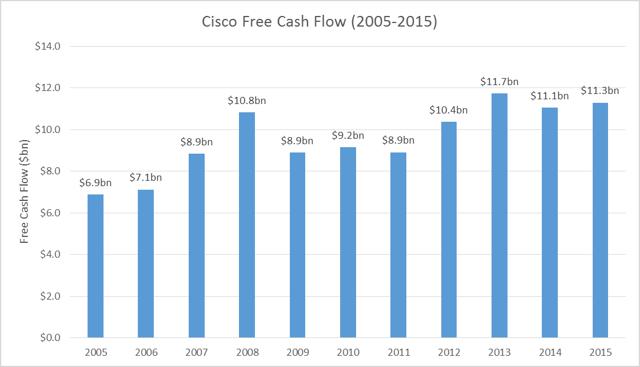 On per-share metrics the growth figures look even more respectable down to the effects of the company's share buybacks, which have reduced the outstanding shares in issue by about 2.5% per year, from 5.85bn in 2010 to 5.08bn in the first quarter of fiscal year 2016. It can be argued whether buybacks are an appropriate use of the company's capital given the need to generate growth and remain competitive, and also in the current climate where corporate buyback usage has often entailed loading up on cheap credit to offer short-term boosts to per-share growth metrics rather than as a sustainable use of capital. Bearing in mind the need to generate bottom line growth the company's buybacks should be weighed against their cash flow, balance sheet and management's history of investing capital. In the former two cases it's clear that Cisco's very stable and strong free cash flow (more than 90% of cash from operations ends up as free cash flow) as well as the huge amount of net cash on the balance sheet ($7 per share of the current share price is net cash) provide no obstacles to their sustainable use of buybacks.
Outlook and summary
Q1 2016 revenues were up 4% year-on-year, with operating cash flow up about 7.5% over the same time period - both broadly in-line with the five-year average. Looking at the individual segments and Switching, which accounts for about 30% of the company's revenue, showed revenue growth in-line with total revenue growth while declines in Routing were offset by growth in Collaboration, Data Center, Wireless and Security. If Cisco can continue to deliver even modest organic growth then the current market price offers a very attractive entry point in what looks like an undervalued company. They are shifting focus toward software and services with related acquisitions in cyber security, cloud services, cloud software and analytics and alongside changes in management and a fortress balance sheet this provides the company with a good chance of executing that. Add to that the company's sustainable buyback program which acts as a boost to per-share growth metrics and the fortress-like balance sheet and the upside at these price levels outweighs the downside, making Cisco a significant value play for investors in what is an historically very expensive market.
Disclosure: I am/we are long CSCO.
I wrote this article myself, and it expresses my own opinions. I am not receiving compensation for it (other than from Seeking Alpha). I have no business relationship with any company whose stock is mentioned in this article.