2016 has certainly had quite the unforgettable beginning to it. The amount of pessimism that pervades market participants is very reminiscent to the Summer and Fall of 2011, when the European Crisis was at its peak. During that time, there was the concern that countries such as Portugal, Greece, Italy and Spain might default. Even France and its massive banking system was on the brink apparently. The current crisis revolves around fears of a dramatic slowdown and possible recession in China, and the concern that it could lead to a global recession. Oil prices below $30 per barrel have prompted deflationary concerns. This negative outlook is obscuring the finest investment opportunities since 2009. Very few stocks exhibit that opportunity more than the common stock of Citigroup (NYSE:C), which has gotten absolutely battered despite posting very reasonable 4th quarter and full year 2015 financial results.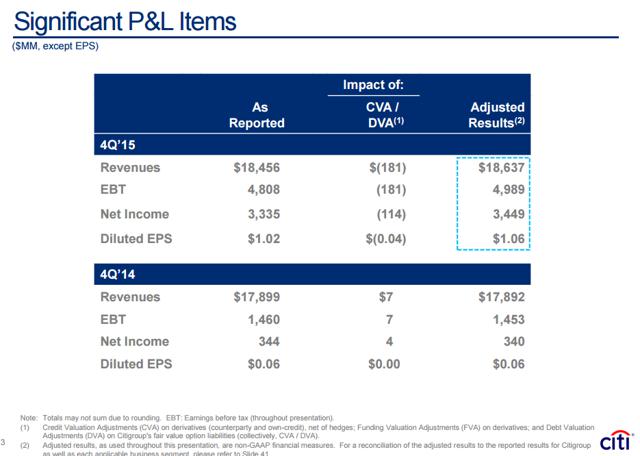 Citigroup is nothing like the overleveraged and toxic entity that existed going into the Financial Crisis of 2008. In fact, I'd argue that the company has not been stronger from a financial and credit perspective in my career. Let's start with the balance sheet. Citigroup has a Common Equity Tier 1 Capital Ratio of 12% and a Supplementary Ratio of 7.1%. Book value per share is $69.46, while tangible book value per share stood at $60.61, as of the end of 2015. Years ago Citigroup split into a good bank and a bad bank. Citicorp was the good bank and has posted returns on tangible equity in line with its peers. Citi Holdings has been an albatross of losses until this year, generating terrible returns. After a myriad of asset sales, Citi Holdings now only represents 4% of total Citigroup assets at $74 billion, meaning they declined 43% from the prior year period. Management believes that the remaining Citi Holdings assets will continue to be slightly profitable this year, and as the headwinds presented by the bad bank dissipate, the tailwinds of Citicorp will highlight the greater profitability of the franchise.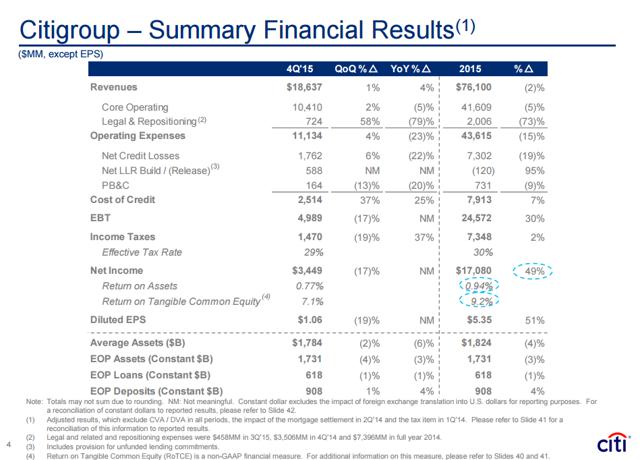 Source: Citigroup 4th Quarter 2015 Earnings Presentation
When you look at the macroeconomic outlook, there are pockets of strength and areas of major weakness. Consumer credit, housing and automotive sales are a few areas that are very strong. These are pivotal areas for consumer banking and should lead to sustained profitability in 2016. While energy has clearly been a disaster, which we will touch on further, the decline in gasoline prices is a boon to consumers. Recent consumer behavior seems to suggest that the focus has been on paying down debt, making larger ticket purchases, and upon getting a decent job. Retail sales were disappointing but I believe that overall the consumer is healthy. Wages have not grown and that is a major problem, but the labor market is better than it was coming out of the Great Recession. Not only was the housing bust the primary culprit of causing the Great Recession, but the opaque and incorrectly modeled structured finance vehicles such as CDO's caused massive losses and ultimately even more in legal fines. There was also immense underwriting fraud, which is not going to be the case with business loans for instance. The big U.S. banks don't have these types of vehicles invested in China or energy for that matter. Barring a severe U.S. recession, the big banks should post solid profitability and continue to increase their intrinsic values.
For the full year 2015, Citigroup generated a return on assets of 0.94% and a return on tangible equity of 9.2%. Returns on tangible equity were actually closer to 11% if you exclude the disallowed DTA. While not groundbreaking, the company did meet its targets despite the burdens of Citi Holdings. The Efficiency Ratio was 57% and has the potential to improve from their as efficiency improvements continue to be made. The bank returned $1.8 billion to common shareholders in 2015, including the purchase of 31MM shares. With Citigroup's capital ratios being some of the best in the industry and the significant investments in improving the qualitative components of the CCAR process, Citigroup should be in line to make major increases in stock buybacks and/or the dividend. At current prices, stock buybacks are highly accretive and are by far and away the best utilization of capital.
Analysts and financial media writers seem concerned that credit quality has peaked, as exemplified by the major banks increasing their reserves for energy. While I agree that the tailwinds from improving credit are mostly a thing of the past, let's not forget the tens of billions of dollars of legal fees that have been sapping profits directly from the pockets of shareholders over the last 3-5 years. The absence of these costs in addition to billions more in repositioning fees, creates a totally underappreciated tailwind for these companies. Citigroup made in excess of $17 billion for the full year 2015 or $5.35 per share. Citicorp generated $16 billion of that profit. Since 2012, the company has utilized $7 billion of its DTA and will continue to do so. Over the last 3 years, Citigroup has generated over $50 billion of regulatory capital despite having to pay all of these fines. All of this happened in a low interest, slow growth environment. What has really changed?
Citigroup is also a much leaner organization as it has been aggressively cutting fat, with more work to be done. Headcount has been reduced by 28,000 while assets are down by over $130 billion. Citi has reduced its legal entities by over one third and the real estate footprint has declined by nearly 20%. Citi has been exiting cities in which it lacks the necessary scale and has been focusing on its faster growing target markets. Sure having exposure to Latin America and Asia will lead to both good and bad times, but overall growth is faster in those areas over the long-term. I was a proponent of looking to IPO or spinoff parts of the foreign operations when they were more in vogue from a valuation standpoint. Current market conditions may make that less attractive, but that would eventually be a great way to get smaller to reduce the additional capital charges that face the SIFI banks. Expenses were down 24% in the 4th quarter, reflecting significantly lower legal and repositioning charges as well as a benefit from FX translation. Cost of credit did grow by 29% from the same quarter last year, driven by the net reserve build.
Now let's get to the two elephants in the room, China and energy exposure. First of all, China has an extremely insulated banking system. It's not as though Citigroup has a major presence there and has been lending tens of billions to build these ghost cities. Its exposure is much more in providing loans to multi-national companies with subsidiaries in China. In the Global Consumer Bank, credit quality, particularly in Asia, is incredibly high with low loan to values and great FICO-equivalent credit scores. Even in distressed markets such as Russia, losses have been kept in line due to the high quality footprint that Citigroup has established. The bank has sold some of its riskier businesses such as its credit card business in Brazil and now OneMain. Citigroup has $113 billion of loans in the emerging markets. Over a third of those are in the Treasury and Trade Solutions space, which are very short-term in nature and the loans are largely to multinationals. Most are also collateralized.
Citigroup's funded exposure to energy related companies this quarter is down 4% to about $20.5 billion. The overall exposure also declined by 4% and now stands at around $58 billion, including unfunded. About 68% of that portfolio is investment grade, which is up from 65% in the 3rd quarter. 87% of the unfunded group is investment grade. Citigroup built roughly $300MM of energy related loan loss reserves in the quarter, reflecting the company's views that prices will stay lower for longer. The company also built a similar amount of reserves for other areas of the portfolio, which was related to volume growth and overall macro adjustments, with roughly a quarter of that related to non-energy credit in Brazil. Citigroup does forecast higher credit costs than 2015, but believes the run rate will be lower than what we saw in the 4th quarter. Management forecasts that if energy prices stay around current levels for a prolonged period of time, such as longer than a year, an additional $600MM of reserves will be required. This pretax charge certainly doesn't reflect the market action in the stock. Even if you double or triple these charges, it is very clear that energy is not a significant risk to Citigroup despite the silly media headlines that we are seeing.
Metals and mining is another area of concern. Citigroup said that its overall exposure to that areas is $14 billion and that includes about $5.6 billion worth of funded loans. Over 70% of these companies are investment grade. Most of these companies are of very high credit quality and, just like with energy, many of the loans are secured financing transactions. Yesterday, Jamie Dimon pointed out what is often forgotten in that even in bankruptcies, banks don't necessarily lose money or if they do it can be quite minor depending on the credit and collateral. Efficiency gains and modest revenue growth should allow earnings to be at least as good as 2015.
Remember, we are dealing with loans here, not convoluted and toxic CDOs. There is no longer the ridiculous mark to market accounting rules that were like gasoline to the Financial Crisis fire, which made it undesirable to ever do a loan because you were privy to short-term fluctuations. Therefore, the key things that matter are the exposures. What are the default rates, and what is the severity upon defaults? If you had a whopping 20% default rate on the $58 billion in energy exposure and totally unrealistic 50% severities, we are only talking about $5.8 billion pretax, not counting anything for already established reserves. Mortgages represented about 33% of the big bank balance sheets, while energy loans are between 2-4%. I cannot reiterate enough how overblown these concerns are and I'm not exactly a bull on the U.S. or global economy in the short-term, largely due to the absolutely toxic political climate.
Below is a quote from banking analyst Mike Mayo that describes the silly disconnect between fundamentals and stock price:
"I think I heard the positive comments about 2015. You had an ROA of 94 basis points, an ROTCE of 9.2%, efficiency of 57% and your tangible book value is up to $61. I don' think anybody cares today and that leads to my question."
People should care. That is fundamental analysis. These banks are overly capitalized with no risk of dilution in any foreseeable scenario through the need to issue equity. Liquidity and capital have never been stronger. Earnings power is improving as efficiency. I'd be far more worried about some small regional bank in Texas or Oklahoma than the diversified big banks.
Citigroup is trading at around $42.51. This price is absolutely laughable given the intrinsic value of the company. There is no reason the company should be trading at a discount to its steadily appreciating tangible book value in excess of $60. This means that there is 41% of upside assuming tangible book value stays flat, which it won't! It is going to grow and stock buybacks at a discount, combined with retained earnings could lead to 10-15% growth this year. That would put tangible book value in the high $60's. Citigroup ended the 4th quarter with roughly 2.953 billion shares outstanding. For this price to make sense, Citigroup would need to incur about $53 billion in after tax losses. Sure there would also be a write down of the DTA but it is hard not to laugh at this price, although it would be painful in the short-term to be long. Citigroup generated about $25 billion in pretax profits in 2015. Barring the complete collapse of the U.S. economy, this stock is going way higher and I cannot buy enough!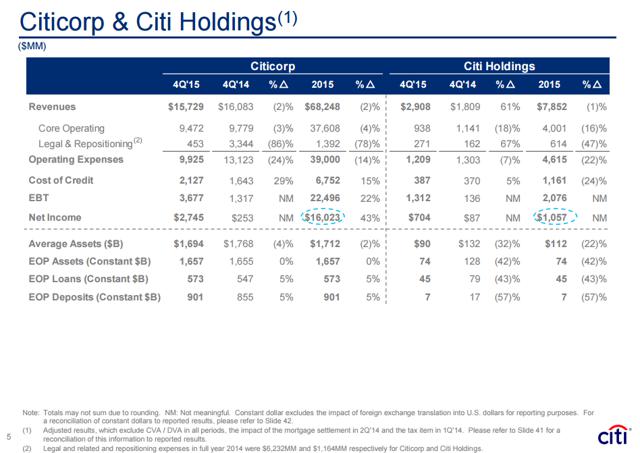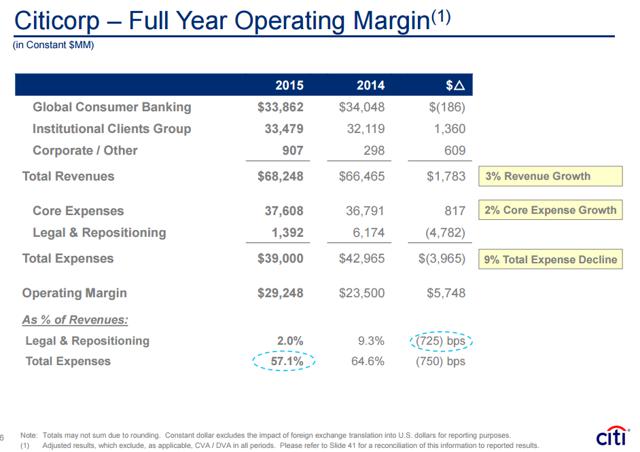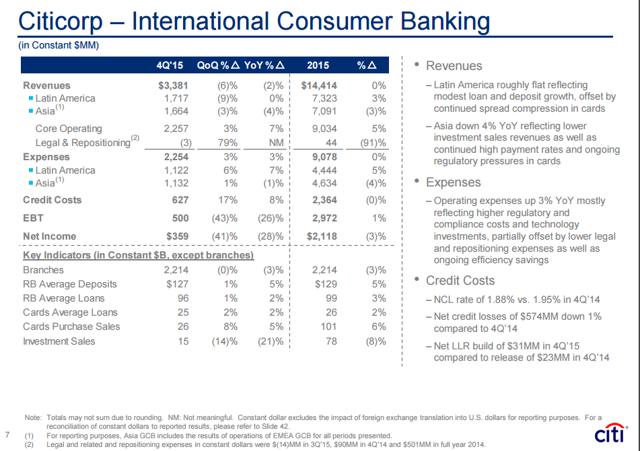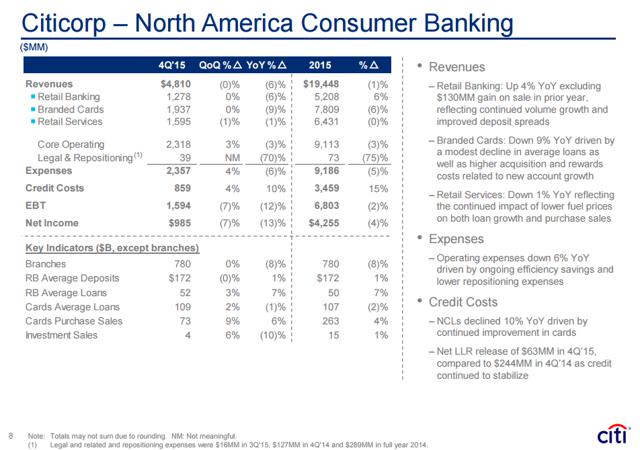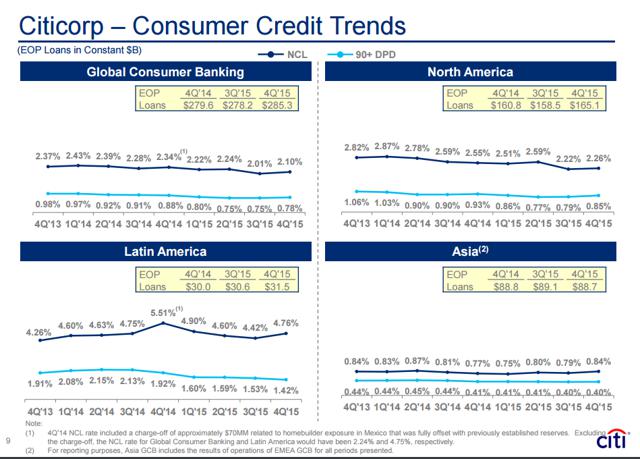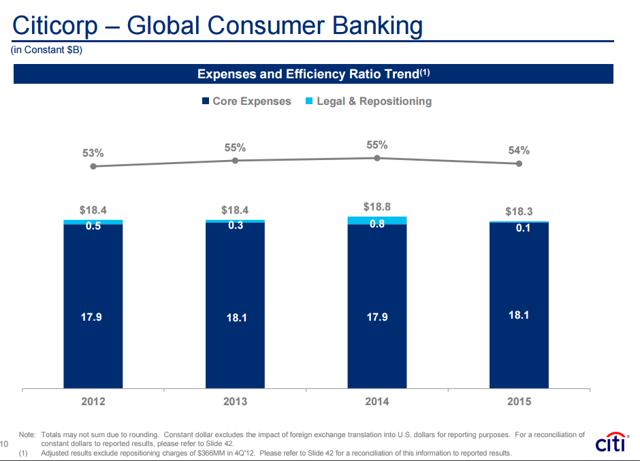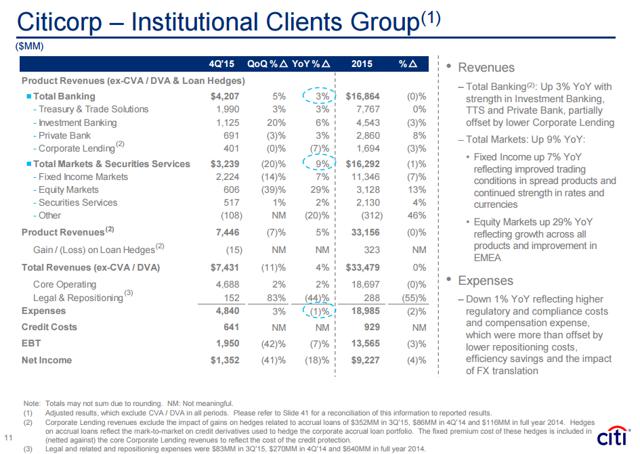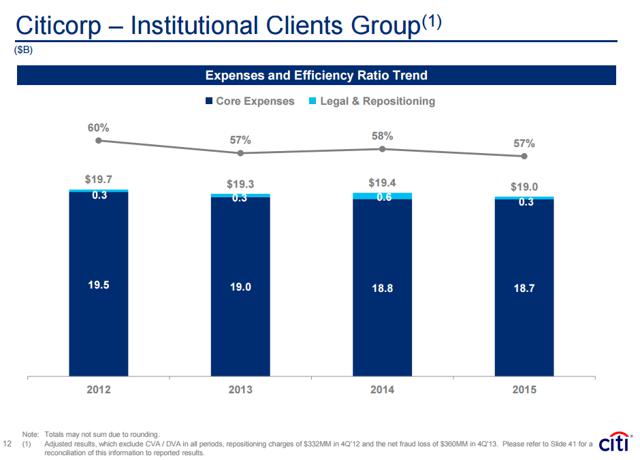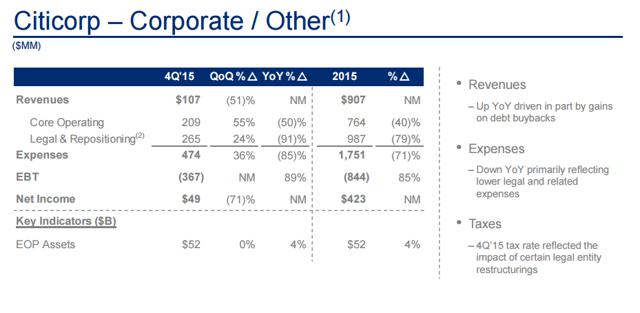 Source: Citigroup 4th Quarter 2015 Earnings Presentation
Supporting Documents
Disclosure: I am/we are long C.
I wrote this article myself, and it expresses my own opinions. I am not receiving compensation for it (other than from Seeking Alpha). I have no business relationship with any company whose stock is mentioned in this article.