As you may recall, NBC (NASDAQ:CMCSA) released a "version" of Netflix's (NASDAQ: NFLX) ratings during its day at the winter edition of the Television Critics Association press tour. We knew Netflix would have some sort of response when the streaming network had its turn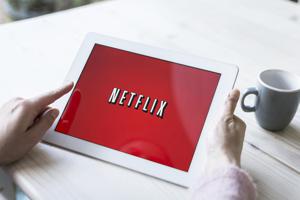 Sunday and they didn't disappoint.
Netflix Chief Content Officer Ted Sarandos got right to the point by telling the room full of reporters the numbers were "remarkably inaccurate data." Sarandos followed that up by saying the below:
"Here's a couple mysteries at play for me. Why would NBC use their lunch slot to talk about our ratings? Maybe because it's more fun than talking about NBC ratings... The methodology doesn't reflect any sense of reality we keep track of."
Let's look at that because those few lines are really telling.
First Sarandos and likely everybody paying attention to this feud knows exactly why NBC did what it did on Wednesday. Netflix is a threat to the traditional way of watching TV and that scares the industry. The broadcast and cable networks see streaming as a threat to its livelihood and are hell bent on protecting what they've spent decades building.
I also get Sarandos was trying to make a joke when saying "maybe because it's more fun than talking about NBC ratings," but that's not the punchline it was three years ago. NBC leads the 18-49 demographic two years running and is in prime position to pull of the hat trick in the spring. That demo may not matter to Netflix but it does to the rest of the TV industry.
Yet that third part is what makes all the difference and really signifies we are comparing apples and oranges. For the first time Netflix has really come out and said the 18-49 demographic isn't something they keep track of in the first place. Sarandos then brilliantly pointed out why his network has so many hits - because they don't make their shows compete against each other.
"There's a very natural inclination to say, relative to this show, this (other) show's a failure. That puts a lot of pressure on the talent that we don't want … if we turn it into a weekly arms race by doing box scores for every (Nielsen-issued ratings report, we're) going to have the same result as it's had on (traditional) television, which I think has been remarkably negative in terms of the quality of shows."
Sarandos makes perfect sense here but that often gets lost in the shuffle. The reason why the networks come after Netflix and its decision to hide its ratings is very simple. In fact The Hollywood Reporter summed it up best earlier this week:
"Now, you may be annoyed that Sarandos and Netflix don't reveal ratings numbers - certainly many critics and people who cover the industry are put off by that stance. (As an aside, it doesn't bother me at all and I have no idea why premium cable channels would provide ratings numbers either. That said, what does bother me about Netflix is it tries to have it both ways - not releasing numbers and then touting the success of its shows without tangible evidence)."
What NBC tried to do was find that tangible evidence, which is even more of note now because it turns out it may not have never really existed on a concrete level. However if anything, NBC's stunt (and again it was a stunt) did succeed - it was prying just a little more information out of the streamer's vaults.
Sarandos is a very smart businessman and he's been vital to helping Netflix become a global entity. Yet the more both he and it succeeds the larger that bulls-eye becomes. What the media has learned from Netflix is if if they push the network hard enough they WILL squeeze out some new information. This isn't the first example - it happened as recently as last October when Netflix's Beasts of No Nation bombed in theaters.
The next day the media called its debut into the film world a complete disaster. Remember Netflix only arranged a theatrical run to qualify for Oscar contention - it wasn't done to make money. Yet Sarandos felt compelled to respond and he did so by revealing specific stats about Beasts which proved its value. When Netflix goes on the record about something, the media doesn't forget about it anytime soon.
This was a solid response to NBC's actions because it could in some ways begin to change the conversation. But the more likely scenario is it will continue to get lost in the noise.
Disclosure: I/we have no positions in any stocks mentioned, and no plans to initiate any positions within the next 72 hours.
Business relationship disclosure: All opinions expressed are the authors and no compensation outside of Seeking Alpha is being received. While the author has a business relationship with a subsidiary of Comcast, it is not related to any divisions discussed and the author is not a full-time employee.