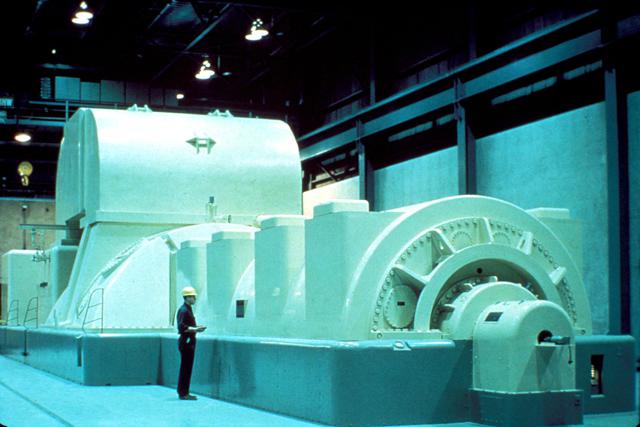 In one of my recent articles, Boston 'T' Party? Investors Should Consider Abandoning This Ship, Seeking Alpha user devlau20 had the following request:
You article hit the nail on the head, not through conjecture and common sense applications, but through projections based on hard indisputable data, publicly available, but useless, until an analysis like yours, puts it all together to make a convincing, even evidentiary argument. Keep doing this. Take 1 major a month, if you have the time. I'd love to see a similar data analysis on XOM which has a similar flatline over time.
I thought about this comment for several days, wondering how I could possibly take on this challenge. While AT&T (NYSE:T) is a behemoth in its industry, it's a fairly straightforward company. Exxon Mobil (NYSE:XOM) dwarfs AT&T in complexity. Not only is its portfolio so diverse it would take a multi-series expose to even scratch the surface, it exists in a cyclical industry of booms and busts that is tied heavily to the commodities market. Analyzing the need for cable TV, internet and wireless is child's play by comparison.
I decided to tackle this situation the same way I tried to analyze the future prospects of AT&T. I began this article with a single question: "Is our dependence on oil companies fizzling?" Oil has been the biggest controversy of the financial markets in 2015, and given the absolutely dreadful start to 2016, it looks like oil will be the topic of conversation for quite some time to come. Some think the oil majors are not going anywhere, some think fracking will keep the price of oil low for an investment lifetime(s) and permanently impair the oil major's profits, and others think the majors are the walking dead. The most frequent threat I hear to the livelihood of the majors are the Electric Vehicles [EV's] produced by companies like Tesla (NASDAQ:TSLA), General Motors (NYSE:GM), soon-to-be Nissan (OTCPK:NSANY) and Audi (OTCPK:AUDVF), and their competitors. Electric Vehicles, so I've been told, are threatening to make the internal combustion motor obsolete and turn oil companies like Exxon Mobil, Chevron Corporation (NYSE:CVX), Royal Dutch Shell (NYSE:RDS.A) (NYSE:RDS.B), ConocoPhillips (NYSE:COP), British Petroleum (NYSE:BP) and their brethren into dinosaurs about to be extinct. If this is true, that would make investments in these companies today a poor choice as their values as corporations are going to take a serious hit in the oncoming decades.
EV's are not selling very well today, especially in times of cheap oil, so the internal combustion market has a lot to lose if EV's truly take off in the near term. So let's assume the worst. Let's assume the EV's do take off and begin selling like hotcakes. What kind of impact will this have on the energy markets, and how will it affect the bottom lines of the integrated majors?
Refueling The Electric Vehicle
I have noticed a disconnect in some of the pro-EV/anti-oil crowd that has troubled me, and that is the failure to acknowledge that electricity has to be generated by human means. Electricity has to come from somewhere to charge these EV's, and because of that, we can actually roughly calculate the cost of these vehicles in terms of energy dollars, and therefore come up with some kind of relatable impact to the overall economy.
According to the US Energy Information Administration, the percent share of the total US energy generation from major sources in 2014 were:
Coal = 39%
Natural gas = 27%
Nuclear = 19%
Hydropower = 6%
Biomass = 1.7%
Geothermal = 0.4%
Solar = 0.4%
Wind = 4.4%
Petroleum = 1%
Other gases < 1%
There is technically no such thing as an "Electric Vehicle." The phrase itself is a fallacy. EV's are primarily coal+natural gas+nuclear-powered vehicles. The electricity, after all, has to be generated somehow.
Our Benchmark: The Tesla Model S 70D
I have selected the Tesla Model S 70 as the benchmark vehicle for this analysis because it is probably the most commonly referenced, "most affordable" EV (at $70,000, it's a long shot now, but let's assume market saturation brings prices down) that can be purchased by the general public. The Tesla Model S 70 packs a 70 kWh battery system with an estimated range of 240 miles.
Simple math tells us that 1 kWh of electricity gives us an average fuel economy of 3.43 miles, or 3.43 m/kWh, directly from the battery if you believe the figures provided by Tesla.
Losses From Generation To Distribution
Generation Losses
This is a table of heat rates for electricity generation. To express the efficiency of a generator or power plant as a percentage, we must divide the equivalent Btu content of a kWh of electricity (which is 3,412 Btu) by the heat rate. According to the above table, the average heat rate for all types of turbines, if you average them together, is about 10,134. Calculate efficiency as below (this is a rough calculation and does not scale as dispersed in the pie chart above):
Efficiency = [(3,412)/(10,134)]*100 = 33.7%
This means that 66.3% of the energy in the raw materials themselves are lost due to heat. Think about that! 1,000 kWh worth of fuel dumped into a generator will leave you with 337 kWh of electricity on average!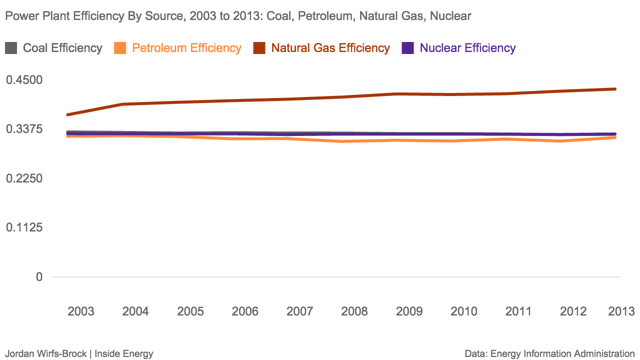 Transmission and Distribution Losses
Electricity needs to make it from the generator to your home. As an electrical engineer who works for an electrical contractor, I can briefly speak to how it works.
GENERATOR -> HIGH VOLTAGE TRANSMISSION LINES -> SUBSTATION (steps down voltage for distribution -> DISTRIBUTION LINES -> HOME
The EIA estimates that approximately 6% of all electricity is lost - 2% for transmission and 4% for distribution - from the generator to your meter. This is due to the real-world inefficiencies of the infrastructure and can vary wildly from state-to-state. Older infrastructure, of course, will likely perform worse. Please note these are US figures - we have some of the most efficient electricity transmission and distribution infrastructure in the world thanks to our rigorous standards - countries like India are estimated to incur losses of up to 30% in transmission and distribution (significant amounts are from theft), so EV's will perform remarkably worse in poorer countries, further lessening their efficiency.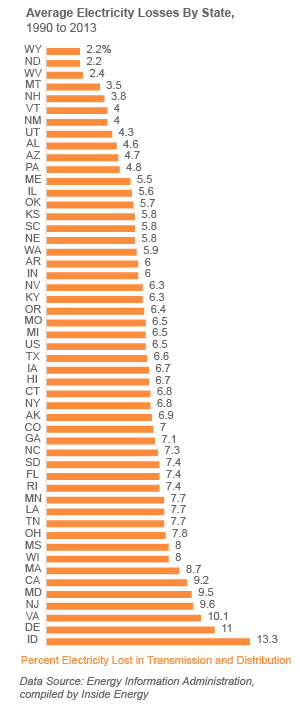 Charging Losses
OK, the generated power has finally made it to your home, but the losses still mount. You have to charge your batteries, and it takes more than 70 kWh of electricity to charge a 70 kWh battery. Tesla claims their peak charging efficiency is 92%. Oh, how I loathe using "peak" numbers. I will use a number of 90% efficiency, which is likely generous.
Adding It All Up
If you've made it this far, we need to calculate the real energy cost of an EV like the Tesla Model S 70, factoring in losses in generation, transmission, distribution and charging.
Generation Efficiency: 33.7%
Transmission/Distribution Efficiency: 94%
Charging Efficiency: 90%
[[(70)/(0.337)]/(0.94)]/(0.90) = 245.53 kWh
Because electricity is such an inefficient utility, it actually takes more like 245.53 to charge a 70 kWh EV battery. This drops the real efficiency of a Tesla Model S 70 to 0.977 miles/kWh.
According to the EPA, one gallon of gasoline has an energy equivalent of 33.7 kWh. If a Tesla Model S 70 goes 240 miles on 245.53 kWh of electricity, then we can say a Tesla Model S 70 goes 240 miles on 7.29 gallons of gasoline. In other words, the Tesla Model S 70 gets an equivalent of 32.94 mpg. That is only 58.8% as efficient as a 2016 Toyota (NYSE:TM) Prius Eco for nearly three times the price. (fueleconomy.gov estimates a 2016 Toyota Prius ECO gets a combined fuel rating of 56 mpg.) Depending on which state you live in, a Toyota Prius could get even better mileage by comparison if your transmission and distribution networks see above average losses, or if your state gets more energy from coal than natural gas, which is less efficient in the generation.
Additional Note: Multiple Seeking Alpha users have mentioned that my calculations do not take into account losses from refining oil to gasoline for the internal combustion motor. This is largely irrelevant because electricity is generated using converted product that has consumed similar amounts of energy in exploration, refining and distribution. This makes the oil->gasoline conversion a relative "wash" for the purposes of this article.
What Does This Mean For The Oil Majors?
What exactly is the point of all these calculations? The calculations are simply to show the reader that EV's are not displacing the need for the oil majors. They are simply shifting the revenues from one raw material to another.
If EV's do proliferate in the future, they could certainly contract the gasoline market and refiners like Valero (NYSE:VLO) and Phillips 66 (NYSE:PSX) could take a hit, but the oil majors are a different story. Chevron's Gorgon and Wheatstone projects will make them one of the largest LNG producers on Earth. Likely foreseeing huge growth in the natural gas market as natural gas generating plants displace coal generating plants, EV owners will unknowingly be supercharging Chevron's earnings as they charge their electric vehicles. All that electricity has to come from somewhere, and natural gas is poised to lead the pack due to its higher efficiency, relatively low emissions and worldwide abundance. It is my opinion that in the oncoming years, "electric vehicles" will more accurately be called "natural gas vehicles."
While it would take huge amounts of time to analyze every oil major, getting back to Seeking Alpha user devlau20's question, what will this mean for Exxon Mobil's future?
In 2014, Exxon Mobil produced 11.145 billion cubic feet per day of natural gas.
In 2014, Exxon Mobil completed 8 major projects including the 6.9-million-tonnes-per-year Papua New Guinea Liquefied Natural Gas [LNG] project.
Exxon Mobil projects global demand for natural gas to rise by 65 percent from 2010 to 2040, the largest volume growth of any energy source.
Exxon Mobil's portfolio contains diversification in renewables and nuclear energy as well, so they are poised to take a piece of every pie as the world's energy landscape changes.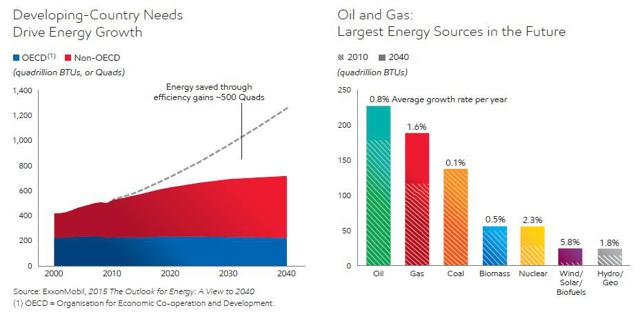 Conclusions
This article is not meant to make wild earnings predictions, or promote or lampoon any particular company. It is simply meant to show the reader two things:
Electric Vehicles are often less efficient and less environmentally-friendly than the more efficient Internal Combustion Engine Vehicles. In fact, in some states where coal is the primary source of electricity generation and transmission and distribution lines are less efficient, EV's are quite environmentally damaging. The EV in many states is essentially a Coal-Powered Vehicle, and when we factor in the disastrous consequences of mining lithium for the manufacturing of the battery systems, these EV's turn out to be environmental nightmares that cost many times more than much more reliable, proven internal combustion engine vehicles.

If a Toyota Prius gets nearly double the same mileage as a Tesla Model S, costs 1/3 of the price, will last longer because the technology is more proven and refined and creates fewer emissions overall, the EV will continue to face struggles from practical buyers.

While EV's can potentially threaten gasoline refiners and independent E&P companies in the very long-term, they pose little threat to the integrated oil majors. Instead of buying gasoline from the majors to power your vehicle, you'll be buying electricity to power your vehicle, courtesy of the raw materials your electric utility buys from the oil majors. You are "robbing Peter to pay Paul." Either way, the majors win.
Given this information, I do not personally believe the integrated oil majors have anything to fear from the Electric Vehicle. If the EV ever takes off - and we are talking many, many years into the future for numbers to become significant - it is nothing more than a new opportunity for the majors to grow their expansive portfolio. The patient investor can potentially exploit any short-term fear from the pro-EV/anti-oil crowd exhibiting downward momentum on share prices and turn them into tasty profits years down the road once the reality of the marketplace is better understood.
Side Credit: Special thanks to Seeking Alpha user Loopman for assisting in correcting a calculation made in the initial submission of this article. I am continually touched by the collaborative efforts of this community.
Disclosure: I am/we are long XOM, CVX, RDS.A, RDS.B, COP, VLO, PSX, BP.
I wrote this article myself, and it expresses my own opinions. I am not receiving compensation for it (other than from Seeking Alpha). I have no business relationship with any company whose stock is mentioned in this article.
Additional disclosure: All information found herein, including any ideas, opinions, views, predictions, commentaries, forecasts, suggestions or stock picks, expressed or implied, are for informational, entertainment or educational purposes only and should not be construed as personal investment advice. I am not a licensed investment adviser.
Editor's Note: This article discusses one or more securities that do not trade on a major U.S. exchange. Please be aware of the risks associated with these stocks.