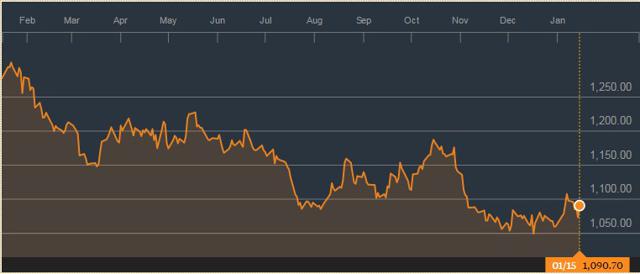 Source: Bloomberg
In December 2014, I recommended selling gold citing the increased probability of a Fed interest rate hike in the following year. I maintained my bearish stance despite gold prices touching around $1,300 an ounce in January 2015. Eventually, the Fed hiked interest rates by 25 basis points in December 2015, which caused gold prices to fall below $1,050 an ounce. The story didn't here. Janet Yellen mentioned about gradual tightening of interest rates in the coming years. So what made me change my decision from a seller of gold in 2015 to a buyer of gold in 2016?
Fed rate hike
The Fed forecasts four 0.25% rate hikes in 2016, four hikes in 2017, and three in 2018. I am skeptical about interest rate hikes in the near term as the Fed's primary concern this year would be weak global outlook. Recently, the World Bank lowered global growth forecast from 3.3% to 2.9%. The New Year saw the Shanghai Composite index correcting nearly 18%, which sent jittery across global financial markets.
In 2015, stronger U.S dollar affected revenue of U.S multinationals. Hiking interest rates amidst weak global growth will hurt revenues of American global companies that derive significant chunk of their revenue from abroad.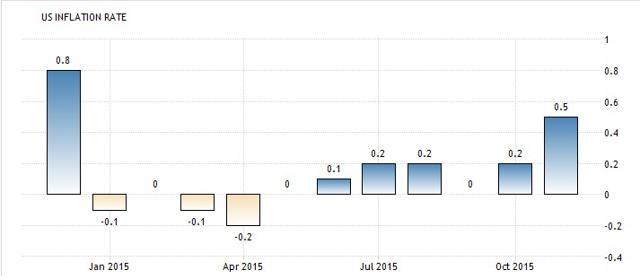 Source: Trading Economics
Recently, crude oil prices touched 12 year low of $29.93 a barrel. Morgan Stanley forecasted oil prices to touch as low as $20 a barrel in the near term due to oversupply and weak global demand. The U.S inflation hasn't picked up much in the past few months and falling oil prices will prevent inflation to reach the Fed's target of 2%.
High interest rates could affect profit margins of U.S companies and pressurize them to cut jobs and reduce wages. Macy's (NYSE: M), and Walmart (NYSE: WMT) have announced job cuts and store closures this year. There could be fewer new job additions in the U.S economy in 2016. In my opinion, the Fed is unlikely to hike interest rates this year amidst sluggish global growth and job cuts at home. A delay in Fed rate hike will be a positive sign for gold prices in 2016.
Gold holdings
The sharp correction in global markets increased buying in gold as safe haven. Gold holdings in exchange traded fund increased by 19.6 tonnes to 1,477.7 tonnes. The central banks of Russia and China added 55 tonnes of gold in November 2015. I expect this buying spree to continue in 2016.
Final Thoughts
I recommend accumulating gold due to weak global growth, which could prevent the Fed from hiking interest rates further.
Disclosure: I/we have no positions in any stocks mentioned, and no plans to initiate any positions within the next 72 hours.
I wrote this article myself, and it expresses my own opinions. I am not receiving compensation for it (other than from Seeking Alpha). I have no business relationship with any company whose stock is mentioned in this article.