By Hale Stewart
The main economic news this week was the Fed's release of the latest Beige Book. Let's take a look at some important points, supplemented with last week's retail sales and industrial production release.
Most Districts reported some growth in consumer spending through the holiday season, with the pace of growth typically characterized as ranging from slight to moderate, and as strong in Minneapolis. New York, Richmond, and Dallas noted that sales were sluggish or had softened. Unseasonably warm weather was blamed for damping overall sales in Cleveland, Richmond, and Dallas, and for weaker apparel sales in New York. Richmond and Chicago also noted disappointing clothing sales. Similarly, San Francisco reported that apparel sales at brick-and-mortar stores failed to meet expectations. Minneapolis noted record-breaking online sales, while Cleveland described greater optimism among retailers anticipating enhanced opportunities from e-commerce.

Auto sales have continued to be positive in most reporting Districts since the previous Beige Book, with strength reported in Richmond, Atlanta, and Chicago. However, Kansas City reported that sales dropped markedly compared with last year, and New York and St. Louis reported recent slowing in activity. Contacts in roughly half of the Districts cited continued lower gas prices as a contributing factor for auto sales, particularly for increases in SUV and light truck sales.
Seven districts reported some type of retail sales disappointment. Some stated the pace was sluggish, while some noted weakness was related to a particular item (such as clothes). Several others attributed the problems to weather. There are also potential signs that auto sales are topping. KC saw a "markedly" large Y/Y drop, while two other districts reported a slowdown.
Friday's weak retail sales figures confirmed the weakness. The headline number dropped .1% M/M. However, the Y/Y series is concerning. Consider the following two charts from Doug Short: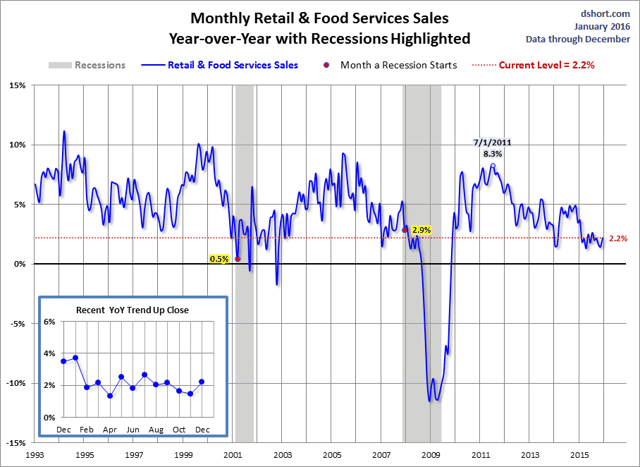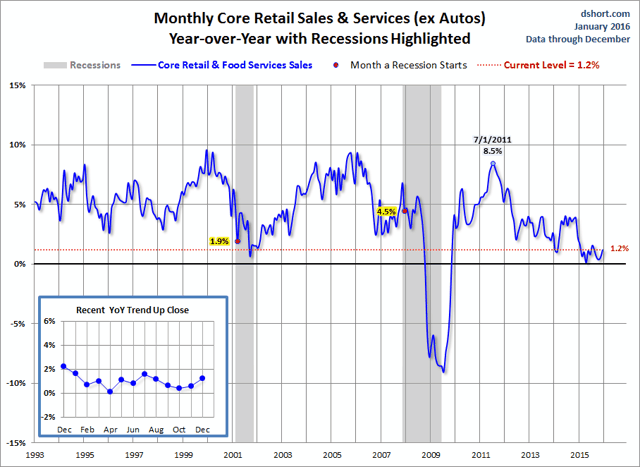 The top chart shows the Y/Y change in the headline number, while the bottom chart shows the "core" rate. Unfortunately, both lead to the same conclusion: current levels were last seen during a recession.
Next, let's turn to manufacturing.
Manufacturing activity has been varied across Districts since the last Beige Book period, with nearly half of the Districts reporting overall declines. New York, Philadelphia, Atlanta, Minneapolis, and Kansas City indicated that manufacturing activity declined; however, Cleveland, Richmond, and Chicago reported that manufacturing activity grew modestly to moderately. Dallas characterized its demand as flat or increased, while San Francisco reported that activity was flat to down, on balance.
This news shouldn't be surprising. Industrial production has moved sideways for the last year; new orders for durable goods have moved in the same direction for a bit longer. The ISM manufacturing index has shown a contraction for the last few months. And the new orders index is also in negative territory.
Friday's industrial production report added to the gloom:
Industrial production declined 0.4 percent in December, primarily as a result of cutbacks for utilities and mining. The decrease for total industrial production in November was larger than previously reported, but upward revisions to earlier months left the level of the index in November only slightly below its initial estimate. For the fourth quarter as a whole, industrial production fell at an annual rate of 3.4 percent. Manufacturing output edged down in December. The index for utilities dropped 2.0 percent, as continued warmer-than-usual temperatures reduced demand for heating. Mining production decreased 0.8 percent in December for its fourth consecutive monthly decline. At 106.0 percent of its 2012 average, total industrial production in December was 1.8 percent below its year-earlier level. Capacity utilization for the industrial sector decreased 0.4 percentage point in December to 76.5 percent, a rate that is 3.6 percentage points below its long-run (1972-2014) average.
Mining, utilities and manufacturing declined in 4 of the last 6 months. Turning to the major market groups, final products and mining decreased 4 of the last 6 months, while industrial supplies moved lower in 2 of the last 6 months. No matter how you look at IP, the conclusion is clear: there's widespread weakness.
Even the service sector showed some cracks:
Overall, nonfinancial services have grown modestly to moderately since the previous Beige Book. Professional and technical services firms saw moderate growth in the Minneapolis, Kansas City, and Dallas Districts. Consulting firms in the Boston District reported strong demand, and the demand for server and cloud computing services continued to rise in the San Francisco District. Contacts in the New York District reported sluggish business activity. Staffing services were somewhat mixed across reporting Districts. Staffing firms in Philadelphia reported strong growth for temporary and permanent placements across a range of sectors, while staffing demand in the Dallas District varied by location. Contacts in New York were somewhat less optimistic about the near-term outlook, while contacts in Boston, Philadelphia, St. Louis, and Kansas City continued to expect positive growth.
While the service sector in general appears to be doing fine, the weakness in the staffing sector stands in slight contrast to the recently strong employment report.
The Atlanta Fed's GDP Now predicts 4Q growth of .6%, while Moody's 4Q GDP forecast is 1.4%. The Cleveland Fed's yield curve GDP model still predicts 4Q growth of 1.9%. The Atlanta Fed's recession probability index is 13.3% while the NY Fed's is 3.56%.
To sum up the points of concern:
Consumer spending - which several Fed Presidents relied on in their rosy economic assessments - was weaker then desired. This is especially concerning because the report covers the holiday shopping season.
Nearly half of all Fed districts reported declines in manufacturing activity.
Some staffing companies are concerned about future activity.
All that being said, it's important to remember there are ample reasons to still be positive about the US economy. The LEIs increased .4% last month, and are up in 4 of the last 7 months. And three of the four main coincident indicators used by the NBER to date recessions are still increasing: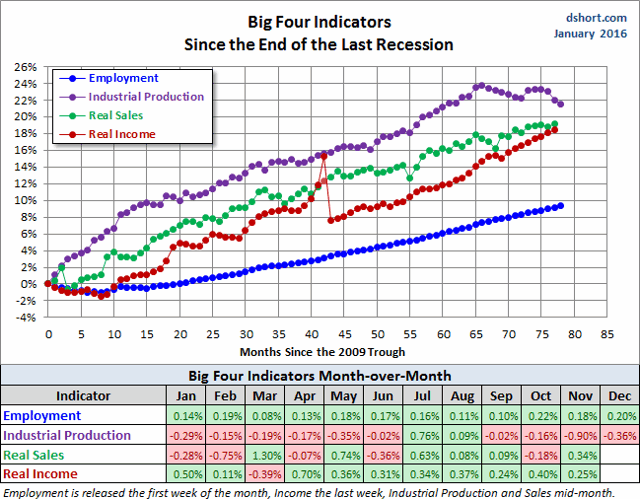 Market Environment: The market is still mostly expensive, although the SPY forward EPS is dropping. The current and forward EPS for the SPY/QQQ is 21.62/21.04 and 15.65/17.45, respectively. The SPY forward EPS has dropped a few points in the latest selloff.
The earnings outlook remains weak. From Zacks:
Total S&P 500 earnings in Q4 are expected to be down -7.8% from the same period last year on -4.7% lower revenues in Q4, with 13 of the 16 Zacks sectors expected to see earnings declines from the year-earlier period. Earnings growth for the index would still be in the negative even if we exclude the Energy sector drag from the aggregate picture.

Estimates came down as the quarter unfolded, in-line with the trend that we have been seeing quarter after quarter for almost three years now. But the magnitude of negative revisions to Q4 earnings estimates was greater than what we saw in the comparable periods for the preceding two quarters.
The weekly SPY chart provides most of the information we need to explain the market: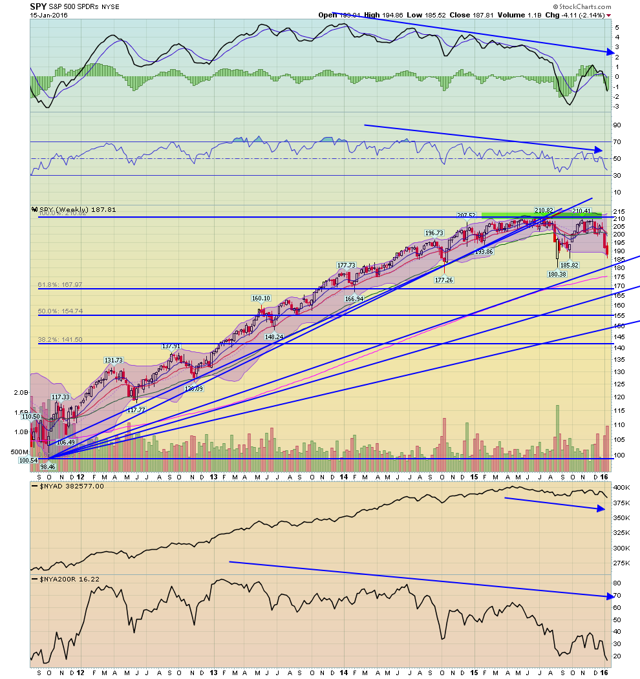 Starting in mid-2014, the number of issues above their 200-day EMAs started to decline, indicating a narrowing market advance. For most of 2015, the market couldn't get above the 110-112 level. At the same time, the MACD and RSI started to decline, indicating upward momentum and relative price strength was weakening. In mid-2015, prices broke through the long-term trend line the started in late 2011 to the downside. The 50-day EMA is flattening and the 10- and 20-day EMA are about to move below this indicator for the second time in a year.
Currently, there are several potential downside price targets: ~180 (the top Fibonacci fan), which would be a 3.74% decline from Friday's close, ~175 (the 200-day EMA) which would be a 6.4% decline from Friday's close, and ~168-169 (the top Fib level) which would be a 10% decline from Friday's close.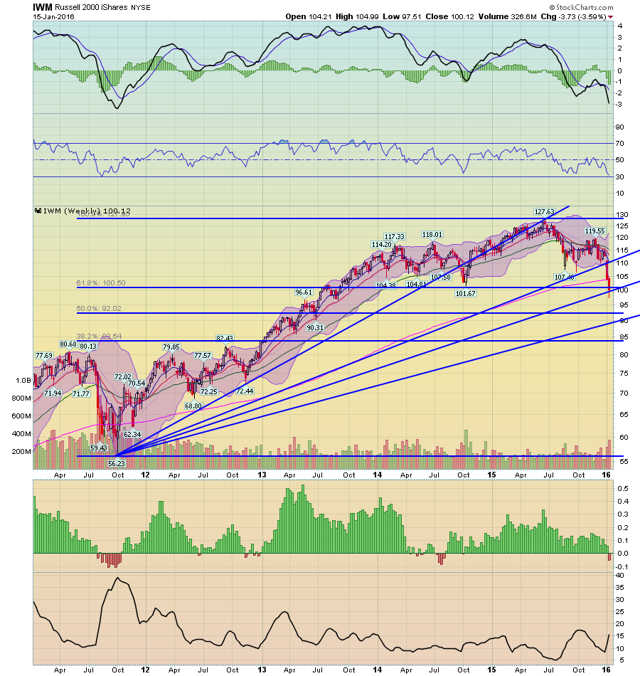 The IWM - which is a proxy for risk capital - tell us we're moving lower. Prices are already below the 200-day EMA and the shorter EMAs are bearishly aligned (the shorter EMAs are below the longer EMAs).
Ultimately, what we're now dealing with is a "realignment of risk," which is a fancy way of saying that people think equities are too expensive based on the fundamentals. Given this week's weaker than desired economic news, I wouldn't expect this to change anytime soon.