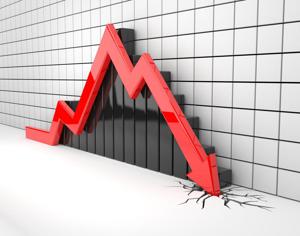 There is no way around it, simply no way to sugar coat it - last week was a horrible five days in the stock market with the S&P 500 falling another 2.2% ahead of the long weekend. That move lower added to the index's retreat thus far in 2016, making it it one of the roughest starts to the trading year in decades.
Some of the drivers behind the market move lower include the slowing domestic economy, concerns over the continued economic contraction in China as well as the ripple effects to be had, and currency headwinds. Add in expectations for both the global economy and earnings expectations and there is tremendous weight on the market. As we commented last week, these revisions to expectations, particularly when they are lower, can be downright painful at times like the ones we are seeing now.
The big concern of the stock market last week was oil prices, which continued to come under pressure given the growing oil glut, reflecting weaker demand as well as rising supply levels which are likely to grow further as Iran begins exporting again. We expect oil prices to remain significantly lower year over year, which will likely lead to reduced earnings expectations, capital spending cuts and, in all likelihood, some degree of industry consolidation in the coming months.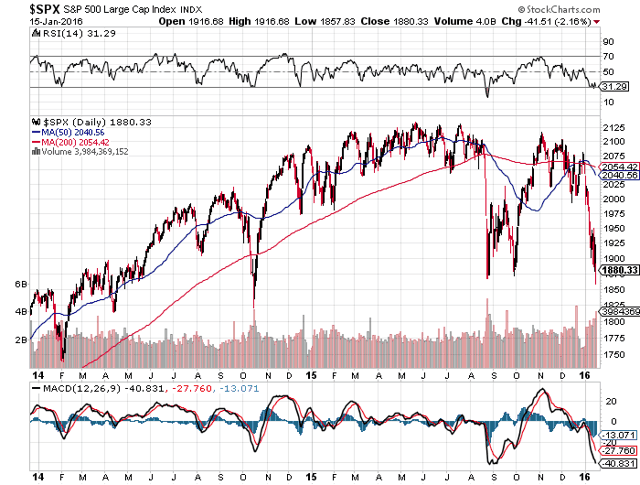 This raises a key issue that the stock market is grappling with as of late - with oil near $30 per barrel, James West, an energy industry analyst at ISI Evercore, says months of low activity have left many of the companies in the hydraulic-fracturing business either insolvent or close to it. West sees as many as a third of the fracking companies could go bust by the end of 2016. Here's the issue, there's about $300 billion in high-yield bonds the industry has issued that will need to be restructured. The chart below shows the debt service pressure on cash flows of US onshore oil producers exiting the first half of 2015. Meanwhile, on the price chart on the previous page, you can see oil prices have only continued to fall. Those two together reflect a mess only waiting to happen.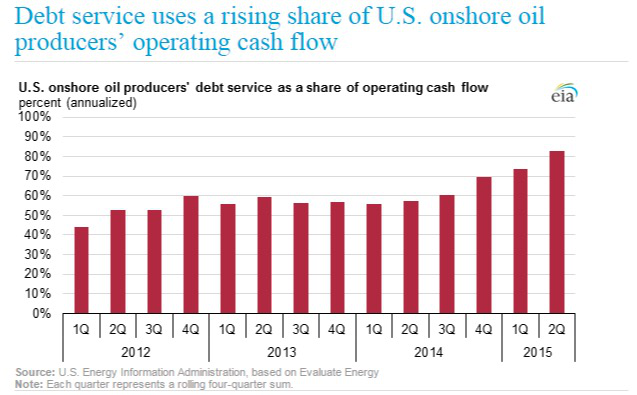 Friday morning, BHP Billiton (NYSE:BHP) said it will book a $4.9 billion after-tax impairment charge against the value of its U.S. shale assets to reflect its reduced projections on prices and revisions to its own development plans. We see this as just the beginning. That mess is already spilling over into big oil, with British oil giant BP (NYSE:BP) announcing it would eliminate 4,000 of the approximately 24,000 positions in its exploration and production units this year. Royal Dutch Shell (NYSE:RDS.A) (NYSE:RDS.B), BP's biggest European rival, already cut 7,500 jobs last year, with another 2,800 likely to happen when it completes its acquisition of the BG Group, a producer of oil and natural gas based in England.
Given the economic backdrop and impact of the steep drop in oil prices, we are pretty confident we are only just now seeing the beginning of all this.
Last week, President Obama gave his last State of the Union address in which he gave favorable marks to the domestic economy. From our perspective, the two charts below show that his assessment is off the mark.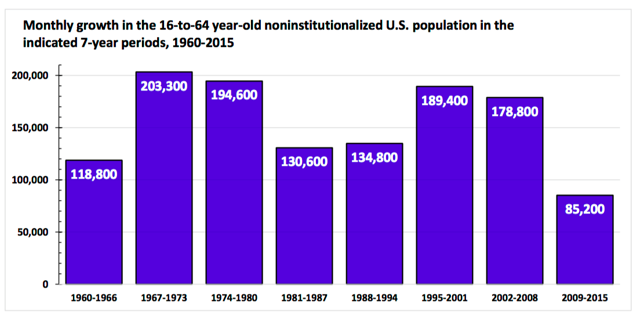 Source: Politico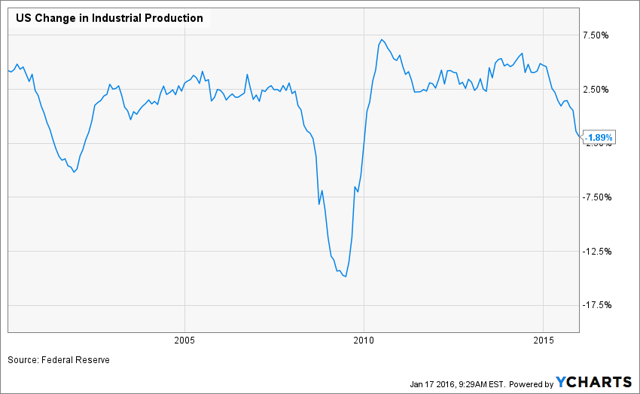 In looking over the first of these two charts, we have a very different perspective on job creation over the last seven years, which is in stark contrast to the "official" unemployment rate the politicians and local newscasters like to brandy about when discussing the economy. From our perspective, this weak level of job creation, combined with our Aging of the Population investing theme and the notable increased drop in the labor force, help explain why the current labor force participation ratio remains at multi-decade lows.
The second figure, which depicts the year-over-year change in domestic industrial production, shows the sharp slowdown in the U.S. manufacturing economy over the last year. We've had a number of confirming signs, again some of which, like falling rail car loadings and truck tonnage, we talked about last week. Given the weakening readings of those industry indicators, we are not surprised by the weak December industrial production report last week that when parsed showed a contracting manufacturing economy.
Over the course of our collective time analyzing industries, economic data and stocks, we've noticed a high correlation between the year-over-year change in industrial production and industrial stocks such as heavy truck companies like PACCAR (NASDAQ:PCAR) and Navistar (NYSE:NAV) as well as those that supply them such as Eaton Corp. (NYSE:ETN) and Cummins (NYSE:CMI); rail companies and rail car manufacturers such as CSX (NYSE:CSX), Union Pacific (NYSE:UNP), Trinity Industries (NYSE:TRN), FreightCar America (NASDAQ:RAIL), The Greenbrier Companies (NYSE:GBX); construction equipment and related companies - Caterpillar (NYSE:CAT), CNH Industrial (NYSE:CNHI); as well as others, like General Electric (NYSE:GE), Honeywell (NYSE:HON), Parker Hannifin (NYSE:PH) and others that serve the industrial economy.
Needless to say, given our Economic Acceleration/Deceleration investing theme, we are not surprised by the retreat in stock prices for these types of companies. Given the manufacturing orders reported by both Markit Economics, as well as the Institute for Supply Management in their respective December findings, we would continue to avoid that cohort of companies.
Turning to The Week Ahead
We have another shortened week following the long weekend, which means cramming five days of data and corporate reporting into four. Always a fun time, don't you think?
On the economic calendar this week, housing will take the stage early in the week with the NAHB Housing Market Index reading for January followed by Housing Starts and Building Permits for December. We suspect that as it did in November, the unseasonably warm temperatures that plagued retailers like Macy's (NYSE:M) and Abercrombie & Fitch (NYSE:ANF), as well as utilities like Public Service Enterprise Group (NYSE:PEG) and others, will be a positive for homebuilding activity. That said, recent comments from Lennar (NYSE:LEN) over margin pressure in 2016 leaves us cautious on the group. Following the disappointing November Existing Homes Sales report, which per the National Association of Realtors saw existing home sales drop 10.5 percent to a seasonally adjusted annual rate of 4.76 million vs. expectations of 5.3 million, we'll be watching the December report closely this week.
The last piece of economic data that we'll be watching will be the December Consumer Price Index, but given the move lower in oil and gasoline prices, we once again expect little to no inflation to be reported for the month.
Even though last week we saw quarterly earnings from Alcoa (NYSE:AA), Intel (NASDAQ:INTC) and others, this week we see a pick-up in the velocity of fourth-quarter earnings reports. While the real frenzy is still a week away, the coming days the reports from Bank of America (NYSE:BAC), Charles Schwab (NYSE:SCHW), E-Trade (NASDAQ:ETFC) and Morgan Stanley will shed light on the looming retirement crisis that is part of our Aging of the Population investing theme. Reports from Starbucks (NASDAQ:SBUX) as well as American Express (NYSE:AXP) will touch on consumer spending trends, which we'll track as part of our Rise and Fall of the Middle Class investing theme.
Will companies that are poised to benefit from the drop in oil prices ratchet up their earnings and capital spending? Comments from Delta Air Lines (NYSE:DAL) and Southwest Airlines (NYSE:LUV) should help us figure that out as we examine that aspect of our Scarce Resource investing theme.
Has there been any upward or downward revision in the outlook for cyber attacks in 2016? We'll look to IBM (NYSE:IBM) and F5 Networks (NASDAQ:FFIV) for some answers as part of our Safety & Security investing theme.
Here's the bottom line: Our position on the market remains the same - given the strong likelihood that companies will offer tepid outlooks as they mix and match all that is weighing on the global economy, earnings expectations will continue to move lower and for that reason we are keeping our investing powder dry amid what is likely to be further turbulence in the market this week.