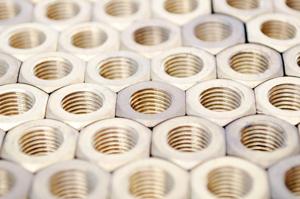 Investors in Fastenal (FAST) have been very disappointed with recent results as they indicate further weakness in the industrial complex.
While the current headwinds are severe and seem to accelerate toward the downside, there are many reasons to be upbeat on the long-term prospects. Fastenal continues to gain market share in an unconsolidated industry, as it has done for many years now.
A great track record, great cash flows conversion, high dividend yield and stable margins all support long-term value creation. While the shares are not necessarily very cheap based on price-earnings multiples, I see real appeal for a long-term investor if shares might approach the $30 level.
Worsening Trends
Fastenal reported a 0.4% decline in its fourth quarter revenues which came in at $922.8 million. It should be said that this quarter contained one more business day compared to last year, implying that comparable sales declines came in at 2.0%. This does mark a rather dramatic slowdown from the 3.2% growth rate which Fastenal reported for the entire year of 2015.
While lower activity levels have hurt sales, the rapid weakening of the Canadian dollar had an impact as well. The softer Canadian dollar shaved roughly 130 basis points from the reported sales growth numbers.
What's disappointing is that the deleverage in terms of sales has weighted on margins. Operating margins were down 90 basis points to 19.3% of sales, while full-year margins were still up 20 basis points. While lower sales hurt margins, the company admits on the earnings call that it has done a ¨mediocre¨ job at expense control.
The combination of margin pressure and lower sales explains why earnings per share have been trending lower. Earnings per share fell by a penny to $0.39 per share, despite continued buybacks.
The Worsening Operating Environment
I like Fastenal as it has a great track record in terms of growth, very stable margins, and it's very open in its communication towards shareholders.
The company has a strategy which focuses on increased customer service, as it has grown its employee count by 12.6% to 20,746 during the year. This means that headcount has been increasing at a much higher pace than the 3.6% increase in sales, as the company is focusing more toward offering higher service levels. The ramp-up of staffing amidst a slower economy does however weigh on margins in the short to medium term.
During the year the company has seen headwinds from a strong dollar and exposure to the oil and gas industry, as these effects accelerated into the final quarter. Other negative factors include of course the exposure to the Canadian economy and the termination of the joint-venture in Brazil, given the worsening conditions in that economy as well.
What's disappointing is that sales trends continued to decelerate during the quarter. Comparable sales were down by just 0.8% in October and by 1.1% in November. The final month of the year has been very disappointing as sales plunged by 3.8% in December.
While the quarterly 2.0% decline fourth quarter sales is painful, Fastenal is quick to point out that the fastener product market declined by 6% in the final quarter of 2015. This reveals that the company continues to gain market share in the $160 billion unconsolidated North American marketplace.
Balance Sheet, Great Cash Flow Conversion
Despite the worsening operating conditions, Fastenal continues to operate with a solid balance sheet, even as it has taken on some debt to finance share repurchases. The company ended the year with nearly $130 million in cash as the $365 million debt load results in a net debt load of $235 million. This is equivalent to just 0.25 times EBITDA which surpassed $900 million in 2015.
The buybacks have reduced the outstanding share base to 292 million shares which now trade at $38 each. This values the equity at $11.1 billion, equivalent to 21-22 times earnings.
This are still fairly elevated multiples in relation to the overall market. Worse, earnings momentum is lacking as has been seen in the fourth quarter. This implies that forward earnings multiples are not very likely to decline. As a matter of fact, earnings could even fall into 2016.
A Great Business In Some Turmoil
Fastenal has grown the business in a speculator fashion over the past few decades. Between 2005 and 2015, sales have been up by more than 150% to $3.9 billion, translating into annual growth of roughly 10% per year.
Margins have steadily improved from 17-18% toward 21%. Even during the difficult economic year of 2009, operating margins still surpassed 15%. The good news for investors is that the company has managed to combine margin gains and revenue growth without diluting the shareholder base. This has allowed earnings per share to triple over the time period of just 10 years.
Investors have long liked the growth trajectory as shares jumped from $20 in 2005 to levels above $50 in 2012. Given the premium valuation and lower growth rates in recent years, shares have long traded in a $40-$50 range, before falling to a current level of $39.
Even at this level, shares trade at 21-22 times earnings, corresponding to an earnings yield of just 4.5-5%. The good news is that the company requires very low capital expenditures in order to grow, allowing it to pay out a 3.2% dividend yield. This dividend, solid balance sheet, predictable margins and continued market share gains are key drivers behind the continued interest for the shares.
Final thoughts
I like the business of Fastenal, but never really liked the valuation. The good news is that the business shows very strong growth in the long run, supported by economic growth and long-term market share gains. The trouble is that the industrial economy is faltering at the moment as price deflation is seen as well. These factors now overshadow the continued market share gains.
While the valuation is not cheap, the good news is that multiples have been trending lower. Given that Fastenal is a very high-quality business, it is very unlikely that investors will be able to buy this name at market-equivalent valuation multiples.
While full-year earnings totaled $1.77 per share in 2015, it's likely that current earnings could trend toward $1.60 per share, certainly if the industrial marketplace does not recover anytime soon. I would be happy to pay a 18 times earnings multiple in order to acquire such a quality business. This makes me a buyer if and when shares will trend toward the $30 mark, certainly as the dividend yield will approach the 4% mark at that level.
Disclosure: I/we have no positions in any stocks mentioned, and no plans to initiate any positions within the next 72 hours.
I wrote this article myself, and it expresses my own opinions. I am not receiving compensation for it (other than from Seeking Alpha). I have no business relationship with any company whose stock is mentioned in this article.