The early 2016 stock market swoon is predicated on extreme fears regarding uncertainty stemming from a slowdown in China, and a commodity industry in a depression. While these are certainly headwinds, I believe that most market participants are underestimating the diversity and additional growth capacity that exists in the U.S. economy. Wells Fargo (NYSE:WFC) is the most U.S. centric of the big banks and its explosive earnings power and stellar management have the company poised for many years more of prosperity, regardless of the short-term headwinds that it may face. The recent decline to around $48.82 per share, has Wells Fargo once again priced attractively for long-term investors.
While everyone is focusing on the negatives, let's discuss a few positives in the U.S. economy. Automobile sales hit a record in 2015; with continued low gas prices, it is likely that 2016 will be strong too, particularly for the more lucrative SUVs and trucks. This is a massive industry obviously that helps offset weakness in other areas of the manufacturing sector. The housing market appreciated by about 6% in 2015, which builds equity and improves credit quality for the big banks consumer real estate portfolios. For Wells Fargo alone, net charge-offs were down 44% from a year ago. Inventories are low so there is a strong demand for new home construction. Commercial real estate has seen even greater appreciation and areas such as apartments are still doing well. The consumer and most corporate balance sheets are in pretty good share.
While this economic recovery has indeed been long, it has also been extremely weak, which is good and bad. It's bad because it has been weak of course, but it's good because the U.S. is underperforming relative to its immense capacity. In this writer's opinion, the primary cause of this is a toxic anti-business political atmosphere, where vilifying banks and the rich supersedes making sound policy decisions that would actually help the economy, such as lowering tax rates and making the U.S. the place for businesses to relocate to, instead of the opposite. Growth really has hovered at around 2% or less for the last few years and confidence has never seemed exceedingly high, as exhibited by low inflation and interest rates. It has become pretty obvious that some sectors of the economy are in a recession, such as energy, mining, and even some parts of the transportation sector such as railroads. Other areas of the economy are benefitting from lower commodity prices including the consumer, but the rapidly changing dynamics does cause dislocations. Any recession, in my opinion, will be very mild and I believe the symptoms will be very different from 2008 where housing was at the precipice.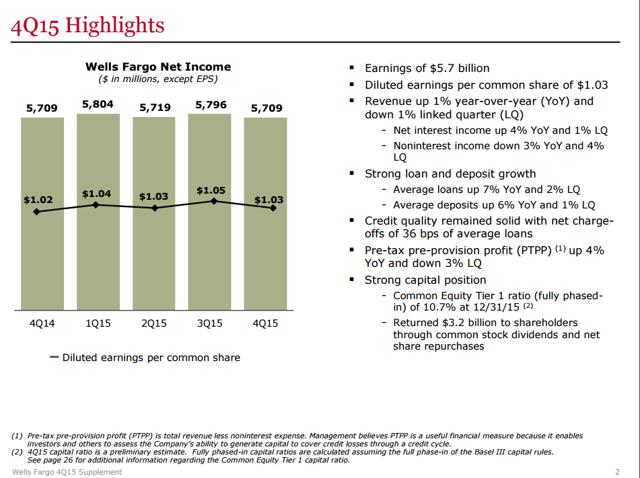 Source: 4th Quarter WFC Supplement
Wells Fargo posted another strong 4th quarter where it generated net income of $5.709 billion, or $1.03 per share. This was basically flat YoY, but the 2014 numbers had the benefit of a credit reserve release and a gain on the sale of a student loan portfolio. 2015 was another incredibly solid year for Wells Fargo, led by strong loan and deposit growth. Wells Fargo has now achieved year over year loan growth for 18 consecutive quarters. Credit continues to be quite good, but it certainly can get better. An example of this is that loan loss reserve releases declined from $1.6 billion in 2014 to $450MM in 2015.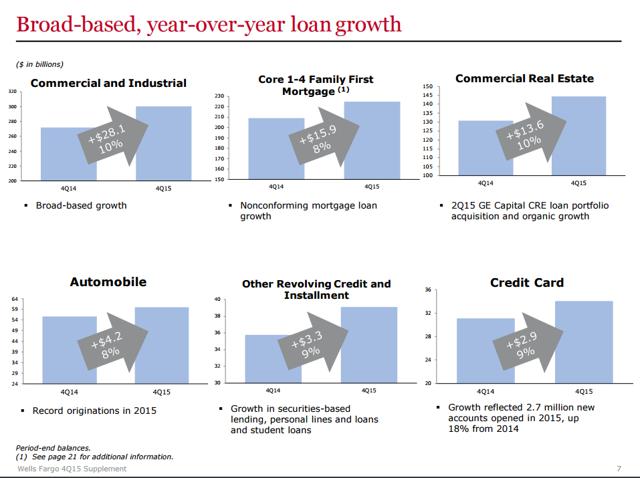 Wells Fargo's 4th quarter was impacted by the fact that it increased long-term debt by $14.3 billion to get ahead of funding its GE capital acquisitions, which will bring additional earnings power and cross-selling opportunities moving forward. Core loans grew by $62.8 billion, or 8% from a year ago, and was up $15.4 billion from the 3rd quarter. Commercial loans represented $9.3 billion of the 4th quarter growth, while the consumer loans grew $6.1 billion. Wells Fargo's GE Railcar Services transactions with $4.1 billion of loans and leases closed on January 1, which will make it the largest railcar operating lessor in North America. The company also expects that about 90% of its approximately $31 billion of assets acquired from GE Capital will close by the end of the 1st quarter.
Wells Fargo's balance sheet is extremely well prepared to deal with the commodities depression. Energy exposure is only 2% of the balance sheet compared to 36% in consumer real estate. In the 4th quarter, net charge-offs increased by $128MM from the 3rd quarter, reflecting $90MM of higher losses form the oil and gas portfolio, which totaled $118MM in the 4th quarter. These were offset by improvements in the real estate market creating a situation where Wells Fargo didn't release or build reserves in the quarter. If real estate remains reasonably strong, which I'm confident it will, Wells Fargo is in a great position to maintain extremely strong returns even if rates don't go much higher. Some of Wells Fargo's non-interest related businesses such as Wealth Management and Investment Banking might not do quite as well, but the big banks are extremely diversified and are very prepared for cyclical distress in various parts of the economy. Real estate and the consumer really hold the keys.
Wells Fargo ended the year with a Common Equity Tier 1 ratio fully phased in of 10.7%. In just the 4th quarter, the company paid out $3.2 billion in common stock dividends and share repurchases for a payout ratio of 59%. For the full year, Wells generated net income of $23 billion, or $4.15 per share. Pretax profit was up to $36.3 billion. Wells has consistently generated the best returns on assets and equity of all the big banks. It has no significant exposure to Asia, so its performance will really be a barometer for the U.S. economy. At a recent price of $48.82, WFC trades at about 11.76 times TTM earnings and has a 3% dividend yield. I believe that the acquisitions made from GE Capital and strength in Wells Fargo's key markets should allow earnings per share to grow in 2016 by perhaps 5% or so. Over time, there is room for better operating efficiency as banks are currently being weighed down by regulatory and technology costs that I believe are above the long-term average. While not trading at the distressed levels of some of its peers, I view WFC as a very attractive buy and hold for long-term investors at current prices.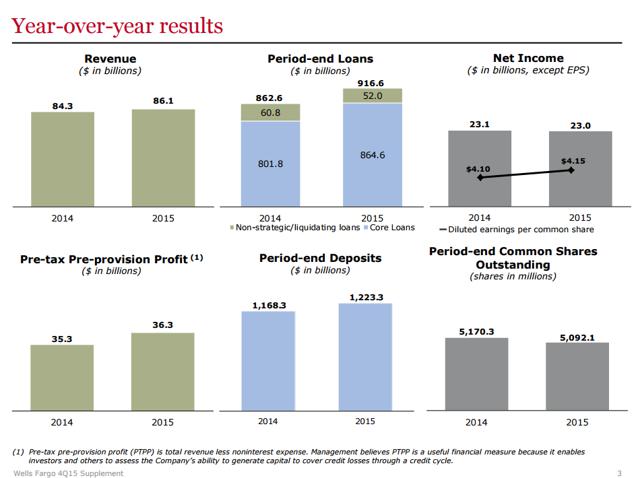 Source: 4th Quarter WFC Supplement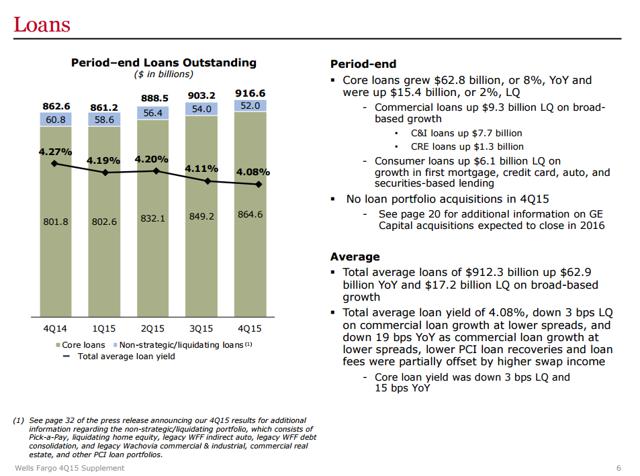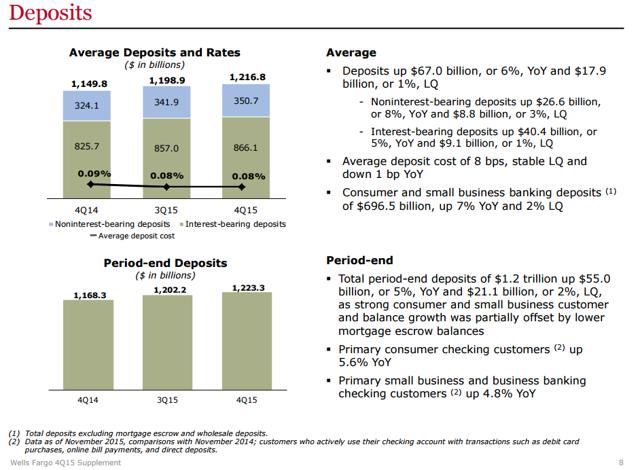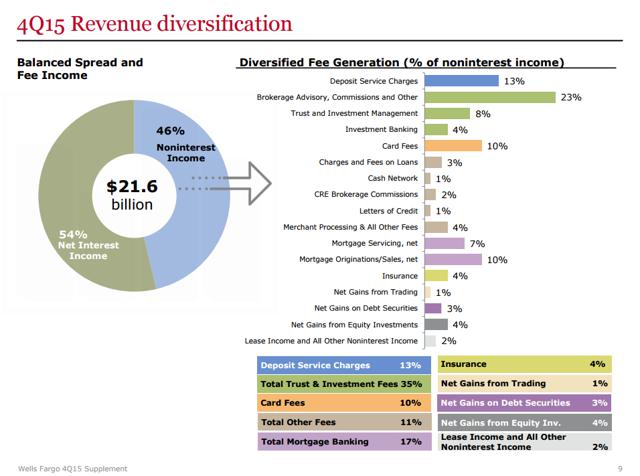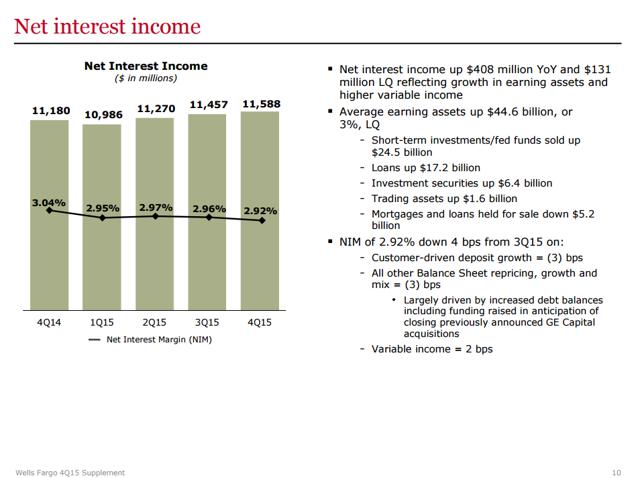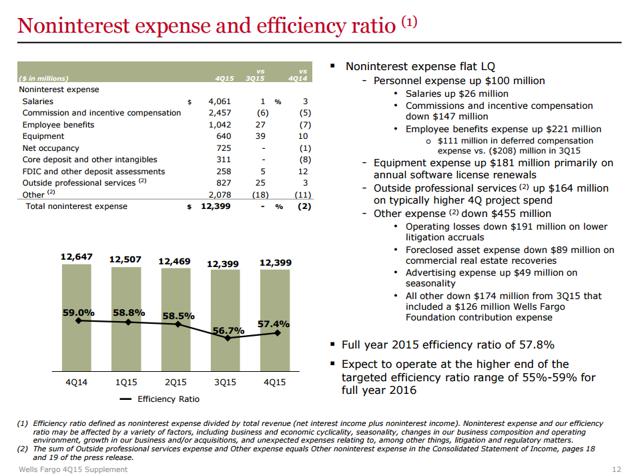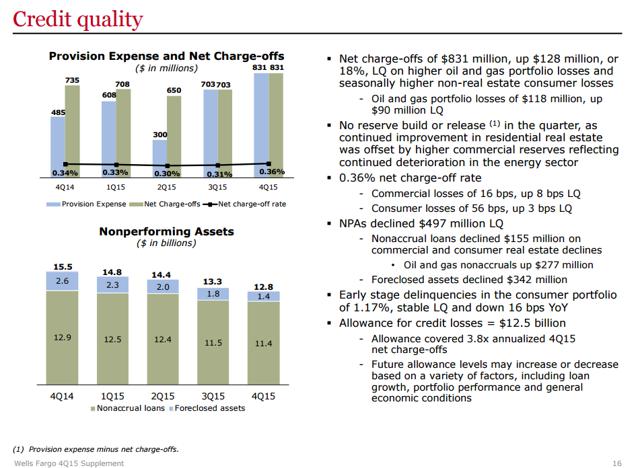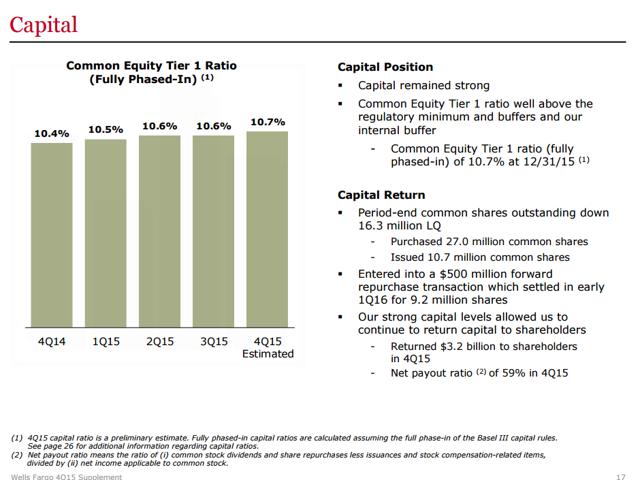 Disclosure: I am/we are long WFC.
I wrote this article myself, and it expresses my own opinions. I am not receiving compensation for it (other than from Seeking Alpha). I have no business relationship with any company whose stock is mentioned in this article.