The Breadth Thrust is a signal developed by Martin Zweig and often referenced by Tom McClellan. It uses Breadth (number of advancers and decliners) in an index to measure short-term overbought and oversold conditions. Although positive breadth (number of advancers greater than decliners) is generally a healthy sign for stocks, very high readings over several days have frequently marked short-term tops. Conversly, strongly negative readings over several days have marked bottoms and provided a good buying setup - that's where we find ourselves today.
The indicator produces a highly mean-reverting series as can be seen here:

It becomes useful for traders when the series it is at extremes. The most recent reading (post Friday close) is 0.356 which is over 2.5 standard deviations below from the mean. This level of negative breadth has often signaled short-term bottoms as can be seen in this chart: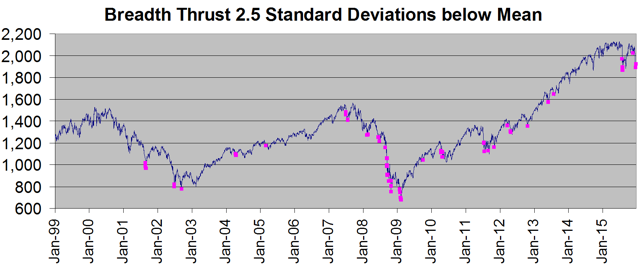 During the period analyzed (since 1999) this rule has been triggered on 58 occasions (sometimes in clusters of several readings next to each other). Interestingly, this indicator captured short-term bottoms during bull markets, but also bear market rallies. In particular it triggered post 9/11 when a 20% rally followed, even though the bear market was going to last for another year. Most recently we saw a signal in mid-December 2015, followed by a weak rally over a few days and prior to that in August of that year when a bounce followed.

Forward returns in the days after the signal are consistently positive with win ratios in the 60-80% range. We can identify two sweet spots with very high win ratios: 3-7 days and 4-6 weeks. This analyst would focus on the shorter time-frame, but that may depend on your risk management and broader portfolio approach.
In conclusion, the signal just observed provides a high risk-reward opportunity to buy stocks for a short-term bounce. As discussed here 2 days ago, another signal (based obn NYSE and NASDAQ breadth values) is also long stocks on a multi-day view, thereby reinforcing this view. The SPDR S&P 500 ETF (NYSEARCA:SPY) or PowerShares QQQ ETF (NASDAQ:QQQ) as well as the ES/NQ futures could be the appropriate vehicles to benefit from a likely bounce.
Disclosure: I am/we are long SPY.
I wrote this article myself, and it expresses my own opinions. I am not receiving compensation for it (other than from Seeking Alpha). I have no business relationship with any company whose stock is mentioned in this article.