In the 2000s BlackBerry (NASDAQ:BBRY) (then Research In Motion) owned the secure messaging and email space. Business professionals and governments immediately saw the value of secure communications and jumped aboard in great numbers. By 2009 BlackBerry owned just over 20% of the smartphone market. Corporate professionals depended upon the security only BlackBerry could provide.
But since the introduction of Apple's (NASDAQ:AAPL) iPhone in 2007 and its subsequent introduction of the App Store, BlackBerry began losing market share. BlackBerry has since been struggling to recapture market share while at the same time trying to provide a secure smartphone for the business professional.
But secure communications weren't only attractive to corporations and governments. Criminal enterprises also recognized the value of secure communications. And with criminals now using BlackBerrys, law enforcement across the globe has been working very hard to crack the once uncrackable BlackBerry.
Recent court documents reveal that Canada's RCMP can decrypt PGP BlackBerrys
Just six months ago, the Supreme Court of British Colombia released documents on a kidnap and assault case where PGP BlackBerry smartphones were successfully decrypted.
[21] Expert witnesses testified about the extraction of information from the two laptops, the Blackberries and the cell phones, as well as the nature of GPS tracking devices. GPS tracking information was extracted from the laptops and encrypted emails were extracted from the BlackBerries and decrypted by the RCMP Technical Assistance Team. No issue was taken about the manner in which this information was extracted. (emphasis added)
Source: Supreme Court of British Colombia
The devices made use of subscriptions to a service which supplies "Pretty Good Privacy" or PGP encryption, a supported feature of several BlackBerry smartphones and one to which BlackBerry refers to as a PGP Universal Server. Three of the BlackBerry smartphones analyzed had the texts of email communications sent to and from the devices and the dates and times the messages were sent or received. The RCMP was then able to correlate names in the BlackBerry's address book with names and address in the decrypted email. Even messages which had been deleted were still recoverable as long as they had not been overwritten with other data.
The Netherlands Forensic Institute's access to BlackBerry smartphones and other recent BlackBerry hacks
Just this month, Tuscha Essed, a press officer from the Netherlands Forensic Institute (NFI), told Motherboard in an email that "we are capable of obtaining encrypted data from BlackBerry PGP devices." Motherboard then goes on to describe that documents sourced from the NFI in December last year claim that deleted messages can be recovered and encrypted emails read on these devices and that in fact the police had extracted some 325 encrypted emails from a BlackBerry 9720 and managed to open 279 of them.
Also this month, the nototious "El Chapo" Guzmán was caught by hacking his and his girlfriend's BlackBerrys.
The hacking of Guzmán's smartphone goes all the way back to 2012 when investigators were able to monitor his comunication and track his whereabouts. But as recent as January 2016 authorities were still monitoring his girfriend's BlackBerry Z30 given to her by Guzmán, which lead to his eventual capture.
BlackBerry responds: "BlackBerry devices remain as secure and private as they have always been."
If such an information recovery did happen, access to this information from a BlackBerry device could be due to factors unrelated to how the BlackBerry device was designed, such as user consent, an insecure third party application, or deficient security behavior of the user. (emphasis added)
Source: blackberry.com
Since sources claim to have decrypted messages, and since the recovery was less than 100%, I think we can safely rule out "user consent."
What this means to a company whose whole reputation depends on security
BlackBerry's claim to fame has always been its security. German Chancellor Angela Merkel uses a BlackBerry Q10, and even our own President Barack Obama uses a highly customized BlackBerry.
But this raft of recent news on BlackBerry phones being compromised does little to instill confidence in a company whose main selling point is keeping private communications private.
BlackBerry's latest smartphone, the PRIV - so named for privacy - is dedicated to keeping communications private. But as I outline in a recent Seeking Alpha article, BlackBerry's newest smartphone makes use of the same security mechanisms as both Apple and Samsung (OTC:SSNLF). And as John Chen, the CEO of BlackBerry tells us, "We're probably the same (security) level as Samsung's KNOX. The only other commercial phone that can say they have the same or better (security) than us is maybe the BlackPhone."
Even with the BlackBerry security story as the central theme, BlackBerry has been struggling to achieve breakeven on handsets.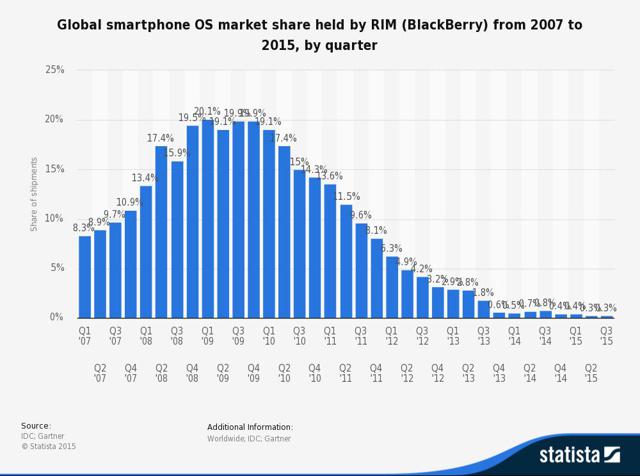 Source: IDC, Aug 2015
With ever declining smartphone sales, it is critical for BlackBerry to carve out a niche in the market for secure smartphones.
Conclusion:
Without exceptional security, BlackBerry isn't likely to make it as simply another Android smartphone producer. Even companies like Samsung are having trouble with declining sales, and this with economies of scale, superb marketing, and a huge install base working for them.
With BlackBerry's hallmark security called into question, a virtual abandonment of BB10, and flagging handset sales, I expect BlackBerry to exit smartphones in 2016 or 2017. And with 40% of revenue still coming from handset sales, the share price will likely be hit quite hard.
I do not view BlackBerry stock as anything beyond a trading vehicle at the present time. A small speculative "lottery bet" might be ok. But for a long-term investment, one should avoid this stock.
Disclosure: I am/we are long BBRY.
I wrote this article myself, and it expresses my own opinions. I am not receiving compensation for it (other than from Seeking Alpha). I have no business relationship with any company whose stock is mentioned in this article.
Additional disclosure: I was recently both long and short BBRY via a Jan 22, $7.50 strike Straddle, but sold off the put leg Friday Jan 15th; this leaves me long BBRY via calls.
Editor's Note: This article discusses one or more securities that do not trade on a major U.S. exchange. Please be aware of the risks associated with these stocks.