Stop me if you have heard the idea that low prices at the pump would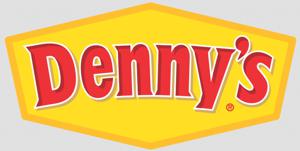 bolster consumer spending. In 2015, that wasn't necessarily the case across the board. Retail slumped into year-end as unusual warm weather hampered sales. Excluding the auto industry, which did have a strong 2015, retail sales flat-lined while gas prices dropped sharply.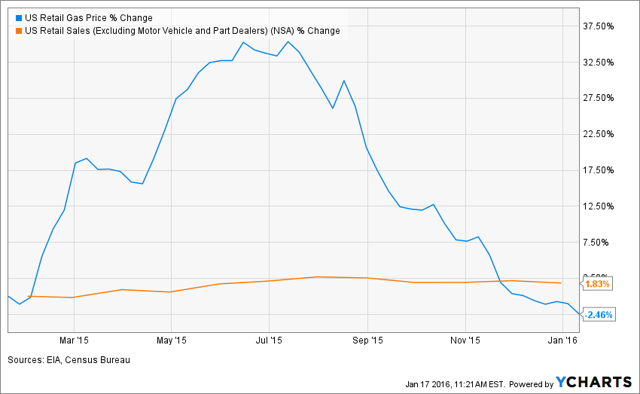 It seems that while retail sales were in the doldrums, consumers have not lost their appetite for eating out as National Restaurant Association saw "Total Eating and Drinking Place Sales" rise every month in 2015 through November.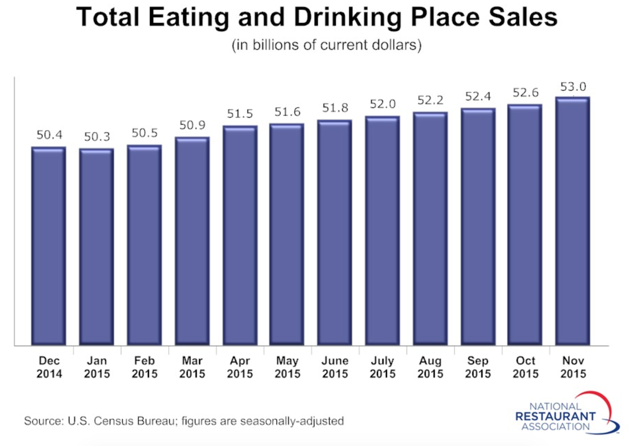 This brings us to Denny's (NASDAQ:DENN). "Americas Diner" is currently in the middle of a "Brand Revitalization Strategy" implementation that involves expansion plans, both domestic and globally, and adjusting their brand image in part by updating their restaurants to a more modern look. DENN had a rough second half of 2015 due to primarily industry-wide headwinds such as weak store traffic particularly in October, a significant rise in egg prices, and wage inflation. Egg prices have since dropped, and CEO John Miller is encouraged with the economic outlook going forward and Denny's ability to succeed in the current environment. Much like the entire market DENN is down to start the year falling 7% so far, offering a even more attractive entry point.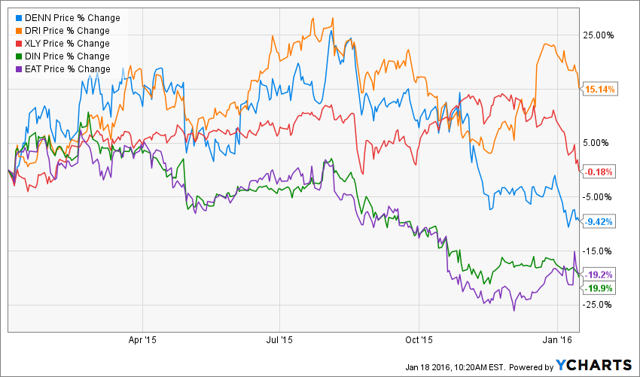 But don't let the recent slide fog the picture of the DENN story. Denny's is operating the best it ever has and is continuing its brand differential strategy successfully.
Earlier this month, Denny's pre-announced preliminary results (official press release) for domestic same-store-sales for 4Q15, and 2015. For 4Q15, domestic same store sales grew 2.9% , a 9.3% increase on a two-year basis. Denny's now has seen SSS increase 11 consecutive quarters and 5 consecutive years. It is at the top of the restaurant industry for the metric, including surpassing IHOP (NYSE:DIN), its most direct competitor, the past three quarters. Denny's will announce 4Q15 and 2015 results in mid-February.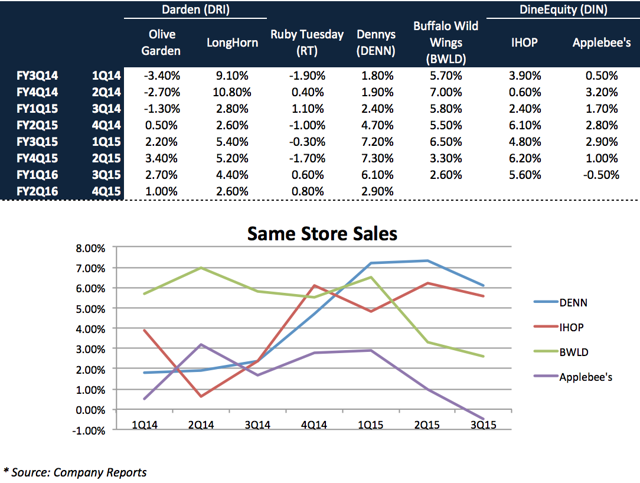 The increasing same store sales are in part to offering higher priced items on its menu, which has been completely revamped. In its most recent slide deck, Denny's noted that it has changed 50% of its menu in the past 18 months in favor of more "percent margin friendly products". The changes are working, as Denny's likes to tout its growth in EBITDA, EPS, and free cash flow through the past two years. Also worth noting, DENN guided towards the upper end of its FCF and EBITDA 2015 full-year guidance with its preliminary results. Additionally, DENN has a share repurchase program with ~$38 million left as it continues to prove its commitment to giving cash back to shareholders.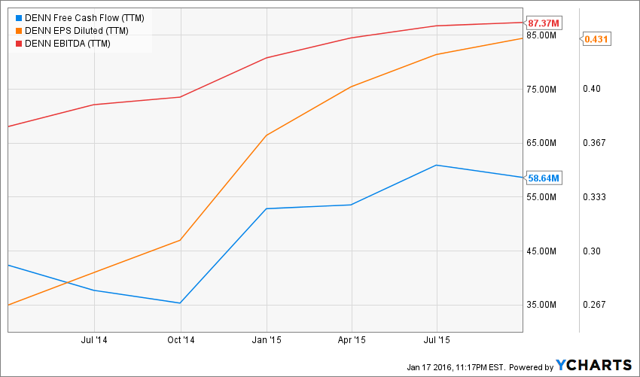 Conclusion
DENN currently trades at a P/E of 21, just slightly below both the industry and historical average. Currently trading around $9 a share from its all-time high, reached mid-2015 of $12.70 a share, DENN offers a good entry point to a very solid, low-risk company which sell-side analysts have a mean target of $14/share (roughly 55% upside from close as of 1/15/16). For additional evidence of the low risk aspect, in addition to the operating results already named DENN has done a fantastic job of managing its debt (see below). Keeping in mind many potential catalysts ahead including domestic and international expansion and continued remodeling that will continue into 2018, DENN is a great small-cap name to own in a industry that I believe will outperform in 2016 as consumers, with higher wages, continue to eat out more.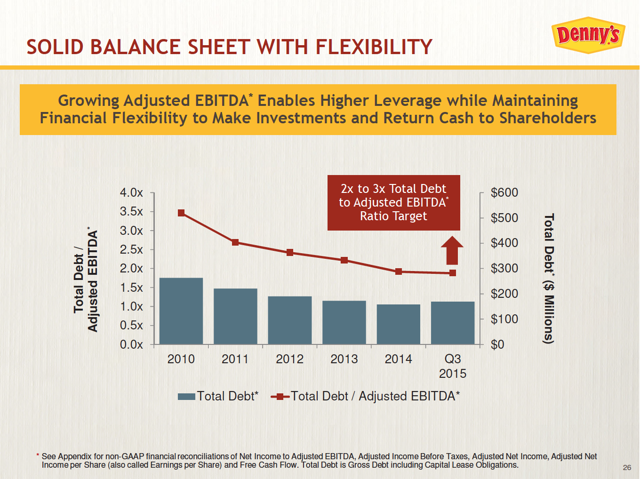 Disclosure: I/we have no positions in any stocks mentioned, but may initiate a long position in DENN over the next 72 hours.
I wrote this article myself, and it expresses my own opinions. I am not receiving compensation for it. I have no business relationship with any company whose stock is mentioned in this article.